Luxury private yurt glamping on an organic farm in the Kent Downs.
Picture a sprawling green field, fringed by forest that's abuzz with wildlife, and views across the valley, a magical foreground to the most spectacular of summer sunsets. Sounds idyllic doesn't it? Hard to believe, then, that this picture-perfect scene is just an hour or so from London. Kent's hillsides, orchards and heady hop fields offer solace to world-weary urban émigrés seeking a slice of the fabled 'Garden of England' for themselves. And set in a quiet picture-perfect pocket of the Kent Downs, this new glamping retreat truly encapsulates all the qualities of a Kentish getaway.
Located just outside the perfectly preserved Tudor village of Chiddingstone, Bore Place plays host to Free Range Glamping. This 500-acre organic dairy farm and historic venue is an environmental charity that pioneers renewable energy, sustainability and food provenance. And now with the addition of a pair of luxury yurts, they can add glamping to their already string-laden bow.  
As the name suggests, there's a wealth of space to roam at Free Range Glamping, with a pair of roomy (16ft and 18ft) hilltop yurts enjoying a prime position within the spacious wildflower meadow overlooking the fields and woodland of the valley and the High Weald AONB. Inside each yurt is a cut above some of the more rustic models we've seen, with elegant latticework walls, wooden flooring and stargazing crown. And while sparsely furnished, the wood-burning stove, proper king-size bed and comfy futon for extra guests ensures camping in the utmost comfort.
Adjacent to the yurts, each dwelling has its own private safari-style kitchen shelter, equipped with gas burner, sink, plus all the kit and caboodle. Thoughtful extra touches like bedding, towels and a starter pack of wood, firelighters and matches means all the essentials are covered. Plus, there's that all-important firepit for nighttime marshmallow-toasting. 
The car-free meadow is totally off-grid so facilities are of the compost loo variety (each yurt has its own private one a short walk away). But for those who need it, proper toilets and a shower can be used at the Bore Place reception at the other side of the field (around 200m away). In keeping with the eco-credentials, there's no electricity in the yurts so lighting is by candle light (don't forget to bring your torch!). It all adds to a wonderfully atmospheric feel of evenings here, and the lack of light pollution means the stargazing is exceptional.
All in all, Free Range Glamping strikes a pleasing balance between hassle-free and suitably outdoorsy. In the In the words of friendly proprietor Chris, his Kentish glamping experience offers 'all the best bits of camping – campfires, birdsong, and breathtaking scenery – combined with clean, dry, inspirational space, proper beds and a private toilet'. We couldn't agree more.
Set in the North Downs Area of Outstanding Natural Beauty, there's some fantastic walks and outdoor pursuits to enjoy. Bouldering (or mini rock climbing to the uninitiated) is surprisingly prevalent here in an area not necessarily famed for its peaks. Chris can fill you in on the best formations for scrambling, like Harrison's, Toad, and Wellington rocks surrounding nearby Tunbridge Wells. For more sedate excursions, there's a wealth of stately piles, castles, ornate gardens and quintessential Kentish towns to visit. The eminently reachable village of Chiddingstone is one of the best-preserved examples of a Tudor street anywhere. Or if the lure of the organic farm setting is too much to resist, you could partake in one of Bore Place's enlightening ecology courses, try your hand at green wood-working, or simply enjoy a guided stroll around the multi-faceted rural setting.
Best Price Guarantee
Easy and Secure, with instant booking confirmation
Trusted for over 10 years
A chance to win a brand new Coleman tent!
Gallery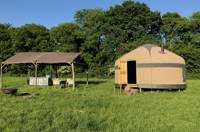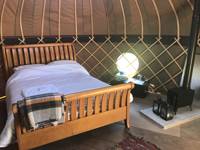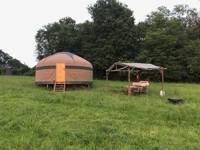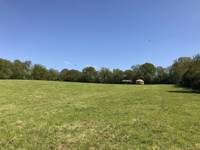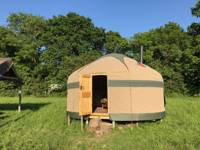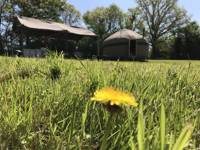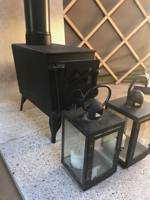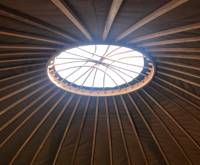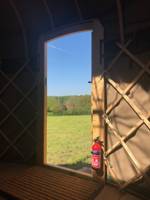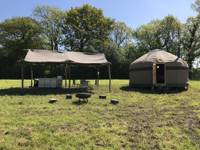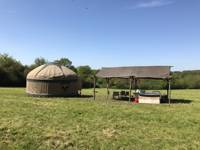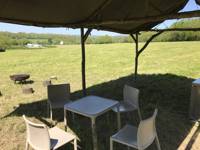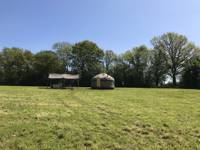 The Owner Says
A pair of brand new luxury yurts and a shepherds hut in a Kentish meadow on Bore Place Organic dairy farm.
We started life in 2017 and our first luxury yurt proved such a huge hit that we invested in another one! We love being out in nature, but we also love comfy beds, kitchen facilities, and wood-burning stoves, so we feel Free Range Glamping offers the best of both worlds – rustic luxury meets a true outdoors experience.
Our rural Kent Downs setting is such a beautifully special place – we hope you love it as much as we do. We invite you to play in the woods, sit round the fire and explore the farm. Bore Place operates as an environmental charity in the weald of Kent. An amazing creative place, with lots going on, and yet a real stillness about it. Guests are welcome to take part in our ecology courses, woodcraft and guided walks.
Reader Reviews
Add Your Review
Brilliant Yurt in a Gorgeous Area
Chris was absolutely awesome host, sending us information and being available before hand, meeting us when we arrived and settling us in. The yurt is gorgeous, warm, cosy, well equipped and so fun to stay in, with super big beds and a log burner. The outside kitchen is a pleasure to cook in with a wood burning fire pit and complementary marshmallows to toast at night. There is no electricity just candles and the fire and in the morning the farmers through the fields with dogs...absolutely loved it. Would go again anytime. Thank you all Sophie, Sarah, Sabrina and Sarah
Open skies and cosy fires
The yurts are towards the top of a gentle slope with trees behind - so there is a lovely view out across the fields, but greenery nearby too. We loved seeing the moon through the window on the yurt roof... it was so peaceful (even though there was a wedding at Bore Place one night), and the kids loved running around with all of the open space. Having a gas hob was super useful - and the log burner and fire pit meant a nice feeling of actual camping! Definitely a lovely place to stay, and with lots of days out for exploring in the surrounding area.
Lovely experience
We had a great week in the yurt. The yurt is lovely - very comfy beds, beautifully clean and new and loads of room. The outside cooking area is very handy and with a huge fire bowl. Bore Place was a great place to explore with really nice gardens, market gardens, wildflower meadow and nice local walks. My kids loved the cows and watching them going to and from milking. It is great that it is an organic farm. Chris was really helpful and everyone at Bore Place was very friendly - the farmer answered all my 'farming-mad' son's questions above the cows. The really best thing is the space - there is no one else around and what a treat to feel that you have the world to yourself. It was a lovely, memorable stay and I would recommend it.
A Fabulous weekend of outdoor Fun
My sons and I can't wait to go back! Football and cricket on the grass, exploring the woods, evenings round the fire and a clean, cosy, spacious yurt to sleep in! Great views in a peaceful setting. A fabulous weekend of outdoor fun. Chris was friendly and helpful and had all the essentials we could need. Not to mention a never ending supply of logs! iPads didn't get a mention all weekend!! Thank you
You'll love your yurt.
You'll love your yurt. Outdoor kitchen. And walks in the beautiful Kent countryside. With all your home comforts... like a bed, and a welcoming bag of marshmallows to toast in the fire pit, Chris has thought of everything. You won't see or hear anyone from your breakfast table but you may catch sight of a cow or bird of prey. Bore Place is chocolate-box perfect. And while the long-drop loo isn't to everyone's liking, there are real toilets not too far away. We spent two nights away and returned feeling like we'd been away for a week.
Book campsites near Free Range Glamping