Little Halden Farm
Rolvenden, Cranbrook, Kent TN17 4JL








Luxury camping and glamping in the heart of the Weald of Kent
Little Halden Farm is enviably nestled in the heart of the Weald of Kent – a designated Area of Outstanding Natural Beauty and a scenic, chalky landscape woven with interesting footpaths. Though the glampsite is a relatively new venture, the family-run farm is in its fifth generation and its name sake
summer camping site
has been running for several years, so it's fair to say that current owners, Jon and Sara, aren't exactly new to the area. Now with a bunch of happy glampers to accommodate it's clear they're in their element, beaming as they gesture out across the open fields explaining the easy walking route down to the pub in Rolvenden.
The range of accommodation on offer means couples looking for nights under canvas are just as well catered for as larger families seeking self-catered seclusion. Options include safari lodges, yurts and their newest offering, the Hopper Huts – converted stable-like buildings with a cosy ambience inside. All come kitted throughout with the likes of double beds, wood burners and a 3-ring gas stove, while the gentle, south-facing slope of the field means they're blessed by sun from first thing in the morning until late in the afternoon (as well as good views towards Tenterden below).
Visitors exploring the farm will find acres of open space for children to play, explore and monkey about in, most notably building dens in the adjacent stretch of woodland. A walk around reveals countless interesting sights too. The area is abuzz with wildlife, so be sure to keep your eyes peeled for foxes, weasels, deer and buzzards, plus cows and sheep in the field next door. There's even an elusive black rabbit, though their nocturnal nature and the darkness of the nights here mean they're never easy to come by. Come evening every critter has flitterred away into the trees with the occasional soft coo or a rustle amongst the branches to remind you of their presence. It's a pleasure too, when you hear them, only serving as a reminder of how peaceful this part of England really is.
Gallery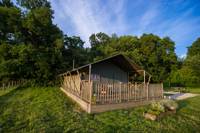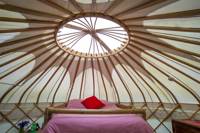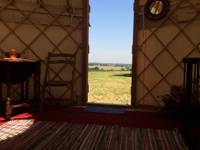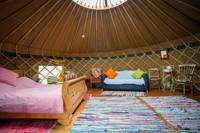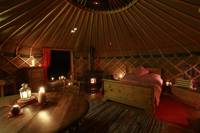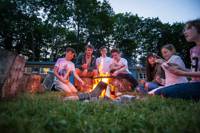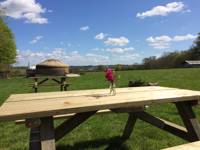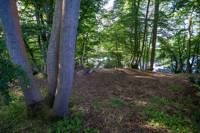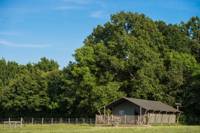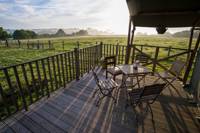 The Owner Says
Little Halden Farm is enviably nestled in the heart of the Weald of Kent, with big views out across this designated Area of Outstanding Natural Beauty. There is a choice of glamping accommodation including Yurts, a Safari Tent and our Hopper Huts, recently converted to offer novel, cosy, year-round accommodation in the spacious glamping field. A comfortable double bed with freshly-laundered linen is supplied in each structure.
Reviews
Add Your Review
fantastic place
We had the safari tent which was totally excellent, the weather wasnt great but it didnt matter the setting was brilliant and the stove made it snug and cozy inside , everything was clean , and worked well, the whole design has been really well thought out. Showers brilliant too lovely and warm , hot water made washing up in the washing up facilities really easy. The views from all the tents are blinding too, never knew Kent could be so picturesque.Jon, the owner was super helpful with fire wood and cold packs for the cooler and was super quick with all communication, nothing was too much trouble. There is loads to do nearby, Bodium castle , Camber, Rye and the highlight the steam railway. All in all 5 stars we are 100 per cent going back, kids loved the sand pit and toys too and are pleading to return.
Lovely setting, great hosts
Stayed in the safari lodge for 2 nights with my partner and 2 kids.  Everything is very well equipped and clean.  All  bedding and kitchen ware provided so more room in the car for other stuff!  The safari lodge has two bedrooms, one with a double bed the other with bunk beds and a communal area that's big enough for a sofa and 6 seat dining table and room to spare for the kids to run around in.  It also has a wood burner which was great for keeping the nip in the air at bay at night.  
For outside eating - there's a veranda big enough to take the table or sit on the logs around the open fire.
Toilets and showers were really clean and plenty of hot water.
Took the kids on the steam train that runs from Tenterden to Bodiam and over to Camber Sands, but to be honest I think think they had just as much fun running around the field and singing to the baa baas in the next field!
lovely secluded campsite
Little Halden is a gorgeous, secluded campsite in a lovely area. The facilities were very well kept and the showers hot! Very friendly host came to welcome us in and helped us with anything we needed. A very personal campsite and service. Looking forward to going back. 
For us it was a whole new level of camping.
 We hired the yurt and the safari lodge last weekend, 4adults and 2children, we had a fantastic time the weather was perfect (not too hot) the children had the whole field to run around in, it felt like the whole farm, the yurt and lodge are very well equiped and have been placed so you get the best views, nearby is Rolvenden village a short walk away, we spent a day at camber sands and rye, about 20-30 mins away, the beach was lovely. We're going back to little halden farm in mid July for a long weekend, wild camping month in one of the old hop gardens, just a shower and a tap : ) should be fun, Happy camping.
Best Price Guarantee, with no fees
Instant booking confirmation
Trusted for over 10 years
A chance to win £50 of Cool Camping vouchers!
Book campsites near Little Halden Farm