Greenhill Glamping
Greenhill Glamping, Alkham Court, Meggett Lane, South Alkham, Dover, Kent CT15 7DG





An authentic shepherd's hut in Kent, restored from the 1890s and kitted out for couples with a king-sized bed, wood-burning stove and views over the Kent Downs
Many shepherd's huts in the UK may offer the utmost modern comforts but few can combine it with the rich and dramatic history of the hut at Greenhill Farm. Set in a hillside meadow in the south eastern stretches of the Kent Downs, this single, humble-looking hut is the genuine artefact – an 1890's shepherd's wagon, built by steam engine manufacturers Marshalls of Gainsborough. Abandoned on the Romney Marshes for over 75 years, it was only recently that new owners, Wendy and Neil Burrows, dragged it out and into the 21st century, luxuriously but tastefully fitting it up for the modern glamping audience.
Inside there's been careful restraint in order to maintain its sense of history. The interior wood-slat walls remain unpainted and are still marked with the names of World War II soldiers – who sheltered in the hut while manning a local gun battery – while the structural wooden beams are also wonderfully exposed, accentuating the warmth of the glowing wood-burner. Yet while the antique table, vintage stool and 1930s-style switches hark back to its olden days, this is still a proper glamping experience. The fitted king-sized bed, en-suite shower room and kitchenette facilities have made it a compact home from home, though it's the attention to detail that really makes the hut stand out. Locally sourced toiletries are provided in the shower, fresh towels and bedding are all supplied and there's even a welcome hamper on the sideboard so you can simply sit and enjoy the view from the moment you arrive.
And what a view it is. Beyond the shepherd's hut, the chalky land is full of native grasses, buttercups and cowslips. A scattering of sheep from the farm graze the neighbouring meadows, while a host of birds and fledglings nest in the trees that back the field. Wendy is more than happy to point you in the direction of the best local walks, taking in the key viewing points of the Alkham Valley and exploring the land around the farm. Find the roof-top of the 12th-century village church poking above the trees and venture into Alkham. Sadly the village pub is no longer open but The Marquis Hotel offers some fancy fine dining in its place. The food is fantastic.
Beyond, the south coast attractions await: Wind-swept walks along Dover's famous white cliffs, wartime tunnels and fresh fish in Folkstone harbour or visits to the castles and cathedrals inland. Equally, you can simply sit around in your newfound, miniature home. There's a pit outside for campfires and a westerly horizon fit for that essential summer sunset. Stay quiet and you may even spot a badger. They too are happy to make their homes in the chalky Kentish hillsides.
Gallery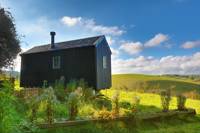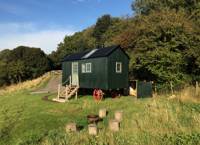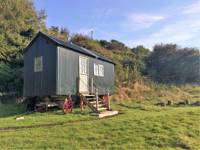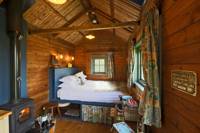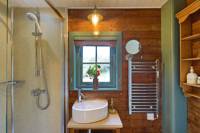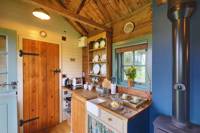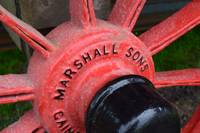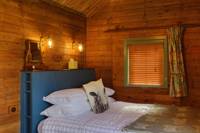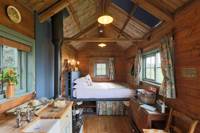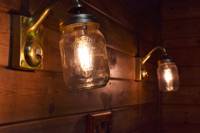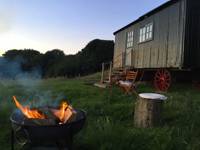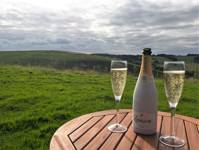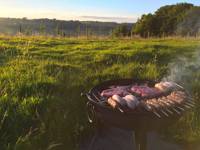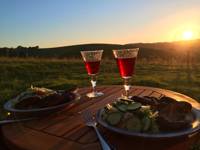 The Owner Says
A beautifully restored 19th century shepherd's wagon located on the Kent Downs in the beautiful Alkham Valley, near to Dover. The perfect retreat for 2 looking for a special luxury stay. Kingsize bed overlooking stunning views and ensuite with large shower. Woodstove for those cosy evenings tucked up inside! Outside fire pit and barbeque to enjoy sunsets across the valley. Our shepherd's wagon is situated within its own private paddock with private parking.
Reviews
Add Your Review
A restful stay with everything you need
We have just stayed the weekend in Ploughman's retreat and absolutely loved it! Wendy was very friendly and helpful and sent us all the information we asked for prior to our stay. We had a lovely breakfast hamper which was filled with lots of locally soured goodies! The hut has everything you need, literally- All you need is your toothbrushes and toothpaste! The decor of the hut is beautiful and space utilised well. We came here to relax and unwind and that's exactly what we did. Wendy recommended a number of lovely pubs and restaurants to eat at and we loved using the fire pit and wood burner! We loved waking up to the inquisitive sheep in the next field and watching the natural scenery and wildlife.I hope to come back here for many more stays!
Fabulous and cozy
We had a wonderful nights stay in the Shepherd's watch. It was early in January and the weather was cold and misty, however the welcome from Wendy was warm and friendly. Nothing was too much trouble for her. The shepherd's hut was wonderful in every way, from the toasty wood burning stove to the industrial lighting, the spotless ensuit facilities to the sheep themed bedding. We had a roaring fire outside early evening then went to the Lydden Bell pub for a delicious dinner (10 mins drive away) On our return we put more wood in the wood burning stove and enjoyed playing dominoes and cards that were supplied. The bed is very comfortable and waking up to the beautiful views of the Alkham Valley cannot be beaten. I would recommend the breakfast hamper too. The locally sourced eggs and other products were delicious. Seriously fabulous stay. I'd like to go back very soon.
Highly recommended
We had a fabulous stay in this shepherd's hut. It's in a great location and the accommodation has been re-furbished to a very high standard, with every comfort catered for. When you add in Wendy's excellent hospitality and the wonderful breakfast hampers it all adds up to a truly memorable experience.
Beautiful setting,luxurious ,comfortable,superb!
The hut is gorgeous and beautifully fitted with a lovely rustic feel but with all the modern luxuries. It's cozy and comfortable and very well equipped. The view is fantastic and you are in your own paddock with nobody around with amazing sunsets around your own BBQ or fire pit. I recommend Wendy's breakfast hampers, they are delicious and set you up for a day of exploring - home baked bread and local farm ingredients!! I thoroughly recommend this for a romantic stay,a weekend break from the city, I'd live here if I could afford it:) one of my best weekends ever !!
Glamping
Just got home from a truly unique experience. Loved every minute of it. The shepherds hut is so luxurious and situated in a beautiful farmland setting. If u want a really chilled out few days, go. We had a barbeque every night while eat hung the sun go down and a beautiful breakfast bought to us in a hamper full of lovely fresh items. Wendy is so friendly and made us feel so welcome. Would definitely go again.
Wonderful stay
My boyfriend and I stayed at the hut for two nights. The hut is simply gorgeous, charming and beautifully restored, with a wonderful view onto the hills. Wendy is an impeccable host: we found cake and tea when we arrived, and she even gave us a jar of lemon curd when we left as my boyfriend love it! Breakfast and packed lunch were great too, made with fresh and locally sourced products. We'd definitely love to come back! Thank you Wendy and Neil!
We stayed only two nights but wish we had stayed 2 months
I booked the hut two nights as a birthday surprise for my boyfriend, he was delighted !!! The hostess Wendy was extremely nice and helpful, and had even prepared a homemade cake for my boyfriend's birthday. The hut is very charming and comfy in a traditional and rustic way. The view onto the green hills is amazing and so peaceful. What a pleasure to wake up to the sound of birds singing ! Perfect to relax, listen to some classical music or read. We had a lovely walk in the countryside among the meadows and cute cottages, and even walked to the seaside. We would definitely love to come back.
Cosy & Comfortable
This was our first time staying at Greenhill and typically it started snowing the weekend we set off. I was certain there was no way we would be warm, however when we arrived the wood stove was burning and the hut was ever so cosy. We enjoyed bubbles and marshmallow toasting by the fire pit and watched the sunset, before retiring to a cosy bed. The bathroom facilities are fantastic, and we had the added bonus of a Nespresso machine to get the caffeine hit to get us going for a day of adventures. The homemade cake was one of the many added bonuses, Wendy's attention to detail is impeccable and I shall definitely be returning at some point.
Win a £100 Blacks Voucher!
If you've stayed at Greenhill Glamping campsite, please take a minute to tell us about your experience. Every month, one lucky reviewer will be picked at random to win a £100 voucher, courtesy of our recommended retailer Blacks. Each review counts as one entry, so get writing!

Best Price Guarantee, with no fees
Instant booking confirmation
Trusted for 10 years
A chance to win camping goodies in our regular competitions!
Book campsites near Greenhill Glamping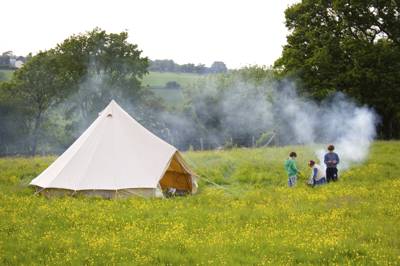 i
Campsites in Kent
Campsites in South East England
Campsites in England
Available:
2 Pitches
1 Bell tent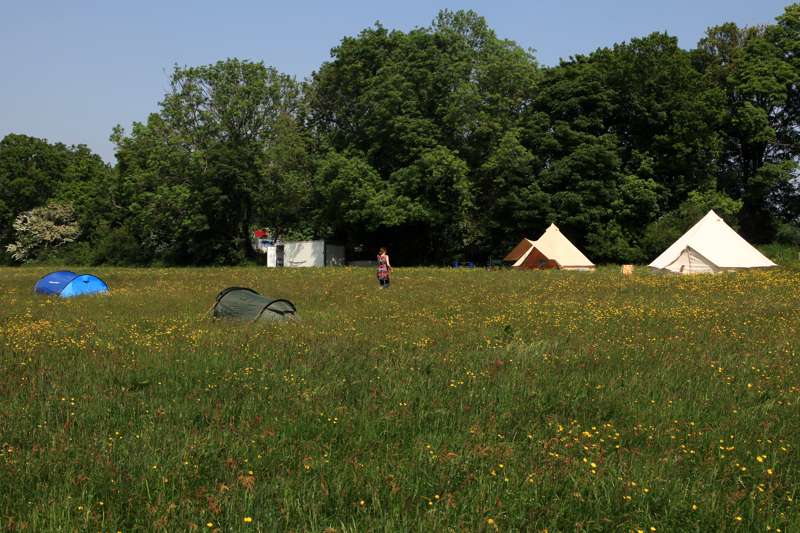 i
Campsites in Kent
Campsites in South East England
Campsites in England
Available:
1 Pitch
1 Bell tent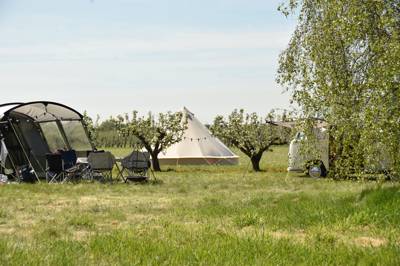 i
Campsites in Kent
Campsites in South East England
Campsites in England
Available:
55 Pitches
11 Bell tents