Book campsites near Vintage Vacations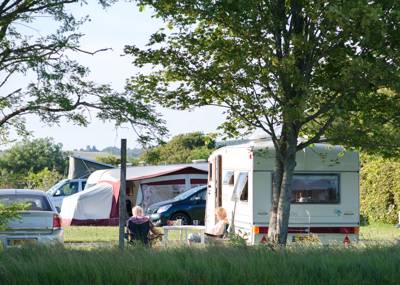 Campsites in Shanklin
Campsites in Isle Of Wight
Campsites in South East England
If you fancy a real escape, then take a trip to another time and get retro, old-school cool in some classic Airstream trailers at Vintage Vacations
We can only be grateful that the US does everything so much McBigger and McBetter, because without that super-sized can-do attitude, we might never have experienced one of America's best inventions – the slick, stylish Airstream trailer. It's an incredible feat of engineering and a joy to behold, with effortless, curved lines, a sparkle of silver and a spacious, luxurious interior. This is no ordinary caravan – it's style on wheels.
While the shiny, classic homes-on-wheels have had a bit of a renaissance in recent years – popping up on US film sets, hotel roof-tops and hip, London restaurants – a rural meadow on the Isle of Wight is one of the more unexpected locations to find them. This is the home of Vintage Vacations, brainchild of photographer Frazer Cunningham and stylist Helen Carey. Their love for all things retro compelled them to import initially just two of these beautiful caravans, a 1965 Tradewind and a 1971 Safari. Today there are almost 20, ranging in age (and size) all the way back to 1946.
It's no surprise, given the couple's background, the lengths that they have gone to ensure there's real comfort and style in these caravans. The exteriors were in mint condition when the Airstreams were bought but Frazer and Helen have restored the tired interiors, staying as faithful as possible to the mid-century origins. You can almost imagine Marlon Brando stepping out from the curve-top door of the 1960s models, smoking a cigarette and throwing a moody look in your direction. Inside, the 60s theme continues with yellow-lacquered kitchen cupboards, colourful curtains and rock 'n' roll CDs, as well as retro games including Tiddlywinks and Fuzzy Felt. The 1940s vans, meanwhile, lack the full-on bubble curves and have an older, wooden finish inside, with classic late 40s tablewares and an old whistling kettle on the oven. The result in every van is an effortless blend of holiday comfort and retro chic.
When you're ready to return to the present day, you'll find the usual holiday diversions at Newport, the island's biggest town, just 15 minutes in the car. You could take in a show at the historic Apollo Theatre, visit the farmer's market on a Friday morning or hang out at the Quay Arts Centre, a thriving gallery, café and live arts venue housed in a former warehouse on the river bank. Or pop to nearby Ryde and the Isle of Wight's western coast. Nettlestone, St Helens and Bembridge, all have good beaches – just remember to bring your stripy bathing suit and retro swimming cap.
Details
Facilities
Each airstream has a fridge, cooker, toaster, well-equipped kitchen, shower/bath (there's a shower in the airstream and a separate shower and toilets in the adjacent farmhouse), linen and towels, radio, CD player, hairdryer, Fuzzy Felt, Tiddlywinks and a picnic bench, sun loungers and BBQ outside. Shop-in-a-shed – bits of vintage, handmade tea-cosies and the like. Breakfast packs and speciality bakes available to order in advance and free-range eggs available on the farm. Badminton net, bats, balls and games available to borrow. Check individual units for more specific details on each Airstream.
Suitable For
Glamping only – though there is 1 extra space for bring-your-own classic campervans and vintage caravans. No dogs allowed.
Nearby
Treat yourself to a scenic chug through the countryside on the Isle of Wight Steam Railway (01983 882204). The nearest station, at Smallbrook Junction, is a 15 minute walk away. It's a tiny bit further to Rosemary Vineyard (01983 811084), one of the largest producers of English Wine – covering 30 acres just south of Ryde. Free guided winery tours are offerred every Saturday, Sunday, Monday and Tuesday (11am, 12pm, 1pm) and last around 30 minutes. They take you through the winemaking process and the equipment used, followed by a tasting of their wines, juices, liqueurs and ciders
Food & Drink
Order up a special breakfast 'hamper' packed with local goodies (ok, it arrives in a brown paper bag) from the Wight Hamper Company (01983 875535). There are many pub and restaurant options in nearby Newport but for a great view across the island and out to the Solent, head to the beer garden at The Blacksmiths Arms (01983 529263) in Calbourne on the main Newport to Freshwater road. Good Sunday lunches plus guest ales.
Open
Mar–October; most trailers are on week-long bookings during Jul & Aug, although some short break stays available.
Location
Contact Vintage Vacations, Hazlegrove Farm, Ashey Road, Ashey, Isle Of Wight PO33 4BD
Getting There
Detailed directions are supplied on confirmation of booking. For ferry information to the Isle of Wight, contact Wight Link (0870 582 7744) or Red Funnel (0870 444 8898).
Reviews
Add Your Review
Rated ★★★★★ over 3 reviews
Just Brilliant!
We had an amazing time in the 1959 Overlander Airstream. The owners Helen and Frazer are on site to meet you, lovely easygoing couple, really seem to enjoy running the site and helpful by email when booking too. (Big shout to the cheerful cleaning lady too, who loved the site as much as we did)
I like vintage and this campsite is "proper"  - no Cathkidson!  not just the amazing Airstreams with all original features, ....Original fabrics, kids games, annuals from the 60/70 and babycham glasses (free babycham on arrival!)  Owners previously worked as stylist/photographer and you can tell!
They've thought of everything to make this a really relaxing and fun experience (radio in the toilets, vintage vinyl on the walls, free tea/fresh coffee/milk on arrival) plus bbq and fab deckchairs and loads of sport rackets and nets in the middle of the site which our kids loved.   
We've been to some great campsites and husband Jim says "the most tasteful (yet unpretentious) campsite he's ever  stayed on"!
We thought it was really good value for money too, not massively more than normal caravan sites. Please great location near Ryde.
Huge thanks!
Vintage Vacations
We stayed here in May 2012 and had a fantastic time, despite the weather being wet. We thoroughly enjoyed the vintage airstream caravan, the retro feel, the shower in a cupboard. The bed was comfy and cosy, the rain was bouncing off the aluminium roof. We ventured out into the sodden field and toured the island beyond. Loads of fun, we look forward to coming back again someday.
Vintage Vacations
Absolutely fantastic. Spent last week of October with our 2 children and loved every minute. Caravans are beautiful, facilities in and out of caravan great, feel very looked after by Helen and Frazer (the owners). So much to do on the IOW. Will definitely be going back.