Book campsites near Milly's House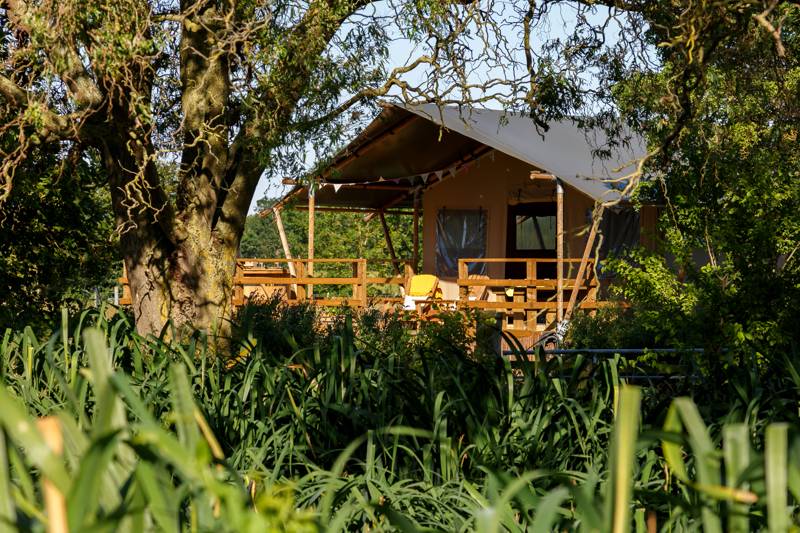 i
Glamping in Bedfordshire
Glamping in South East England
Glamping in England
Milly's House
Manor Farm, Newnham, Baldock, Hertfordshire SG7 5LA







Eco-conscious private cabin, sat by a trickling stream on a working Hertfordshire farm, boasting a luxurious interior and unspoiled countryside views
It's not a nice feeling to realise you have no imagination. Many times we have laid eyes upon a caravan and not once thought, "Yes, that chassis would make a great place to spend the weekend." Yet here we are at Milly's House – an innovative new glampsite, set on the edge of private Hertfordshire woodland – firing up the log burner, and planning to cook dinner on what may be the UK's best-located caravan chassis.
Well, three caravan chassis to tell the truth. The building has been constructed on these upscaled vehicle frames, which now support different parts of the 'Hybrid Cabin'. One chassis is the bedroom, one the lounge and reception area, and the final underpart houses the kitchen and bathroom. "All three sections are connected by tunnel footbridges, so guests can walk between them comfortably," says owner Liam. Together, the bridges weave around trees on the edge of the woodland, offering uninterrupted countryside views.
Hiding on a working agricultural farm outside Ashwell, Milly's House is completely off-grid and geared towards being eco-friendly – which belies the fact that this is actually an incredibly comfortable place to stay. The well-equipped kitchen has a gas cooker and hob, fridge, running water, and there's also a lovely private shower and a composting toilet. But perhaps the cabin's biggest treat is the 180-degree glass in the bedroom – meaning visitors can immerse themselves in the outdoors, yet stay toasty lazing in a double bed.
Outside, there's a large south-facing deck (complete with table and chairs), which perches over a small stream, providing the sound of trickling water. "The cabin is all about switching off from the world and reconnecting with the natural surroundings," Liam continues. With this in mind, Milly's House has no power sockets – the building is run from a solar system – however, there is 4G-phone signal here, for those not wanting to disconnect completely.
By day, there are lovely walks, taking in the surrounding villages, and further afield the beautiful buildings and colleges of Cambridge can be explored. As you would imagine, the tightly-packed city gets busy during summer; a far cry from Milly's House, where most guests are content simply to read a book and listen to the birdsong – revelling in the delightful sense of isolation.
Reader Reviews
Add Your Review
Hidden Hertfordshire
Milly's House is a fantastic hidden gem and we enjoyed staying just as Spring started. Great views, really peaceful to sit out on the deck by the stream, enjoyed a long circular walk across the fields to Ashwell and back with big open views. Milly's House was lovely and cosy, with the log fire to keep us warm once the sun went down, great to look out from the bedroom towards the stream and across the fields, pretty sure we spotted a Black Squirrel, everything we needed.
The whole place perfect settings
It's was very quite which I loved was able to get work done easy to get to with the right driver as I took a taxi from a local firm which was good. Local pub and shops are 15 mins walk but the views are in credible so it's a plus and I'll be booking every year whenever I can.
Peace and quiet
What a lovely place! Only 90 minutes from central London yet feels like a different world. The location is in a peaceful setting looking across open fields on 2 sides, but sheltered by trees behind. A small brook trickles past the deck in front of a field of beautiful sunflowers! The best thing was sitting by the log burner enjoying a glass of wine and reading by candlelight while listening to the wind in the trees outside. The house is well equipped with everything we needed for a short break and the village is a short walk away. Perfect spot for getting out of the city, will definitely come again!
Perfect getaway
From friendly and helpful info from Liam to a beautiful, comfortable, unique, quirky and eco friendly peaceful hideaway..everything was perfect!! There are games, books, candles, log burner, binoculars for watching wildlife and everything you need for cooking and relaxing! Would highly recommend Milly's House to anyone wanting to relax
Beautiful!
A beautiful retreat where everything has been thought of. So peaceful and relaxing, we were able to read with no interruptions in the most stunning of surroundings. Thank you x
The setting
It's a lovely place with a lovely setting, and Liam is very friendly and professional. Lots of attention to detail and eco friendly.
Perfect London escape
Booked Milly's House as a last minute weekend break. What a lovely setting with just the stream and wildlife for company (apart from a few dog walkers). Warm welcome from Liam on arrival with a welcome book of essentials waiting for us. The cabin itself is well-thought out and nicely furnished with ample space for 2, a great wood burner and well-stocked kitchen. I'm fussy with bathrooms and not even I could complain! Plenty of hot water, very clean, and the solar panels provided power for lights. Lots of countryside for exploring from the cabin and a couple of cosy countryside pubs in Caldecote and Ashwell too. We planned to visit Cambridge but the weather was rainy so we stayed in the cabin and fired-up the wood-burner which was a perfect plan B! Thank you to Liam for building such a fantastic retreat and deciding to share it with us! See you soon.