Bentley's Frenchmoor
Lynwood, Frenchmoor, West Tytherley, Hampshire SP5 1NU




21st-century shepherd's hut glamping, where you can stargaze from your bed, luxuriate in a Scandinavian hot tub and cook home-made pizzas in a wood-fired oven.
Sheep? They're so last year. The world of wool has moved on. It's all about alpacas now. Come to this eight-acre smallholding in rural Hampshire and you'll see the two species grazing side by side. How fitting it seems, then, that just as livestock has gone up-market so too has the traditional shepherd's abode. For here, edging the vast green swathe of Bentley Wood, you'll find a modern shepherd's hut that even top hotels will envy.
Set at the end of a private gravel track, with views across a paddock to the woods beyond, this wood-clad, curved-roofed wonder is a masterpiece of design. Sympathetic to it's surroundings, the hut is full of sheep-like tradition – a split stable door, cast-iron wheels and a log-burning stove – but pairs it all with alpaca-esque modernism – there's a powerful en suite shower, mains electricity and water, plus a giant curved window above your bed so that you can stargaze all night long. The large double bed folds back into the end wall, providing extra space during the day, while, outside, designer furniture and decking awaits. The real treat? A luxurious Scandinavian hot tub, where you can simmer away with a glass of bubbly.
While headline features like the hot tub or the hut's wood-fired pizza oven certainly stand out, the real beauty of Bentley's Frenchmoor is the smaller touches and the acute attention to detail. The three Ts are provided – towels, toiletries and Twinings tea – and, along with a local map, there are books, games and a radio. A complimentary breakfast hamper lies in wait for your arrival – think Dorset cereals and artisan bread – and a beautiful Victorian wooden wheelbarrow sits in the car park to help you take your luggage from car to hut. Combine that with friendly owners Peter and Georgie, who are happy to recommend a local pub or point you in the direction of a scenic footpath, and you've everything you need.
The first footpath you should take, in fact, is across and into Bentley Wood itself, a 1,700-acre space originally owned by Lady Colman of Colman's Mustard and a delightful place for a stroll (particularly in bluebell blooming spring). There are a handful of country estates nearby, too, as well as the historic cathedral towns of Salisbury and Winchester and the, too often overlooked, Romsey, a the beautiful medieval market town clustered around a magnificent Norman Abbey.
Gallery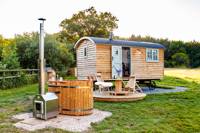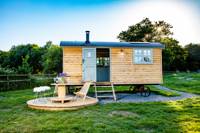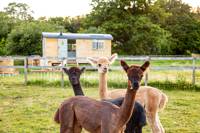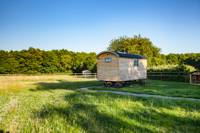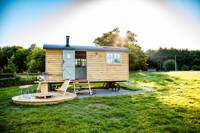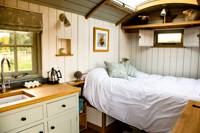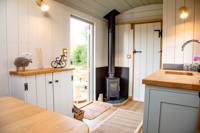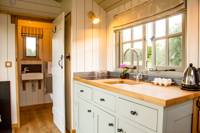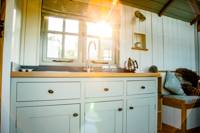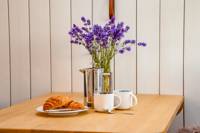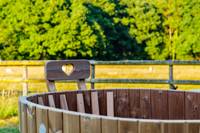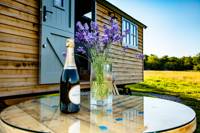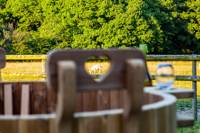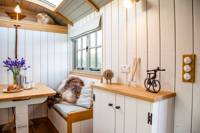 The Owner Says
A luxury shepherd's hut "in a field of your own"
Peter and Georgie's 8 acre smallholding adjacent to the 1,700 acre Bentley Wood in West Tytherley is the most idyllic retreat for your stay – and they want to share its beauty and tranquillity with you.
We wanted a name that represented the local area. Our smallholding is adjacent to part of the Bentley Wood – gifted into trust by Lady Colman (Colman's Mustard) hence the name "Bentley's" was born
The beautifully hand crafted hut which sits on cast iron wheels and made by Blackdown (the finest manufacturer), is clad in feather edged oak, insulated with sheep's wool, features hand crafted oak units and fittings, together with the magical pull-down double bed and en-suite shower. In case of a chill, the hut also has a log burner to keep you snug and warm. As if that is not enough, the stunning curved glass ceiling above the bed enables you can continue star-gazing long into the night, wrapped up in your Hungarian goose down duvet. In the summer why not star gaze whilst relaxing in the wood-fired hot tub with a bottle of prosecco!
Dawning in a field of your own with birdsong and sheep the choice of activities beckons.. Or if you prefer, relax in the paddock and take it easy.The choice is yours.
Reviews
Add Your Review
Tranquil, cosy and just great fun.
Everything you need to get away from it all. Lovely, helpful owners, peace and country air. I loved the chance to hone my skills with the log burning stoves!! Obviously the hot tub is awesome, especially with a chilled glass of wine. And the nearby farm animals are a joy to watch. They mind their own business leaving you to enjoy the scenery. Also excellent nearby towns especially Stockbridge. Every facet of Bentley's Frenchmoor shepherd's hut gets full marks from me.
Dreamy
We had a fantastic stay over NYE, Georgie and Peter are super hosts. The cream tea pack was really yummy and a treat after our NYD walk in the countryside (ordinance survey maps in the hut) Everything here is relaxing, the pizza oven was fab and easy to use, the complementary Prosecco (thankyou!) in the hot tub, whilst gazing at the starry sky was wonderful. Inside the hut, there is everything you need, the quality & attention to detail is perfect. Waking up, lighting the log burner then opening up the window to watch the sunrise over the woods, listening to the birdsong with a cuppa is just lovely. Last but not least the alpacas are the cuddliest guys ever, I could watch them all day! Thanks so much for a wonderful stay!
Fantastic location!
So happy to have found this beautiful little get away to celebrate our 2nd wedding anniversary. Couldn't ask for more, stunning hut with all you need provided. Very private and peaceful, exactly what we needed! The hot tub is incredible and we very much enjoyed using the bbq as much as we could! Owned by a lovely couple, will be highly recommending....we'll be back soon!! Thank you for a wonderful stay
Response from Bentley's Frenchmoor
Really pleased that you enjoyed Bentley's. Thank you for a lovely review!
Best Price Guarantee, with no fees
Instant booking confirmation
Trusted for over 10 years
A chance to win £50 of Cool Camping vouchers!
Book campsites near Bentley's Frenchmoor