Big views and sweet seclusion in the South Downs, with just four safari tents on a 2,500-acre country estate
Tucked away on the north-western edge of the South Downs National Park in the pretty Hampshire village of East Meon, lies the unspoilt 2,500 acre Bereleigh Estate. At 600 feet above sea level, the estate offers some stunning panoramic views of the surrounding countryside. From this vantage point, amidst the hawthorn hedges and undulating waves of green fields, you might just spy Cedar Valley – one of the South East's best luxury glamping sites. We say "might", for so snugly guarded amongst the coppice clearings are the Safari tents which comprise the site, they might just escape your notice.
This bucolic sylvan hideaway is the ambitious vision of affable owner Jack Tyrwhitt-Drake. Jack's site encompasses four Safari tents – one atop a woodland hill for privacy; 3 in the lower meadow for groups of glampers. There's even a genuine Mongolian yurt for extra accommodation, dining or just a place to get together. Needless to say, all tents are amply-equipped and kitchen and wash facilities are second to none.
With an abundance of activities and places of interest in the surrounding area (not least the neighbouring New Forest), and digs the very epitome of posh camping, the call from Cedar Valley is too strong to ignore.
Best Price Guarantee
Easy and Secure, with instant booking confirmation
Trusted for over 10 years
A chance to win a brand new Coleman tent!
Gallery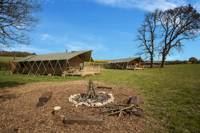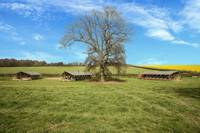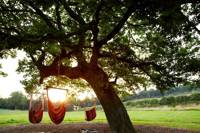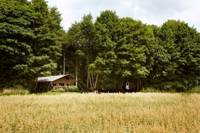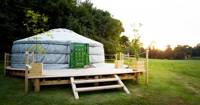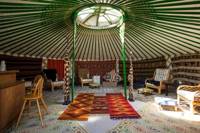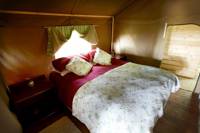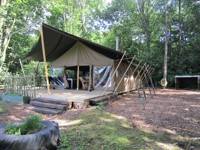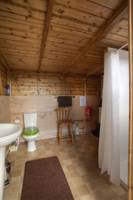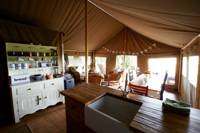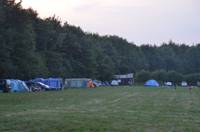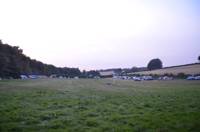 The Owner Says
GLAMPING
Glamping has never been more glamorous. Cedar Valley, situated on the Bereleigh Estate, offers new luxury safari tents, providing a camping experience to remember with adventure and fun for all ages. Our tents open up the possibility of camping to those who may never have considered it before.
We have large, fully furnished tents with comfortable beds, hot showers and flushing loos.  Each tent has its own fully equipped barbeque area with outdoor seating and a fresh herb garden to make all your delicious meals taste even better.
The tents measure 9m x 5m and are erected onto raised wooden platforms which offer insulation from the ground and they are fully lined. Each tent has three bedrooms, a large double, a twin and a bunk room. There is a well equipped kitchen area with good surfaces for food preparation, a gas hob, a sink with cold running water and a small fridge with the essential ice tray. The rest of the tent is an open plan living and dining area with comfortable seating, a good large table and a wood burning stove. The front opens onto a deck surrounded by a handmade ash fence which creates the perfect setting for those welcome sundowners!
CAMPING
We opened our Campsite in the 2013
We are in an area of Outstanding Natural Beauty, deep in the Hampshire countryside, but within easy reach of both London and the South Coast.
We have 3 large grassy field located near Bereleigh House which provides the ideal loaction for campers to come and enjoy. Guests are welcome to explore the field and find the perfect pitch!
We believe its a great location and our aim is to have as little impact on the immediate environment as possible. We have however installed a renevated office containers which houses gas showers, basins and proper loos – for your comfort and enjoyment!
Children are obviously very welcome and we have designated a mown area where they can play football, fly kites and generally muck around, in total freedom and safety.
Reader Reviews
Add Your Review
Lovely location
Lovely location, very peaceful and in a stunning area. We cycled from the campsite to east and west meon and the meon valley trail is within cycling distance too. It is expensive for what it is and I can imagine if it's busy then the facility's are not going to be adequate but we were the only people there the first night and then only two other tents on the second so didn't really effect us! Also the instruction on the website as to arrival are unclear and there is no signage when you have followed their instruction as to where to go, when I did eventually find someone they told me the person I wanted wasn't there and normal protocol is to just arrive and set up and someone will come and see you! Why doesn't it jusy say that on your website then! Slightly annoying!! A lovely stay though 😊
Nice location but overpriced
We like basic, simple and quiet family friendly sites in great locations and this meets the specification.  However, £51.50 per night on a May Bank Holiday weekend was a little steep for 3 adults, 2 kids (6 & 3yrs) and a baby considering it's a field with a single converted metal container offering just 2 showers, 3 toilets and 2 sinks (cold running water) which are shared male/female.  Even if it hadn't been a BH it would have still cost £40 per night.  There is a single outside (un-covered) washing up sink that for some reason was built for hobbits and the grass was in need of cutting as it was ~6" long everywhere.  It is a nice site (albeit on a slope) and the facilities whilst basic are adequate the prices need checking.
Book campsites near Cedar Valley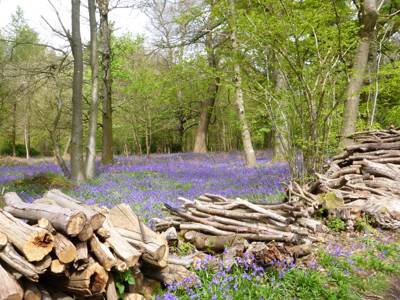 i
Glamping in South Harting
Glamping in West Sussex
Glamping in South East England
Glamping in England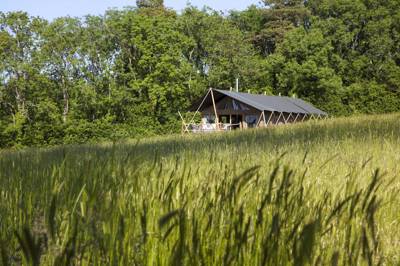 i
Campsites in Petersfield
Campsites in Hampshire
Campsites in South East England
Campsites in England
Available:
2 Safari tents