Hollington Park Glamping
Rose Cottage, Hollington House, Woolton Hill, Nr. Newbury, Berkshire RG20 9XR











Pod and bell tent glamping in the Berkshire woods on the edge of the North Wessex Downs
You don't have to be a fan of Downton Abbey to visit Hollington Park Glamping, although it is popular with viewers of the famous series, located, as it is, just five minutes from Highclere Castle – the magnificent house is instantly recognisable from the screen.
Built in 1842, Highclere Castle may be one of the key historic attractions in the area but it's by no means the oldest. Indeed it's the woods themselves, sprawling across the North Wessex Downs, that boast some of the most ageing relics of the region – ancient trees that were probably mere saplings when Highclere's construction started. It's among these leafy surrounding that Hollington Park Glamping is found, tucked between ash, oak and birch.
It seems suitable that most things here are made of wood. There are, in total, just two pods and a bell tent, though if you book all three you can also pitch an extra tent to make up the numbers. The pods have everything you need. The far end of the interior is taken up by a large, built-in double bed, with a window peering out into the leaves, while out front there is a deck and outdoor garden furniture. The bell tent, too, has all the kit and caboodle provided so you can turn up with little more than your toothbrush.
The accommodation is all in a woodland clearing and accompanied by two further structures: a covered seating area and a blue bathroom shed with a hot shower and compost loo. In the centre of the clearing there's a communal firepit, an ideal spot for socialising in the evening with your fellow pod dwellers, with surrounding benches built out of humungous tree trunks. Simply grab logs for free from the pile provided or forage in the woods.
Owner Claire lives in a little cottage a short stroll away. She's often popping over to check everything is ok and you can order breakfast hampers from her, full of locally-sourced goodies. She can also provide directions to the nearest attractions, the Bombay Sapphire distillery being one of them. Don't expect to find gin in your breakfast hamper though. It may be local but apparently tea and coffee still taste better with your cereal.
Gallery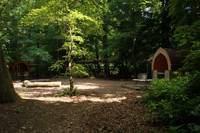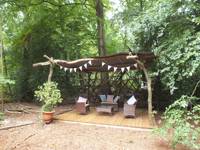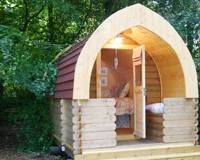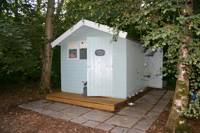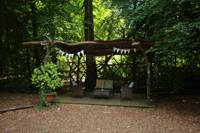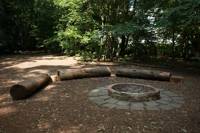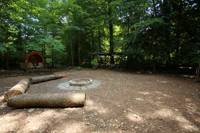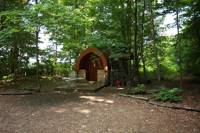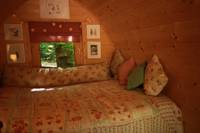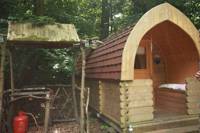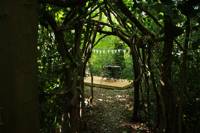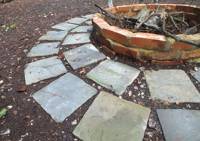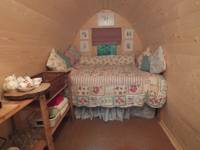 The Owner Says
Set in 10 acres of semi ancient woodland on the Hampshire Berkshire border is our small and unique glamping site. 45 minutes from London 5 minutes from the Historic Highclere Castle.
Reviews
Add Your Review
A real woodland treat
We loved Hollington Park, it's a great introduction to camping guaranteed to convince even the most reluctant camper. The facilities are excellent, clean as a whistle and handmade with style from the woods. The woods are great for romping around and waking up to the dawn chorus was a real treat. The bell tent was huge, lovely comfy bed and all the bits and bobs you need to rustle up a lovely meal around the campfire. Totally recommended.
A weekend in the Bell Tent
I stayed in the tent with my daughter and my 19 month old Grandaughter. It was an excellent weekend and would recommend the Bell tent rather than the pods if you need a little extra room The owners were friendly and very helpful My Granddaughter loved the woods and the animals Thanks you for a lovely weekend camping
quaint shabby chic
Lovely grounds better then expected, very pretty. Owners very friendly with two super cute doggies. Stayed in the Bell tent very spacious clean/tidy. Lots of nature and woodland around which makes it feel secluded and private (advice, take your insect repelllent). Relaxed atomosphere . Toilet and shower areas clean. 15-30mins walk to local pubs but check days and times for food. Everything available to cook your own food at the campsite inc gas hob/bbq. Did get quite chilly at night would have been nice to have had some coal provided to keep the stove and fires going as only had minimal amount of kindle and damp newspaper. Campsite gets very dark glad I brought my own tea light candles, they do provide many candle holders and lanterns but all of the candles had been used and no fresh provided. Overall lovely place would stay again.
Fabulous spot, great bell tent, wonderful owners
We had a really great night in the beautifully decorated bell tent set in fabulous private woodlands. It was set away from the pods in a private area with everything you need including bedding, towels and all cooking equipment. The owners were so lovely, helpful and friendly. I would highly recommend a visit.
Best Price Guarantee, with no fees
Instant booking confirmation
Trusted for 10 years
A chance to win camping goodies in our regular competitions!