A peaceful, small scale glamping site in West Lancashire with woods, meadows and endless space to explore
This pastoral slice of West Lancashire is one of the oldest agricultural areas in the UK. You only have to look to the local town of Ormskirk – home to a farmer's market since medieval times – to see it's bounteous produce. Vegetables, jams and homegrown goodies spill from the varied stalls, with traders capitalising on the area's convenient and accessible location.
A few miles out of town, 120-acre Watkinsons Farm has been working the land for almost as long and has been in the hands of its current owners since the 1930s. Stretches of woodland and a patchwork of ponds dot the surroundings while vegetables are still grown in the more fertile areas. It's a perfectly picturesque scene.
And it is here, backed against the woods, that Watkinsons Farm have started their newest venture – a petite bell tent glamping site, with four pre-pitched, pre-furnished beauties ideal for those looking for a quiet escape. Each tent is pitched on a flat, wooden platform, with outdoor seating and a campfire pit, while inside there are proper double beds, lanterns, bean bags and a box of cooking utensils with everything you could possibly need.
The all-you-need comforts go hand in hand with a traditional camping set-up. The site is completely off-grid and has a genuine camping atmosphere – think compost toilets, gas-powered showers, late night campfires and starry nights – but for those in need of a good pillow and a sound night's sleep, the farm is ideal. Small-scale and low key, this is a place where you can chat to the owners rather than members of campsite staff and get first hand recommendations on the local area.
Whether it's heading east into the hills, west to the beach or out to one of the surrounding cities, there's certainly plenty to do. A walk along the Leeds to Liverpool canal is a fantastic place to start. There are several good pubs on the waterside and the tow path has loads of space if you want to bring a bike along for a family cycle. Pedal back towards Ormskirk, meanwhile, and you can reward yourself with a cool drink and some freshly baked gingerbread. The town is, apparently, the birth place of the quintessential English biscuit and there are plenty of bakeries where you can find the tasty treat. More than one are also home to the 'very first original recipe'. You'll need your detective skills to work out who's telling the truth. And a good appetite.
Best Price Guarantee
Easy and Secure, with instant booking confirmation
Trusted for over 10 years
A chance to win a brand new Coleman tent!
Gallery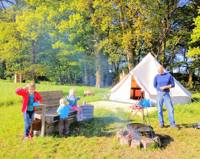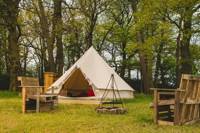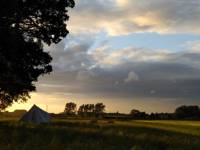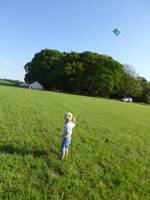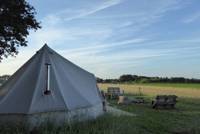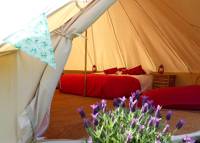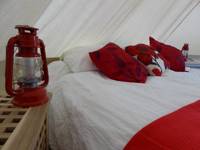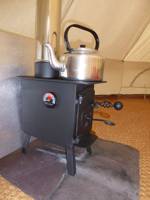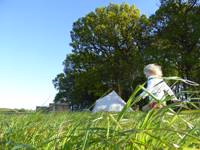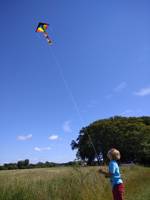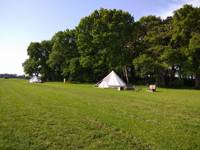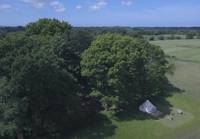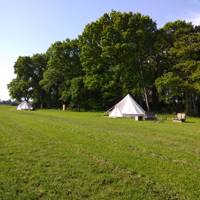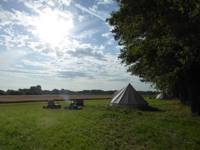 The Owner Says
Set on a 120 acre working arable farm, at Watkinsons Farm Glamping you can relax in one of only 4 luxurious bell tents, listen to the woodpeckers in the trees and enjoy amazing views of the Lancashire countryside at its best. Situated only 5 minutes from the Leeds to Liverpool canal, Watkinsons Farm offers fantastic canal side walks, ambling countryside, many local pubs and an award winning farm shop all within walking distance.  For further information please visit our website or let us know of any queries.  For full details of all the offers available please visit our website.
Reader Reviews
Add Your Review
Excellent break away from the city - perfect for kids.
Lovely welcome by the owners. Nice peaceful campsite with plenty of distance between the tents. Was great to reset away from city life. Cooking on the open fire for breakfast and dinner was brilliant. Woods close by for kids to play in.
Perfect
We received a warm welcome, the bell tent was perfect lovely and cosy with the wood stove through the night. The fire pit was fun to cook on. We thoroughly enjoyed our stay 😃
Response from Watkinsons Farm Glamping
Thank you for taking the time to leave a review, we're really happy that you enjoyed your time at Watkinsons Farm.
A Friendly and Relaxing Experience
A fantastic place to stay, with lovely views and many interesting walks to nearby towns. The owners were absolutely amazing - really friendly and went above and beyond to make our stay a great one. The tent was perfect and well appointed with supplies, and they even arranged for a selection of delicious meat from the outstanding local butcher at Taylor's Farm Shop, which you must visit. The site itself was quiet and well maintained and we were able to really feel that we were getting away from our normal lives yet in style! This isn't glamping in a frivolous or flamboyant sense, this is top of the range camping where you can still cook over an open fire and hear the birds in the morning and wake with the sun. But with a nice roomy tent and plenty of supplies to take the worry away. Excellent toilet and shower facilities meant we were covered. Our seven year old son absolutely loved it and we can't wait to come back. Thanks Abi and family for our time there. You were so kind.
Peace and quiet, rest and relaxation whilst surrounded by breathtaking countryside views
Watkinsons Farm Glamping is set in beautiful countryside in a pocket of woods at the far edge of a working farm. On arrival we were greeted by the lovely host Abi and her family who couldn't have been more helpful. We drove a short track to the tents and were suddenly transported into a tranquil setting which felt miles from anywhere. The tents are well furnished and comfortable, and had everything we needed and more. We had a fire pit and tripod hot plate and the bbq pack from the local butchers tasted mighty fine cooked on it. A bit of exploring in the woods followed by hot chocolate and marshmallows for the kids, a beverage for me and hubby and we were treated to a glorious sunset before bed. Just perfect.
August 22nd , 2017 by Chris
Had a lovely 2 day break glamping. not done so before. Abi and Ian were very welcoming and helpful. Grandchildren, daughter and myself loved the glamping experience , woods and fields surrounding. As well as the outdoor cooking we had lots of fun.
Alan and Family
The location, the glamp, the farm and family was all marvellous I stayed for 3 nights with my 2 children aged 8 and 11 and we all had a brilliant experience and will not hesitate to book again. It really was a great place to be and the organisation of it all was very good
Great little spot
We stayed here in April and had a fabulous time. I arrived on the first night with our tow boys (age 4 and 6) with my husband getting the train up on the Friday. Abi, Ian and kids were very welcoming, great facilities, loads of lovely little touches and a lot of fun! I have written a full review here http://minitravellers.co.uk/glamping-at-watkinsons-farm-ormskirk/ Highly recommended!
Amazing, beautiful, perfectly peaceful
We took over the whole site with my 2 daughters and 6 grandchildren last summer. The whole experience was amazing. The children absolutely loved running and hiding in the woods from the 'Granny Annie Monster'! I can't wait to return this summer.
Amazing, beautiful, stunning
Thank you so much Abi and Ian for such an amazing hol. We didn't know what to expect from glamping but we were amazed by how easy and fun it was. The meat from the butchers was gorgeous and we loved cooking on the open fire. The kids loved it. Looking forward to coming back next year. Sarah, Ant, Jack, Isi and Harry