Luxurious shepherd's hut glamping in the grounds of 14th-century Samlesbury Hall in Lancashire
Legend may have it that Samlesbury Hall is one of the most haunted houses in Britain but the black and white, half-timbered building is also undoubtedly one of the most beautiful. Fortunately, for those looking for a sound nights kip, it's the outdoor 'glamping hamlet' that offers a safe resting place to lay your head. And what the place may lack in ghost-free security it makes up for with its lavish modern comforts. Mixing old with new, the three colourful shepherd's hut pull this medieval hall firmly into the 21st-century. Ye Olde England has never seen such luxury...
Built in 1325, Samlesbury Hall may be almost 700 years older than the huts but they still seem to blend subtly amongst the expansive grounds that front the building. The earthy colours, wooden doors and small, wooden window frames compliment the setting – encircled by trees – while inside they've catered for everything you need. Memory foam mattresses top the pair of bunk beds in each hut, low wattage electricity runs throughout and each has its own en suite bathroom with an excellent shower and towels and toiletries provided.
Each hut really operates like its own enclosed bedroom space but there are no in-built cooking facilities. Instead, guests have the full range Samlesbury Hall facilities to use, returning via the weaving lantern-lit pathway each night. For food there's the main restaurant, a guilt engendering wafflery and an excellent ice-cream parlour, all of which source their ingredients from the Lancashire surroundings. Indeed the herbs that garnish the restaurant food are all fresh from the Hall's own Courtyard, while eggs and honey are produced by a few of the varied animals on site – the bees and chickens are joined by rabbits, goats, sheep and pigs. For children it's a boon.
The Hall is open to the public every day – except Saturdays (and occasional Fridays) when weddings are hosted – and tour guides can provide you with a more educated perspective of the place. There's a museum, a gallery and frequent theatre productions, while, during school holidays, the hall has a particularly busy calendar of events and activities. Down by the animal area you can also join a charming woodland trail, with bridges, swings and obstacles for children. And if it all sounds like too much fun then book yourself in for an evening ghost hunt – a few scary encounters will bring you back down to earth with a bump. Needless to say a quick return to your cosy shepherd's hut will soften the blow.
Best Price Guarantee
Easy and Secure, with instant booking confirmation
Trusted for over 10 years
A chance to win a brand new Coleman tent!
Gallery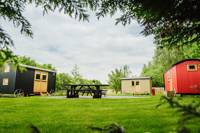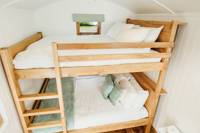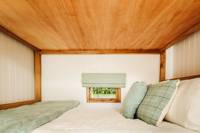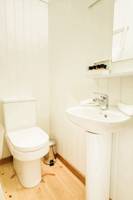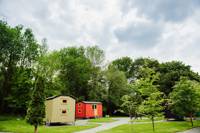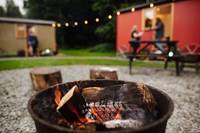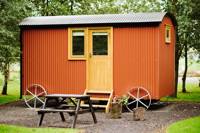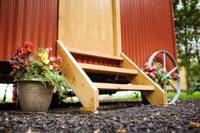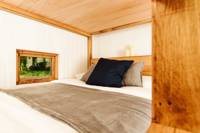 The Owner Says
In the grounds of historic Samlesbury Hall sits a gathering of colourful huts; Samlesbury Hall Hamlet... a rustic and carefree alternative to your traditional hotel room. Just as luxurious but with a rural edge, the hamlet is home to a collection of beautiful shepherd's huts, hand crafted to keep you toasty in winter and cool in the summer. Complete with two double beds in European oak, the huts boast all those little extras - memory foam mattresses, low-wattage electricity to keep your phone charged, as well as a cosy en-suite. The bathroom includes a spacious shower, hot water and soft towels, along with luxury toiletries. The huts are heated and well lit, including a camping lantern to add a rustic touch to your stay (and to light a moonlit walk). Free Wi-fi throughout the site keeps you in touch with the rest of the world, but escape is easy with a walk through the grounds of the picturesque Samlesbury Hall. Chairs and tables can be taken outside to relax around the fire-pit, or take a seat at one of our picnic benches and enjoy your supper. If you're looking to explore a little you can take the kids to the adventure trail and Mayflower playground hidden in the woodland in the grounds of the Hall, or to the mini golf course by the hamlet entrance. If the Hall's open it's completely free to visit (don't miss the sweet treats in Dottie's Wafflery!) and the award winning restaurant open for lunches only serves the finest ingredients.
Reader Reviews
Add Your Review
Lovely site
We really enjoyed our one night stay in one of the huts, with a baby and a 3 year old. It was warm and the beds were comfortable, all in a beautiful setting. The playground, animals and bee centre are now than enough to keep children busy. It would be good for a group of friends with kids.
Book campsites near Samlesbury Hall
i
Campsites in Lancashire
Campsites in North West England
Campsites in England
Available:
1 Pitch
2 Quirkys
1 Yurt or Ger
...
i
Glamping in Lancashire
Glamping in North West England
Glamping in England