Modern glamping pods on a working South Lakes hill farm, with beautiful views down the Kentmere Valley
At the foot of the Kentmere Valley, Browfoot Farm is a paradoxical place. Sleepy yet busy, comfortable yet off-grid and relaxing yet thoroughly action packed, it is the sort of small-scale escape that encapsulates what the Lake District is all about. Spread across 500 acres, through which the River Kent gargles, the farm is home to Swaledale and Herdwick sheep, White Faced Woodlands, a clutch of Shorthorn cattle and a trio of ponies. Hens scratch around as you drive through the farm gate. It's like a caricature of farmlife, complete with old stone barns and the 1800s farmhouse. Even the wildlife appears on cue, as a heron rises from the riverside and glides away towards White Howe Wood in the distance.
Life at Browfoot Farm is far from twee, however. This is a Lake District farm in the 21st century. Beyond the barns and with a prized position with the best views down the valley, you'll find Kentmere Farm Pods – four family-sized structures, complete with en-suite shower rooms, compact kitchens and a sleeping and living space for up to four people. Two of the pods are dog-friendly and all four are well equipped for walkers and bikers, with boot boxes ready for your muddy footwear and a hose for washing down grubby bikes. Underfloor heating will help you warm-up after rainy days on the fells (the pub in nearby Staveley is also a nobly cosy affair), while picnic tables and barbecues await for sunnier climes.
When the weather is fine, the River Kent offers ideal paddling and dam-building opportunities for children, while walks along the riverside take you through oak coppiced woodland, once used for making bobbins in Staveley, a couple of miles away. Today the old mill yard there has been converted into a clutch of artisan shops where you can buy chutneys, fresh bread or draw a pint in the Hawkshead Brewery. It's a good place to stock up (on food, not beer) before hiking up a local peak: Kentmere Pike, Yoke, Capple Howe, Shipman Knotts and Staveley Head Fell are all within striking distance, to name but a few.
The river itself is a Site of Special Scientific Interest (SSSI) and attracts Dippers, Wagtails and other birds. Along with the rest of the farm it is managed as part of a Higher Level Stewardship scheme, which keeps nature at the fore. The uplands are managed to help with the natural regeneration of heather and sedges, as well as increasing the wild flowers and bio-diversity throughout the farm, and there's been a concerted effort in the last few years to plant native trees, creating areas of deciduous woodland in the valley. Already you can occasionally spot red deer on the higher land and roe deer in the woodland. Look out for the rare White Claw Crayfish that the river is home too, popularly seen on the old, stone, packhorse bridge down the lane (a fantastic spot for playing Pooh sticks!).
Best Price Guarantee
Easy and Secure, with instant booking confirmation
Trusted for over 10 years
A chance to win a brand new Coleman tent!
Gallery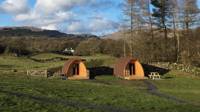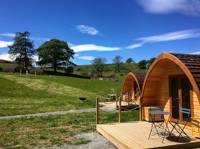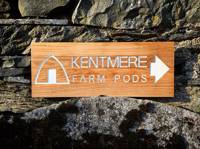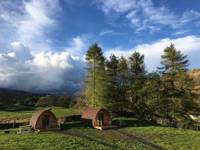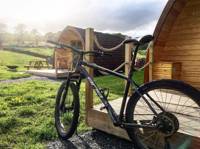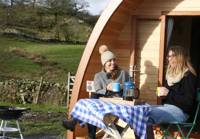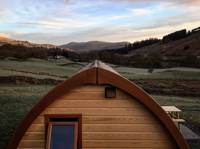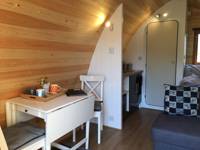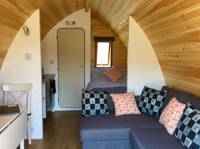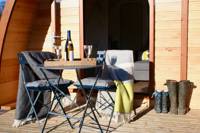 The Owner Says
Welcome to Kentmere Farm Pods on our working family farm in the Lake District National Park. An adventurer's paradise in South Lakes – great for exploring on bike, or foot, from the door, or simply relax and chill out. Our luxury Glamping pods offer a unique, peaceful retreat in the stunning Kentmere Valley. Ditch the tent pegs and still enjoy those special outdoor experiences with a few home comforts! Each pod sleep four comfortably with a double bed, sofa bed, bedding and linen provided. The pods are insulated and heated so you can get cosy and there is an en-suite shower/toilet as well as a kitchen area with microwave and fridge.
Our four pods are sited in their own large field, with spectacular views of the Kentmere Valley and surrounding Lakeland fells. With no light pollution, on a clear night, the sky here sparkles with stars, so light up the barbecue and enjoy. If you want a campfire there are fire bowls for hire. 
Our farm is 500 acres, covering a variety of pasture-land, woodland and high fell, with the River Kent and streams winding through. As well as sheep, cows and hens, you will see a wide range of flora, birds and wildlife and we work closely with Natural England to deliver responsible and environmental farming.
We are two miles from the thriving village of Staveley, along a quiet country road, with some great cafes, shops and pubs. The nearest towns are Kendal and Windermere and there are loads of activities including; water sports, riding, climbing and culture spots as well as great places to eat nearby.
Reader Reviews
Add Your Review
Amazing!!
The pods were amazing! They were better than we thought, and the views left us speechless! We came for a long weekend and would definitely be back. If you want a peaceful and relaxing experience then this is the place to come. Only downfall was trying to find the owners as we wanted to refill the charcoal for BBQ, however we liked the fact that we had our own privacy. Cant wait to come back!
Magical Outdoor Glamping Experience
We loved our stay at Kentmere Farm Pods. We stayed in the Froswick Pod at the top of the hill which had the most stunning views to wake up to with breakfast outside and lovely sunsets too for a bbq. If you're not into camping but want to experience quirky outdoor accommodation, these pods are perfect. I cannot believe what they have managed to do with such a small space! The only downside for us was that it was quite far away from some of the walks we wanted to do around the langdales, but if you have a car and are happy to travel this should not put you off. A fab place to relax and unwind, away from civilisation but also only 15 mins away from windermere. We will definitely be returning!!
Fantastic place
The pods are fantastic, everything you need for a relaxing weekend. Comfy beds, comfy sofas, and shower and toilet area great. Despite the weather, we squeezed in a bbq and a drink around the fire pit. Great location, so relaxing, yet easy to get anywhere. And it's a lovely walk to Staveley for a drink in the pub, 30 mins there, 40 mins back.
Lovely Few Days
Really enjoyed our stay here, everything was clean, attractive and useful. Owners were very nice and the hand book in the pods was very helpful. Had a wonderful time.
Peaceful;
The location is stunning. A secluded valley where "peace comes dropping slow" and you can simply be. The pods are stylish with everything you need (corkscrew, cafetière, decent sized wine glasses) offering a simple luxury. It was very hot while we were there, but the pod was comfortably cool and we slept so well in the still, dark nights. Lovely walks (choice of flat or hilly), great bakeries, cafes and pubs. Even an ice cream parlour in Stavely, within walking distance! Thoroughly recommend. We will be back!
Perfect relaxing get away
We spent Easter weekend at Kentmere, the weather was perfect, the walking was lovely and the pods were super cosy! Would definitely go back, easy walk in to Staveley for a pub tea or a bbq by the pod we're both very enjoyable.
Perfect quiet get away
Really thought through right to the little details, would recommend to anyone who wanted a quiet no hassle base to start exploring the lakes or just to relax. Well furnished pods with no expense spared in making them comfy and cosy to look apon perfect views of kentmere valley
Excellent Weekend Stay
We recently stayed at the Kentmere Farm Pods (with our labradoodle Archie) and we absolutely loved it. The pods themselves are really well fitted out with very nice underfloor heating, plenty of space, very comfortable furniture (which was appreciated after days of long walks in the lakes!) and even some very welcomed home made biscuits! The location is great and the local village of Staveley has a very nice chippy that came in handy on our first night. The owner was very welcoming and all of the contact before we arrived was great as well as providing a very detailed local guide in the pod.
Highly Reccomend
We have just spent the weekend in one of the farm pods and we would highly recommend Kentmere Farm Pods to anyone looking for a break away from the busyness of life and all of its stresses. There is four pods and we were very pleased with our pod- Mickle Moss. The pods are very modern and purpose built, with everything you need to have a cosy time away. When we arrived everything was clean and tidy. The key safe means you can easily access your pods with a code and leave the key in the key safe when you go out exploring making check in and check out simple. The bed was SO comfortable and we were able to cook up some nice food using the kitchenette. Despite the weather been miserable for us we made the most of the beautiful surroundings. We did the 30 minute walk to the village of Staveley on the first night and had a very nice pub meal at the Eagle and Child. Very easy to find without a map. On the second day we did one of the walks around Kentmere Horseshoe, recommended in the welcome book which was very useful and informative. If you are planning on going when the weather is nicer then there is outside table and seating aswell as a BBQ. Thank you for a lovely weekend Kentmere Farm Pods, just what we needed.
A wonderful place to relax
We have just returned from a 2 night stay at Kentmere Farm Pods and it was everything we'd hoped for and more. Ours was an impromptu break given the unseasonably warm February weather and we cannot wait to return. The location is as beautiful and serene as the site photos suggest and the welcome we received warm, friendly and helpful. The village of Staveley, a picturesque 30 minute walk (with young children in tow!), has a lovely choice of places to eat and drink and the walks from the Pod doorstep were also brilliant. The pod itself was pristine, well thought out and so cosy. The bed was so comfortable it was a disappointment to wake up in my own this morning! We look forward to returning.
Serene location and cosy pod
If you're looking for somewhere to get away from it all with breathtaking views - this is it! Situated in the foothills of the Kentmere Valley, the pods have one of the most amazing views you could wish for. Inside, the pods are bright, warm, well furnished and come complete with all the basics you need. Highly recommended.
Best Price Guarantee
Easy and Secure, with instant booking confirmation
Trusted for over 10 years
A chance to win a brand new Coleman tent!
Book campsites near Kentmere Farm Pods