Book campsites near Westfield House Farm
Campsites in Warkworth
Campsites in Northumberland
Campsites in North East England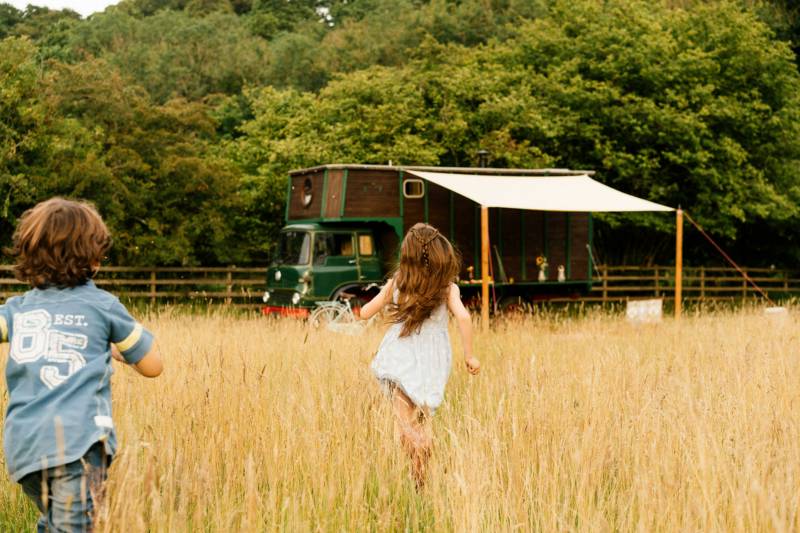 Glamping in Morpeth
Glamping in Northumberland
Glamping in North East England
Shepherd's hut stays on a gloriously green working farm, right on the edge of Northumberland National Park
Westfield House Farm is far more than just a farm. In fact, though cattle graze the surrounding Northumbrian meadows and lambs buoyantly bleat their greet in spring, the agricultural antics, today, are more of a backdrop. The old stone farmhouse is now a homely B&B – think chunky exposed beams and open fireplaces – while much of the land has been designated a Site of Special Scientific Interest (SSSI) and chirps with the sound of lapwings, curlews and red-legged partridge, among others. Yes, it's more of a rurally based natural wilderness than a farm. And in the heart of it all lies the perfect place to nest yourself: in one of Westfield House's shepherd's huts.
Just as the farm is more than a farm. These huts are more than humble shepherd's abodes. Custom built in an extra large size, inside they feature a full-sized double bed, well-equipped kitchen and a fold out breakfast bar beneath the window that lets you dine with a view but also maximise the space. One of the huts (Demoiselle), features an extra set of bunks, so a family of four can sleep in comfort, while all come kitted out with en-suite bathrooms where gowns, towels and toiletries are happily provided.
On the edge of Northumberland National Park, Westfield House enjoys splendidly starry skies and a sense of seclusion that, even in the rest of North East England, few places can boast. On windy nights, the wood-burning stove turns your hut into a glowing sanctuary of warmth, while, in summer, campfire-side stargazing is a must.
Active glampers will be in their element. Follow footpaths straight from the farm or drive five minutes into the national park first, where the Windy Gyle and Border Ridge walking routes are a particular highlight. Pop your head into the farmhouse for a chat with Tim and Emma who are happy to lend their recommendations. An active family themselves, your hosts can point you in the right direction – Harwood Forest and Thrunton Woods for keen mountain bikers or a walk beside Hadrian's Wall for history buffs who don't mind the half hour drive. There's ample room for bike storage, too.
Above all else, though, what makes Westfield House Farm so special is the all-round symbiosis of every aspect of the site. From the hare-shaped silhouettes carved into the window shutters to the real-life fauna that hops through the working hay meadow beyond, it seems every detail at Westfield House is working together to form the perfect retreat. Secluded yet well located, it's worth the journey every time.
Details
Facilities
All huts are fully en suite (shower and loo), have electricity and a wood burning stove. The in-hut kitchen features a Belfast sink, 4-ring gas hobs, an oven, storage and all the crockery, cutlery and utensils you'll need. Leveret has a full-sized double bed, while Demoiselle, also has a full double, plus an additional bunk bed for 2 children. Outdoor furniture and campfire tripods provided. The whole farm is part of Natural England's Higher Level Stewardship Scheme and includes it's own Site of Special Scientific Interest and working hay meadow. Lambs in the surrounding meadows from late March–late May.
Suitable For
Glamping only. Sorry, dogs not permitted.
Nearby
There are a number of good walks direct from the front door of the huts, which offer some great views over Coquetdale, the Wreigh Burn and River Coquet. It's 3 miles to Cragside (01669 620333), a Victorian country house that was once home to quirky inventor and scientist William Armstrong. It was the first house in the world to be lit using hydroelectric power, with Armstrong building dams and creating lakes on the estate to power a sawmill, a water-powered laundry, early versions of a dishwasher and even a hydroelectric rotisserie. Now looked after by the National Trust, it's an intriguing day out for all ages. On the edge of Northumberland National Park, Westfield House Farm offers some superb hiking, mountain biking and wild swimming. Further afield, but still an easy drive away, are the Northumberland Coast AONB, Alnwick and Hadrian's Wall.
Food & Drink
Rothbury offers some great local independent shops including a butcher, deli, 2 bakeries and Tully's (01669 620574), an independent food shop where you can pick up some Craster kippers. Bread from Rothbury's Greenwell Bakery (01669 620546), free range eggs and bacon from local butcher are provided in the huts. The Three Wheat Heads in Thropton (01669 620262) is the nearest pub and offers a large menu and easy dining. The Narrow Nick in Rothbury (07707 703182) is a great little micro pub offering craft beers and a variety of gins. If you're heading further afield, Mizen Head in Bamburgh (01668 214254) is fantastic for seafood, as is The Old Boathouse in Amble (01665 711232), with a top location right by the harbour. The Pack Horse Inn in Ellingham (01665 589 292) has the best beer garden, while Nadon Thai in Morpeth (01670 458151) win's our award for the best hidden gem – despite its unassuming location above a chippy, this small Thai restaurant is exceptional (take-away also available).
Open
All year.
Location
Contact Westfield House Farm, Westfield House Farm, Thropton, Rothbury, Northumberland NE65 7LB
Getting There
If approaching from the east, drive straight through Rothbury then a couple of miles along the B6341 on to Thropton. Drive through Thropton and Westfield House Farm is the first turn on your right, no more than 1 mile outside Thropton Village. You will see a Westfield House Farm sign on the verge. The easiest way to travel to Westfield House Farm is by car, however there are (limited) public transport options. The nearest train stations are at Alnmouth and Morpeth (both about 19 miles away and on the main east coast main line). Thropton (a mile from the front door) has hourly buses throughout the day to and from Newcastle and Morpeth. The journey time is about 45 minutes to/from Morpeth and 1 hour 20 to/from Newcastle.
Reviews
Add Your Review
Rated ★★★★★ over 7 reviews
Mushroom spotting, crows and hare and deer, toasting marshmallows, starry skies and a great nights sleep.
Peace and quiet with mini adventures and really spotless, comfortable accommodation. Halcyon days.
Beautiful shepherd's hut in peaceful location
We've stayed in a variety of glamping accommodation (eco pod, safari tent, Bell tent) but this shepherd's hut was the best by far. With windows all round the hut was bright and airy and you could enjoy the glorious views of lush green fields from all sides. The hut was stylishly and thoughtfully appointed with crisp white bedding, a full size cooker and even a yoga mat! We walked to the local pub across the fields in 25 minutes and the nearby NT property at Cragside was wonderful. We felt fully rested and refreshed after our visit and will definitely be back. Well done Tim and Emma!
Wonderful hospitality, beautiful and peaceful setting of perfect Shepherds hit
The swing seat next to the fire pit made for wonderful evenings. We will definitely return. Northumberland is a great place to explore with Roman roads, Grand castles and endless perfect beaches.
Great family adventure
We stayed in Eyebright with our two boys. The cabin was really comfortable with lots of thoughtful touches like marshmallows to toast on the campfire and binoculars to view the birds and the stars. The views are stunning and the children loved playing in the meadow and watching the sheep and cows in the field next to us. We enjoyed our days out walking, biking and a day at the beach with a cosy cabin and hot shower to come home to each evening.
Absolutely stunning stay!
This little gem exceeded all expectations! Me and my partner stayed in Curlew, and couldn't have asked for a more perfect weekend- despite the bitter cold, we were able to stay cozy and warm by the fire whilst taking in the picturesque surroundings. The breakfast that was left for us was just gorgeous and a bucks fizz in the early afternoon went down a treat, too! Thank you Westfield House Farm- we hope to see you again.
Beautiful little hut
We had a perfect short stay in this beautiful little hut! The hut itself is decorated to a high standard and has everything you might need. It's compact but very well designed making use of every little bit of space. There's plenty of seating outside and a fire pit which we used for our BBQ. The hut is set in idyllic surroundings and would be ideal for ramblers. I would recommend this place to anyone wanting a quiet relaxing little break. Perfect!
A magical stay!
A truly lovely stay in a very special place. The shepherds hut was perfect for the four of us and we loved all the thoughtful touches from the starter breakfast to the White Company toiletries! The hosts have a great eye for detail and care about their guests' experience. Our girls (8 and 10) loved playing in the spacious field and enjoyed a paddle in the stream in the sheep field. (The stream is in the next field so the hut is safe for little ones too.) We enjoyed the lovely evening walks around the farm too. Demoiselle is a beautifully furnished shepherds hut in a gorgeous quiet field (which the hosts are turning into a wildflower meadow). The area is incredibly beautiful and it's really close to lots of castles and beaches. It's a warm and cosy place to play and a great base for adventures in a really lovely area. We hope to be back but have a feeling this may be booked up quickly!