Book campsites near Runswick Bay Caravan and Camping Park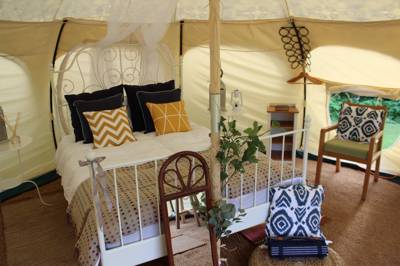 Campsites in Staithes
Campsites in North Yorkshire
Campsites in North East England
Available:
2 Bell tents
1 Shepherd's hut
1 Cabin
Runswick Bay Caravan and Camping Park
A welcoming site above the quiet coastal village of Runswick Bay where a sheltered beach and excellent coastal walks back onto the North York Moors National Park
Runswick Bay is a small village clutching the slopes of a sweeping bay. Narrow lanes weave through the red-roofed houses, past the thatched coastguard's cottage and down to the pristine sandy beach. At its edges, children armed with colourful nets clamber on the rocks, their crabbing hotspot framed by Lingrow Knowle, a lofty crag towering high above. Buckets fill with captured crustaceans as parents roll up their towels for the steep walk back to their hilltop destination: Runswick Bay Caravan & Camping Park.
This convivial campsite has a mix of pitches with some hard standings, electric hookups and a spacious tent camping field, plus a handful of glamping options. The site has a scattering of mains water taps with a well maintained sanitary block in the centre. Its exposed hilltop position is remedied by trees around the border, providing shelter from the wind, while gaps in the greenery reveal breathtaking views inland across the North York Moors.
The campsite is dog friendly, as is the whole of Runswick Bay in general, with a pet-welcoming pub just around the corner that serves tasty grub and local cask ales. From here it's an easy tumble down the steep lane to the beach – perfect for amateur fossil hunters wandering the Jurassic coastline. Those hoping to leave the car behind can trek the Cleaveland Way north to Staithes where stone houses huddle around a picturesque harbour. Or head south to Whitby – an essential stop for visitors to the North Yorkshire Coast. The latter is a 15 minute drive for those wanting to avoid the day's walk.
Runswick Bay Caravan & Camping Park is certainly a site that owes a lot to its surroundings, but that shouldn't retract from the splendour of the place itself. Owners Jim and Caroline are wonderfully welcoming, facilities are well maintained and the onsite office is a helpful place to grab a bottle of milk or ask about local attractions. The package is complete: a congenial space to pitch the tent and a wealth of sights on the doorstep.
Details
Facilities
Pitches share a shower block, a wash house, a disabled shower/toilet, laundry facilities and a fridge/freezer for ice. The onsite office sells a little local produce and a few camping essentials. There's a small wooded area that's great for kids.

Suitable For
Everyone! Glampers, tents, caravans, campervans, families, groups, rallies...
Nearby
Runswick Bay beach is the most immediate attraction (at the foot of the village) flanked by high rocky outcrops. Cleveland Way passes the coast here and can be followed north to Staithes, a beautiful harbour village backed by the severe headland of Cowbar Nab. Staithes hosts community run tours (01947 840 278), a wonderfully immersive experience that offers local insight. Seven miles south, Whitby and its famous 199 steps lead up to the ruins of Whitby Abbey (01947 603568). Here attractions like The Captain Cook Memorial Museum (01947 601900) and The Dracula Experience (01947 601923) offer plenty to do, as of course does the beach. Inland, the North York Moors National Park (01439 770657) provides inexhaustible trails, footpaths and outdoors activities.
Food & Drink
The onsite office sells local produce such as: bacon, eggs, milk and ice creams, plus the village shop sells other groceries. Within walking distance, pubs like The Runswick Bay Hotel(01947 841010) and The Royal(01947 840215) serving local ales and good food, with The Cliffmount Hotel (01947 840103) offering fine dining. Within a mile there is also the The Badger Hounds (01947 841774) an excellent pub at Hinderwell.

Opening Times
All year (except January).
Location
Contact Runswick Bay Caravan and Camping Park, Hinderwell Lane, Runswick Bay, Nr Whitby, North Yorkshire TS13 5HR
Getting There
From the North, take the A171 out of Guisbrough, and follow the road across the hills until you're greeted by a panoramic view of Whitby and the sea. Keep following the road all the way, Untill you see a sign for Runswick Bay. Follow this sign and, at the end of the road, turn left at the Runswick Bay Hotel and the campsite is down on the right.
From the South and West, follow the A64 from York, then take the A169 from Malton, through Pickering and then across the North Yorkshire Moors. Stay on the 169 all the way down Blue Bank, through Sleights, and up the other side of the valley to a roundabout where you should follow signs to Sandsend. Carry on all the way through untill you see Runswick Bay to your right. Turn right and go to the end of the road. Turn left at The Runswick Bay Hotel. The campsite is down the slope on the right.
There is a direct bus service that stops outside the campsite gates or the Runswick Bay hotel. This takes you into Whitby (0845 7484950) or the other way to Saltburn (0845 7484950), both of which have decent rail links.

Reviews
Add Your Review
Rated ★★★★☆ over 3 reviews
Nice small site, good location
The site is nice and small which makes for a hood sade place for yound chdren to play. Great location - short walk to to beach (although it's a very steep hill!). Not far from staithes which has lots to offer - the vintage tea rooms are fantastic and there is a good chip shop at the top of the hill. The site itself had good, clean amenities, and the beach house cabin we stayed in is well equipped. TV inside helpful for rainy afternoon.
Location
Lovely site, good location, but no better than many others we've stayed at in this area. Unfortunately we took a chance and arrived without prior booking so we weren't aware of the price. We arrived late afternoon, the office was closed, no phone number. Instructions or information evident, so we just parked up. The office temainrd closed all evening and was still closed when we left to go walking mid morning. Had it been open and we'd have known the price we'd have only stayed one night! For one small campervan, two adults, two dogs, with electric hook up, two nights was £58! Out of season, 27th June, midweek. Outrageous! It's cheaper than this in the most popular areas in the Lakes! Lovely place, but certainly far too expensive,there are sites around here, as nice, and cheaper, we just came on spec. What a shame, a lovely spot but not worth these charges.
Favourite Place
Runswick Bay Caravan & Camping Park is my very favourite camp site and I have visited plenty.  Caroline and Jim are excellent hosts and nothing is too much for them.  The camp site is tended with loving care and always immaculate.  The sights around Runswick are fantastic and not to be missed, plenty to see and do, great meals in the local pubs. I recommend Runswick Caravan & Camping Site to all my friends, my only wish is that I could visit them every week but work commitments do not allow but I am going back there soon and cannot wait.  Had a great relaxing holiday there last year, even though I was not well during my stay they really looked after my husband and I. Cannot recommend them enough it is a fabulous camp site.