Little North Field Glamping
Luxury safari tent glamping within striking distance of North Yorkshire's most historic attractions
The Wray family seemed destined to set up a glamping site. Catherine and Tim worked in the catering and events industry for years, so they know a thing or two about high-end hospitality, but they also used to take breaks from it all by going camping in Yorkshire with the kids. Now they've combined the two and left the rush of their former careers to set up a small, boutique safari tent site six miles north of Harrogate. And, in the summer of 2020 it finally opened, under the historic name they found hand-written in the deeds, 'Little North Field'.
There are just three luxury safari tents at Little North Field, they are all set in just over an acre of space. Inside they're uniquely furnished, with hedgehog-themed hot water bottles in The Hedgehog Hideaway, for example, and a foxy doormat and fox-themed pillows in The Fox's Den. Fundamentally, however, you can expect similar things in each: Two separate bedrooms (one king-sized, one with a double bed with a single bunk over), an en-suite bathroom, a well-equipped little kitchen and a dining and chill-out area with a log-burning stove. There's oodles of space for families and the sheltered veranda at the front of the tent is an ideal place to kick back when the sun's out and the barbecue is going.
The glamping site's location is very much undiscovered. You've probably never heard of the village of Bishop Thornton before and with popular national parks dotting this part of England – its 25 minutes to the Yorkshire Dales and 30 minutes to the North York Moors – you can be forgiven. But this quiet space in between is ideal for lesser-known walking routes and real local country pubs – particularly in the height of tourist season – while many of North Yorkshire's most historic attractions are still within striking distance. It's just two mils to Ripley Castle, for example, and three miles to Fountains Abbey, the riverside ruins of a medieval abbey surrounded by spectacular landscaped gardens. If the weather's rainy you can explore the nooks and crannies of nearby Harrogate and when the sun's out you can hike the hills around sparkling Gouthwaite Reservoir. You should, of course, make it back in time for a campfire. The quiet calm of Little North Field in the evening is a match for any night out elsewhere. And, indeed, that relaxing feel is the very reason the Wray's wanted to open a glamping site in the first place.
Our Coronavirus Booking Guarantee
Book with complete confidence at Little North Field Glamping with the Cool Camping Coronavirus Booking Guarantee. We guarantee the following clear policy for your booking:
A low deposit of 30% to secure your booking
Balance not due until 30 days before your holiday, in case of late changes to Coronavirus guidance
Complete flexibility to move bookings up to the end of 2021 in the event of Coronavirus restrictions
In the event of a lack of 2021 availability, switch your dates to 2022
Due to low deposit and late balance payment, no refunds are offered
Details
Facilities
Each tent features two separate bedrooms, including a king size bed in one and a double bed with single bunk above in the other. There's an en-suite washroom, with a shower, flushing loo and sink. In the main, open plan part of the tent, there's a well-equipped kitchen area with a fridge, microwave, hob, sink and work surfaces, plus a toasty wood-burning stove that heats the entire space. There's a sofa, plus a dining table and chairs, and outdoor seating on the veranda. There's also a firepit and BBQ for al fresco cooking.
Suitable For
Glampers and well-behaved dogs – yes. Tents, campervans and caravans – no.
Nearby
Near the picturesque village of Ripley, Little North Field finds itself in the middle of a golden triangle of heritage sites, which are all well within a half-hour drive. To the north this includes the magnificent ruins of Fountains Abbey (01765 608888), plus the National Trust-owned Brimham Rocks area (01423 780688), 400 acres of moorland featuring unique rock formations that look like carefully placed sculptures (there's also a kiosk, a shop and, nearby, an adventure farm for families and llama trekking). To the south, meanwhile, is riverside Ripley and privately owned Ripley Castle (01423 770152; open for events and tours of the house and grounds in summer). Beyond that lies the town of Harrogate and, a little east, Knareseborough, as well as RHS Garden Harlow Carr (01423 565418). For good walks, head into the Nidderdale AONB for hikes around Patley Bridge and Gouthwaite Reservoir or sections of the Nidderdale Way, or walk some of the 50-mile Ripon Rowel Challenge route.
Food & Drink
It takes all of about two minutes to walk to the Chequers Inn (01423 771544) at Bishop Thornton. This hotel and restaurant is mainly laid out for dining, with a good carvery on Sundays, but there is a bar at the front for casual drinkers with a single handpull serving Ossett Yorkshire Blonde. There is a pool table near the bar area. For a pint elsewhere, try the recently refurbished and simply named Inn at South Stainley (01423 779060), located between Harrogate and Ripon, or try the family-friendly Guy Fawkes Arms (01423 868400), a welcoming country pub in the beautiful village of Scotton, owned and run by two local families. The terrace at the Grantley Arms (01765 620227) is also a top option when the weather is good, while those visiting Ripley Castle should have a pint in The Boar's Head (01423 771888), which is part of the estate. For a lighter bite, Stanley's Independent coffee house and kitchen (07387 317638) is the place to go for great coffee, Oliver's Pantry (01765 600548) is a quirky café just off the Market Square in Ripon (with a particularly staggering array of loose tea), while in Harrogate, historic Betty's (01423 814070) steals all the headlines but Baltzersen's (01423 202363) is a top café alternative that offers you the best Yorkshire sourced ingredients prepared with Scandinavian and Nordic flare.
Open
March - December
Why book with Cool Camping?
Coronavirus Booking Guarantee
Best Price Guarantee, with no fees
Instant booking confirmation
Trusted for over 10 years
A chance to win prizes in our regular competitions
The Owner Says
Enjoy the best of the beautiful Yorkshire countryside from the comfort of our luxurious canvas safari tents. Set within the paddock of our family home a small bespoke site an ideal place to reconnect with family friends and nature.
Please note that some building works on a barn conversion beside Little North Field so there will be noise during weekdays.
Offers & Deals
The best offer will automatically be applied to bookings on Cool Camping
Accommodation
Three luxury safari tents set in one acre with a wildlife pond and summer house.
Check Availability
Extras
Food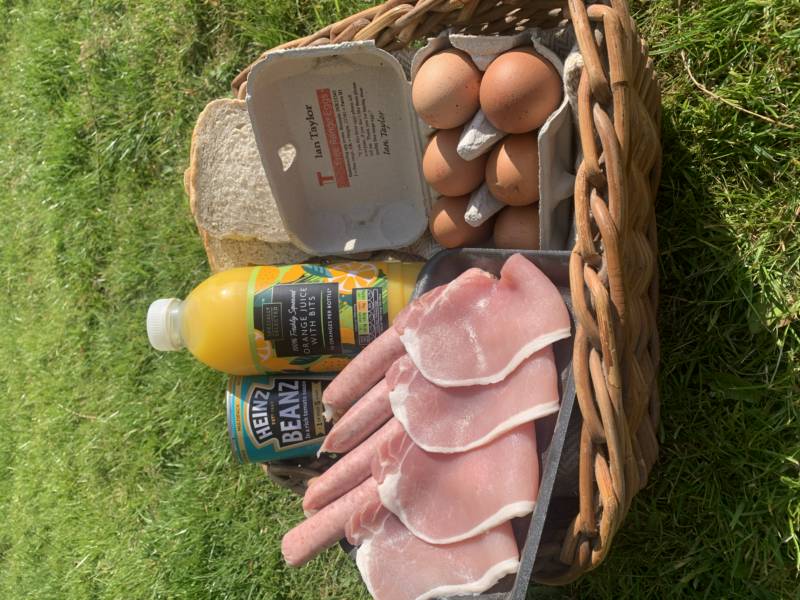 Locally sourced Small Breakfast Hamper
Let us do the shopping for you, our delicious  small breakfast hamper includes:
4 rashers of butchers bacon
4 thin butchers sausage
6 free range eggs
1L Fresh Orange juice
Heinz Beans
(freshly baked bread is included complimentary in your welcome hamper)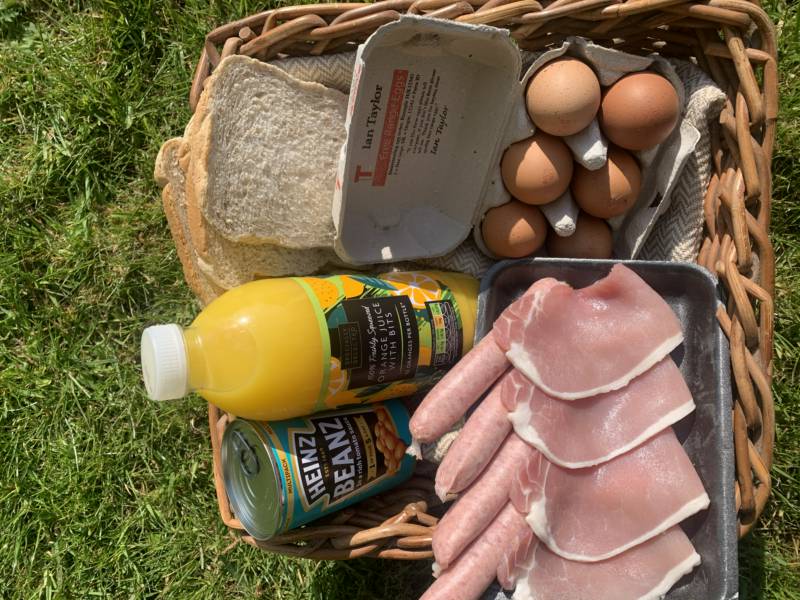 Locally Sourced Family Breakfast Hamper
Let us do the shopping for you, our delicious family breakfast hamper includes:
8 Rashers of butchers bacon
8 thin butchers sausage
6 free range eggs
1L Fresh Orange
Heinz beans
(Freshly baked bread is complimentary in your welcome hamper)
Dales Butcher BBQ Pack small
Let us source the best local produce for your BBQ, Small BBQ Pack:
2 Award winning steak burger
2 Chunky chicken chicken and pepper kebab
2 Yorkshire Bred marinated pork steak
2 Locally baked bread buns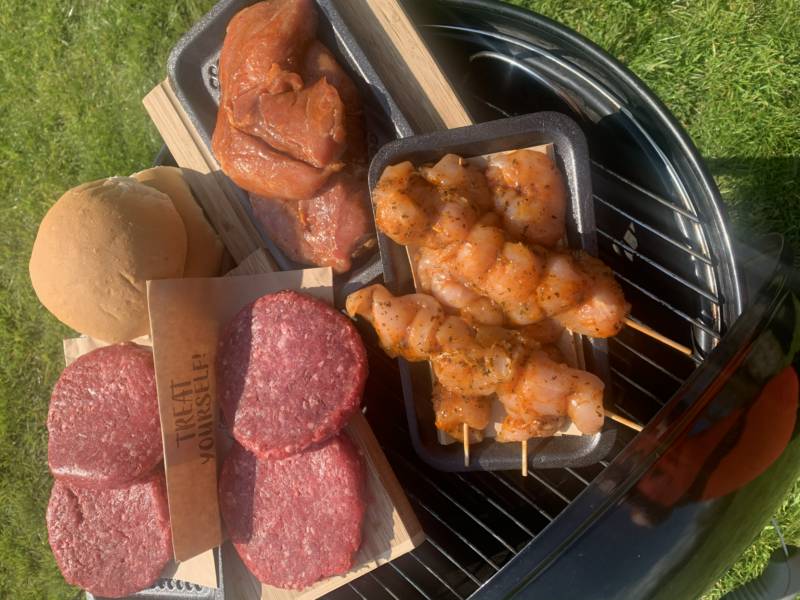 Dales Butcher family BBQ Pack
Let us source the best local produce for your BBQ, Family BBQ Pack:
4  Award winning steak burger
4 chunky chicken chicken and pepper kebab
6 Homemade Yorkshire Sausage
2 Yorkshire Bred marinated pork steak
6 Locally baked bread buns
Location
Contact Little North Field Glamping, Fountains Road, Harrogate, North Yorkshire HG3 3JN
Getting There
From Harrogate: Follow the A61 towards Ripon for three and a half miles, passing through Killinghall. At the roundabout take the second exit, continuing on the A61. At the second roundabout, take the second exit, signposted 'Patley Bridge/Bishop Thornton B6165'. After four miles, turn right onto Fountains Road, signposted 'Bishop Thornton/Fountains Abbey'. Continue to follow road for one-and-three-quarter miles. Go straight over at the crossroads and Little North Field is located on right, after the Chequers Inn.
From the A1M: Leave at J47 for Harrogate/ Knaresborough (exit signposted A59 Harrogate/Knaresborough). At the next roundabout, go straight ahead. After two miles, at the second roundabout, take the third exit signposted 'A59'. Continue along this road for around two miles, passing through Knaresborough High Street. Approaching the first mini roundabout, take the first exit left and immediately take the right hand lane and take the second exit at the second mini roundabout signposted 'Ripley/ Ripon A61'. Follow the road for four miles. At the roundabout, take the third exit signposted 'Ripon A61'. After 300 metres, at next roundabout, take the second exit, signposted 'Pately Bridge/Bishop Thornton B6165'. After half a mile, take a right-hand turn on to Fountains Road, signposted 'Bishop Thornton'. After two miles, continue straight on through the crossroads, passing the Chequers pub on the left-hand side. Immediately indicate right and Little North Field is situated 100 metres on the right through the wooden gated entrance.
From Skipton: Head East towards the A6131. Exit the roundabout onto the A6131. Turn right onto A59 / A65. At the roundabout, take the second exit and remain on the A59. At the roundabout take the second exit and stay on the A59. At the next roundabout take the first exit onto Otley Rd/B6161. Turn left onto Ripon Rd/A61. At the roundabout take the second exit and stay on Ripon/A61. At the roundabout, continue straight onto the B6165. Turn right onto Fountains Abbey Road. Passing the Chequers Pub on the left hand side, immediately indicate right Little North Field is situated 100 metres on the right through the wooden gated entrance.
Reviews
Add Your Review
Rated ★★★★★ over 17 reviews
Great Autumn getaway for family! Mid week October (2adults 1kid)
The tent (Owl' Hollow) was an experience to live in! Cosy and thoughtful design, with nice touches. Our 2yo enjoyed the owl deco, as well as the knitted owl and napped with it throughout. Easy to find camp site - well lit and marked. Great grounds for kids to run around and burn themselves out. Very quickly welcomed by host Catherine. I could not operate the fireplace for the life of me (maybe it's a city folk-thing), but Tim dropped by in the evening to give us a hand. Breakfast hamper had plenty for us (2 adults and 1 child) for two days. It was too chilly and windy for a bbq, and we were the only ones there probably because it is October, but would have been lovely in the summer with friends. Nearby pubs were booked out very quickly - so make reservations! Wifi/signal is poor, so it was a true getaway, a holiday from technology, which was fine with us.
A week of Memories
What an absolutely fantastic weeks spent at Little North Field! Upon arrival we we're greeted by Catherine and shown to our Hedgehog Tent, incredibly clean and so beautifully laid out. Lots of little touches which had our two young children searching for the next "look at that" moments. The gardens were beautiful and so many interesting areas to explore including lots of frog hunting! The fire pit was amazing in the evening for toasting marshmallows and making smores (all ingredients included in the welcome hamper in the kitchen). Everything you could need was included from kitchen utensils to everyday items such as cling film, ice trays etc. In the evenings the fairy lights were a magical touch in the bedrooms along with big soft beds and cosy duvets. As it was incredibly hot during our stay Catherine provided a small paddling pool for the children! I would suggest, if you're a light sleeper like me I suggest you take some ear plugs for the night time as the chorus of cows in the next field come alive at night! Thank you to Catherine and Tim for a wonderful stay we hope to be back for Halloween!
Fantastic Experience
My daughter & I booked a Mon - Fri stay in Foxes Den and had the most fabulous experience. The whole stay is well considered. We were met on arrival by our friendly hosts, with wheel barrows to transport our bags the (short) path to our glamping tent. Tent doesn't to it justice - it might be canvas in the outside, but inside it is a luxury home from home! There was a well stocked kitchen area, wood burning stove, lovely bathroom and the bedrooms are so cute - with warm, comfortable and generously sized beds. The little decorative and thoughtful touches (marshmallows, coffee, ice cube trays etc) really helped make our stay extra special. Great location for exploring the local area. Thank you Catherine & Family - we fully plan to come again!
Relaxing and comfortable
Stayed from 23rd April until 26th April On arrival (which we were able to do earlier than expected as Catherine contacted us to say the accommodation was ready for us to check in which was really appreciated) we received a warm and friendly greeting from Catherine who took us to our safari tent (hedgehog hideaway) we were completely astounded by the tent. We were even more amazed when we went inside. Catherine had provided everything anyone could require for their stay the welcome hamper is a lovely touch, there was not a speck of dust or dirt the whole tent was immaculate, the beds were so comfortable and spotlessly clean also smelt really nice. We had the most wonderful stay very relaxing very peaceful we were left alone to enjoy but were reassured that Catherine and her family were nearby if we needed anything. Little north field clamping is something very special and as I said to Catherine when she came to say goodbye to us when we sadly had to leave it most definitely puts the GLAM into glamping. Thank you for a wonderful break we will definitely be back.
A cozy and lovely stay
My friend and I loved Little North Field. We stayed in the Owl themed tent and all the little details were so cute! Catherine and Tim were so lovely, very attentive from start and made sure we were comfortable. We struggled with the log fire and we were showed how to use it. The location was in a great spot, had lots of outdoors amenities and a short drive to knaresborough and Harrogate. I'm staying here again with family in September and can't wait to stay here again :)
Fantastic all round!
We stayed on what was set to be a soggy weekend but we had the most wonderful time. Catherine and Tim are really friendly and couldn't have been more helpful. The tent was perfect for us and our 3 children. The space was great for the kids to safely run around and we managed a campfire each night. The little touches really made the difference. We would love to visit again.
Amazing 5 star experience
We stayed here in the October half term week and couldn't have wished for a more comfortable relaxing stay. Catherine and Tim really have thought of everything from cosy blankets to wrap up in, to hot water bottles to keep you snuggly at night. Add into that a s'mores basket and pebbles pathways so you don't get muddy feet, And you truly have the glamping experience of your dreams!! The kitchen is well-equipped with everything you could need and the comfy sitting area wraps around a beautiful log burner. The verandah is sheltered and comfortable - even in October we enjoyed a cuppa out there! The local area has lots to do - we visited fountains abbey, Ripon, Harrogate and Ripley Castle - all within a short drive. We also ate at the nearby pub - literally a three minute walk from the site with beautiful food. We can't recommend this place enough and are already looking forward to our next visit!!x
UNBELIEVABLY AMAZING!
4 of us booked in for a 30th birthday with little north field and the experience was unforgettable. The greeting from Catherine and Nathan to the gorgeous touches that had been left for my friend's birthday was truly wonderful. Inside the tent's are so luxurious and boujee, the pictures online don't do it enough justice! My friends and I had the most amazing weekend and unlike many other glamping sites, I didn't have to re mortgage my house to afford to stay!!!A special mention to Tim for being so lovely when we were all laughing so loud and also for bringing us more fire wood in the pouring rain...absolute legend!
Simply fabulous
The pod I stayed couldn't have been any better.Everything was extremely clean but also thoughtfully organised.On our first night we were outside under the stars with a cosy campfire and on our second night we were toasting our toes indoors with the lovely log burner.We had a 2 night break and it felt like I had much longer as it was so peaceful and relaxing. The hedgehogs in our pod were really cute,and I have to say I notice everything with a hedgehog on since our visit. The nearby pub was amazing we had a fantastic steak dinner.Ripley was close by so we had ice creams, gins and walks but not in that order! I would definitely recommend Little North Field Glamping without any hesitation.
Fantastic experience, wonderful tent.
BBQ's, camp fires, loads of space and the most amazing safari tents. Don't normally leave reviews but this place deserves to be successful from our experience there. The way the tents have been decorated with all the little touches make it all the more special. Would love to go back soon.
Stunning safari tent adventure in a beautiful area
Just 3 safari tents in a lovely site close to fabulous attractions such as Brimham Rocks, Fountains Abbey, Harrogate and Ripley Castle. The tents have been thoughtfully designed and bring comfort and luxury balanced with the wonderful feeling of sleeping under canvas. We especially liked the welcome hamper, complete with marshmallows for toasting, plus the indoor and outdoor real fires. An absolute treat!
Making Memories
We had a fantastic holiday. Cath and Tim have created a truely special little place. Our boys had an amazing time making lasting memorie getting back to nature... no tv and limited internet meant the kids loved just playing outside. They had an absolute ball. The Safari tents are very luxurious, well equipped and have a lot of lovely little individual touches. I can't recommend Little North Field enough. It is perfect for a family getaway or a romantic couples retreat. We will most definitely be back.
Magnificent!
Tents are luxury complemented by wonderful hosts and thoughtful touches. The location is perfect for cycling and a visit to Harrogate. Hope to visit again and explore more - a complete tonic. Thank you 😊
Absolute luxury Glamping
I've been Glamping before, but nothing that compares to this. I had to actually remind myself I was in a tent. The place was spotless, the facilities 10/10. The owners have thought of everything, fresh bedding, soft towels, to little touches like hot chocolate and marshmallows for the children. It was such a pleasure to watch the children running around in the fresh air, playing badminton which was kindly provided. We loved sitting round the campfire roasting our marshmallows. The facilities as I've said are exceptional, the rain shower was hot, the bedrooms felt like a posh hotel with the beautiful bedding, twinkling fairy lights and lovely personal touches like hot water bottles and books to read. The first night we stayed the heavens opened during the night and it was so relaxing listening to it hitting the tent whilst being all warm and snug. We visited Ripley to eat for breakfast both days as it was so tasty, the local village shop do breakfast buns with local fresh produce and we could have ate it twice! Beautiful. On our first night we visited The Boars head in Ripley for tea and the service was amazing, they even provided our children a pack of playing cards to take back to the tent. Food was tasty and plentiful. We also visited the Masons arms in a nearby village and the food and service was equally as beautiful, my children preferred the choice at this pub as they had a kids menu. It was cheaper but still fantastic. If you want to cook you own food at Little North Field you can as they have everything you could need, I just didn't want too as it was my break. We visited the oldest sweet shop in the world, the ice cream parlour and tree top nets during our stay, all of the information about places to visit, eat etc are all provided in a welcome pack. Well done Little North Field we had a outstanding stay and we can't wait to come back.
Beautiful surroundings in a wonderful accommodation
Arrived Friday, welcomed by Tim and Catherine, shown around the property, Amy our 11 year old loved it especially the small fairy lights in her room. The accommodation is luxuriously set out And well equipped, lovely bedding, welcome hamper sadly not all vegan. Lots of wildlife on hand, rabbits each morning, bats circling the large pond, the noisy 'Rookery' as the Rooks gathered on an evening in the nearby trees. We visited Brimham Rocks, a quaint village Ripley 2 miles away, and Fountain Abbey, lots to do and see in the area. We had a great time and would recommend Little North Field. The tennis racquets, frizby, Badminton sets were a bonus
Wonderful time in great location
Little North Field Glamping is to be highly recommended. The safari tents are fabulous, they look brilliant and are finished to a high standard with everything you need inside. There are even marshmallows and chocolate biscuits to make smores around the campfire. The Wrays are there if you need them but leave you to your own devices if not. There are outside games available for children to play with. The surrounding area is beautiful with lots of different places to visit. We went to Harlow Carr to look around the spectacular gardens and visit Bettys for brunch, Newby Hall, Harrogate, Pateley Bridge - the list is endless. Thank you, we loved it.
Truly relaxing glamping experience
We have just had a wonderful stay at Little North Field. The safari tent was fantastic. It was beautifully furnished and really comfortable with everything we needed for our stay. There were lovely extra touches like the welcome box with delicious homemade apple and chilli chutney and marshmallows for toasting in our personal firepit. The site had lots of room for the kids to run around and for the adults to truly relax and unwind. Catherine and Tim were fabulous hosts who were friendly and welcoming. Their genuine passion for this new venture is clear to see. Thank you so much for giving us the opportunity to experience this lovely part of the country in such a great setting. We will be back.
Why book with Cool Camping?
Coronavirus Booking Guarantee
Best Price Guarantee, with no fees
Instant booking confirmation
Trusted for over 10 years
A chance to win prizes in our regular competitions
Book campsites near Little North Field Glamping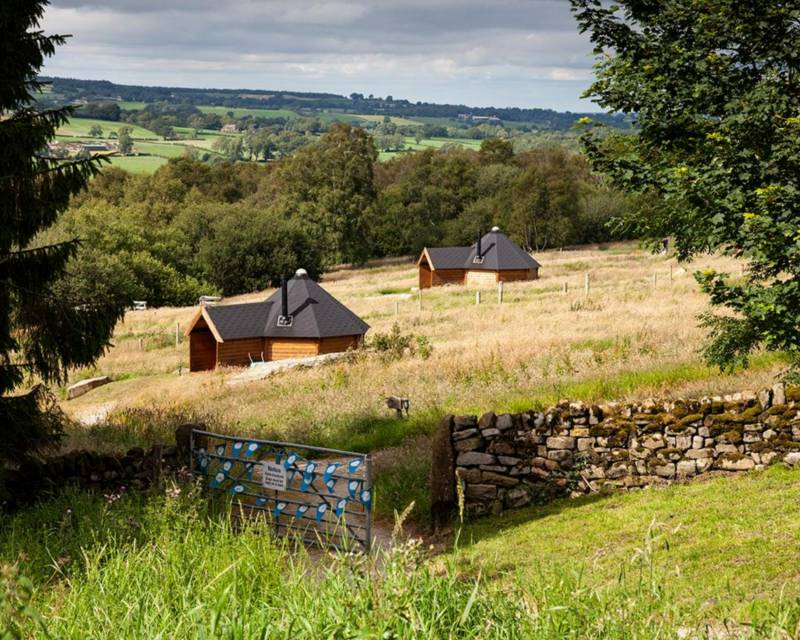 Glamping in Ripon
Glamping in North Yorkshire
Glamping in North East England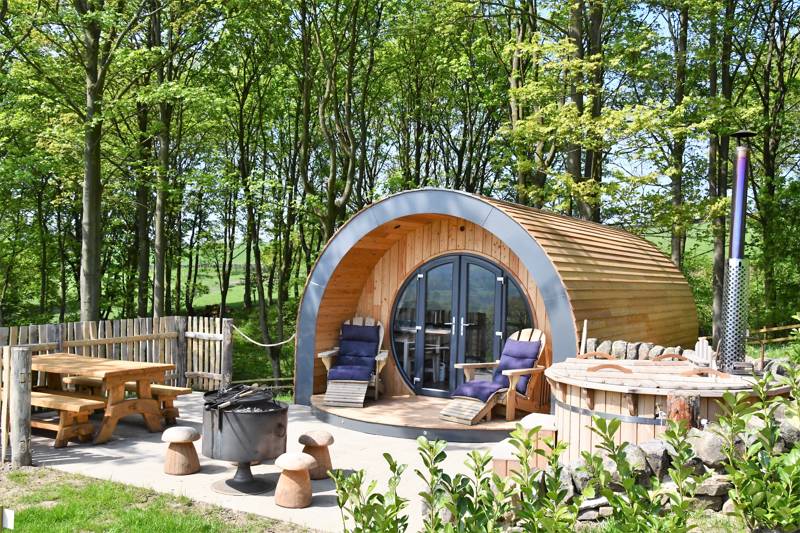 Campsites in Bolton Abbey
Campsites in North Yorkshire
Campsites in North East England
Available:
141 Pitches
10 Pods
2 Bell tents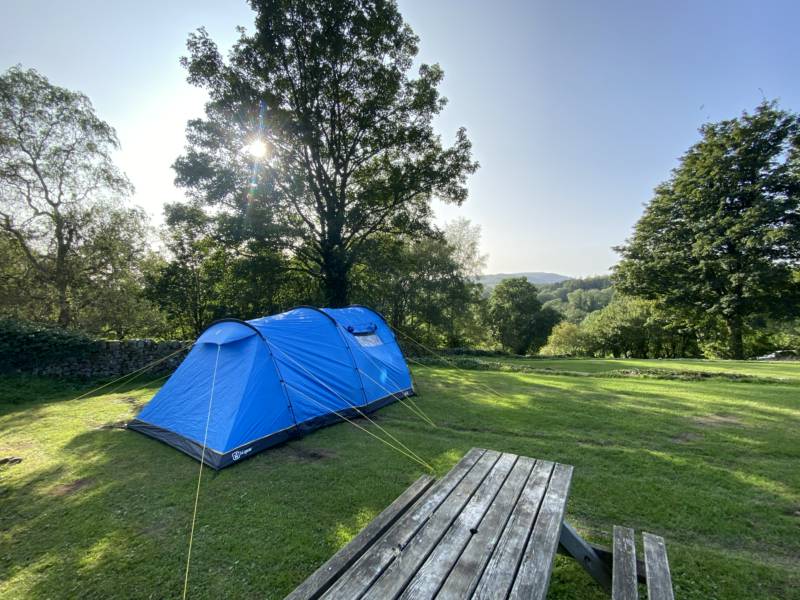 Campsites in Bolton Abbey
Campsites in North Yorkshire
Campsites in North East England
Available:
50 Pitches
4 Cabins