Little Seed Field
Little Seed Field, Castiles Farm, Ripon HG4 3PU







Wild, eco-conscious glamping on a working dairy farm, surrounded by the brooding Yorkshire Dales
As you head over to the eastern edge of the Yorkshire Dales – "dales" from the Viking word dalr (valley) – the countryside becomes less rocky and rugged. Instead of hardcore hiking, think rolling greenery, and heather moorlands neighbouring picture-postcard villages like Pateley Bridge, Ripon and Masham. Little Seed Field – a brand new glampsite opened in 2017 by Joanne and Sean Nicholson – fits these surroundings like a glove, offering outdoor overnighting in a peaceful corner of a working dairy farm.
Three snug cabins are on offer, nestled amongst boulders, rushes and trees, ensuring the farm retains the natural wilderness of the unspoiled landscape. "We have worked hard to ensure that our wild deer, birds of prey and natural flora are disturbed as little as possible", says Joanne and Sean, which will strike joy into the heart of the eco-conscious glamper.
Inside, the octagonal and individually decorated cabins are surprisingly roomy, featuring beds, mattresses and a small selection of cutlery and crockery. With lighting, electrical points and a log stove all present and correct, glampers keep nice and toasty on those chilly Yorkshire evenings. The basic but well-maintained (and centrally-heated) amenity building houses wet rooms and a small kitchenette facility. Here, you can source water from the farms' natural spring, use the kettle and toaster, or gather wood for your crackling campfire.
Any negatives? Well, there are some hardships – let's see, mobile signal can be hard to come by (there are very few areas where you can receive signal), and the farm can be quite exposed to the elements – so bring warm clothing, wellies and a torch! But between taking a fine Yorkshire Dales stroll – nearby Nidderdale Way comes highly recommended – and watching the sunset over the pastoral valley below, we'll think you'll manage.
Gallery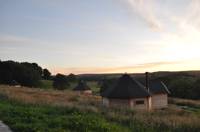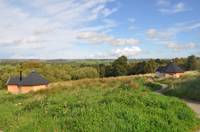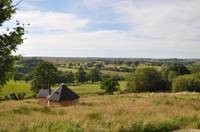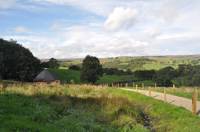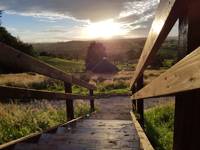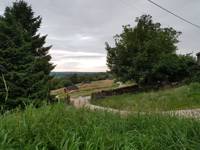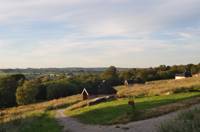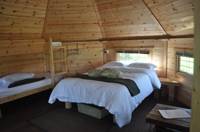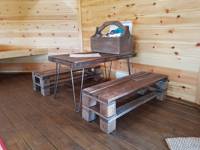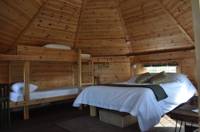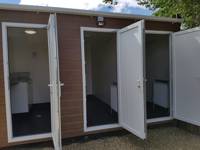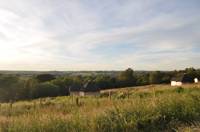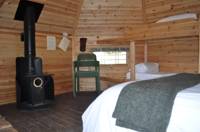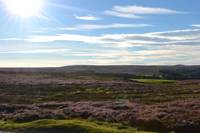 The Owner Says
Located near Pateley Bridge in Nidderdale, North Yorkshire. Our site is located on the edge of our working dairy farm overlooking the wild, untouched landscape of the Yorkshire Moors.  We have three octagonal log cabins, each sleeping a maximum of four guests in one double bed and one set of single bunk beds. Each cabin includes a log burning stove, a BBQ and basic crockery and cutlery. There is a separate shared unit for showers and toilets and there us also a small kitchenette with a kettle, toaster, fridge and washing up facilities.
Reviews
Add Your Review
Amazing Experience!
We traveled to Little Seed Farm from the US and it was the highlight of our two week vacation! The views are unbeatable and Jo was very hospitable! The cabins are simply beautiful and such a unique experience with everything you need. We slept great and had a fantastic time. We will be back!
Weather won't ruin this beautiful view
Just spent two nights at Little Seed Farm. Even though the weather was awful, it didn't detract from the magical spot this is. The cabins are spaced apart so You don't feel crammed in. The views from all the windows are beautiful and a wonderful sight to wake up to, but especially lovely when eating the breakfast hamper which you can order and it gets delivered to your door! A luxury which was well worth the visit. The showers are hot and the toilet/shower cubicle are fitted out with everything you need, inc a warm radiator. The little kitchenette has a microwave/kettle/toaster/fridge. Very thoughtful and gratefully used. I'd prob take my stove kettle next time though as carrying the cups of coffee across the site in the pouring rain wasn't my finest hour! Also take some of your own water to the site as the owners use a spring so it's courteous to be sparing with it. Beds were really comfy and the log burner had the cabin very toasty with minutes. Using a wheelbarrow from the allotted parking space is not a chore and adds to the feeling of being in the middle of a field in the beautiful Nidderdale AOB. Please don't let it deter you. We will be recommending this lovely site with its lovely owners to all! Look forward to trying out one of the other cabins next time. Big thanks to Joanne and Shaun.
Valentines night
Had a great time at Little Seed Field, the very well kitted out cabins were warm (wood burning stove) comfortable and in a beautiful setting. The facilities excellent, clean and close by. Well worth a stay, All very friendly and helpful.
A little gem
I was looking for a quirky yet special place to stay for a surprise for a friend for her birthday. I'm so pleased I found little seed field. The site has three individual cabins, far enough apart for privacy and is set among the most delightful views over Nidderdale. The cabin and facilities were spotless and contained everything you could need, and more. The beds are very comfortable and the log burner emits fantastic heat. We took a casserole and warmed it up on the stove plate. The owner Jo was brilliant. She gave us access to the cabin early to add decorations before we arrived with the birthday girl that evening and ensured we had everything we could need for a perfect stay. We had an amazing weekend and will definitely return with our families.
Last Minute Bonus!
We stayed in one of the camping pods recently after a last minute cancellation made one available. The pods are delightfully placed so that you don't feel that you are overlooking anyone else and are not crammed in at all. Although if you were in a group they are close enough to not be a big trek to your neighbours.The field and the pods/cabins themselves are very spacious! The host Jo went out of her way to make sure that even though it was dark and late on our arrival that the cabin was cosy and myself, my husband and our dog had a very peaceful warm nights sleep on a cold December night. The cabins are spotlessly clean, as were the toilets/showers and the cabins are well kitted out with everything you need. The decor and soft furnishings in the cabins are really tasteful and nicer than our own house- we only stayed one night but will be back for a long weekend soon! Going to sleep seeing the stars over the moors was lovely and waking up to roll up the blinds and watch the sunrise on a crisp winter morning was magical. Cant rate this highly enough.
Relaxing Yorkshire Retreat
We had a wonderfully, secluded and peaceful stay in the Yorkshire Fog cabin at Little Seed Field glamping site. Waking up to stunning views over the Yorkshire countryside, we really liked the log burning stoves and very comfortable memory foam mattresses. The hosts had provided all cutlery/crockery and the wood for the stove really for our arrival and were really helpful and accommodating. Even providing information about local tourist attractions which was a great help. We will definitely be staying there again!
Beautiful!
We stayed at Little Seed recently and it was such a lovely place. Spacious cabins that are very comfortable and spotless! The scenery is outstanding and being sat outside watching the sun set, with the bbq on and great company, made for a really enjoyable night away. Jo is a fabulous host and made sure we had everything we needed to enjoy our stay. Highly recommend staying here and I look forward to our next visit!
Win a £100 Blacks Voucher!
If you've stayed at Little Seed Field campsite, please take a minute to tell us about your experience. Every month, one lucky reviewer will be picked at random to win a £100 voucher, courtesy of our recommended retailer Blacks. Each review counts as one entry, so get writing!

Best Price Guarantee, with no fees
Instant booking confirmation
Trusted for 10 years
A chance to win camping goodies in our regular competitions!
Book campsites near Little Seed Field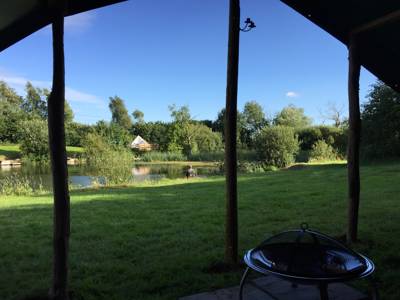 i
Glamping in North Yorkshire
Glamping in North East England
Glamping in England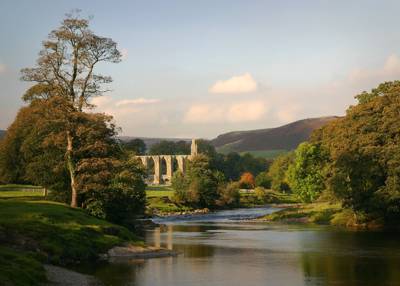 i
Campsites in North Yorkshire
Campsites in North East England
Campsites in England