Lakeside luxury in East Yorkshire where wildlife abounds
Sometimes it takes a fresh pair of eyes to point out something that's been staring you in the face all along. Such was the case at the Lee family's potato farm in East Yorkshire. The land here, once mined for it's fine gravel that runs in a 10-mile seam towards Hull, is today a patchwork of rich, fertile fields, sewn together by greening hedgerows and spotted with pools of water that have flooded the old gravel pits. Yet it wasn't until friends visited that the idea of sharing the place with fellow nature lovers was struck. And thus Kingfisher Lakes glamping site was born.
Set between two large lakes (owner's Philip and Jo's favourite walking spot), there's no special prize for guessing how this glamping site got its name. The place is a wonder for wildlife. Resident kingfishers can be spotted by the quietest of campers and herons sometimes appear on the water's edge, if you're lucky. The glamping accommodation is even named after some of the residents here, with the Dragon Fly Safari Tent in honour of the colourful creatures that dance around the lakes.
In terms of what's on offer, the glamping area, located just off of a quiet country lane and surrounded by mature willow trees, is well equipped and ideal for groups and families. Comprised of a handful of safari tents and yurts, each abode comes complete with proper beds, warming wood-burning stoves and lighting inside. Each also has access to a covered cooking area and there's a central, wooden lodge where the toilets, showers and washing-up area are found. If you'd prefer en-suite accommodation, meanwhile, there's a pair of more luxuriously equipped log cabins overlooking one of the lakes, which have kitchenettes, shower rooms and their own wood-fired hot tubs.
While the area is popular with walkers – paths lead directly from the glamping site entrance and deer are often spotted in the neighbouring fields – it's still the lake that's most rewarding. You can hire two-person kayaks, for a paddle on the waters, and take long swims in the sun (best enjoyed at sunset). Further afield, it's a 15-minute drive to the coast where popular beaches are matched by stunning cliff-top walking routes, notably at Bempton, Sewerby and Flamborough.
Details
Facilities
Each glamping unit has a wood burner, proper beds with cosy bedding; duvets and pillows provided, electrical sockets and lighting. Kayaks and firepits can be hired for your stay. Glamping hub area – a communal space in large log cabin building containing cooking facilities (gas hobs, microwave, large fridge/freezer, toaster, kettle, washing up sink) as well as a large seating area. Separate male and female luxury washrooms; four toilets, four hot showers, one wheelchair-accessible toilet/shower cubicle, shaver sockets. Lakes and numerous walks around the site. Fishing available for guests who have their own equipment and rod licence during their stay.

Suitable For
Families, couples and groups – yes. Tents, campervans, caravans, dogs – no.
Nearby
Many local beaches including Fraisthorpe, Bridlington and Hornsea, while the larger seaside spa town of Scarborough is 50mins away by car. Stunning coastal areas including Flamborough Headland with its many coves and caves, as well as Bempton Cliffs Nature Reserve. A 30–40 min drive gets you to Hull. The UK City of Culture in 2017 boasts a bustling marina, charming Hepworth's Arcade and the recently regenerated Humber Street. The latter is now a music and arts hub on the site of the historic fruit market where your host family first started selling the farm's potatoes many years ago!  Other attractions include the numerous museums and galleries, plus the iconic Humber bridge. En route to Hull, the town of Beverley is a lively market town full of stylish, independent shops and restaurants. Home to one of Europe's finest Gothic churches, Beverley Minster (01482 868540) and also plays host to a well known folk music festival every summer (01377 217569), while Skidby Windmill (01482 848405), half way between Hull and Beverley, is Yorkshire's last working windmill and provides tours between 10am – 5pm. Closer to home, the canal that runs through Leven and Driffield makes for lovely walking and narrow boat tours are available.
Food & Drink
There are plenty of great places around Brandesburton village to eat. Bert's Bistro (01964 541809) is a very popular venue for everything from coffee and cake in the morning to a special evening meal – fantastic food with an Italian twist. For a good pub (with massive food portions) try The Dacre Arms (01964 542392). It's a good option for a weekend cooked breakfast too.  The New Inn Leven (01964 542223 and The Duke of York (01964 500300) offer decent pub grub. In Brandesburton there is Costcutters (7am–8pm; 01964 543480) and village store (6am–8pm). Archers Deli (01964 541544) is the local's favourite for sausage rolls, pies, freshly made to order sandwiches and sweet treats, while In Leven (the next nearest village) there's Charter's Butchers (01964 543480).
Open
April–October.
Why book with Cool Camping?
Best Price Guarantee, with no fees
Instant booking confirmation
Trusted for over 10 years
A chance to win prizes in our regular competitions
The Owner Says
Small, family-run site nestled in a stunning lakeside setting in a quiet corner of East Yorkshire.
Six glamping tents with luxury shared facilities available as well as two secluded en-suite Log Cabins with private log-fired hot tubs.
All accommodation has a unique and beautiful view over the lakes.
Location
Contact Kingfisher Lakes, Corner Farm, Burshill, Brandesburton, Driffield, East Yorkshire, YO25 8LY
Getting There
If using Sat-Nav use this postcode: YO25 8NA
From South: From the M1, take the M18 towards Doncaster/Hull, then the M62 east to Hull/York/Goole, this road then becomes the A63 towards Hull. Take the A1034 towards Market Weighton/South Cave, then follow signs for Driffield/Bridlington. Then take the A1035 (A165) towards Hornsea/Bridlington. Turn left at the Roundabout into Leven village, going all the way through it, then take the first left (Hempholme Lane) – this is on a sharp right hand bend so is easy to miss, so if you get to Brandeburton village you have gone too far so turn back round. At the end of Hempholme Lane (this is a single track road for most of the way but there are passing places), turn left, then go straight on at the next T-junction, the entrance to Kingfisher Lakes is then 200m on your left.
From North & West (York/Leeds): From the A64 at York, take the A1079 towards Hull, continue on this for approx. 27 miles. After the village of Bishop Burton you will reach Killingwoldgraves roundabout, take the 1st exit onto the A1035 (Dog Kennel Lane). At the next roundabout take the 2nd exit onto the A1035, at the next roundabout take the 1st exit onto the A1035 towards Bridlington & Driffield. At the next roundabout take the 2nd exit onto the A1035 signposted Bridlington & Hornsea. Then take the 1st exit at the next roundabout towards Bridlington & Hornsea (A1035). Turn left at the Roundabout into Leven village, going all the way through it, then take the first left (Hempholme Lane) – this is on a sharp right hand bend so is easy to miss, so if you get to Brandeburton village you have gone too far so turn back round. At the end of Hempholme Lane (this is a single track road for most of the way but there are passing places), turn left, then go straight on at the next T-junction, the entrance to Kingfisher Lakes is then 200m on your left.
From Brandesburton village
(off the A165 Scarborough-Hull road) take the turning down the side of the village newsagents shop. The road veers off to the right but you take the left (straight on with the play park to your right), follow this road for 2 miles, shortly after a T junction signposted to Burshill/ Baswick (don't take this one), Kingfisher Lakes is on your left
The nearest train station is Beverley (0845 748 4950) which is a 15-minute taxi journey away. Brandesburton is on the main bus route along the East Coast from Hull to Scarborough.
Reviews
Add Your Review
Rated ★★★★★ over 15 reviews
A relaxing romantic get away
Jo was amazing and so friendly. On our arrival she took time out to show us around the place, showing us inside the other accommodation available. The hot tub was lovely and warm for when we got there and the hut was so cosy. The bed was one of the comfiest I'd slept in and we had the most relaxing stay. The view from willow lodge was great, getting to watch the sunset from inside the hot tub was very romantic. We will definitely be coming back again soon, 10/10. Thanks jo and family for a really great holiday, you have a really great set up!
Family friendly, fun & relaxing!
We would highly recommend anyone a trip to Kingfisher lakes. The facilities there are spotless and we even had our own allocated toilet and shower. The kitchen area has everything you could possibly require. The two lakes are beautiful and kayaking is a must! The kids loved the freedom of being able to explore the area while I was safe in the knowledge that it was completely secure from roads etc and that they couldn't venture off to far. The little reception hut has plenty hidden toys under the counter which was a lovely wee touch aswell. The tent its self was cosey and the beds were comfy and you almost didn't feel like you were camping once you were in them. Brilliant location for exploring nearby beaches lots of secluded beaches for more rustic feel or just an hour drive to Scarborough for your traditional British seaside with donkey rides and the arcades plus there's lots more in-between. We would definitely love to return to Kingfisher lakes both with the family as the new family cabin looks fantastic, but also just the two of us as the smaller log cabins on the second lake look gorgeous. Either way we will definitely be back. *****
Quiet log cabin on a beautiful lake
We just had a most wonderful stay , we were midweek so it was very quiet. Most of the time having the whole place to ourselves . We had a beautiful log cabin with hot tub. Jo was so welcoming, showing us around , even giving us a kayak so we did not need to blow up ours. The hot tub was even ready for us when we arrived and my first time using a wood fire one and it was so much easier than expected. So many lovely details like the fairy light inside and outside and what a view , from sunset to sunrise, comfy bed and amazing shower. We had everything we needed and it was so pretty. They even went out of their way to help us with our flat tyre. Lots of fab local places to visit (we did beverley, coastal walks, saw puffins, the beaches ...) As it was very quiet i asked for permission to swim in the lake, as i had my wetsuit and buoy with me , it was wonderful to do so first thing every mornings.
Wonderful Magical Place
My husband and I have just returned from a trip with our daughter and we have had the most wonderful time. We stayed in Lily Pad yurt and hired a kayak. We had the warmest welcome with some lovely touches - a log fire warming the yurt and some birthday bunting h. Jo couldnt do enough for us and was helpful in every way. The location is fantastic. We travelled to the coast and saw Puffins at Bempton Cliffs, we had a lovely brunch at Berts and made use of BBQ in the evening. The lakes and surrounding area were stunning. All the facilities were incredibly clean, lovely hot showers. There is literally nothing negative to say! We didnt want to leave.
Amazing
We have just returned from our second trip to kingfisher and it certainly won't be our last. We visited with a group of friends and the children and adults all loved it in equal measure. The site is like a little haven with the cutest and comfiest accommodation. We kayaked, played rounders, sat around the campfire toasting marshmallows and laughed lots. The beach is only a short distance away and there is a lovely little village nearby. Jo really couldn't do enough for us and we can't wait to go back 🏕🥰
Fun family break
We had a wonderful Bank Holiday break in the starry skies yurt. The kids absolutely loved it. The yurt was cosy and comfy and had everything we needed. The owl neighbours were great fun to watch. We hired a kayak and had fun paddling around the lake too. Jo was very welcoming and we enjoyed the walk to the village she recommended. It was everything we hoped for from our first family glamping trip. It won't be our last!
Brilliant. Wonderful location and wonderful people
A superb site, with great facilities. Everything you could want and a wonderful relaxing few days. We always leave wishing we were staying longer.
Sunset Lodge
The most incredibly relaxing few days. The sunset was always beautiful no matter the weather and you can't beat time spent with so much beautiful wildlife. Jo is super approachable and really helpful
Willow Lodge Stay
We had the best weekend at Kingfisher Lakes! The location is beautiful and so peaceful and relaxing. We stayed in Willow Lodge and it had everything you need. The cabin is lovely with a king size bed, ensuite and little kitchen and fridge. Outside, the hot tub is amazing and log fired, also with a BBQ, fire pit and outdoor seating, all on the lake with amazing views. The lake is also good for fishing which my boyfriend enjoyed! There is plenty to do just a short drive away such as Bert's pizzeria and Bridlington Beach. We had the most lovely, relaxing weekend ever and cannot fault anything. Jo is so friendly and helpful and we cannot thank her and her family enough! :) Would recommend Kingfisher Lakes to anyone! xxx
Luxury camping in a superb setting
My 9 year old grandson was fancying camping so I booked the Lily pad yurt for 4 nights. It's over 25 years since I camped so I was a bit apprehensive as to how I'd cope! I needn't have worried, the bed was super comfy and cosy and when the weather decided to do it's worse the log burner in the tent was very welcome. The owners have thought of everything to make your stay as easy as possible so I didn't need a lot of what I'd brought along and the facilities are 1st class and very clean. The outdoor area is lovely for kids, they soon make friends with one another and have a big field to run around and play hide n seek and ball games. The canoes are really popular and Seth loved the whole experience of bbq, firepit and toasty marshmallows. We did a bike ride down the bridle path to the village and enjoyed a drink in the pub beer garden and stopped at the park for a play and kick around. All simple activities but he had a great time. I wanted him to have an experience he wouldn't forget and we certainly made memories which is what it was all about. I'd definitely return.....perhaps on my own next time so I could do some walking around the area.
Quiet, peaceful and beautifully appointed.
We stayed in the Barn Owl Tent which was warm, comfortable charming. They have thought of everything. My car was packed to the rafters with things already supplied and I will remember that for when we definitely return. The outdoor kitchen is great, the bathrooms are immaculate. Lots of wild life and the kayaking is lovely.
Romantic getaway
I booked the log cabin as a birthday present for my wife. On the day of arrival I received a text message asking rough time of eta. When we arrived we were met at the gates with a warm welcome. We were then given a guided tour of the facilities and every was explained she had even already lit the log burner for the hot tub which was a nice touch. The place itself was immaculate and so peaceful a great place to just lose yourself would highly recommend it we will be looking to return later in the year
Fabulous family site
Family of 4, two teenage boys, kept up to date by email, instructions how to get there, greeted by Jo and shown around on arrival, she was so friendly and helpful.The Yurts/Tents and cabin are beautifully decorated with fairy lights, bunting, seating area, electricity, fridge,kettle and a place to hang your clothes etc. The toilets/showers are immaculate, nice hot water and hairdryer/straighteners also. The kitchen area is great if you want to leave your cooker and pots at home, even has microwave and toaster too.The site is quiet, relaxing and has a beautiful lake which you can fish or kayak on. The surroundings are beautiful and you can walk to the local village. We would recommend and hopefully will be back soon.
A relaxing break 😁
We are a family of four, 2 children of 9 and 7 years. We stayed in a safari tent. The kids loved the bunk beds and the unlimited access to the kayaks all week. We could have stayed on site for the whole week because boating on the lake was such great fun for the kids. There was also plenty of room for rounders and frisbee! Showers and toilets were always clean and because the site is small it feels peaceful and homely. Jo is a wonderful host and we felt so welcome. Thanks for a very memorable, wonderful holiday!
Luxury, tranquil, relaxing holiday
We had a fantastic weekend at Kingfisher Lakes, I'd booked three Safari tents for a group of 13. Upon arrival (which was easy due to sign posts and clear instructions) we were welcomed by Jo, who showed us our luxury safari tents, which were all immaculateley presented and clean, with lots of internal and external space. Great extra's like the fridge and kettle in the tents. The site itself is well spaced out and we as a group had lots of space for BBQ's (which are provided) and sitting around the fire pit late into the evening. We hired the Kayak's which was great fun for the kids (and adults). The toilet / shower blocks are large, warm and with loads of hot water. The service we had from the Jo and Rob the owners was fantastic, you can tell that they love the site and help you to do so as well. We've already recommneded this site to a number of friends.
Why book with Cool Camping?
Best Price Guarantee, with no fees
Instant booking confirmation
Trusted for over 10 years
A chance to win prizes in our regular competitions
Book campsites near Kingfisher Lakes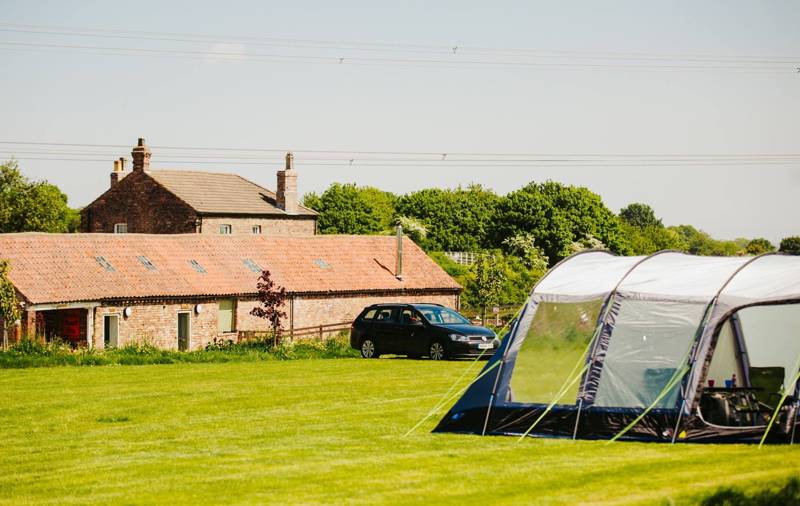 Campsites in Beverley
Campsites in East Riding of Yorkshire
Campsites in North East England
Available:
26 Pitches
1 Shepherd's hut
3 Gypsy caravans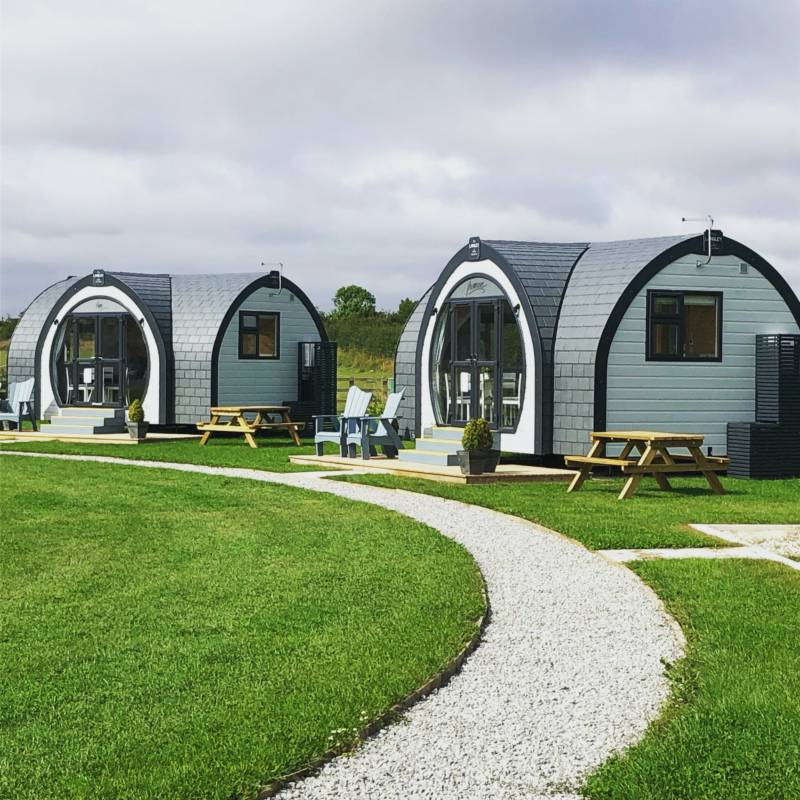 Glamping in Hornsea
Glamping in East Riding of Yorkshire
Glamping in North East England
Available:
2 Pods
1 Shepherd's hut