A cute, quaint shepherdess' hut and luxurious pods in Hornsea, combining countryside with coast
Little Bo-Peep has lost her sheep and is on her way to find them, so in the meantime, you can stay in her "shepherdess' hut" in Hornsea's White Cottage Pods. Father-and-daughter team Pat and Katie provide this whimsical backstory for their site's quirky hut, with the famous nursery rhyme serving as the theme for this well-situated retreat that ideally combines countryside and coast.
Located on the outskirts of Yorkshire's Hornsea, White Cottage Pods is the product of experience. Pat is a dab hand at this holidaying business, working in the caravan industry for a significant period of time and having a wealth of knowledge when it comes to setting up holiday parks that visitors feel compelled to return to. White Cottage Holiday Park is his retirement plan, and alongside Katie, White Cottage Pods is a scenic installation set within their own four-acre field within the 10-acre site of caravans and camping.
The site consists of Bo-Peep's hut and two luxurious pods (though more are planned for the future); the former is best suited to couples, while the latter welcomes a family of four or a small group of friends. All are equipped with en-suite wetrooms and kept eco-friendly by way of their solar panels — which conserve energy by putting unused power back into the grid — and harvested rainwater made hot using a ground source heat pump. As Katie describes them, the pods "bring the outside inside", with their circular glass entrances welcoming in the natural light and the lush greenery of your surroundings. While you are within the same site as the White Cottage Holiday Park, your spot is fenced off in the front field and kept away from the campers and caravaners, giving you the benefits of a communal holiday — the happy faces, the close proximity to nearby attractions — with added privacy
Given White Cottage's location, those seeking a countryside break or a beach holiday will be equally catered to. For the former, the Trans Pennine Trail runs past the western boundary of the park, this hotspot for walkers and cyclists granting you idyllic scenery to admire while you stretch your legs. Hornsea Mere is nearby, too, with the sprawling lake demanding a day of bird-watching and boat trips. For those seeking sea and sand, Hornsea seafront is but a short drive away, its peaceful Blue Flag beach and promenade a prime destination to tuck into your fish 'n' chips and watch the tide roll in. While Bo-Peep is probably never returning to White Cottage given the lack of sheep on the premises, not to mention the fact that she's a work of fiction, you'll be thankful that her absence has granted you such a quaint getaway.
Details
Facilities
The shepherdess' hut and two pods are located in White Cottage Holiday Park, away from the rest of the park in the front field. The former sleeps two adults while the latter sleeps up to four. Both the shepherdess hut and the pods boast an ensuite wetroom that includes a flushing toilet, hot shower, washing basin, and medical-grade non-slip flooring. The pods also boast underfloor heating to keep you warm during colder evenings. The shepherdess hut includes a double bed while the pods feature one double bed and one double sofa bed, with all bedding included in the price, along with towels. Kitchenettes are included in all accommodation, with the shepherdess hut featuring an electric frying pan, fridge, microwave, toaster, and kettle, while the pods boast a fridge freezer, microwave, kettle, and toaster.
Suitable For
Couples, small groups, children - yes. Large groups, camping - no
Nearby
White Cottage Pods is situated on the outskirts of the seaside town of Hornsea, and as a result, it's within two miles of its seafront. Escape to its Blue Flag beach and charming promenade, which is also notable for it being the start or finishing point of the Trans Pennine Trail. This expansive 215-mile trek is an essential experience for walkers and cyclists, with White Cottage positioned along it; the trail runs past the western boundary of the park, so is easily accessible from the site. Visitors can explore this famous trail for as long as they can keep going, or can enjoy a more leisurely stroll via its circular route. Hornsea Mere, the largest freshwater lake in Yorkshire, is just over a 5-minute drive from the site, designated a Site of Specific Interest that offers boat trips and scenic fishing spots. Sports enthusiasts may also want to take a trip to Hornsea Golf Club (01964 532020), an 18-hole course that's a five-minute drive from the site, that prides itself on having the "finest six finishing holes in the county." For families, Bugtopia Hornsea Zoo is also a five-minute drive, providing a tropical rainforest experience that — as its name suggests — specalises in reptiles and insects. For a trip to the city, Hull is around 17 miles away, presenting a more bustling environment to contrast with your countryside break.
Food & Drink
Hornsea has a variety of pubs, restaurants, and cafes to enjoy during your trip to the seaside, with most a 5-minute drive from the site. The Green Owl (01964 530442) has a well-stocked bar, along with a menu featuring award-winning pies from Bristol's Pieminister. Head to Med-Mex (01964 536999) for a delicious combination of Mediterranean and Mexican food, and for dessert, go to Cafe Chocolat (01964 537017). Given your proximity to the seaside, you'll also inevitably want to tuck into some fish 'n' chips. Sullivans (01964 534118) is located right next to the seafront, serving fresh food made daily and is highly popular with the locals and visitors as a result. When travelling to Hornsea Mere, pop into its cafe (0964533277) for a tea or coffee overlooking the water.
Why book with Cool Camping?
Best Price Guarantee, with no fees
Instant booking confirmation
Trusted for over 10 years
A chance to win prizes in our regular competitions
The Owner Says
"Little Bo Peep has lost her sheep and doesn't know where to find them"
Thats because she is snuggled under her warm duvet listening to her kettle singing in her luxurious Shepherdess' Hut. When she's taken her shower in her ensuite wetroom she will be gone ( to look for them). That means you can rent her hut for a couple of nights (minimum) and sample her lifestyle.
Bo Peep's Hut offers a peaceful, quiet retreat set in the rural landscape just on the outskirts of Hornsea, a seaside town on the East Yorkshire Coast.
Alternatively, we have two really luxurious pods set in our Paddock which offer Twenty First Century Accommodation for Glamping in style!
Fully equipped with underfloor heating, wetroom, cooker, fridge, kettle, toaster and microwave, bedding and towels, all that't missing is you!
( Minimum 2 night stay)
Accommodation
One shepherdess' hut sleeping two and two pods sleeping up to four.

Check Availability
Location
Contact White Cottage Pods, Hull Rd, Hornsea, East Yorkshire, HU11 5RN
Getting There
From the M62 eastbound, take Junction 38 signposted North Cave. Turn left onto the B1230 through North Cave, then go past Williams Den on the right. Turn left at the next Junction onto A1034, then turn Immediate right onto B1230. In 3.8 miles turn left onto Wold Rd, then in 0.9 miles turn right onto Walkington Heads. Following this, in 2 miles, turn left onto Coppleflat Lane. In less than a mile at Killingworth roundabout, take the second exit onto Dog Kennel Lane, A1035. In just over a mile, at the roundabout, take the 2nd exit onto A1035. At the next roundabout in a little over a mile, the the first exit onto Beverley Bypass. At the following roundabout, take the second exit onto Grange Way A1035. In just over a mile at the roundabout take the first exit onto Hull Bridge Road, A1035. Continue to follow the A1035 for five miles until you reach the roundabout, where you'll take the second exit onto the A1035/A165. Then, in a mile, take the third exit at the roundabout onto the A1035. In2.5 miles yiou'll turn right onto Great Hatfield Road, then turn left onto Wassand Balk. Continue until you reach Grundill Lane on your right, then take a left three miles down the lane. You will have then arrived at White Cottage Pods. Beverley Bus Station is 13 miles away, while Hull Interchange is 17 miles. If coming by train, Hull Paragon Station is 17 miles while Beverley Rail Station is 13 miles.
Reviews
Add Your Review
Rated ★★★★★ over 4 reviews
Excellent stay in a luxury Pod
Recently stayed for 3 nights in the 'Poppy' pod, and very much enjoyed the stay. The Pod is excellent with a comfy bed, comfy sofa, TV, dining table and en-suite as well as underfloor heating. It was quiet and the holiday park is in a quiet area, but still close to places like Hornsea and Beverley. Would definitely recommend, and a lovely touch by the owners in providing us a bottle of prosecco to see in the new year!
Absolutely amazing
Beautiful pod great location. Quiet but close to hornsea beach. We recommend this place and will definitely be going back.
Amazing accommodation and setting
My family of four (plus dog) stayed in this gorgeous, beautifully presented pod with great facilities. Set in a peaceful rural setting, not far from Hornsea beach and the amazing Whiteheads chippy. Sue was a great host and made sure we had everything we needed, including logs for the firepit. Superb stay
Such a lovely stay
Can not recommended this place enough! So much thought has been put into the pods which are amazing with everything you need and more. Very welcoming camp site with plenty of things to do nearby. Looking forward to our next stay.
Why book with Cool Camping?
Best Price Guarantee, with no fees
Instant booking confirmation
Trusted for over 10 years
A chance to win prizes in our regular competitions
Book campsites near White Cottage Pods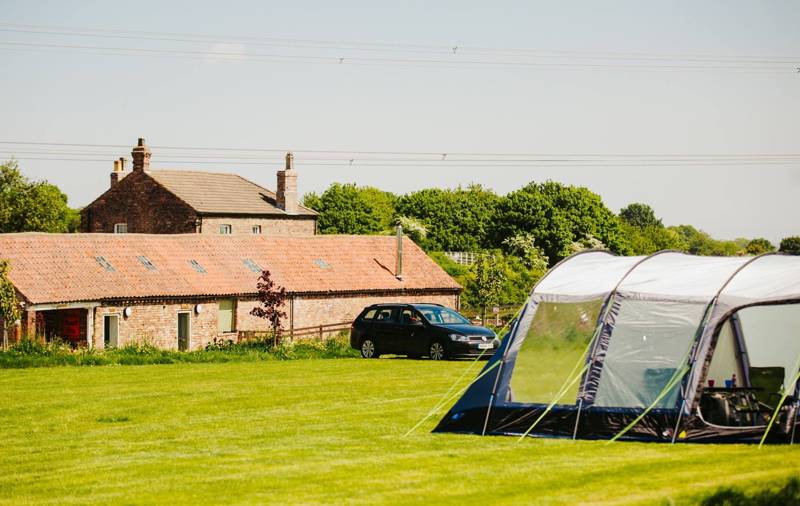 Campsites in Beverley
Campsites in East Riding of Yorkshire
Campsites in North East England
Available:
26 Pitches
3 Gypsy caravans
1 Shepherd's hut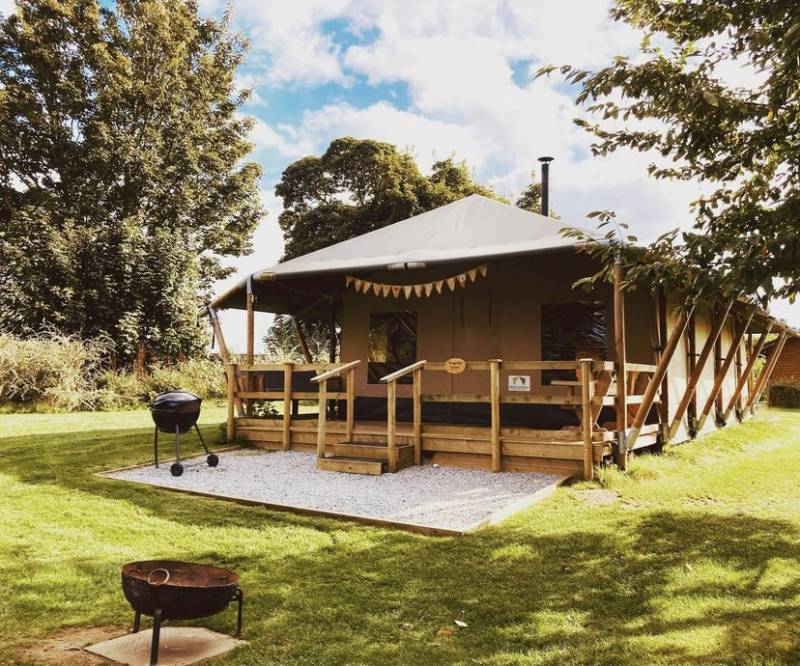 Glamping in Hornsea
Glamping in East Riding of Yorkshire
Glamping in North East England
Available:
4 Safari tents
2 Yurt or Gers
3 Cabins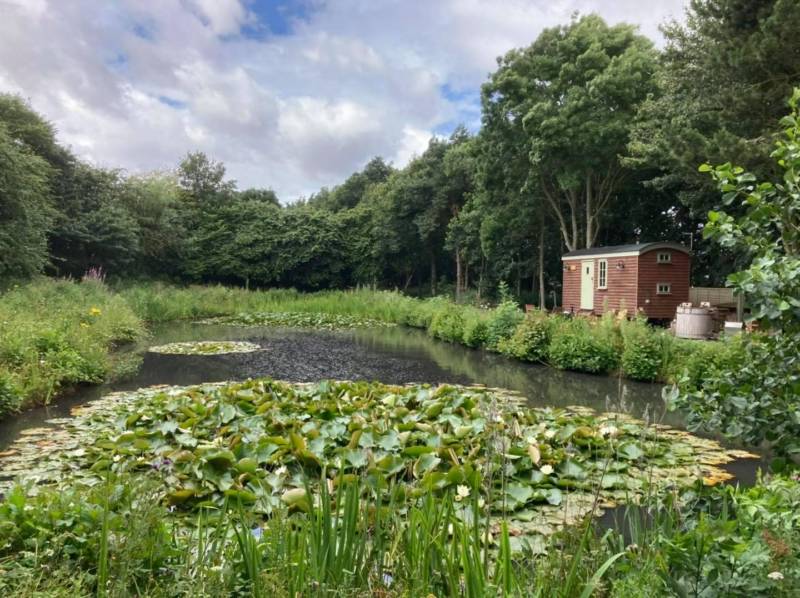 Glamping in Withernsea
Glamping in East Riding of Yorkshire
Glamping in North East England
Available:
1 Shepherd's hut
4 Bell tents