The Shepherds Hut at Mill Granary
Luxurious, rural living subtly squeezed into a traditional shepherd's hut with a fabulous location on the edge of County Durham
When Kate and Richard Hodgson decided to diversify their 330-acre dairy farm in 2004 it was converting the old agricultural barns that made most sense. The farm's prime location between the North Pennines, the Yorkshire Dales and the North York Moors, made it an obvious destination for travellers and, after painstaking work, the farm's disused, 19th-century granary was opened as a five-star lodging with much success. Roll on more than a decade and every inch of that same formula – the beautiful Tees Valley location, the heritage of the farm setting and, yes, the luxury, is now echoed in the brand new addition to their enterprise: A traditional shepherd's hut, chock full of traditional decals and details but with a healthy dose of modern comforts.
Looking out across the valley, with excellent views from the windows and stable door, this single shepherd's hut is a real masterpiece of design. Outside it has a wonderfully traditional appearance; the corrugated roof curves over the wood-panelled exterior, while smoke drifts from the small chimney spout that pokes from the roof, feeding down to the homely, cast-iron wood burner. Inside, however, while the details have a real farmhouse feel – prints of hares and Yorkshire rams adorn the walls – the place is a thoroughly modern affair. A frosted glass door leads through to the en suite bathroom (it has an excellent power shower), while the built-in king-sized bed is cocooned at one end of the hut with an HD television above and a circular, porthole window looking out across the farm.
In all, Kate and Richard have taken the style of their luxury, five-star cottages and compressed it into the cosily romantic confines of this shepherd's hut. From the functional kitchen space to the private garden outside, there's nothing more you could need. And from the doorstep, of course, the world of England's North East is your oyster. Romp along the farm's footpaths to The Raby Hunt, the region's only two Michelin starred restaurant, just over a mile away, or hop in the car to visit the magnificent High Force Waterfall. If it rains there are the museums of Barnard Castle to occupy you and the grand interior of Durham Cathedral, a 35-minute drive away. Or you could simply stay put around the wood-burner, listing to the raindrops drumming on the rooftop and enjoying the simple pleasures of living in this shepherd's home from home.
Best Price Guarantee
Easy and Secure, with instant booking confirmation
Trusted for over 10 years
A chance to win a brand new Coleman tent!
Gallery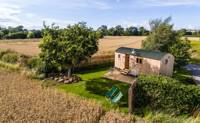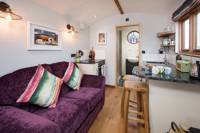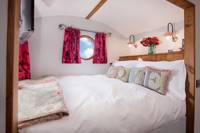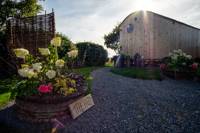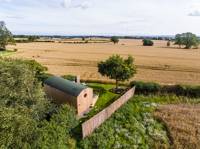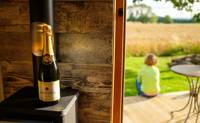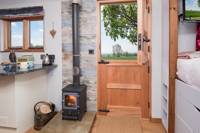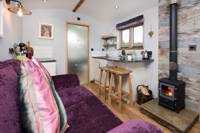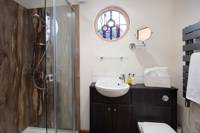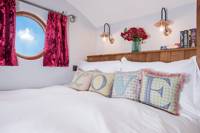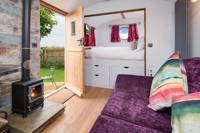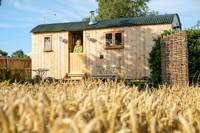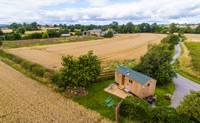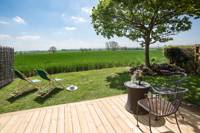 The Owner Says
Our romantic shepherds hut offering glamping for two in style. Experience nature in luxury, perfect for a romantic break or well needed rest. Beautiful sweeping views of rolling countryside and relaxing outdoor space for star gazing. The Shepherds Hut, Mill Granary and Mill Byre are all within the vicinity of each other so extra guests can link in with both houses for more accommodation.
Set in the beautiful quiet countryside of the Tees Valley straddling County Durham and North Yorkshire lies a traditional-looking shepherds hut which blends seamlessly with the landscape. It has its own parking area at the rear and in front a delightful South-facing private garden with lawn area and decking. Here you can relax in the traditional deck chairs or dine al fresco taking in the views.
Reader Reviews
Add Your Review
Country escape
My husband and I are recently back from a great 3 night stay in the Shepherd's Hut. The Hut is in a beautiful location (with a wheat field quite literally on its doorstep!) with fantastic surrounding views. It is cosy, comfortable and has everything you could need. Kate was welcoming (home made scones on arrival!) but also left us to it. There's plenty to do in the local area- we cycled to Durham from Bishop Auckland; visited High Force waterfall; enjoyed wandering around market town of Barnard Castle etc. But the Hut is really great for switching off (no WiFi! Though good 4G coverage) and relaxing! We hope to be back!
Get away from the world and go to paradice
My husband have traveled the world , we have never found a piece of Paradise, as the Shepherds hut , if you want a quite , romantic, place ,this is your place . will defiantly back
Outstanding
From start to finish our experience of the Shepard's Hut was fantastic. The Hut is self has everything you need, the owner has everything covered, all you need to bring is your clothes, toiletries, some food (and drink of course haha) and yourselves! We came end of September so it was a little chilly outside especially in the night but inside it was toasty warm! We didn't even need the heating on that much! The shower is amazing and the bed is massive and so comfy. There is no WiFi but 4G and phone signal is strong so if you need to contact the social media world while away you still can. There's plenty to do in the area, local pubs for food and drink, places to visit for a nice day out, nice walking areas, Middlesbrough isn't far at all (40 mins drive) if you want to do a bit of shopping and the parking is very reasonable in Middlesbrough town with plenty of good shops around! If you fancy staying in the Hut all night but don't want to cook there are take aways in the area that deliver. The owner even went that extra mile for me and helped me with a little surprise for my companion for the weekend! We will DEFINITELY be returning to the Shepard's Hut for another stay! Can not fault it!
Book campsites near The Shepherds Hut at Mill Granary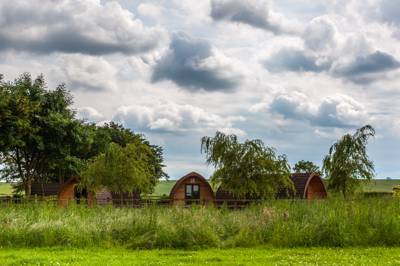 i
Glamping in Richmond
Glamping in North Yorkshire
Glamping in North East England
Glamping in England
i
Glamping in County Durham
Glamping in North East England
Glamping in England
Available:
1 Shepherd's hut