Small-scale, eco-conscious glamping with plenty of luxuries, set in the Trent Valley
Some glamping sites talk about sustainability. Others let actions do the work. With a zero-waste shop, a tree planted for every booking and a strict quota on numbers, Sunrise Eco Glamping do the latter. And the comforts you desire? They're still not compromised.
Set in a small meadow, surrounded by farmland and behind a thriving plant centre in an old agricultural barn, Sunrise Eco Glamping channels the owners' passions for peace, nature and comfort into eco-friendly, off grid camping. Sitting on roughly four-and-a-half acres of quiet Nottinghamshire countryside, the site has only a small handful of pitches, ensuring a real escape from the crowds… Crowds of people at least. A quarter of the campsite is occupied by a small herd of inquisitive alpacas, who boast the official title of 'glamping neighbours and guardians'. You'll soon be on first name basis with Leo, Gerry, Freddie and Billy after the second or third time they pop their noses over the fence to check you're okay.
Most visitors don't arrive with their own tents but pluck for the pre-pitched 'Stargazers' instead. Each is furnished with comfy beds, a wood burning stove and has clear ceiling panels for admiring the night sky. Nestled next to the stream, they have a prized position and easy access to piping hot showers and a 'grill and chill' shack, decked out with fairy lights and keeping you covered from the rain. Inside you'll find kitchen facilities and a stash of complimentary groceries, delivered each day from a local artisan baker. There's a small coffee shop and a communal indoor wood shack too, the latter with a giant television screening films, programmes and old footage of Glastonbury Festival.
In the tiny hamlet of Saundby near to Beckingham, it's a wonderfully quiet and rural spot to stay and is easily reached from major cities like Leeds, Nottingham and Sheffield. If you're looking to make the most of your peaceful retreat you don't need to travel far from the site. There are some great local walks right from the farm, including a scenic route from Sunrise Eco's doorstep along the beautiful River Trent. And the historic city of Lincoln, complete with castle and cathedral, is a half-hour drive in the car.
Our Coronavirus Booking Guarantee
Book with complete confidence at Sunrise Eco Glamping with the Cool Camping Coronavirus Booking Guarantee. We guarantee the following clear policy for your booking:
A low deposit of 30% to secure your booking
Balance not due until 30 days before your holiday, in case of late changes to Coronavirus guidance
Complete flexibility to move bookings up to the end of 2021 in the event of Coronavirus restrictions
In the event of a lack of 2021 availability, switch your dates to 2022
Due to low deposit and late balance payment, no refunds are offered
Details
Facilities
Each Stargazer Belle Tent is furnished with a mixture of double and single beds, with linens, towels and robes included. Each tent is cocoon lined for extra comfort, with a wood burning stove inside and your own fire pit outside. You'll also have your own private toilet and hot showers. There's an additional kitchen area (the Grill & Chill Shack) with washing-up sinks, a fridge and freezer, plus an induction hob, as well as extra complimentary groceries, fresh fruit, vegetables and bread, delivered each day. Breakfast hampers for every guest, as well as a selection of additional fresh fruit, vegetables and bread are also included. There are plenty of activities on offer; you can book an alpaca experience and they're hoping to include a large internal space dedicated to yoga, meditation and art classes soon. There's a small plant centre with a vegan coffee shop, a green grocers and a seating area with a large screen and zero waste refill store too.
Suitable For
Glamping, tent camping, kids and dogs – yes. Caravans and motorhomes – no.
Nearby
Details of smaller, local attractions are included in the digital guestbook provided on arrival. An 20-minute drive will take you to Daneshill Lakes to spend a day wandering the footpaths, through the damp willow woodland and drier grasslands, spotting the willow warblers in the sky and wide variety of flowers at your feet. Idle Valley Nature Reserve is also just an 20-minute drive away, in addition to the beautiful network of lakes, it's also recognised as one of the best spots for birdwatching in the region. Sunrise Eco Glamping is also not too far from Yorkshire wildlife park (a 25-minute drive), most of the animals at the park are either endangered or threatened, so, apart from being a fun day out, a visit here will support the park's efforts to care for the animals in captivity and the wild. A slightly longer, 30-minute drive, will take you to Sherwood Forest, home to the enduring legend of Robin Hood
Food & Drink
Basic groceries and breakfast hampers are provided for guests in the kitchen area each day. The on-site coffee shop, The Jackfruit, serves a great range of plant-based homemade cakes, croissants, teas and coffee. The Blue Bell (01777816303) at Gringley-on-the Hill (a five-minute drive away) serves great pub fayre and a good selection of ales and ciders as well as hosting regular music and quiz nights. Five minutes further is The Hop Pole (01777586121), dog friendly and set along the Chesterfield canal, it's hard to choose a star dish between their Sunday lunch and fish and chips. Bawtry is a 20-minute drive away and has a great selection of eateries, including the long-standing Chinese restaurant, The China Rose (01302711338), decorated with beautiful Chinese art and serving a classic menu of Cantonese classics.
Open
May–November.
Why book with Cool Camping?
Coronavirus Booking Guarantee
Best Price Guarantee, with no fees
Instant booking confirmation
Trusted for over 10 years
A chance to win prizes in our regular competitions
The Owner Says
Set in a small natural meadow, alongside farmland and behind our plant centre, Sunrise Eco Glamping encompasses all the things we love - nature, the environment, peace, quiet, kindness and comfort.  With just a handful of pitches, you can be sure of a relaxing stay, away from the crowds, and alongside our small herd of alpacas who will keep a watchful eye! Our nearest town, Gainsborough, is 3 miles away, Retford, 7 miles away, and Lincoln or Doncaster 16 miles away.  We are proud members of The Greener Camping Club.
We have 3 beautiful STARGAZER LOTUS BELLE TENTS to choose from (or bring your own for some good old fashioned camping), each furnished with proper beds (a mixture of doubles and singles) with linens, towels and robes included.  You have your own private toilet and our hot showers are designed with style and economy in mind.  Each of our tents is cocoon lined for extra comfort, with a wood burning stove inside and your own fire pit outside. The Grill & Chill Shack is where you'll find our additional kitchen area for hot water washing up, a fridge and freezer, plus an induction hob, as well as the extra complimentary groceries, fresh fruit, vegetables and bread, delivered each day from a local artisan baker. Decked out with fairy lights and built in an industrial style, with lots of worktops, the Grill & Chill shack is a great space to use and meet other guests.
We have a small herd of alpacas that neighbour our glamping area and are truly amazing animals. To book an alpaca experience during your stay, be sure to book it in the extras section (specific dates and times apply to ensure the welfare of the alpacas is maintained).
At the heart of our PLANT BARN, you'll also find our REFILL ZERO WASTE STORE and GREENGROCERY, our COFFEE SHOP and brand new for 2021, The WOODSHACK where we have extra coffee shop seating and a giant screen showing an array of films and programmes. Mental health well being is at the heart of all we do, and the chance to sit and relax among friends enjoying some relaxing music, a documentary or old footage of Glastonbury, can work wonders, just living in the moment. We actively support living a plant based lifestyle and are patrons of The Vegan Society and The World Wildlife Fund.   Eliminating negative energy and stress for all is our goal.
Check-in is available 7 days a week.
Accommodation
Four camping pitches, plus three Stargazer Lotus Belle Tents (each sleeping up to four people).
Check Availability
Extras
Miscellaneous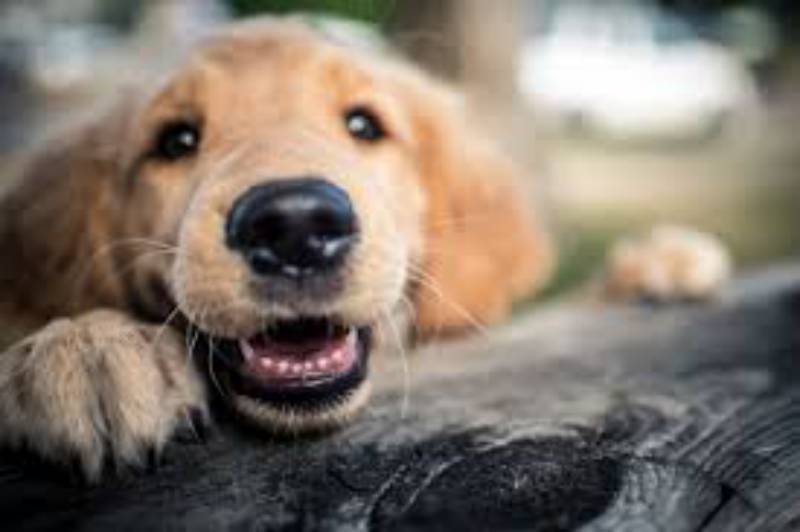 Canine companions
We happily accept well behaved small dogs (maximum 1 per tent).  Your dog/s is very welcome here at Sunrise Eco Glamping and we welcome dogs into our garden centre and coffee shop too!   To help make holidays enjoyable for everyone, there are a few things we ask:  Please:  clean up after your dog; keep your dogs under control and on a lead at all times around the grounds; don't leave your dog unattended inside at any time and please keep your dog off of all furniture -  you'll need to bring dog beds and towels (we respectfully ask you don't use our towels to dry your dogs).  If you think your dog/s will climb on the furniture (that may be their norm), rather than stress your dog, we suggest this might not be the place for them   You are welcome to walk your dog around the perimeter of the main paddock (not the one with alpaca or tents in) but please do not let your dog off the lead at any time.  Our neighbours, guests and alpacas are very important to us and their right to peace and quiet here is paramount.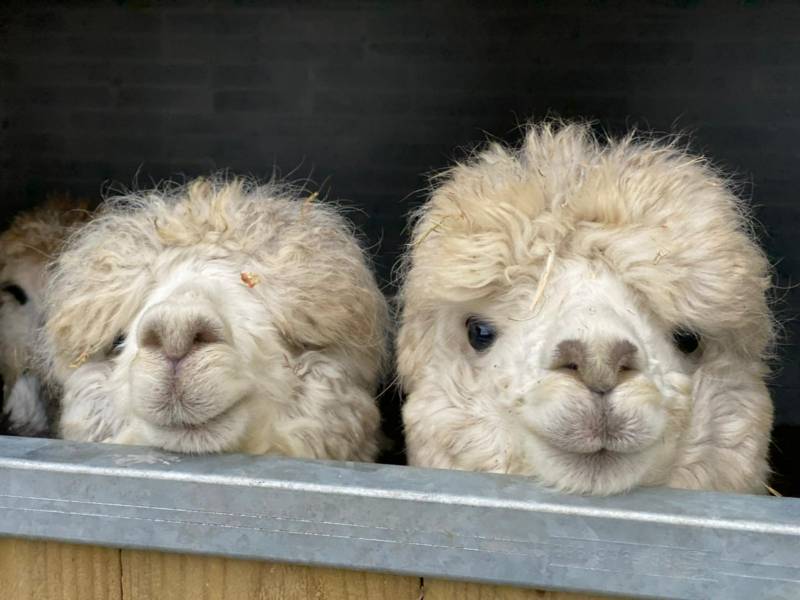 Alpaca Meet & Greet with Afternoon Tea
Get up close and personal with our lovely alpaca boys, Freddie, Leo, Gerry and Billy!  Spend 30 mins with them in their corral, learn a little about each one, then head on down to The Jackfruit Coffee Shop for afternoon tea - an imaginative and generous selection of cakes, savouries, and berries, plus unlimited tea or filter coffee.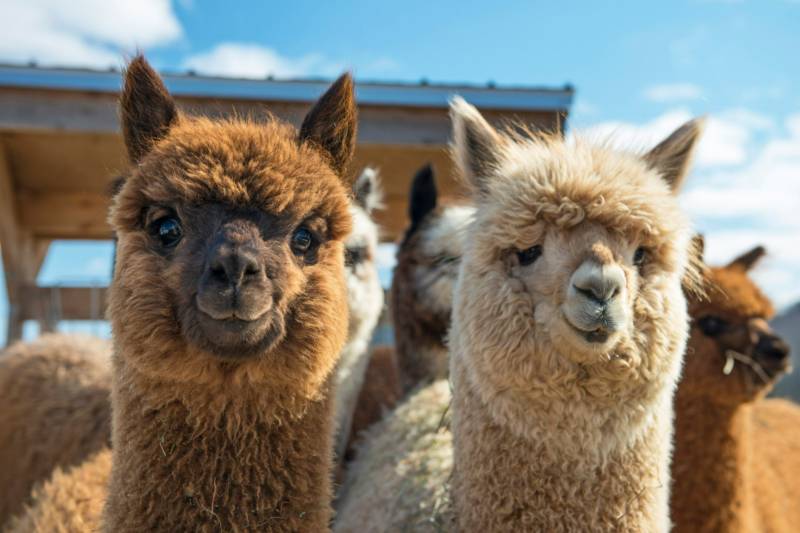 Alpaca meet & greet
Enjoy 30 minutes with our alpaca - help us bring them into their corral where you can feed and pet them, and hear them humming!  Meet & greet sessions are limited in number and quantity to ensure the welfare of our alpaca is maintained and you may share with other guests, although we limit the total number of guests in each session to six.  Alpaca are really gentle creatures, inquisitive and playful - no doubt they'll be checking you out over the fence anyway!  Our boys, Freddie, Gerry, Leo and Billy all turn 2 years old in 2021 and are extremely mild mannered.
Location
Contact Sunrise Eco Glamping, Gainsborough Road, Saundby, Retford, Nottinghamshire DN22 9ER
Getting There
If you're coming from the north, you'll want to turn right off the A620, onto Retford Road, towards Retford and Babworth. Three miles from here you'll come to a roundabout, take the first exit onto Babworth Road then follow the road for just over half a mile before reaching the next roundabout. At this roundabout take the third exit onto Amcott Way. Follow the road for just under two miles and then turn left onto Main Street. Stay on this road for a little over a mile and then turn right onto Clarborough Hill. After two miles, continue onto Gainsborough Road. Two-and-a-half miles from here you will come to another roundabout where you'll want to take the first exit, continuing to follow the signs for Gainsborough Road. Just under half a mile from here you will see signs for Sunrise Eco Glamping on your right.
Reviews
Add Your Review
Rated ★★★★★ over 10 reviews
Welcoming and wonderful stay
Our stay at Sunrise Eco Glamping was one to remember! We loved every minute of it, breakfast was included and was delicious and the bell tent was super cosy! The bunting and fairy lights made it! Rosie and other staff members were warm and welcoming throughout our stay. The alpaca experience was great! Very friendly when feeding them carrots! Close enough to the peaks if you are a keen hiker. Can't wait to return! :)
Relaxing weekend
I visited with my partner and dog, we had such a lovely relaxing break just what we needed! The area was clean and well looked after, inside the tent itself was spacious and cosy. Loved waking up to see the alpaca's! Will definitely visit again when the sun is shining next summer! The staff were friendly and quick to respond- they also send you a guide book by email before arrival which was really handy! Would definitely recommend!!
Amazing and alpacas
Had a great weekend during my first glamping trip for my God sons surprise 13th birthday treat. Rosie was very welcoming and a great host. I regularly go camping but this meant the car was almost empty. Breakfast was yummy and the facilities great. I will certainly be visiting again.
Lovely weekend!
Absolutely beautiful, cosy little tents which really do have everything you need, situated in a lovely meadow. Rosie and team provided a lovely breakfast basket with lovely, warm pastries every morning. The grill shack is really well stocked and has everything we needed.
Fantastic
We have just returned from a lovely couple of nights at Sunrise staying as a family of four in Day Break Belle Tent. The facilities are excellent and the green philosophy flows throughout. Every detail has been carefully thought of from full instructions on how the site runs to beautifully presented tents with colourful bunting and pretty signage. The whole place is inspirational and shows just how simple it is to live more sustainably and eat plant based, without compromise. The beds are comfy and the tents are spacious. The shower is hot and the composting toilet is really very straight forward. Our teenaged kids loved cooking in the Grill 'n' Chill Shack where the selection of fruit, veg, herbs, spices, pulses and cereals is superb. Not to mention the delicious selection of pastries and bread left out for breakfast. We couldn't fault the place and hope to be back. Big thanks to Rosie & Team, it was lovely to meet you.
Utterly Perfect
Oh my gosh, I could write an essay (with references) about how amazing lovely this little site is. We had the best weekend here. It's set in a beautiful location, and the wildflower meadows are so full of life, it's amazing watching swallows swooping to catch moths over them, spotting butterflies and following bees around. The fact that it is next to the garden centre and vegan cafe was an absolute boon, since we're a dairy-free family - normally eating out is really challenging, but this took the stress right out. Plus, we learnt about vegan cream, which was soooooo good. The tent (Aurora) was so wonderfully comfortable, perfectly furnished and felt like home. We slept like a dream in there! The food supplied is amazing; such a brilliant touch and really meant we could pack light. The vegan pastries at breakfast were DIVINE. The fact that there are only three tents meant we felt really settled and private and we got to know some of the other campers, while waiting for the kettle to boil together. Rosie and Chris were so thoughtful, and made our stay even better. We loved going to visit the alpacas, chatting to Susan the chicken over the fence and roasting smores on our firepit. It was just wonderful. Thanks so much for having us to stay. We will definitely be back. If the kids had their way; next weekend!
Our first but definitely NOT our last visit! :-D
What a brilliant stay we had! Lovely setting, beautiful accommodation, all the glamping luxuries (the pastries and coffee went down particularly well!) and Rosie and Chris were fantastic hosts, even letting us watch the England football game with them (result!) Very child friendly (felt very safe letting our 3 & 5yr olds go free-range!) and plenty of things to do nearby to keep everyone entertained. We loved it so we'll definitely be booking for next year - thanks guys and see you soon! :-)
Great Place to Unwind and relax
We stayed at Sunrise Eco Glamping in May 2021 (not the sunny days!!) but Rosie and her team were amazing which made up for the bad weather. The facilities are brilliant, on our first night we made a sweet potato curry from scratch with ingredients from the grill and chill which we finished over the fire pit while talking to the alpacas, The tent was ace with a Lush bed and great log burner. The second night we caught a bus from just outside and had a great night out in Gainsborough. All in all there wasn't a single thing to fault apart from the rain . PS the breakfast hamper each morning was amazing.
Glamping at its finest
My partner and I had a lovely time at Sunrise Eco Glamping. Rosie and her team were very welcoming and warm. The facilities are excellent, with hot showers, grill and chill and on-site coffee shop! The tent was lovely with a really comfy bed and cosy log burner. The location is a great place to explore the peaceful countryside from. All in all, glamping at its finest!
Best holiday/adventure ever
My girlfriend and I are honored to have been the first ever guests to experience this amazing getaway, we honestly could have never expected how amazing it would have been. Rosie, her partner and team are the most welcoming people you could imagine. Rosie herself is one of those people you just wish you could be friends with because she is warm, passionate and just all round nice to be around. We recieved a warm welcome to the glamping site and surrounding coffee shop and garden centre. Followed by a quick tour explaining the ins and outs of this amazing little paradise, that we were lucky to call our home for the weekend. We stayed in the amazing Aurora tent, it was like a little paradise, fitted with a double futon, log burner, wardrobe and a supremely comfy bed. Right outside our tent were the amazing four alpaca boys, we highly recommend you do the meet and greet, it was so interesting not only to meet the boys but also hearing Rosie's reasoning behind looking after them and her plans for them and possibly raising more. In regards to the facilities, the showers were amazing, they were warm, spacious and in a private area. We have to admit we were a little scared about the toilets, but they were completely amazing, we found no issues with them and I would honestly use toilets like these over everyday ones when comparing the benefits (the science behind the woodshaving method is pretty cool!). The grill and chill shack was incredible and filled with tasty fresh fruit/veg and the breakfast pastries were outstanding. Our only regret is not planning a nice plant based meal to make prior to coming (maybe an example recipe might be nice to display in there!). Our overall favorite bit of the experience was that it truly was relaxing, all you need to bring is yourself and some clothes (the toiletries provider were amazing). Whilst Rosie and team were welcoming and always around we also felt completely free and in our own world. It was truly amazing. Thank you Rosie!
Why book with Cool Camping?
Coronavirus Booking Guarantee
Best Price Guarantee, with no fees
Instant booking confirmation
Trusted for over 10 years
A chance to win prizes in our regular competitions