Book campsites near Shire Farm Yurt Village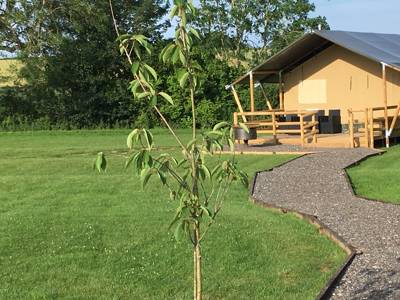 Glamping in Horncastle
Glamping in Lincolnshire
Glamping in East Midlands
Available:
2 Safari tents
A little yurt village on a biodynamic farm near the Lincolnshire Wolds – great for grown-ups and groups who want to get away from it all
Rolling green hills, cute round houses, standing stones and a village called Hagworthingham. Arrive at this Lincolnshire glamping site and you could be forgiven for thinking you'd arrived in The Shire. Hang on a minute… this is The Shire – Shire Farm that is; one of the UK's largest biodynamic farms. Any similarity to Tolkein's Hobbity dreamland is purely coincidental but, with a name like that, it's almost impossible to ignore. And just like Frodo's homeland, going barefoot in the soft green grass of Shire Farm Yurt Village is unlikely to raise any eyebrows.
There are six yurts at Shire Farm, arranged in a little yurt village on the edge of a large pond, surrounded by fields. The largest, central yurt is a communal one with space for sitting, sharing and socialising. Outside is a shared kitchen hut, outdoor seating, a charcoal BBQ and firepit. It's a close community with the five sleeping huts arranged steps away. Three are just 10ft across and suitable for solo glampers while the two larger ones (12ft) are great for couples, friends and families – though this place is, perhaps, more of a grown-up getaway.
Owned by a holistic health company, you'll notice some of their colour-healing products around the site. You might also find an organic loaf of bread and a carton or plant-based milk in the communal kitchen. But no one's pushing an agenda here. This is a place to get away from it all and while the communal area encourages sharing and makes the site great for groups, it's also a place to get away from it all. If you don't want to see anyone for the duration of your stay, you don't have to. You can see yourself in, make yourself at home and just enjoy being on the edge of the Lincolnshire Wolds Area of Outstanding Natural Beauty. Two minutes from the yurts, a system of footpaths have been laid out on site to mirror the chakras found in the human body, focal points for spiritual energy. At each, there's a sculpture. At best the walk is said to be transformative and at least it will be enjoyable – with glorious scenery and wildlife complemented by the art.
As a base for enjoying the rest of the Wolds, Shire Farm is a good one. The yurt village has its own private access and is totally hidden from any main roads, however it's still well connected as the driveway is a turning just off the A158. It's a few miles to historic Horncastle and a little further to Louth where there's much pleasure in small sites: historic buildings, pleasant parks and independent eateries among them. For big sights head further afield to Lincoln where the castle and cathedral spires demand attention. Or go to the coast where the bright lights of Skeggy's seaside amusements fight for it. Alternatively, you could just forget the outside world, turn the attention on yourself and put your bare feet up back at The Shire.
Details
Facilities
2 showers, 2 toilets and 2 hand basins in a facilities block, a short walk from the yurts. Each yurt is furnished and decorated and includes beds, bedding and towels. One of the large yurts has a single and a double bed, the other has 2 double beds and a wood-burning stove. All have an electricity supply with sockets, lamps and fairy lights. The communal yurt has sofas, arm chairs, a dining table and a wood-burner too. There is an equipped kitchen hut with a microwave, fridge and electric dual-ring stove. As well as pots, pans, crockery, cutlery and glassware. Oil, salt and pepper, and basic organic breakfast items (bread, jam and plant-based milk) are also provided. There is a communal outside seating area with picnic benches, a BBQ and fire pit. Logs and charcoal are provided. WiFi available.
Suitable For
Glamping only. Families, couples, pets, large groups (including stag and hen parties) – yes. Campers, caravans, motorhomes – no.
Nearby
The yurt village is on a 500-acre biodynamic farm. On site you can enjoy walking the chakra paths which start 2 minutes' walk from the yurt village. The village of Hagworthingham is within walking distance, although you might want to take your car if you don't fancy walking cross country, in which case it is a 2-minute drive. There's a pub and a great second-hand shop but for campsite supplies or a nice day out, you'll want to head to the market town of Horncastle or Louth. Snipe Dales Nature Reserve is nearby (3 miles by road, less along footpaths) and a great place to walk, picnic or birdwatch. Horncastle is 4 miles away with plenty of shops, galleries and places to eat out. Louth (15 miles away) has more amenities including Spout Yard Park, a community garden with children's play areas and a gallery. On the edge of town is Hubbard Hills, a 32-acre site within the Lincolnshire Wolds Area of Outstanding Natural Beauty, where you can picnic and walk. Lincoln city is about 25 miles from site. Must-see sights include Lincoln Cathedral (01522 561600) and Lincoln Castle, home to one of 4 original copies of the Magna Carta. The Lincolnshire coast is less than a 30-minute drive (16 miles) away.
Food & Drink
A few essentials are provided in the on-site kitchen but for lunch or dinner the closest pub is The George and Dragon (01507 588255) in Hagworthingham. The recommended Bluebell Inn (01507 533602) is a 10-minute drive away in Belchford or, for a restaurant meal, try Shakesby's (01507 526656) in Horncastle. Louth is considered a bit of a foodie hot spot and is well-known for its local produce shops. Perkins Petit Bistro (07414 841808) is recommended for relaxed fine dining and The Gas Lamp Lounge (01507 607661) is your campsite host's tip for a quiet pub. The Bailgate area of Lincoln is a good part of the city for pubs and restaurants. Head for the rooftop pods at The Lincoln TapHouse & Kitchen (01522 527020) for great views of the cathedral and personalised music choices.
Opening Times
March–end of October.
Location
Contact Shire Farm Yurt Village, Shire Farm, Hagworthingham, Spilsby, Lincolnshire PE23 4LY
Getting There
The Yurt Village is on Shire Farm which has 5 entrances with white gates on the A158 (passing the site). From the direction of Hagworthingham village, it is the second gate on your left, from Horncastle it will be the fourth gate on your right. Once you have taken the turn off to the yurt village, there's a sharp right bend at the bottom of a hill, follow this around and you will reach the yurt village.
The nearest train station is in Lincoln, some 26 miles away. Handsome Cabs (01522 545352) are Lincoln based, while Mark's Taxis (01205 500058) operate from Horncastle and M Goy's Taxis (07840 391730) are in Louth.