Book campsites near Park Hall Pods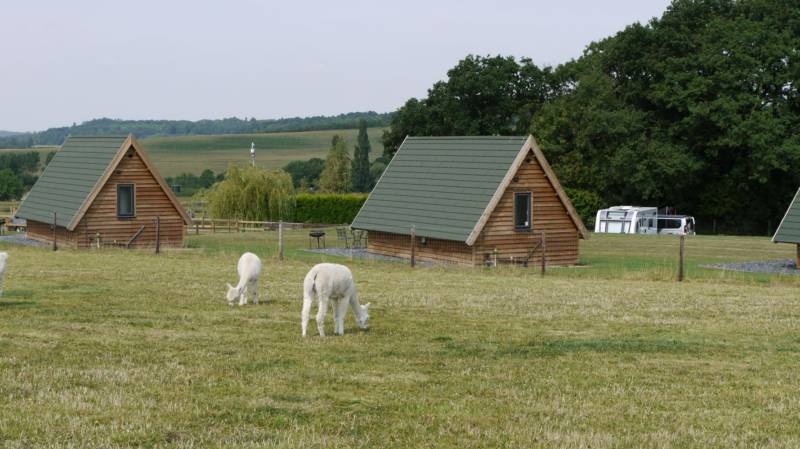 Campsites in Loughborough
Campsites in Leicestershire
Campsites in East Midlands
Available:
10 Pitches
5 Pods
Five high-spec glamping pods, with bubbling hot tubs and big views
The people of Mapperley have no shortage of grand houses to ogle within day-tripping distance of home. But recently it's not Elvaston or Nottingham Castles, Wollaton or Haddon Hall they've been cooing over. It's not even magnificent Chatsworth that the villagers are all of a twitter about. No – it's somewhere closer and much smaller that's been getting their attention: Park Hall Pods. Five luxurious little glamping pods on stilts, perched on the edge of the village with whopping country views.
The fact that locals were queuing up to book holidays here before it even opened was an indication of things to come. Pretty much everyone who lays eyes on these swish new pods wants to stay in them. In fact, we'd say they have the potential to convert even the most indoorsy folk by bringing home comforts and modern conveniences to this edge-of-countryside location in the Midlands. Park Hall Pods is less like a traditional camping or glamping site and more like a cluster of detached hotel rooms or exclusive holiday homes (albeit cute and quirky ones).
There are no shared facilities at Park Hall and there's no reception desk either. There's certainly no need to put on wellies and traipse across a field to your holiday accommodation. Instead, you drive right up and park underneath your pod in a kind of quirky car port created by the stilts. And it's only once you've climbed the external wooden staircase that the views are revealed; views that you'll be happy to gaze at all weekend – either from the hot tub on the deck or through the pod's floor-to-ceiling glass frontage. The unusual design has made everything fit cleverly around a former railway embankment that would have stopped many other glamping projects from the outset. This and a solid, homely feel mean it's no surprise to learn that Gill and Julian, the couple who built this place, have a background in property development.
Inside, you find a high-spec living space with a great quality finish. There are Scandi-style, white-washed cladding walls with muted mustard and grey tones in the finishing touches. There's a shower room with robes and towels and a kitchen equipped with everything you need right down to coffee capsules for the Nespresso machine. When the living is this good, it's likely that you'll be content to stay local, taking advantage of the walk into Shipley Country Park like the Mapperly villagers do – or down to the Old Black Horse where you might bump into some of them. But from this location between Nottingham and Derby there's much more to explore if you have the time; all those stately homes for a start.
Details
Facilities
The pods provide fully self-contained, self-catering accommodation with electricity and a hot and cold water supply. They all have a king size double bed and a sofa bed, with bed linen. Barn Owl and Giant's View both have cosy cabin-style bunk beds too. There's a fully equipped kitchenette with oven, four-ring hob, fridge, kettle, toaster and Nespresso coffee machine. There's a bathroom with a toilet and shower. The living space is heated, double glazed, has WiFi and there's a breakfast bar and stools. Outside on the raised deck, you have a table and chairs, a hot tub and a fire pit.
Suitable For
Families, couples, dogs (at extra charge) – yes. Campers, caravans, motorhomes – no.
Nearby
Park Hall Pods are in the village of Mapperley within walking distance (two miles) of Shipley Country Park which has 700 acres to explore with a coffee shop, tea rooms, play equipment and the signposted 10-mile cycling and walking route, The Nutbrook Trail.The south-eastern edge of the Peak District National Park is just 20 miles away with plenty of opportunities for outdoor fun. This side of the park is home to some of the Peak District's best-known sites including Chatsworth (01246 565300), Haddon Hall (01629 812855) and the town of Bakewell. A little less well known but a little closer, the Heights of Abraham (01629 582365) hilltop country park, cable car and caverns are also on this side of the national park. The DH Lawrence Birthplace Museum (0115 9173824), Elvaston Castle (01629 533870) and Wollaton Hall (which includes the Nottingham Natural History Museum and Industrial Museum and a deer park; 0115 8763100) are about nine miles from site. Both Nottingham and Derby are around 10 miles from Park Hall Pods.
Food & Drink
The Old Black Horse pub (0115 9329624) is a 10-minute walk from site in Mapperley with a good selection of food and drinks. For a coffee, cake or lunch, you might like to head to the Bottle Kiln Café (0115 9329442), a 15-minute walk away or the Nutbrook Coffee Shop (07738 165277) which is a 20-minute walk away on the Nutbrook Trail. Oakfield Farm Shop, butchers and café (0115 9309099) is a two minute drive (or a 20-minute walk) from site. There are more shops, takeaways and a pub in the village of West Hallam (two miles away).
Open
All year.
Location
Contact Park Hall Pods, Parkhall Lane, Mapperley, Derbyshire DE7 6DA
Getting There
From the M1 or Nottingham take the A52 towards Derby. From Derby, head towards Nottingham on the same road. Turn off for Ockbrook. Follow signs to Ilkeston through the village and, once on the A6096, continue for two miles until you can turn left on to Cat and Fiddle Lane. After another mile, turn right on to Station Road. When you reach a T-junction with the A609 (with Mill House Car sales on the junction), continue straight over on to Park Hall Lane. After around 700m you will see a wooden totem pole on the right with glamping carved out; you have arrived.
The closest railway station is at Ilkeston from where you can book a taxi to site. From Derby Train Station, where there's a taxi rank, it is just over nine miles and costs about £20.
Reviews
Add Your Review
Rated ★★★★★ over 23 reviews
Relaxing mini break!
We stayed in the butterfly pod for 2 nights It was so cosy and relaxing the fairy lights gave it that added extra touch! Pod was very clean and presented well, with everything we needed Hot tub was incredible, being able to look at the view We also went on a bike ride around the surrounding area and that was lovely Would 100% stay again and recommend.
Beautiful and relaxing, quality family time
I booked the pod a few months ago for my partner and son. We enjoyed every minute here, it is beautiful, quiet and spotless. Before we left we rebooked for the summer, I highly recommend booking this pod for family time or quality time with your partner, there is no need to actually leave the pod other than going into the hot tub. We can't wait to come back again, thank you for having us Megan and Family
Lovely weekend away
Loved our weekend away, it was clean, warm and in a great location. We made use of all the facilities, even the grill on the fire pit and enjoyed a winter BBQ. We also took our dog who enjoyed the local walks!
Amazing stay!
We had such an amazing stay at the pods, they definitely thought of everything to make them home from home! The bed was so comfy and the robes were a plus, they were so handy for the hot tub. Thank you so much for such a lovely stay ☺️
Fabulous cosy pod
4 very good friends looking for a quiet getaway with everything needed to relax and chill and we were not disappointed. Very comfortable pod with all amenities plus extras Very comfortable bed and bedding, robes, (no slippers) fabulous hot tub with great open countryside views (with cows) Will definitely be re booking
Simply the best.
Over the last ten years, our family has camped and glamped throughout the UK and Europe and stayed in well over a dozen different pods. If I tell you that this is the absolute pinnacle of glamping, you should listen. Within one hour of arriving, we'd already decided to put a deposit down for the following year. There's a reason why the pods book up so quickly - the owners obviously take immense pride in them, and it shows. Our pod was spotlessly clean. The amenities were second to none. The staff were at all times polite and thoroughly helpful. The experience was as restful and enjoyable as any hotel you are ever likely to stay in, and our two boys in particular loved the cabin beds and the hot tub. Whether you want a relaxing getaway or the perfect base from which to explore the surrounding area, I simply cannot recommend Park Hall Pods enough - and we cannot wait to return next year.
Luxurious mini break
My husband and I stayed at the Park Hall for a few days in the Butterfly pod. We really loved spending the cooler evenings in the hot tub, and roasting smores and bbqing over the fire pit. The surrounding villages and countryside were beautiful and enjoyed meeting the locals including an 18h Shire. We both wished we could stay longer and would definitely recommend to anyone looking to get away from the hustle and bustle.
Incredible!
Just wow! My boyfriend and I recently stayed at park hall pods, in the Cuckoo corner pod and it did not disappoint. The pod was immaculately clean when we arrived, the kind people at park hall pods had left us some goodies to start of our trip. The fields and views from the pod were gorgeous, and I loved the touch of parking your car underneath the pod for extra security. We are already talking about returning, couldn't recommend enough!
Wow wow wow!!!
We've just returned back from our weekend away at park hall pods..I can honestly say I've never stayed in a more amazing place..we stayed in butterfly house and from entering the pod i was amazed at for such a small space how well equipped and quirky it was and spotless clean as if we were the first people to stay in there..the weather wasn't the best so we spent our days relaxing then chilling at night in the hot tub with the fire pit keeping us warm..we will definitely be returning (I've already been looking for dates😊)..and I've already recommended to friends and family..hope to see you soon 😊😊
A gorgeous and relaxing break away
I booked this holiday as an anniversary present for my partner and I and it exceed all expectations, the pod was stunning, very well cleaned and perfectly located so that it was both peaceful and surrounded by gorgeous views. The pod was warm and comfortable and the hot tub and decking area was perfect for a breath of fresh air, especially first thing in the morning. The detailing was simplistic but charming and the fairy lights really topped this off, especially in the evenings. We both really enjoyed our stay here and will definitely be visiting again in the future, thank you so much for a lovely get away x
Response from Park Hall Pods
Thank you for your kind words, and glad you had a lovely experience at Park Hall pods.
Outstanding!!
From the moment we turned up at the gate and drove in to the area the quality showed. We stayed in Butterfly House and it was amazing, very high quality build inside and outside. The Pod is well equipped and with the additions of the dressing gowns for hot tub, the starter box for fire pit it made a huge difference, we added the romance package and it was ideal to sip bubbles in the hot tub, looking over the fields, watching the cows. We thoroughly enjoyed our stay. We visited Oakland's Farm down the road for breakfast on Saturday, collected a Chinese from The Village in West Hallam on Friday and walked to the Old Black Dog, on Saturday night, although it took closer to 20 minutes than 10. I can honestly say this is some of the best accommodation we have stayed in, and we have been all over the world. Would happily go again, anytime.
Response from Park Hall Pods
Thank you for your kind words and glad you had a lovely stay with us at Park Hall Pods
The Best Experience Ever!!!
Our stay in Park Hall Pods was simply amazing! Spending two nights in this beautiful place and waking up to a stunning view of English countryside helped us to relax and re-charge. Tasty morning coffee, comfortable shower, relaxing hot tab, smell of wood - everything in this place is very thoughtful and aims to let you have a real break full of simple joy!!!
Relaxed and bubbly
A fantastic hide away surrounded by places to fill the days. Then back to the hut for fire and a tub. The pod was well set up, clean and bright. The Bluetooth speakers are inside and out, really easy to pair with and really helped with the atmosphere. The tub was perfect and private. Will definitely stay again!
Dreamboat!
Gill and Justin -Thanks a million for such a tremendous weekend, it was completely dreamy in every single way! We all LOVED Park Hall Pods!! We can't wait to return! You have done such a marvellous job. The pods are phenomenal; so well equipped and the finishing touches like the yellow wall, tv frame and marbled coasters make it a cut above!! We loved our neighbouring cows, the hot tub, the hot showers and flushing toilets, the ice bucket in the middle of the table, the best fire pit/grill ever (I'm getting myself one of them!!), the bike ride to the country park, the recommended farm shop, the massive amount of butterflies and bunnies and my daughter was particularly impressed by how many playgrounds you have in such a small, rural area! Hats off to you, what a fantastic business you have created. To anyone thinking of staying here - you absolutely must! It's a dream! Enjoy 😊
Excellent weekend break
We came to celebrate our anniversary and it was perfect! We didn't have great weather but loved snuggling up by the fire and the hot tub was great in the rain. The pods are clean and have everything you need, they even provided a bed for our pup. Our weekend was topped off with the delivery of a bottle of bubbles from the owner! We will definitely be back.
Was so impressed with the whole place and setup
Came away with 2 friends and had an amazing time. Facilities were great and for such a small space you had plenty of room. Was really impressed with all the extras that were provided, everything had been thought of. The pods are suitable for friends or family. It was so quiet and relaxing - we will definitely be back if we can find availability…….
Amazing, comfortable and clean!
We really enjoyed our two night stay at the Park Hall Pods. We booked two pods, and could not fault them. We looked out over a field of cows, we had great privacy and the pod was very clean and comfortable. Although we were not in the middle of the Derbyshire Dales, it was only a short drive away. It was nice and quiet in the evenings and we managed to have a good nights sleep on both nights. The hot tub was relaxing in the evenings.I have already recommended Park Hall Pods to my family and friends. If I had to say anything that could be improved, it would be that there was only one shaving mirror in the bathroom, and it would have been helpful to have a slightly larger mirror in the bedroom area nearer to a plug socket for the hairdryer. I would highly recommend this place.
Incredible
Incredible place - secluded and private, and includes everything you could ever need for a relaxing weekend away. Highly recommended.
Fantastic glamping to escape the world!
We stayed in a 6 berth pod, two adults and two children and it really couldn't have been better. The children loved the quirky bunk beds which gave each their own space. Idyllic setting, very peaceful site which is what we wanted. Lots of walks locally, short walk to pub which also serves food. Hot tub and fire pit great. We will definitely be back!
Fab!!
Just the break my friend and I needed! The hosts were welcoming, friendly and went above & beyond to assure our stay was top notch. The pod had everything & more. Comfortable, luxurious, amazing facilities and amenities! The surroundings area was scenic, tranquil yet close to get to places. Definitely would recommend going!
Exceptional!!
My husband and I have just spent two nights in Squirrels bunk...our first glamping experience and will not be our last!! The standard of accommodation was 5 star quality and everything just worked from the virtual check in instruction video to the private hot tub and fire pit facilities. There are multiple walking trails from the site, Shipley reservoir and Country Park within easy walking distance. Looking forward to a return visit.
Super break away
Felt like a lovely bit of luxury. Loved the hot tub and beautiful surroundings. Nice escape with all our needs catered with. If you get chance go!
Really good- succeeded my expectations!👍🏻
Firstly, the house and the creative structure was very exciting, and when we came in, the parking was easy, and that there was a firewood store behind the car. When you go up some stairs, you are greeted by a hot tub, an outdoor seating space and barbecue. Everything was placed well, and that it all fitted with some very aesthetic views as well (there were no woodland animals that tampered with the stay as well!) the place is quite quiet and very relaxing when you are in a hot tub- there are a few options of hot tub if you wish! The barbecue was fantastic and that there was no struggle in getting the kindling kit to work. The wood was completely worth it's price and that everything worked well on the exterior of the glamming house. Then on the inside (my stay was in a four person glancing house, not a six person) you have a TV with lots of channels, a sofa that can contract into a bed, a good eating area and a mini kitchen. The toilet and the shower worked well and that there were no problems whatsoever with the bathroom. Beside the bathroom is the double bed, which was very cozy because of the electric heating there was and that the bedsheets and everything else was very clean. Personally, there was no problem whatsoever with anything and that I definitely recommend this.