Glamping literally reaches new heights in the Peak District National Park
Peak by name and by nature, Peak Glamping Hideaway can lay a strong claim to being UK's highest-altitude glampsite. Situated in Quarnford just outside Buxton, this secluded hamlet adjoins the UK's highest officially recognised village, Flash – 551 metres above sea level and encompassing the Three Shire Heads of Axe Edge Moor, where Cheshire, Derbyshire, and Staffordshire converge. The moor is also the source for the myriad rivers that criss-cross this landscape (namely the River Dove, River Manifold, River Dane, River Wye and River Goyt), scything open the ancient stone into spectacular green valleys.
Comprising a pair of family-sized Mongolian yurts along with a romantic shepherds hut for two, the glamping accommodation is sited in a spacious open meadow enclosed by drystone walls. Spin 360 and the views in any direction are incredible, with big skies and lush rolling hills all around. High up in the Peaks, there's a real roof-of-the-world feel, too, making this a retreat in the truest sense.
Although secluded, there's nothing primitive about the accommodation. Each boasts a proper king-sized bed, while the yurts include a trio of comfy futons for extra guests. Luxury touches such as Egyptian cotton, feather down duvets, sheepskin rugs, and that all-important wood-burning stove come as standard. Facilities-wise, a brand new barn conversion houses washing facilities that would put most boutique hotels to shame, with two immaculate showers and even a roll-top bath to soak away in after a day's hiking. While the self-contained shepherds hut includes a kitchenette with Belfast sink and granite worktop, guests can also use the communal kitchen facilities in the same space too, and extra touches such as complimentary towels and a breakfast hamper on arrival shows a thoughtful attention to detail too.
From its peerless position, Peak Glamping Holidays boasts the riches of the region within easy reach. Genteel Buxton offers culture and adventure in equal measure, with quintessential chocolate-box tearooms and outdoor fun in the country park. For historic days out, check out Chatsworth House as seen on the BBC's iconic adaptation of Pride and Prejudice. But given the wondrous walks to be enjoyed throughout the national park, your best suited putting on some boots, plotting a route and setting your jaws stunned.
Best Price Guarantee
Easy and Secure, with instant booking confirmation
Trusted for over 10 years
A chance to win a brand new Coleman tent!
Gallery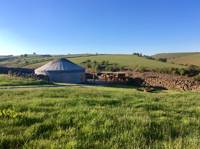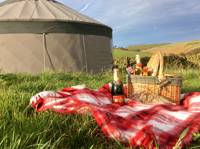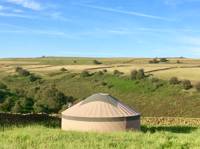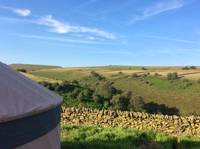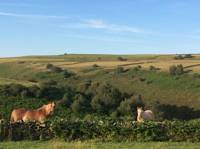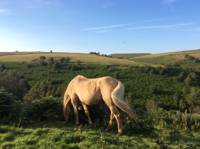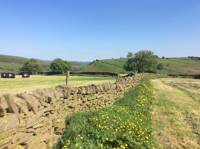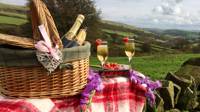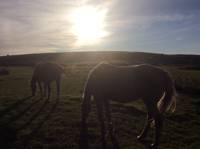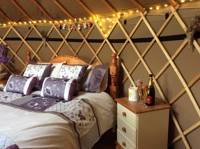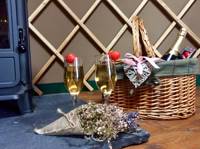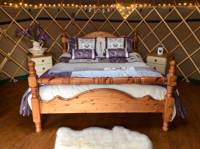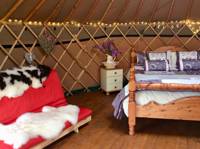 Video Tour
The Owner Says
Welcome to Peak Glamping Hideaway; our concept is simple; beautiful comfortable glamping with roaring wood burning stoves, king size beds with Egyptian cotton bedding, all located in an area of unspoilt natural beauty where you can awake to a skyline framed by the local rolling hills.
Our Hideaway is set amongst spectalular scenery in a highly regarded location near the Village of Hollinsclough, making it the perfect base for walking and cycling adventures.
Within easy distance are popular escapes such as Buxton, Bakewell, Chatsworth House, Haddon Hall and Alton Towers.
The only noise that disturbs your peace is birdsong or the gentle sound of the river running in the valley below.
Our two yurts are eco-friendly, with no electric at the yurts but fairy lights that give you a shimmering welcome.
The yurts are handcrafted and all have steam bent ash beams and a unique clear round crown top, allowing you to stargaze out from the king size bed.
Your background music will be the crackle of the kindling on the wood burning stove or the sound of wildlife as you drift of to sleep.
Each Yurt provides a king size bed and futons for extra guests. A local breakfast hamper is provided on arrival . Small welcome items when booking a one night stay. BBQs are provided for each accommodation.
Also nestling in the corner of the field is the Sheep Dreams Shepherds Hut; a gorgeous romantic getaway for 2 furnished thoughtfully with a king size bed, Belfast sink with granite worktop and country chic details.
We provide an integral communal living area where you have all the amenities to whip up a hearty breakfast in our rustic style kitchen.
The veranda is certainly not an area to be dismissed, this gorgeous seating area boasts stunning views right across the Dove Valley in Derbyshire.
For exclusive use of the site we can accommodate up to 12 guests, this including Sheep Dreams Shepherds Hut, a romantic getaway for a couple.
Would you like to make magical memories that last a lifetime?
We hope to welcome you soon.
Reader Reviews
Add Your Review
Our first but definitely not our last 💫✨
What an amazing experience! To start with we took warm winter clothes for the night believing we would be cold in the Shepherd's Hut but with the log burning stove we were very toasty. Tiffany was there to greet us to show us around the awesome facilities and to answer any questions we had, Tiffany is lovely, very approachable and happy to help. For me as a photographer the added bonus was no light pollution, so I had my first opportunity at some Astrophotography and I have to say to all you night photographers out there, this is a perfect little hideaway to capture the magic of the night, you will not be disappointed. The owners here have thought of everything, the showers were warm and the roll top bath looked very inviting, we just didn't have the time and their were toiletries and extra towels if needed. The kitchen comes fully equipped just like home. This truly is Luxury Glamping and we will be back.
Sheepwell shepherds hut A star weekend !!!!
What a wonderful welcome from Cheryl. Nothing was too much trouble , the facilities are excellent, so many extras, kitchen and cooking area extremely well equipped and clean. The shower building also very clean and excellently equipped with so many little extras. We stayed in the shepherds hut , what a delight!! Log burner, cosy bed , fabulous views, again lots of little extras. Wonderful hideaway , ideal for recharging batteries , shall definitely visit again x
Stunning setting and beautiful yurt!
We stayed in sunrise Yurt which was lovely and cosy with the wood burner stove on and has amaxing views! Everything has been really well thought out here, we especially liked the fire pit and the breakfast hamper which was a lovely touch! Hosts are friendly and we would highly recommend.
Cosy Camping
Two nights in the Shepherd's Hut were just the revitalising break we needed. Nothing to pack other than our own clothes, everything else we needed was provided by our very friendly hostess. It really is miles from anywhere, apart from the Traveller's Rest pub, which is a healthy mile and a half's walk away and provides a retro choice of pub food and decor. The horse in the next field could almost reach our door and was determined to keep grinning at us until we fed him (we resisted). We cooked ourselves two hearty breakfasts from the food provided, which set us up well for a lengthy walk from our door on the first day and then a bike ride down the Manifold Valley the following day. A walk up Chrome Hill is also a rewarding evening stroll from nearby Hollingsclough. The hut itself was wonderfully cosy, and the seating area outside was a great place to relax in the gloaming. I would, however, say that anyone of more than six foot might find the bed in one of the Yurts (which look splendid) more suited to their size.
Peace & luxury
Had a fabulous weekend staying in the Harvest Moon yurt with my partner and children. The views from the yurt were wonderful and the only things we could hear were sheep and birds. The kitchen and bathroom facilities were top notch and the shower was probably the best we've had on any holiday! Lovely little extras such as the breakfast pack made it extra special. We did a lovely walk from the site and along the river to the village of Longnor and back, it was great to not have to get in the car to do this.
Amazing location, wonderful accomodation, lovely people
We had a wonderful time in the Sunrise yurt last weekend. The yurt was clean, cosy and surprisingly spacious (it fit the four of us in with plenty of room to spare!). It also felt wonderfully secluded - the other yurt is a good distance away so you don't feel overlooked. Tiffany and the team have really thought of everything - their attention to detail is incredible. The kitchen and bathroom are very well stocked and had everything we needed. Lots of thoughtful touches (breakfast hamper, flowers in the yurt). I particularly enjoyed the wild flower meadow you walked through to get to the Yurt and the view over the valley was spectacular :) Would highly recommend this place to small groups and anyone wanting a romantic getaway. We'll be back
Wonderful homely escape
We arrived when it was heavy rain, we were greeted by a lovely woman who showed us around the outhouse and the Shepherds hut where we were staying for the night. The bathroom and showers were wonderful, and the outhouse has an oven, microwave, freezer, fridge, cold water, games, all plates and glasses and a dining table, it was so well equipped and we were so shocked! We walked to the Shepherds hut, it was spotless. The outdoor area was mowed and everything was so clean and tidy. We spent our night having a fire and a bbq in front of the Shepherds hut once the rain had stopped and I know it will be a memory my partner and I will treasure all our lives. We would come back in a heart best to this accommodation, it's was beautifully accommodating and the attention to detail goes such a long way. We have stayed in many glamping sites.. And this is by far the best one! Don't hesitate.. Book it, you will love it!
Sunning facilities in a tranquil setting!
Me and my partner visited Peak Glamping Hideaway after booking last minute in Late May! We stayed in one of the yurts which was an absoulute delight! They were quite cosy, and had an amazing log burner and Kingsize bed, the kitchen area in the 'sheep gathering fold' is quite quirky and different to; and the bathrooms rather boutique and spacious! Tiffany, Pam and john we're always on hand when needed and nothing was to much trouble, even when we needed kebab sticks! The views from this place are amazing, so peaceful and not a sound of a car to be heard! We will defiantly be back!
An absolute delight!
What a find! Right from the moment we booked the Owners were on hand to answer any questions we had and made the whole process run smoothly, from advising what to bring to making sure we had directions. Upon arrival Pam came to meet me and my husband and showed us around our gorgeous accommodation and the facilities. Everywhere had been very well thought out and was kept clean and tidy. The beds were extremely comfortable, with twinkling lights and candles and the all important wood burner made for a very romantic stay! Facilities were great- roll top bath to soak in!! Gorgeous views down the valley, plently of things to do in the area, and a peaceful quiet place to return to. Would highly recommend! Will be taking my friends to stay soon!!
Book campsites near Peak Glamping Hideaway