Family-sized en suite glamping pods in the Peak District
The five-mile walk that starts just beyond the gate of Broadmeadow Farm and runs north through Lathkill Dale to Monyash has long been considered one of the most scenic routes in the entire Peak District National Park. Not only are the views spectacular, but the route also boasts one of the quaintest old English starting points imaginable – the tiny village of Alport on the banks of the river Lathkill. It's here, edging the collection of limestone-rubble cottages, that Peak Pods is found – a year-round site with an unbeatable location.
The camping meadow in question is raised slightly above the rest of the village surrounded by sheep-grazed fields. It hosts just three wool-insulated glamping pods; crafted from larch wood on the outside with a light, pine interior. Inside there is a built in double bed, en suite shower room and toilet, plus a very well equipped kitchen area that has everything you'll need, minus the food itself. Not that food's a problem. There's an excellent butchers five minutes away in Bakewell, plus the innovative Thornbridge Brewery, whose grains feed Broadmeadow's own herd of cattle.
A small splinter of woodland runs alongside the pods where children get lost each afternoon building their own pods out of branches. It's a good reminder that, despite the luxuries inside each pod, they still offer a great outdoor experience. Campfires in particular add to the ambience, with wood available from farm owners Mark and Nicola. Both come from families that have farmed this area for centuries and they know it all like the backs of their hands. They're more than happy to show people around the farm too – with their 400 cattle and 500 sheep, it's a proper working one. Time your stay for springtime and you're likely to see new born gambolling lambs!
Down the road, the village itself doesn't have a pub but after you've pottered around the old bridges and admired the 18th century corn mill, you can continue on to Youlgreave where there are three to make up for it. Along the way you'll pass through 'artists corner', a haunt of painters and poets who can sometimes be found contemplating the gurgling waters of the Lathkill as it flows down a scenic series of waterfalls to meet the River Bradford below. Proof, if ever needed, that there really is picture-perfect scenery on the doorstep of this campsite.
Gallery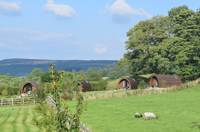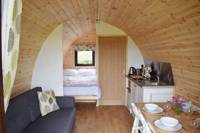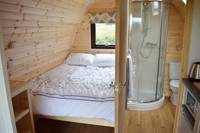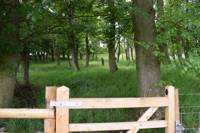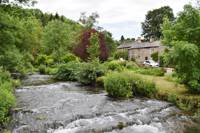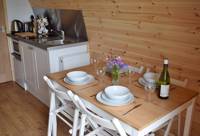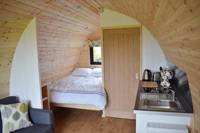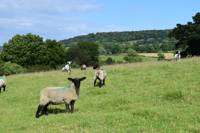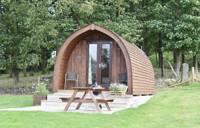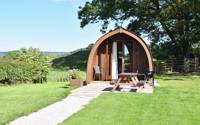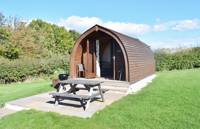 The Owner Says
Broadmeadow Farm is a 400 acres beef and sheep farm, run by Mark & Nicola. Both our families have farmed in the local area for hundreds of years. We have a commercial herd of around 400 beef cattle, who graze on the pastures for part of the year. We also have 500 Mule sheep, which start lambing in mid-April. The sheep stay out in the fields for most of the year, just coming inside for a few weeks when they are lambing.
There are many footpaths running through the farm, including the Limestone Way. We are happy to show people around the farm whenever possible, if requested. Broadmeadow Farm is a working farm, so please do not enter the farmyard without us (the pods are a field away from the farmyard and are not accessed through it). We also have a small 5-van Certified Location caravan site (Caravan Club) on the farm.
The Peak District National Park is famous for its peaks and dales. It offers beautiful countryside to walk and cycle though. There are footpaths leading directly from the site and it is less than half a mile to both Lathkill Dale and Bradford Dale. The Peak District has some excellent family friendly traffic free cycle trails. The Monsal trail, Tissington trail and High Peak trails are all a short distance away. Either bring your own bike or hire one on the trails.
Reader Reviews
Add Your Review
Truely gorgeous pods
The pods were exceptional. Everything you could hoped. Blue tooth speaker was handy. Used both the fire pit and the bbq which made the glamping experience for the kids. Gorgeous walk into Youlgreave where the kids played pooh sticks. Loads of great activities and areas to visit. Perfect.
Beautiful setting, Amazing Pod
Arrived and our Pod was lovely, spotless, warm and cosy. A pint of milk and various coffees and teas had been supplied. The location is overlooking a valley , very quiet and ideal for star gazing. The location is ideal for day trips to Buxton,Bakewell and Matlock. We very much enjoyed our stay and will be returning in the new year to explore further.
Lovely stay
Having spent the weekend at Peak Pods we couldn't recommend these pods enough. Nicola was extremely hospitable and made sure that we had everything we needed. The pods are extremely comfortable and spacious. The pods are well located as they are out the way but a short drive away from the three surrounding villages. The pods are also not far from Chatsworth house which is a must see and you can go on some beautiful walks. Thank you for a lovely stay.
Fantastic Stay
We first stayed here last year, just the two of us, and immediately booked up all four pods for a family long weekend this year. We comfortably fitted 11 of us in, and could spread out around the site as we wanted without disturbing anyone else. The pods are very comfortable, really well equipped and so well maintained - they have thought of everything. Blue tooth speakers in the pods, a fridge, barbecues and the lovely fire pit in the little wood behind. The location is stunning, accessible by public transport if you don't mind a short walk from the bus stop (we certainly didn't) and the village of Youlgrave (a 30 minute walk) has some great pubs to eat if you want some time out. We had a brilliant time, despite a fairly wet bank holiday, and will certainly be back. Big thanks to Nicola for another memorable stay!!
Perfect pods! Perfect place!
3 nights in these gorgeous pods was just not enough. Very comfortable...more spacious than we were expecting, and very well equipped. Really appreciated not having to bring all the little bits and bobs such as toilet paper, washing up liquid, pots and pans etc. Highly recommend and would definitely come back again. If there was just one thing to bring next time it would be a sharp knife. But everything else was in very good condition. Thanks Nicola!
Secluded wonder
Located of the edge the peak district, theses pods are well placed to access the hills and national trust treasures. The pods are warm, well stocked with modern functional facilities. We were luck to have wonderful weather to enjoy the local food (pre stocked in our fridge) on our own bbq. The owners were very friendly and helpful with all our queries and questions. Brilliant experience will defiantly consider staying again. Thanx
Brilliant pods
The pods where lovely. Everything you need in the pods had a great weekend away. Great base to explore from.
Fabulous!
The pods are the best that I have stayed in and all of the extras such as washing up items, toilet rolls and tea and coffee for your arrival were fab. The pod was spotless and the beds comfy. The setting was great and remote but not far from pubs and villages/towns. Would highly recommend this as a great place to stay! Thank you.
Brilliant. Just brilliant.
Stayed at Peak Pods in order to explore the Peak District with one of my teenage sons. Arrived to find absolutely everything we needed, and a pod that looked immaculate. Comfortable, cosy, modern and the perfect place to stay. Nicola has clearly gone to every length to ensure that the quality of finish in these pods is excellent (and I am pretty fussy). Pound for pound, one of the best places we have stayed in (UK or abroad).
Best Price Guarantee, with no fees
Instant booking confirmation
Trusted for over 10 years
A chance to win £50 of Cool Camping vouchers!
Book campsites near Peak Pods