10 acres of blissful bell tent and gypsy caravan glamping near Thetford Forest in Norfolk
Like all the best glamping sites, it's difficult to pin down any one thing that makes Oak Lodge Glamping so special. Even the setting is difficult to describe. Like a classic Britney song, it's 'not a meadow, not yet a forest'. While there's ample, open grassy space in which children can run wild and play games, the field is also broken up by an array of well-established trees. They create a real sense of seclusion and nicely divide up the different pitches. Every spot feels private and has its own little mix of sun and shade, yet you never feel hemmed in.
In total there are just 12 pitches across the 10-acre glamping site. Seven spots are occupied by pre-pitched, creamy bell tents, furnished inside with mattresses, bedding and a few homely items like freshly picked flowers, coffee tables and a small chest of drawers. The remaining two spaces, meanwhile, are filled by classic showmans' waggons; vintage gypsy caravans with metal work that curves and bends your reflection in its shiny metal surface. The shiny finish continues inside, where there are fitted sofas, beds and a vanity area by the window. You have to have a taste for real glamour for it to suit but, if the shine is all too much, then the bell tents will hit the spot perfectly.
Along with old rope swings and special wildlife lookout areas, wisps of smoke indicate that campfires are all a part of the fun here. Every pitch has a firepit and outdoor furniture and a few complimentary logs are supplied on your arrival. If you run out of marshmallows there's a tiny village post office in Northwold (1 mile away) handily placed next door to the local pub. You can buy a few goodies there for making your evening smores. Or you can gather a little more on any day trips you take. Oak Lodge Glamping has a pretty central Norfolk location, meaning that, beyond the local cycling routes in Thetford Forest and the River Great Ouse, days out in Norwich and exploring the North Norfolk Coast are also less than an hours' drive away.
Our Coronavirus Booking Guarantee
Book with complete confidence at Oak Lodge Glamping with the Cool Camping Coronavirus Booking Guarantee. We guarantee the following clear policy for your booking:
A low deposit of 20% to secure your booking
Balance due 10 days before your holiday
Complete flexibility to move bookings for up to 18 months in the event of Coronavirus restrictions
Due to the flexibility provided we are unable to offer refunds
This guarantee supersedes any other policies
Details
Facilities
Luxury shower/ toilet unit with 2 showers, 3 flushing toilets and 4 composting toilets. Tents are powered by eco-friendly solar battery packs and gypsy caravans also have electricity. BBQ area, rope swings, tree house areas, bike hire, book swap area for readers, wildlife lookout and cook-it-yourself breakfast basket on request the night before.
Suitable For
Glamping only. Groups, kids, pets – yes. Tents, campervans, caravans – no.

Nearby
Bring bikes for a little rural exploration. This part of Norfolk is full of back-country churches and old village pubs. For something more structured, there's a Go Ape! (08450 949732) in Thetford Forest 12 miles away – climb high and low rope courses and zipline through the trees – and there's also High Lodge Forest Park (03000 674400), with marked woodland walks and cycle hire available. Budding anglers can take their rods to Fendicks Fishery where there are no fewer than 5 well-stocked fishing lakes. It's only a 10-minute walk from the campsite.
Food & Drink
It's 6 miles to The Crown Hotel (01842 878233) – a favourite local pub – which is family friendly with lovely gardens. The Bedingfield Arms Hotel (01366 328300) is marginally closer though, in Oxborough, and serves excellent food. Cute little Bulldog Barns tea shop & antiques (01366 728083) is only a mile away and The Good Earth fish and chippie in Stoke Ferry is around 3 miles (01366 501163; open Mon–Sun, 11.30am–11pm).
Opening Times
April–October.
Why book with Cool Camping?
Coronavirus Booking Guarantee
Best Price Guarantee, with no fees
Instant booking confirmation
Trusted for over 10 years
A chance to win prizes in our regular competitions
The Owner Says
Oak Lodge Glamping is situated in beautiful Norfolk countryside near the Thetford Forest. We offer accommodation in bell tents and glamorous gypsy caravans. It's perfect for people who want the outdoors and back-to-basics experience, but don't fancy pitching their own tent. With us, you will get pre-erected bell tents with comfortable real mattress beds and homely décor. The bell tents are pitched in among the trees on level ground and each tent has its own firepit. We provide a communal kitchen, luxury showers and toilets. We supply each bell tent with some complimentary logs for first camp fire, extra can be purchased on site. The gypsy caravans are also located in the forest in their own private spaces and are supplied with bedding and beautiful décor, you will still get the outdoors camping experience but with luxury and style. The campsite is 10-acres and away from a busy main road, the perfect place for adults to relax and unwind, for kids to explore and run around, and for pets to enjoy.
Social Distancing Measures
Oak Lodge is a spacious 10 acre field with large space between pitches, we already have excellent cleaning record and will be cleaning the loos and showers even more regularly than before if thats possible!  We are awaiting guidance on the shower facilities but are considering one per group this will be updated when we receive guidance and we are happy to discuss any worries you may have.. We are totally away from the public so only other glampers on site no chance of random passers by... We also have lovely walks 
This site offers our Coronavirus Booking Guarantee
Accommodation
3 large bell tents (sleep up to 6 people), 4 medium bell tents (sleep up to 4 people) and 5 rare vintage gypsy caravans.
5m Bell Tent
Bell tent
Sleeps 4
9 Available
4m bell tent fully furnished sleeps up to 4 persons
---
6m Bell Tent
Bell tent
Sleeps 6
4 Available
6m Bell Tent, sleeps up to 6 people
---
Check Availability
Location
Contact Oak Lodge Glamping, Oak Lodge Glamping, Mill Drove, Northwold, Thetford, Norfolk IP26 5LQ
Getting There
From Thetford come off the A11, take the A134 towards Downham Market & King's Lynn, approx 11 miles to Northwold pass Bulldog garage on the left, followed by crossroads, continue on A134, you are nearly here! On the left you will pass a big Mill House Farm, then you will see a school sign, our track is just before on the left turn onto Mill Drove, drive down the track for approx 200yrds, take the first entrance on the right into the yard, park near office and you will be welcomed and shown to your camp.
From King's Lynn and Downham Market A17, take A134 towrds Thetford, follow approx. 12 miles. When you get to Whittington/Stoke Ferry roundabout, you are nearly here. Take the first exit and continue A134 towards Thetford, up hill until Sheirdan School on right. Our track entrance is about 100yrds further on the right, Mill Drove, drive down track for approx 200yrds, take the first entrance on the right into the yard, park near office and you will be welcomed and shown to your camp.
The closest train station is in Brandon (08457 484950). Though from most places, the most direct trains run to Downham (08457 484950).
Reviews
Add Your Review
Rated ★★★★★ over 21 reviews
Magic
We loved this site, we were welcomed and given a. tour on arrival, the tents were so well set up with duvets, a lamp and little treats like wine and marshmallows. You also get a fire pit and bbq with seating. The best bits however was waking up to a Shetland pony who joined us for breakfast, the beautiful horses on site and the light aircraft in the tree you can play in. Nearby is the river Ouse that you can swim in and beautiful country walks. Loved it, had the most magic time here.
Fantastic experience! Can't wait to do it again!
We had an outstanding weekend here with my husband and my 4yo son! The staff was welcoming and very helpful and gave us also ideas of what to see outside the campsite. Despite the weather that wasn't as lovely as we hoped, we had so much fun! Each Bell tent is furnished with quirky and cute things and very, very clean. Facilities are kept immaculate, toilets/showers are regularly cleaned (frequently during the day) and the kitchen area (on the coolest camper van) is tidy and available for everyone to use (it was lovely to meet other glampers there in the morning while preparing coffee or frying eggs). Lots to do for kids, the land is massive and safe for them to run freely. The airplane on the tree was the highlight for my boy as well as the horses. Barbecue and firepit are provided and an initial ration of woods/charcoal and you can purchase additional woods and charcoal on-site if needed. Overall a great experience (it was our first glamping) and we will definitely return!
Absolutely brilliant
A really lovely experience (despite the weather - it started to rain when we arrived and stopped when we left!!!) Beautiful accommodation (we were in a bell tent). Very spacious and homely. Great facilities. Will be back to enjoy, hopefully in sunnier, drier times!
Astonishing
This was our 1st visit & already my daughter is asking when can we go back. Great site with remarkable facilities. Staff couldn't help you enough & the grounds are astonishing. Pets welcome, everything provided in a cool & quirky way. Great plane treehouse & plenty of hidden swings within the trees. fire pits & bbq's supplied with your own picnic benches. Great local farm shops & supermarkets near by with Thetford go ape 10 mins away. thank you so much for making our wk end so memorable. See you soon.
Great Glamping!
Just back from an overnight stay with our two children at this lovely site. Never been glamping before, but would definitely return here, such a great place to stay. Staff were really friendly and helpful, they came out as we arrived and took us straight down to our bell tent, they took the time to explain everything to us and offered to show us round the site (we declined as it was sadly raining when we arrived!) so instead they pointed out where everything was. Tent was beautifully laid out, lovely warm duvets, with nice touches like fruit, a small bottle of wine and battery powered fairy lights. There was also a small generator with plug power point for a small lamp and presume you could have charged phones (we'd decided to have a phone free weekend so didn't need to use the power). Shower and toilet facilities were really well decorated and immacutely clean (we could see the block from our tent and noticed that the staff were regularly checking and cleaning them). The tents are all well spaced out so we felt like we had our own space away from the other campers. Having the fire pit and bbq provided plus the kitchen caravan was really helpful as was the provision of logs and charcoal you could buy if needed. We took our own camping chairs to sit round the fire pit and there was a picnic bench provided. Kids (6 and 8) loved exploring the site and saying hello to the horses and resident cat. They also loved the plane treehouse and rope swings. Overall wouldn't hesitate to recommend and would love to visit again.
Fantastic Glamping
Lovely and relaxed setting with well spaced Glampsites, very friendly hosts and nicest and cleanest toilet and showers I have experienced.
A fantastic stay
What a cool glampsite! Loved the added touches of the plane in the tree, the swings, the CUTEST cat walking around not to mention how clean and great the facilities were. Wednesday was also very nice and made us feel welcome.
A fantastic experience - we'll definitely be back
We absolutely loved our stay at Oak Lodge! Such a wonderful campsite with fantastic facilities and brilliant staff. They we so friendly and couldn't do enough for us! There are so many little details which really enhance the experience as well. Thank you for a wonderful stay :)
An amazing place
This was our first time glamping and my first time camping. The site is beautiful, the tent was clean, comfortable and the extra touches like the fruit and wine were an unexpected and lovely surprise. We were greeted as soon as we got on site and shown around with enough detail, yet without it being over-bearing. The tents are spaced a good distance apart so we felt like we had more than enough space and privacy. The BBQ, fire pit and picnic bench made for a lovely evening, oh and the free marshmallows were a great touch! I was a little apprehensive about the shared toilet and shower facilities, but they were amazingly clean (I saw someone there cleaning almost every time I looked) and very spacious. We don't have children, but lots of other people there did and it was lovely to see them running around, climbing trees, making dens, playing hide-and-seek and exploring the aeroplane in the tree (yes, there is an aeroplane in the tree with working controls!). Just a note that there isn't a local shop or supermarket nearby (as far as we could see online), so we had to go for a bit of a drive to get food and drink for the night as we hadn't factored that in. We will definitely be back, thank you.
Awesome - can't wait to go back !
Just come back from a 2 night stay and we couldn't be more impressed. The first thing that struck us was the friendliness and helpfulness of the owners and all of the staff. Literally nothing was too much trouble and they kept checking on us to make sure we had everything we needed. On Easter Sunday they even came round and gave all the kids a treat from the Easter bunny. The place is great , fantastic play area for the kids and lots of tree swings for them. There's lots of space and all of the tents have lots of room unlike others I have been to and been cramped in. Facilities are also good, we stayed in a bell tent which was very roomy and beds very comfy. The showers and toilets are immaculate and look like they are brand new. You also literally only have to take towels as all of the usual camping things you need to take are already there .... shower gel, shampoo, washing up liquid, sponges, plates, cutlery, I could go on and on but such stress free camping. The most amazing thing was the use of the fire pits ( first bag of logs and kindling provided ) and the bbq's. All in all lovely place, lovely people, exactly why you go glamping in the first place .... 💕💕
Tranquil woodland glamping with everything you need
We stayed in one of the bell tents at Oak Lodge as a party of four adults and one child. The surroundings are just as in the photos, lots of space, peaceful and with all the essentials provided. Really nice shower and toilet facilities, which makes a real difference. Maeve and Nathan were really friendly and responded quickly to any questions or requests that we had. A really nice (if a bit chilly!) autumn weekend in lovely surrounding. Many thanks.
Peace & tranquil
Beautiful spot, the whole stay was a joy, even with a spot or two of rain. The site is on sand below the grass so drains quickly. The website is exactly what you get, the pictures, the location and the facilities. The staff were friendly and helpful. All in all an excellent stay and just what we hoped for and more..... thank you Oak Lodge. Xx
Perfect glamping site for a big group with or without kids!
We stayed in bell tents for two nights over a long weekend. We (10 adults and 8 kids) all enjoyed our glamping holiday despite the occasional showers. Maeve and the staff members are all very helpful and attentive. The beds are warm and comfortable, the toilets and showers are kept clean and tidy at all times. We've done serious camping with our own gears for many years but decided that we should deserve a bit of luxury while still enjoying fresh air. Oak Lodge Glamping is a perfect place! We will definitely come back.
Charming
We had a lovely time glamping at oak lodge. The tents were good and the facilities available we really nice too. Clean and tidy. The owners were really helpful too on arrival and in the run up. Would definately come again - couldn't have asked for much more really.
A terrific place to stay
We only stayed for one night at Oak Lodge but found it a lovely spot to stay. The staff were first rate, very friendly and helpful, showing us places to visit and eat. Facilities were also of a high standard, the kitchen/caravan had cutlery and condiments all clean and in good condition. Washing and showering facilities also very good.
Everything was amazing !
Came here for a joint 18th birthday party and it was so much fun! All of us were treated so well and felt really welcomed, as the staff were so friendly and lovely. All the facilities were brilliant, even had a fire pit, the tents had such cute details and so clean and tidy. I would definitely recommend this cosy place to anyone looking for a fab night/weekend stay , even planing my next visit !
Nice setting
11 of us stayed at the site for 2 nights in 5 tents. There were several issues. 14 tents when we were led to believe 7 in the field. Means not enough fridge, kitchen or shower/toilet facilities. We queued for showers and ran out of loo paper. No facilities in the tent to dry your hair, put make up on, sit comfortably. Why no mirror or chairs? Also the tent was crawling in ants. It's the county I know but there are cobwebs all over and I don't think they're thoroughly cleaned. The bed was clean and very comfortable though. Bit of an issue with maintenance-stinging nettles absolutely everywhere need to be kept very short as flip flops are a nightmare. Leaks in toilets, washing up area has leaks from all the taps, no cold water in the shower room to clean teeth... Overall the setting is lovely but there's absolutely no attention to detail. This site has the potential to be glamping but currently it's camping. It's more luxurious when I camp with all my own gear.
Wonderful weekend
My family and I stayed at Oak Lodge for two nights. As soon as we arrived we were greeted by the owners who showed us to our tent and the amenities around. They were absolutely lovely people, couldn't do enough to help. The showers and toilet block are outstanding - immaculately clean and look brand new. The camp itself is well kept and there is a quirky gypsy caravan that provides a small fridge, kettle and crockery that you can share with the other guests on site. Again this is immaculately clean. The owners come past frequently to check everything is ok. Inside the tent was gorgeous, three beds (a double and two singles for the children) and it was decorately beautifully with tea lights, fairy lights and beautiful tables. I would recommend anybody stay here and I am definitely looking to re-book again soon. Thank you for a wonderful stay - outstanding accommodation!
Full back to basics experience
Loved this place, will definately be looking at coming back in the future, the grounds were a lovely setting, lighting up the fire pit at night with a great view of the stars can't be beaten.
Fun, cosy birthday treat!
Myself and three friends came to Oak lodge to celebrate a 30th birthday. We had spent the morning paint balling in Thetford forest and then headed over to the campsite, so it was so lovely to spend the evening chilling, laughing and spending some much needed quality time together. Our tent was immaculate and decorated for the birthday girl. The added marshmallows and wine was an absolute bonus! The toilets and showers were so clean and inviting. The staff were friendly and couldn't do enough for us. We were given complimentary wood for our fire pit & spend the evening warming ourselves around it and listening to music. I would highly recommend this site to anyone- friends, families and couples.
Fab little stay
We went with three families (8 adults, 7 kids, all under five) over a long weekend and had a great time. Maeve and her partner did their best to look after us and there was plenty of stuff to keep the tots occupied and happy. The caravan with shared kitchen and large outdoor dining table was a bonus.
Why book with Cool Camping?
Coronavirus Booking Guarantee
Best Price Guarantee, with no fees
Instant booking confirmation
Trusted for over 10 years
A chance to win prizes in our regular competitions
Book campsites near Oak Lodge Glamping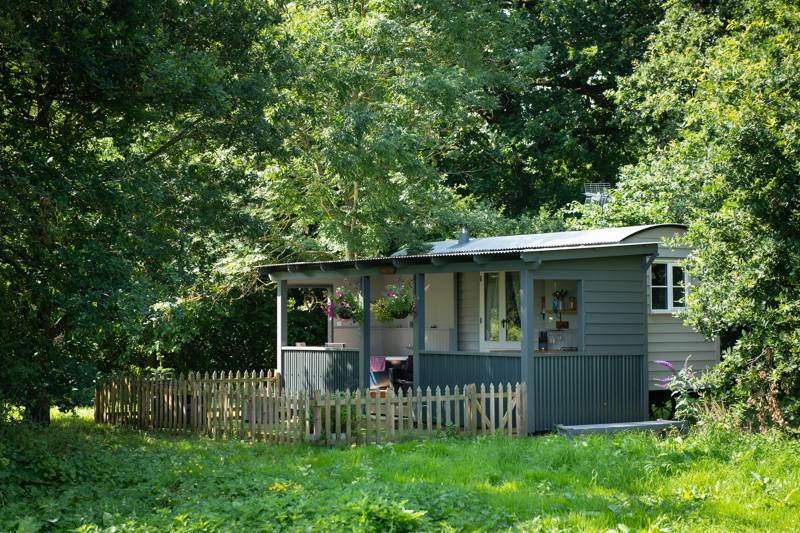 Glamping in Attleborough
Glamping in Norfolk
Glamping in East Anglia
Available:
2 Cabins
1 Safari tent
3 Shepherd's huts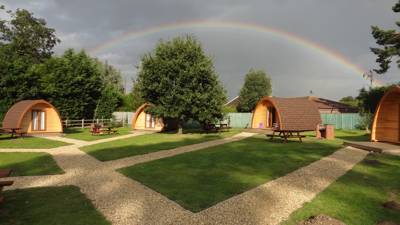 Campsites in King's Lynn
Campsites in Norfolk
Campsites in East Anglia
Available:
10 Pitches
2 Pods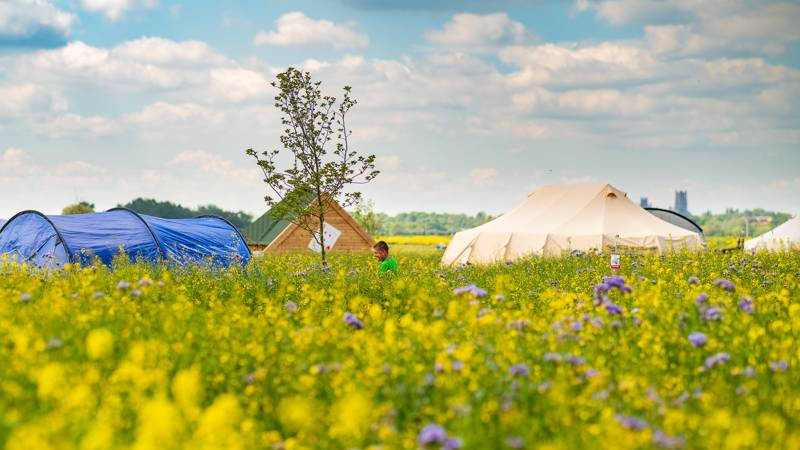 Campsites in Ely
Campsites in Cambridgeshire
Campsites in East Anglia
Available:
20 Pitches
2 Bell tents