Aster
(1 at Abbey Farm Glamping)
Set in 7 acres Abbey farm is a mature setting surrounded by countryside in the village of Alby, North Norfolk. The eastern meadow comprises of 5 luxury Glamping domes, each dome comes with- ​ - Sleeps 6 -Dog friendly - Fully equipped kitchen - En-suite - BBQ & Pizza Oven - Wood fired hot tub.
The Owner Says
Welcome Hamper
With each booking we will be providing a welcome hamper full of local goodies, included in this is fresh breakfast ingredients including local teas & coffee & Granola
Garden
Each dome comes with its own private outdoor space , within the gardens there is BBQ, Pizza Oven, Hammock, Hot Tub & Patio FurnitureWood Fired Hot Tub
Why not treat yourself to a wood fired hot tub, each dome comes with the optional extra of a Hot TubFree Wifi
Each dome comes with its own WiFi connection
TV
All domes come with 40 inch smart televisions with free view Linen
Luxury Duvets, linen & Fresh towels with each booking
BBQ
All Domes come with a fully equipped BBQDining options
In addition to our welcome hampers we offer various for packages including an  bespoke food inclusive service tailored to your requirements throughout your stay
Pizza Oven
We provide an outside Pizza oven with each dome
About Abbey Farm Glamping
Suitable For
Glamping for groups of up to six, children, dogs - yes. Camping, campervans, motorhomes, caravans - no.
Nearby
Be sure to check in with your hosts before booking for a pamper pack, with them able to arrange the likes of face masks, foot treatments, skin treatments, and more ahead of your stay.
Abbey Farm Glamping is an excellent spot to access the Norfolk coast. The sandy Sheringham Beach has blue Flag status and is just a 15-minute drive from the site, providing a family-friendly beach with swathes of sand to enjoy at low-tide. Weybourne Beach is a 25-minute drive away, offering a peaceful shingle beach with a cliff backdrop and deep waters that make it a popular spot for sea fishing. Cromer Beach is another one of the few Blue Flag beaches along the Norfolk Coast, its well-maintained stretches of sands making it a popular destination.
Outside of beaches, Blickling Estate (01263 738030) is a 10 -minute drive away, a stunning mansion with a 55-acre formal garden to explore, along with 4,600 acres of woodland, parkland, and farmland encircling it. Felbrigg Hall (01263 837444) is another National Trust site that's also 10 minutes away, with an orangery to explore with roots in the 18th century, a good spot for dog-walking, and luxurious and historically significant rooms to explore.
Food & Drink
Dining and drinks packages are both purchasable from your hosts ahead of time or after you've arrived, with Abbey Farm Glamping offering a "food and drink inclusive" option that includes pizza making kits, barbecue kits, and drinks supplied by a local brewery, gin company, wine company, and with soft drinks options. As such, if you don't want to explore the local area for places to eat and drink, all of that can be supplied right at your doorstep.
Elsewhere, The Black Boys Aldborough (01263761649) serves top-notch pub food in a traditional country pub with good portions, and at less than a 10-minute drive away, deserves a visit if you're looking to eat out. The Banningham Crown (01263 733534) is also less than 10 minutes away, with this 17th century timbered inn providing log fires in the winter, along with a nice garden and patio area in the summer. For something a little fancier, head to the posh pub that is The Gunton Arms (01263832010), a little under five miles away and famous for its location within a 1,000-acre deer park — expect to see some roaming as you eat.
Extras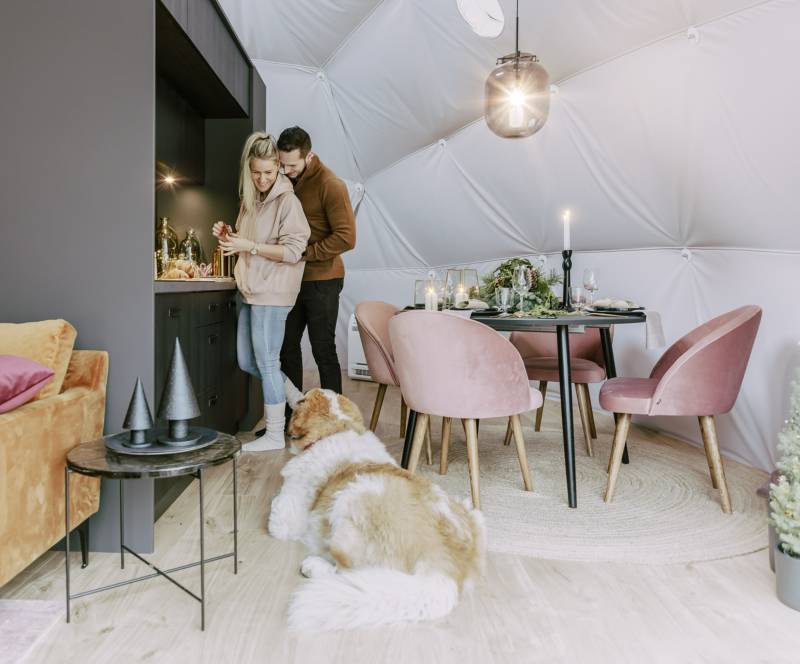 All inclusive for 6
In addition to our Welcome hamper full of Norfolk Goodies, we are offering an "all inlcusive" inspired  Self Catering option. We provide all meals (breakfast, Lunch & dinner), snacks and drinks.  The food is provided as fresh raw ingredients from local suppliers for our guests to cook.  Each meal comes with specific instructions on how to prepare. We will provide 2 x 5l polypin of Abbey Farm Beer, 1l bottle of Abbey Farm Gin included Franklyn Mixers, 2 x bottle of Prosecco & 2 bottle of red wine.
Location
Abbey Farm Glamping is located at Abbey Farm, Alby, Norwich, NR11 7HG
Getting There
The site is situated 200 yards off the A140; its postcode is NR11 7HG