Wild Meadow, Raynham Estate
Luxury yurt glamping on a grand North Norfolk estate
Sunny meadows, starry nights, walks beside a crystal-clear chalk river and drives out to the coast. If you sketch out your idea of a quintessential North Norfolk holiday, chances are Wild Meadow will pretty neatly fit the mould. On the banks of the River Wensum, four miles south of Fakenham, that's almost exactly what the historic Raynham Estate can offer, with a collection of off-grid but luxurious yurts in a wild meadow near the country house. The estate is home to a lord, but fit for a king – and we're happy to announce that the glamping is royally good too.
It was the first Viscount Townshend of Raynham, a favourite of Charles II, who laid out this estate's 800-acre parkland in the 17th century. The current Viscount has allowed a part of it, beyond the big house and garden, to grow just a little wild. Here, longish grass and wildflowers tickle the walls of the yurts he's introduced to share the space with visitors. Inside, each yurt is effortlessly stylish. There are no boho drapes and rugs here. Instead it has a kind of modern rusticity with wooden floors, leather chairs, wood-burning stoves and properly comfortable beds. Outside there's a barbecue, fire pit and acres of car-free space. The views are green; parkland and countryside with elegant Raynham Hall and the estate church peeking through the trees.
In warm, sunny weather, under Norfolk's big skies, this place is simply blissful; tranquil, secluded and serenaded by skylarks. If it's too hot or too wet, there's space for supper (both cooking and eating) in the communal, lantern-lit Turnip Tent, named for the family's proud farming heritage. You can celebrate it further by cooking up a highly recommended estate-reared Aberdeen Angus steak (just one of the locally-produced extras, available to book for your stay).
There are waymarked paths from the meadow, which means woodland, parkland and riverside walks are on the doorstep while you're here. Raynham Hall is still very much a family home, though, and if your stay doesn't coincide with one of their monthly tours, how about visiting one of Norfolk's other stately homes? Houghton Hall, home of England's first PM, and the Queen's place at Sandringham are within 20 miles and it's 15 miles to the exceptionally family-friendly Holkham Estate, with tractor-themed playgrounds for kids, a good courtyard café and acres of deer-dotted parkland to explore. It links in well with any visit to North Norfolk's beautiful coast – Holkham Bay itslef is one of the highlights and Wells-next-the-Sea, Brancaster and Blakeney are all close enough too.
Details
Facilities
Each yurt is furnished with a made-up super king-size bed plus two or three singles (depending on which tent you choose and at an extra charge) and a woodburner. There are rugs, blankets, bedside tables, lamps and a battery to charge phones. Outside, each has a BBQ area with outdoor seating. Each yurt has its own designated toilet and shower with eco-friendly Faith In Nature products provided. The Turnip Tent is a shared cooking and dining under-canopy area with equipped kitchen cupboards, hobs, kettles, a kitchen sink and picnic tables.
Suitable For
Glampers – yes. Campers, campervans, caravans, motorhomes, dogs – no.
Nearby
The Raynham Estate stretches to more than 800 acres. You can explore much of it on waymarked paths which take you through fields, woodland and along the banks of the River Wensum. The historic house and gardens at the centre of the estate are opened to the public, usually once a month, for pre-booked tours only. Check directly to see if one coincides with your stay. The North Norfolk coast is a 20-minute drive away with Holkham, Wells-Next-The-Sea, Burnham Ovary Staithe and Brancaster all popular places to visit. Houghton Hall (01485 528569), built for England's first prime minister, Sir Robert Walpole, is nine miles away and Sandringham, the Queen's country estate (01485 545400), is 16 miles away. There's more history at Castle Acre Priory (01760 755394) nine miles from Wild Meadow. For wildlife lovers, Pensthorpe Natural Park is just five miles from Wild Meadow (01328 851465) with conservation gardens, wildlife walks and natural play areas for kids and then there are the RSPB reserves at Titchwell and Snettisham (on the coast, both around 20 miles). The Norfolk Wildlife Trust's Cley Marshes (01263 740008) is another renowned birdwatching site, with a great bird-hide-shaped café and visitor centre there overlooking the marshes – the neighbouring village of Blakeney is the place to head to for seal-watching boat trips.
Food & Drink
There are no pubs within walking distance of the Wild Meadow but a few top spots are just a short drive away – The Dabbling Duck (01485 520827) seven miles away in Great Massingham (said to be a favourite of the young royals and well named given the location beside the villages two picturesque duck ponds), the Bell at Brisley (07931 817585) also seven miles away and The Duck Inn at Stanhoe (01485 518330), 14 miles from site. For something really special, book in for an afternoon tea or the tasting menu at Morston Hall (01263 741041) in Blakeney. The town of Burnham Market (12 miles from Wild Meadow) is a good, if expensive, place to pick up supplies with independent shops, cafés and eateries close to the coast. For a more casual, family-friendly meal out (or takeaway) try Eric's Fish and Chips (01485 525886) or Eric's Pizza (01480 775415) at Drove Orchards, just off the coast road between Holme and Thornham, near Titchwell Marshes. There's also a farm shop, fishmonger and seasonal PYO.
Open
July–September.
Why book with Cool Camping?
Best Price Guarantee, with no fees
Instant booking confirmation
Trusted for over 10 years
A chance to win prizes in our regular competitions
The Owner Says
Inspired by nature, our yurts are named after the wild flowers that grow across the historic estate parkland. This beautifully situated site sits wonderfully in the Norfolk countryside in a wild-flower meadow, where you may be able to find the namesakes of the four yurts. Situated in the heart of Norfolk, you are spoilt for scenery and walks - be it along the wide, sweeping, sandy beaches only 20 minutes drive away or through the rolling fields of the surrounding area.
Social Distancing Measures
We take the health and safety of our guests seriously, and have put in the following measures to combat the spread of Covid-19:
Designated showers, toilets, kitchenware and tableware for each yurt
Earlier check-in & out times to enable an extra deep clean at changeover
A Covid-19 Safety Questionnaire that all guests must read and sign at check-in confirming that they will comply with all government guidelines and social distancing measures in place at the time of their stay.
People with a Covid-19 positive test or symptoms are asked not to come to Wild Meadow and will be able to re-book their stay.
Handwashing and sanitiser stations.
A minimum of 10m between yurts
Extras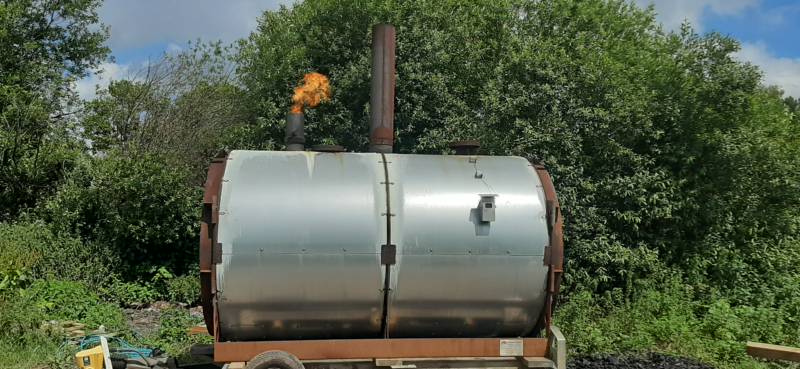 Quality Hardwood Charcoal
Made sustainably from our friends at
https://www.norfolkcharcoal.com/
3kg bag.
Local - Sustainable - No Added Chemicals
Our charcoal is made in an exeter retort, which makes it pure and smokeless. All of our timber is sustainably sourced in Norfolk and Cambridgeshire and the charcoal is made on the Norfolk Coastline.
90,000 tonnes of charcoal is imported into this country every year with a huge carbon footprint and swallowing thousands of hectares of woodland. All of our wood on the other hand, comes from sustainable forestry management practices, like thinning. 
Location
Contact Wild Meadow, Raynham Estate, Lodge Farm, Swaffham Rd, Raynham, Fakenham, Norfolk NR217EF
Getting There
The Raynham Estate is just off the A1065 between Swaffham and Fakenham. There are several entrances so look for signs specifically for Wild Meadow. The meadow itself is car free. Wheelbarrows are provided to take your luggage from your car to your pitch, a walk of no more than 40 or 50 metres.
The closest mainline train station is at Kings Lynn, 20 miles away. Onwards travel by bus is possible but lengthy. A better alternative would be to travel by taxi from the rank at the station.
Reviews
Add Your Review
Rated ★★★★★ over 2 reviews
Great stay in a wonderful location
We stayed in a yurt at Wild Meadows for three nights in August 2021. We had a great time - the yurts were very comfortable for a family of four. The toilets, kitchens and showers were clean and well maintained, and the staff were friendly and helpful. There are plenty of areas to explore locally around the estate and the beyond. We visited the wonderful Norfolk coast, Pensthorpe Nature Reserve (with great outdoor play area) and Thetford Forest. Couldn't recommend the place more.
Sit back, relax and enjoy the sunset
We spent a week at wild meadow and had an awesome time. From the minute we arrived we were greeted and made to feel welcome. Nothing was too much hassle. The yurt was beautiful inside and the beds were amazingly comfortable. Our two boys slept in later than at home. It can be lighter in the summer evenings inside the yurt due to the skylight but you soon get used to it. Also worth lighting a fire to take the chill off later in the evening since the temperatures drop quickly and can get chilly, but adds to the atmosphere. Logs and kindling are available from the team on request. Having your own toilet, shower and kitchen area is a real plus, and makes the whole experience even better, especially post COVID. Our boys spent a lot of time just running around the woods and meadows. It's very quiet and safe and a great place for kids to be free and enjoy the countryside. We walked on the local footpaths and visited the local pubs for dinner, all were excellent and within 10-15mins. Also pensthorpe is a must, the children had loads to do and was a great day out. Overall we had a lovely week. The weather was hit and miss but guess that's always the risk however there were plenty of things to do locally including the beach, Holkham Hall, Sealife centre, cycling and walking. All in all a great place and lovely holiday. Family of 4 with 2 children 4&6yrs
Why book with Cool Camping?
Best Price Guarantee, with no fees
Instant booking confirmation
Trusted for over 10 years
A chance to win prizes in our regular competitions
Book campsites near Wild Meadow, Raynham Estate