Brambells Glamping & Spa
Brambells Glamping, Buildings Farm, Pit Road, Burgh St. Peter NR34 0BG














Glamping in Norfolk: Family-friendly bell tent glamping on the Norfolk Suffolk border, between the Broads National Park and the coast
Family-run Buildings Farm has seen the full agricultural spectrum over the years. It's gone from pigs and cows and herdsmen out in the fields, to modern day tractors and a working livery yard. Today, most of the 180 acres have been sewn for crop production – golden barley and oats ripple in the breeze and peas grow green in summer – but a picturesque four-acre patch has also been set aside for something very special indeed… A brand new glamping site.
Brambells Glamping is managed by the current generation of farmers, Tom, who tends to the crops, and Holly, who also looks after the livery yard, aided by their four young children. The meadow space plays host to just three specially designed Lotus Belle tents, each in their own private space. One sits tucked in the edge of a patch of woodland, with splintered views across an open wild-flower meadow, while a second is hidden deeper among the tees, dappled shade dancing across the tent's creamy canvas. The third tent is in an open meadow, beside a small pond and has been specially designed to make the most of the dark Norfolk skies. Roll back a section of canvas in the roof and in-built ceiling windows provide views of the stars above. When the sky is clear it's spectacular.
For extra seclusion, the site also has a fourth, 'secret' pitch overlooking the marshes and reached via a short tractor and trailer ride. Once there, you're unlikely to be disturbed and the wildlife watching is tremendous. It does require a slightly longer walk back to the shower facilities, though  – each tent has its own private, luxury shower room – but since, like all the tents, it has its own toilet directly alongside, a walk to the shower is a small price to pay.
The tents themselves are furnished with all the essentials you'll need. There are beds (bedding and linen supplied), blankets, hot water bottles, a wood-burning stove and re-chargeable lighting, while the outdoor kitchen comes with all the pots, pans, crockery and utensils required. Fire up the gas barbecue or light a campfire and you'll be whipping up some camping cuisine in no time.
For those at the main three pitches there's an easy 10-minute walk out to the marshes, emerging from the woods into a vast area of open plains, overlooking the Norfolk Broads. By car (or bike) you can head north into the national park itself and rent canoes to really explore the landscape or, if you don't want to over exert yourself, take a boat tour from nearby Beccles. While there, the market town deserves a spell of your time. The church's 16th-century Gothic bell tower dominates the main high-street – The Walk – with a cluster of pleasant, independent shops and cafés, while further afield the beaches of the Suffolk coast await.
Gallery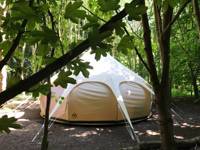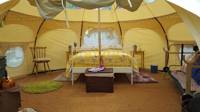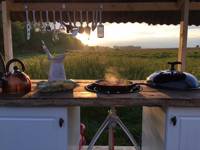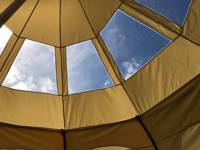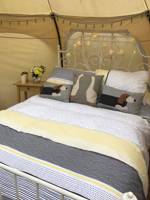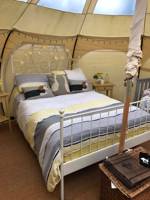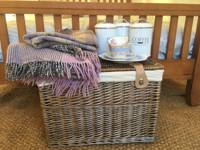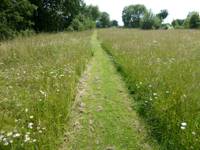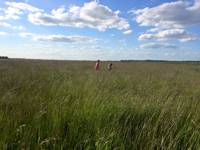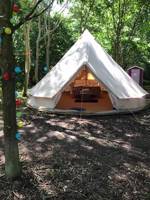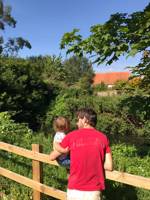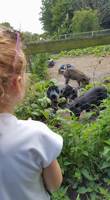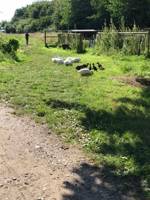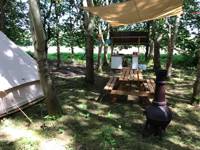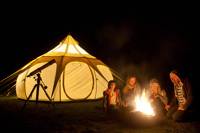 The Owner Says
Brambellls Glamping  & Spa is set on our family farm on the Norfolk/ Suffolk border. Run by us, Tom and Holly with help from our four children, we aim to give you a taste of our farming life and above all a great holiday. Come and stay in one of our luxurious bell tents  with private toilets and shower facilities. Enjoy the comforts of home in our peaceful unspoilt countryside. The wildflower meadows and woodland offer a true escape from today's hustle and bustle, yet the surrounding area has enough to keep the busiest bee buzzing.
The Brambells SPA will be open for our 2108 season .Offering the chance to relax in the luxury of a private woodland setting.
Treat yourself or your partner to a MASSAGE, BODY WRAP, SCRUB or FACIAL in our beautifully appointed spa tent, or weather if allows on the deck in the dappled sunlight under the tree canopy. We also have a SAUNA POD, RAINFALL SHOWERS and some big squishy sofas to complete your escape and make your holiday even more memorable.
We here at Brambells believe in using ONLY natural product sourced ONLY from the uk , so we have teamed up with the NATURAL SPA FACTORY to bring you the Best Natural Ingredients FREE from Parabens, SLS, MCI and other harmful chemicals and free from animal testing .
Win a £100 Blacks Voucher!
If you've stayed at Brambells Glamping & Spa campsite, please take a minute to tell us about your experience. Every month, one lucky reviewer will be picked at random to win a £100 voucher, courtesy of our recommended retailer Blacks. Each review counts as one entry, so get writing!

Reviews
Add Your Review
Brambells.....makes you fall in LOVE with glamping
We are back from spending the BEST weekend with Holly and Tom as early birthday celebs with my besties and we couldn't have asked for more! The hosts really have thought of everything; every minor detail is catered for with first class finesse...the glamp tents are stunning and beautifully decorated; the facilities amazing with all you could need from kitchen utensils, wood starter kits for the cutest inside fire, fly and insect repellent and lamps for night time escapades - all eco friendly with their green footprint clearly a marker of the camp. Hot water is available for that early morning shower to feel refreshed each day, with cutting edge, modern designs in the communal kitchen and shower rooms, one for each tent. You only need to pack food and drink as everything else is there, including lockable sockets for charging your mobile phones! The kids also thoroughly enjoyed the outdoors to the max which at home can be hard to find in a safe environment such as this. Our daughter loved feeding the animals which all can join in with Tom at 10am each morning. While the kids were busy, my other half took the opportunity to cook using the outdoor kitchen - fry up alfresco was bliss. And then there's the woodland spa.....opened this year it's another gem on this site. Holly and her colleague offer an incredibly relaxed service with sauna, chill out area and hammocks for you to enjoy a stress free, pampering experience in the most perfect location. You are also well situated to get out and about in surrounding areas; we had a great day out at Yarmouth then back to the glampsite, fire on with marshmallows at the ready! We cannot praise Brambells highly enough so get booking now! Holly and tom - you have excelled yourselves so expect us all again with even more family and friends to share your uniquely perfect, amazingly wonderous glamping experience :) G n gang x
A wonderful family weekend away
We stayed at Brambells with our 5year old daughter and our 22 month old son over the bank holiday weekend and the weather couldn't have been kinder to us. Glorious sunshine spent on a glorious site. Tom and Holly were great even before we arrived, especially as my husband ended up on crutches the night before. This made getting around significantly more difficult but we really enjoyed ourselves and the kids loved it. Once we were settled into our bell tent called Harvest Moon we all started to relax. The beds are comfy and tents lovely and cosy. Birdsong at the crack of dawn reminded us that we truly were living amongst the Norfolk nature. There was so much to do in the local area and the farm was also great. The mud kitchen, animals and spa are all fab and I decided to treat myself to a lovely coffee scrub and body massage which was divine, after carrying all the bags and luggage etc I think I deserved it! A really lovely sunny family weekend away, definitely book Brambells if you fancy some quality time away with your family!
Amazing weekend!
Had the most amazing weekend here with my family. Holly and Tom are fantastic and really went above and beyond to make our stay wonderful. It was my sons 11th birthday and our bell tent was decorated inside with lots off balloons and the children were also lucky enough to be able to have treatments in the woodland spa, which was very exciting for my daughter aged 13 and son 11. the therapist Shelly was so good with them, I couldn't resist having one myself which was so relaxing, id definitely recommend having a treatment, and shelly was so friendly and helpful, so thank you. the location is perfect and so much to do in the area we hired a boat for a couple of hours and all of us loved it! Tom also let the kids help and feed the pigs, goats and horses on the Sunday and again what a lovely touch. the weather was typically British (rain) on our weekend but it did not spoil anything, kids loved playing in the muddy puddles in there willies. it has been one of my favourite weekends away as a family for a long time as just sitting in our tent playing board games and laughing was great. only thing I will say is I just wish we could have stayed longer as there is so much to do. thank you Tom and holly for a lovely weekend.
The tents were warm.and welcoming, and the spa amazing
I have just had the most amazing weekend here with my partner, the tents were warm and welcoming and the owners Holly and Tom couldn't of been more helpful, the surroundings were peaceful and beautiful, the sound of the birds in the morning woke us up in good spirits, this is back to nature at its best, from seeing the horses running in their large fields to walking down to the Marsh and seeing horses in a herd eating the lush grass, we cooked on a home built bispoke bbq kitchen and it had everything we needed, the shower was lovely and hot, we both had an amazing massage in the newly built spa area,use of the sauna and decking area made our stay even more special, we are definitely returning and telling all our friendstuff about our stay.
Loved it!
We came with our 3 year old son during a cold early April and kept cosy in the tent. He loved meeting the animals each day. The cooking facilities are a joy and the showers are perfect.
Fantastic glamping experience!
We stayed for 2 nights at the beginning of June and wished we could have stayed longer! Our bell tent was enormous and really comfortable with lots of lovely extra touches to make our stay warm, cosy and comfortable. The facilities are great, including our own bathroom with hot, luxury shower. Tom and Holly were really friendly but unobtrusive - they were there if we needed them but left us in peace to enjoy the lovely surroundings. Brambells farm is a wonderful place to stay, with views across the fields and lots of friendly animals who made the experience even more enjoyable (we especially liked wandering over to see the horses and saying hello to the cute little pigs!) Brambells Glamping is highly recommended - we would certainly stay again. Many thanks!
Wonderful!
We spent a weekend there in the Butter Cup and it was amazing! Holly and Tom are great hosts, they made us feel conformable at the place, but were always available when we needed! The place is amazing, great views, the tent is nicely decorated, comfortable bed, hot showers, they have all the cutlery needed, and everything is as clean as it can be! We had a wonderful time, definitely want to go back and recommend to anyone who wants to enjoy some fresh air!
Peaceful weekend away
We stayed at Brambells in early June at the Marsh View site. We were wanting a quiet weekend away from London and were not disappointed. This site is literally on the edge of a Marsh paddock and has no road access so you are very secluded. The site was well equipped with all we needed to cook meals and the tent was cosy and homely with thoughtful touches such as champagne and blankets. The shower room is back at the main site (about a 10-15 min walk along a leafy country track) and is modern and clean. Tom and Holly were great hosts- responsive to questions yet let you have privacy. They went out of their way to assist when we required little necessities such as insect repellent. This is a cute spot in a lovely area with lots to do if you have a car. Definitely recommend!
Cosy & quiet
Although we were unlucky with the weather(heavy rain for 2 nights) the logburner,duvet,comfy bed and lights made it very cosy. Our one good day weatherwise was spent doing a circular walk from nearby River Waveney Centre to Oulton Broads around marshes full of birdlife. Tom & Holly were most welcoming and nothing was too much trouble. Lots of nice touches from mini bottles of prosecco to cake on arrival. Very peaceful,only birdsong and the odd neigh from one of the horses ! I'm sure we'll be back.
Idyllic Spot
Great surroundings and facilities - great weekend!!
Peacful
Lovely peaceful break, so much to do locally, beautiful site , good clean facilities.
Fab stay !
We arrived at the campsite late in the dark of evening, very tired . We were warmly greeted by the owners who showed us to our tent , bed all made up and lights on !. The hospitality at this site is excellent. The owners are friendly, their pigs, Horses and cats are friendly.. Our young daughter quickly made friends with the owners children and set off on her own adventures. we were made to feel welcome! great walks , we found the river centre a great walk as this has a pub by the river so you can watch the boats or hire one ! we will next time a must ! . We took another walk to their private marshes these have to be seen ! take a picnic and binoculars so much wildlife !. One of the evenings provided a crystal clear night sky where shooting stars could be seen by the naked eye I totally recommend the tent we stayed in the STAR GAZER ! this tent has clear roof panels so you can fall asleep looking at the stars ! . A campsite well worth another visit.
Best Price Guarantee, with no fees
Instant booking confirmation
Trusted for 10 years
A chance to win camping goodies in our regular competitions!
Book campsites near Brambells Glamping & Spa