Tin Can Camping
Birchway Farm, Birch Way, Mundham, Norfolk NR14 6EW







1950's Americana tucked away in the wilds of South Norfolk.
The beautifully polished finish of the 1950's Airstream Bubble trailers say a lot about Tin Can Camping. For starters there's its glimmering authenticity. The metal work has been wonderfully cared for, reflecting the fact that throughout this site everything has been restored to match the same classic, vintage standards. Then there are the more literal things the metal work reflects: the greens and browns of the surrounding trees are distorted by the mirror-like surface, but the setting – in a small Norfolk orchard – is divine. Above all, the shiny surface shows the real attention to detail that has gone into this campsite. The whole place has a thoroughly polished finish. If you want luxury done right, then don't be fooled by the name. Tin Can Camping has everything you need.
At the end of a long single lane, with the nearest neighbours over a mile away, Tin Can Camping hosts just three vintage trailers, each bedecked in retro furnishings and containing everything you could possibly need. Though they exude a vibrant 50's style it's all still subtly equipped for the 21st century camper. There's a digital radio with a connector for your i-pod, a powerful new hairdryer and a modern microwaves in each caravan, while just a stroll down a gravel path leads you to a farm building that has been specially converted for the campsite. The interior leaves the 1950's style behind, instead offering a contemporary kitchen space, where you can prepare food, and a pool table where you can pot shots on rainy days. The tiled bathroom even boasts a hotel-style double rain shower. They don't do things by halves.
Tin Can's latest addition is a 1957 Airstream Caravanner – an extremely rare trailer which has been lovingly restored. It's a beautiful retro beast with plenty of space, original 1950's oven, comfy memory foam bed, wardrobe, and fridge. It has use of the fancy bathroom, indoor kitchen, pool table and an additional shower room and toilet. As per the other trailers, there's a fire pit, use of gas and charcoal bbq, picnic bench and directors chairs.
For all its luxuries, however, what really sets Tin Can Camping apart is the privacy it affords. Each of the three trailers sleeps two, making the site a romantic couples retreat, while there is also a small farm cottage next to the campsite that sleeps a further pair of people. By car you can head to the Suffolk coast, the Broads or a number of quaint market towns and villages but it's equally easy to spend hours simply lounging around in your trailer instead. If you're anything like most who come here you'll light the BBQ on the first night and find you're still relaxing around it by the end of the week. Or maybe you'll branch out and light the campfire instead. Either work for us.
Gallery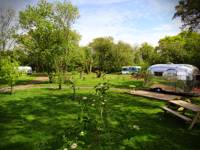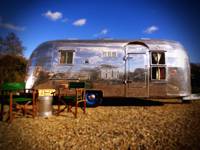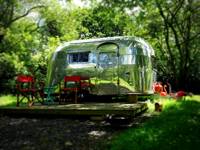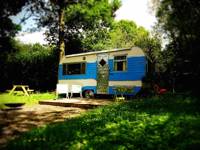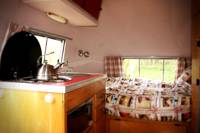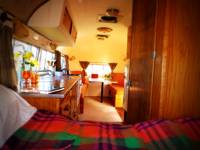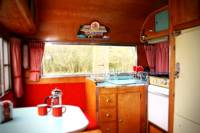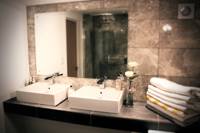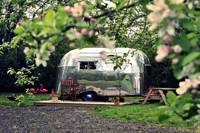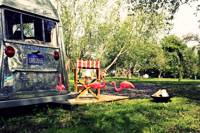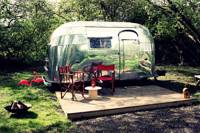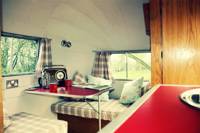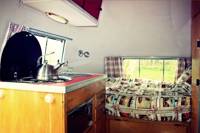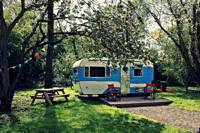 The Owner Says
Situated on the Norfolk/Suffolk border, tucked away at the end of a no through road you will find a taste of 1950's Americana at Tin Can Camping. Nestled in a little wood are our two beautiful American trailers, one Airstream and one Jewel, waiting to capture your heart. Both sleep two comfortably and have soul use of our purpose built Camp HQ with luxurious double walk-in rain shower, modern kitchen and pool table. And for those who prefer bricks and mortar to aluminium and rivets there is our little boutique cottage, The Nook. Why not book all three for a weekend away with friends?
Reviews
Sign up or sign in to leave your review of Tin Can Camping
A peace of heaven
We stayed in the "jewel" for 4 nights. We had a wonderful time. The caravan was lovely, had everything we needed and more. It was the most peaceful camping experience we have ever had. With only 3 caravans on site we all had our individual space, table and chairs on a decking area and fire pit. The luxury "hq" which we shared, had amazing double showers, full kitchen, pool table and sitting area. These facilities made for a perfect stay. The surrounding areas were great for walking and playing around on the canal. Thank you Emma and Dan for making this place available to us and hopefully we will return.
Happiness in a can!
When our own campervan broke down just before our planned holidays we were looking for a stay that would bring us all the things we love about camping - a cool retro home on wheels (important!), campfires, comfort, cooking and eating outdoors, and new places to explore. We were so lucky to find all this at short notice by staying in the Caravanner! We were excited to stay inside an airstream for the first time after admiring them from afar for years - this one is authentically restored with lots of lovely details and is really spacious for a couple. Emma and Dan have left lots of room around each trailer too, with a fire pit and picnic table. Its a short walk through the maturing garden to what must be the best shower and toilet facilities I think we've ever had on a site, housed in a cool and cosy barn, complete with lounge, pool table, full kitchen and coffee making machine. Its so thoughtful having this extra space and I think that's what makes Emma and Dan's place stand out - our kitchen in the trailer was stocked with local sausages and bacon, eggs, bread, milk, butter, strawberries and chocolate brownies, yogurt, cereals and bananas, as well as a bottle of prosecco to pop on arrival, which was brilliant to celebrate after the stress of our own van troubles! There were even ice creams in the freezer, and wood for one fire and charcoal for BBQs included. You could arrive here with very little and be really set up and well looked after. We did go out to explore the amazing coastline and watery ways of Norfolk but we loved getting 'home' to the Caravanner, taking cold beers out of the fridge and watching amazing sunsets in the big skies through the trees. Emma and Dan were super friendly and available whenever you needed them but were getting on with family life in the house while we played house in the airstream, which felt just the right balance. We smiled when the 'logs delivery man' turned up on the last night - their 5 year old boy driving his own cool little pick-up truck (with Dad following behind)! and we also smiled at the very affectionate cat that kept coming to hang out with us (and I say that as a dog person!). I've already been asked by a lot of friends for details of Tin Can Camping after they saw the photos and heard all about it - so I hope lots of people visit, it really deserves to do well!
Best Price Guarantee, with no fees
Instant booking confirmation
Trusted for 10 years
Chance to win camping goodies in our regular competitions!