Gorsey Meadow
Hockering House, Heath Road, Hockering, Norwich NR20 3JB









Gorsey Meadow is a tranquil site where wildlife is the most frequent resident
Smack bang in the centre of Norfolk, surrounded by perfectly manicured gardens and acres of parkland, sits the charming Hockering House, home of the Berney family. Bordered by ageing oaks, Gorsey Meadow is a new campsite in the grounds of the estate and, with the opening day of their first season just moments away, Cool Camping peered through the trees for a sneaky first glimpse of what's on offer.
Made up of five bell tents (pre-pitched to order), Gorsey Meadow is a tranquil site where wildlife is the most frequent resident. Garden birds flutter through the long grass, barn owls and pheasants hoot from the woods, and deer stand camouflaged amongst the trees. The five tents are accompanied by two newly built huts, one housing the compost loo, the other housing the piping hot eco-shower, and are furnished with air beds and bedding, vintage furnishings, gas hobs and a BBQ, along with plenty of kitchen utensils. Those willing to forego such luxuries can also pitch their own tents in the meadow, making use of the ample space available.
While huddling around the campfire or knocking a ball about on the Hockering House tennis court are relaxing ways to pass the time onsite, Gorsey Meadows is also well placed for exploring the rest of Norfolk. The county city of Norwich is a 20 minute drive away, while the pleasant local market town of Dereham has an attractive independent feel and hosts a large market every Friday. Further afield the outstanding North Norfolk coast, with its sweeping beaches and patchwork of dunes, marshes and forests, is just over half an hour by car and well worthy of a seaside day trip.
Gorsey Meadow may be a new campsite, but in its timeless rural setting you'll feel it was always destined to be. The well-furnished bell tents and colourful wildflowers beckon you down the tree lined driveway to the private field that has been there for years, seemingly waiting for campers to arrive.
Gallery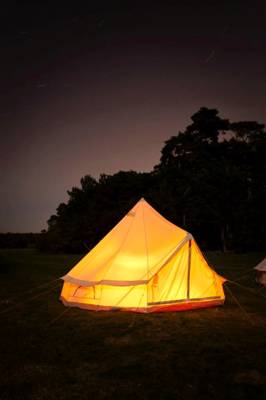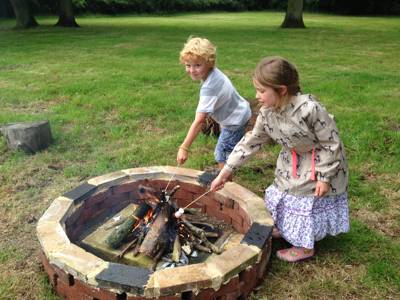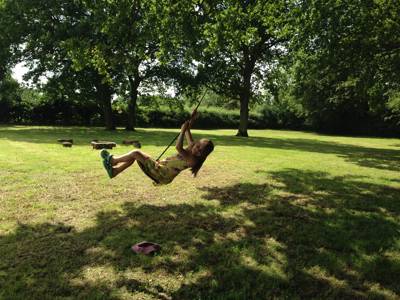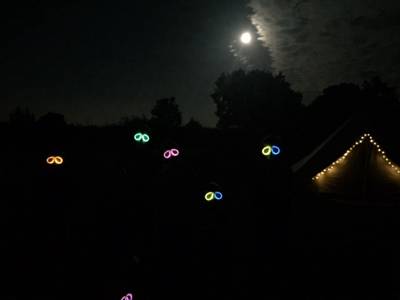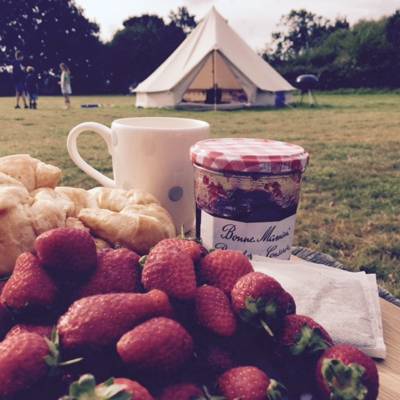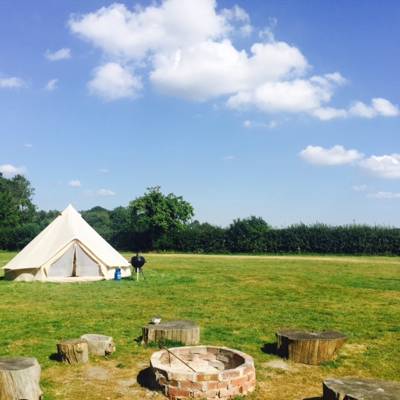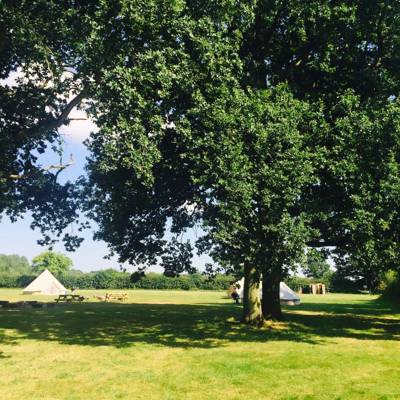 The Owner Says
Smack bang in the centre of Norfolk, surrounded by perfectly manicured gardens and acres of parkland, sits the charming Hockering House. Bordered by ageing oaks, Gorsey Meadow is a new campsite in the grounds of the estate with five bell tents in a private camping field offering seclusion, tranquility and a good base for exploring Norfolk. Exclusive group bookings very welcome.
Reviews
Sign up or sign in to leave your review of Gorsey Meadow
Dusted with magic
What a lovely quiet site! Seriously, I meant it when I wrote in their visitors' book that it felt like Gorsey Meadow had been dusted with magic. We visited for just one night mid-week in June while touring Norfolk in our campervan. While Gorsey Meadow focuses on glamping in bell tents, it's happy to accept tents and small campervans. The access lane sets you up for your stay, a tunnel of tree boughs leading to a wooden gate. Being a bit taller that VWs, those trees brushed the top of our van: no room for motorhomes! The meadow is cocooned in a circle of oak trees and native hedgerow, encouraging birds to be your neighbours and blocking out the outside world. The grass is skimmed off, but left long enough to mean that it's comfortable to go barefoot around the site. There's two firepits for campfire gatherings and each of the five bell tents has a family-sized charcoal BBQ waiting on the decking. Barrow-loads of wood can be bought and the on-site honesty shop has bags of charcoal and instant BBQ packs available. You need to come prepared with food and drinks, BUT what better excuse than to stop by the butcher, baker and other shops in Lenwade. Having said that, the shop shed will help you out if marshmallow supplies run low. Other facilities? Alongside the shop shed, there's an information shed that's full of leaflets about the local area and things to do if you can tear yourselves away from Gorsey Meadow. There's also novels to curl up and read, toys and crayons for the little ones, candles to give extra light around the firepit at night, and wine glasses to give adults a break from the usual plastic cups. Another shed houses a flushing loo, and its neighbour has a gas-heated shower - the best and most powerful we encountered on our tour of Norfolk... complete with a battery lantern for late-night showering. Even the washing up is a joy with a double-drainer kitchen sink, out in the fresh air. The second loo (or is it the first) is an eco-composting loo ... which everyone should try once...but will probably return to repeatedly. We came in our beloved campervan, but sneaked a look into a tent and would have loved a night or two in one of those. Well decorated and equipped, like everything at Gorsey Meadows, there's been great attentions to detail and little touches that make you feel at home. As a camper this was a great break from the regimented sites lining the coast, and it was a great joy to be the only ones on site, a magical stay, back to nature, but not back to basics.
Absolute Magic
We stayed for one night midweek and could happily have stayed for longer. It is so quiet and peaceful, it is easy to get distracted by the birds singing and the woodpeckers in the trees. I spent all the time there barefoot and had a fabulous time. It is a glorious site. The facilities are good, the gas powered shower is incredible and the composting loo is a great touch. Each bell tent is well equipped (even though we stayed in a campervan we sneaked a look in them) and has good utensils, pots and pans, a gas hob and a barbecue. This is a site that really is worth staying at.
Idyllic practically perfect pitching..
We stayed at Gorsey Meadow for a night in August. It's a little magic grove of happiness, surrounded by magnificent old trees. Lovely immaculate tents in charming surroundings and a wonderful place for both children and adults.
First time Glampers .... now converted!
A lovely relaxing place to stay to explore the Norfolk Countryside and what a treat to have the tent all put up and ready! Very comfortable stay with everything you could need, Bell Tents are the way forward! Loos and shower were spot on. We all had a great time, kids especially enjoyed the rope swing & plenty of space for burning off the marshmallows. Many thanks to Sam & Ollie for making us feel so welcome and sharing their beautiful space, we would stay again without a shadow of a doubt next time we are in the area.

Fab
Just like to say big thank you to Sam for all her help getting the 16 of us away! 
Site was absolutely fabulous and to have it all to ourselves was perfect. 
Even the few of us who were a bit hesitant about "camping" loved the tents and the hot shower was most appreciated!  
Facilities were clean and everything was there that you could need. Site was quiet and out the way and I didn't have to worry about the dogs at any point. 
The only downside was we could only have the two nights! I'm sure we'd all happily come back, just what you need for a few nights away! 
Best Price Guarantee, with no fees
Instant booking confirmation
Trusted for 10 years
Chance to win camping goodies in our regular competitions!
Perfect Norfolk Hen do!!!
Just wanted to say a huge thank you to Sam at Gorsey Meadow, and Magical Camping for making my hen do so amazing! 19 of us and a campervan stayed in the meadow with the whole meadow for just us girlies. The rope swing, fire pits, bbq's , beautiful bell tents... Even the Eco loo was manageable and very efficiently sorted! We had a really special time... The guitar player that came on Saturday eve, dancing under a beautiful rainbow with all my favourite people that had devoted the meadow with Bunting and balloons from the trees was something I will remember and cherish forever. Oh, and if you are very persuasive, Dominos pizza  will even deliver to the meadow! I would recommend Gorsey Meadow to anyone. Thank you Sam and co for all your help, love Zoe H and the Hens x
Lovely peaceful stay
We stayed at Gorsey meadow last weekend for the first time and will definitely be returning! We loved the peaceful secluded spot, great fun for the kids to explore the beautiful woodland setting and nearby fields and parkland. We nestled around the campfire until the early hours stargazing in this lovely unspoiled part of Norfolk. Sam was really helpful settling us in, thank you for a lovely stay!