Luxury shepherds huts near the Essex coast, with beautiful, watery surroundings and a wonderfully private setting
Few places showcase the full spectrum of coast and countryside scenery quite like Mill Farm in Essex. Tidal creeks stretch their fingers in land every time the waters rise, reed-fringed ponds rustle in the breeze and wading birds natter on the flat, marshy palms that make up the Colne Estuary. In the fields, meanwhile, pick-your-own strawberries puff out in time for summer, while a newly planted vineyard is showing the first stripy signs of life. And all of this within 55 acres.
It's in this rather fairytale farm setting that The Shepherds Hide is found – or rather the 'hides', plural, since there are now two different abodes to choose from. The first, tucked in its own private, partially wooded enclave overlooking a pond, has all the same comforts of the second, which is in a separate area of the farm and blessed with views of the young vineyard. Both have been crafted with every comfort in mind.
Inside, expect a king-sized bed, wood burning stove and compact kitchen space, along with an en suite shower room at one end. What really sets the place apart, however, is the fine attention to detail. There are toiletries in the bathroom (all biodegradable and wonderfully fragrant), locally sourced goodies in your wicker 'welcome hamper' and small tins with tea, coffee and sugar, each decorated with illustrations of native wildlife that can be spotted from your window.
Beyond the door of each hut, a trail leads away into the farm. Guests are welcome to explore, with footpaths weaving towards Arlesford Creek, a perfect place for bird watching. A short stroll and you'll also find the old wooden mill that gives the farm its name – a fully restored tidal mill built in 1831. It's only open on certain days if you want to peep inside but it makes for a magnificent photo or two in the meantime, set against the colours of the creek beyond, where the waters ebb away having circled the water-wheel that turns inside.
During summer the strawberry field is opened up to the public and glampers can gorge themselves on ripe fruit – a serious pleasure since they grow a whole host of sweet varieties you can't buy in the supermarkets. Or take your basket and skip your way down to the beaches of the Essex coast – Clacton on Sea, Walton on the Naze and more – all just ten minutes or so in the car, where you could add a little ice cream to those berries. Take your pick. Literally.
Details
Facilities
Inside, the shepherd's huts feature a king-sized bed (bedding and towels an optional extra at time of booking), a dining area and a kitchen with plenty of storage, cooking facilities, a kettle, toaster, sink and mains running water. There is an en-suite bathroom with a shower, basin and flushing loo, plus eco toiletries such as body wash and body lotion. A log burner keeps the whole place warm (with the addition of underfloor heating in Teal). Outside, you'll find a picnic bench and patio. Parking is separate but there's a wheelbarrow to easily move your things.
Suitable For
The shepherd's huts sleep 2 each. Adults only. Pets are not permitted.
Nearby
The farm is home to the only fully restored water mill in Essex, Thorrington Tide Mill (03330 138156). It's now owned by Essex County Council and opened as a museum between April and September on the last Sunday of every month, some bank holidays and special mill open days. It's just a short stroll from the shepherd's hut. If you fancy venturing further afield by foot, there's glorious bird watching along the Colne Estuary, with footpaths leading directly down to the water from the site. Enjoy the sandy beaches around Brightlingsea – lined with beach huts and backed by a long promenade – or head inland to Colchester, Britain's oldest recorded town (20-minutes in the car). The village of Dedham is also a particular joy, in the heart of Constable country (25 minutes by car). It was here that Britain's greatest landscape artist went to school and today the main street is lined with attractive Georgian houses, old inns and a large art/crafts centre.
Food & Drink
On arrival you'll be welcomed with a "local goods basket". After that, there are supermarkets in nearby Brightlingsea, while Thorrington itself, offers a local store for basic supplies and a great local pub, The Red Lion (01206 252001). During the Summer – late May and mid July (season length is subject to the weather) – the farm also opens for pick your own strawberries. The Shepherds Hide is located away from this busy hub but it means you can conveniently stroll around the corner to pick and taste their amazing, fresh strawberries!
Open
All year.
Why book with Cool Camping?
Best Price Guarantee, with no fees
Instant booking confirmation
Trusted for over 10 years
A chance to win prizes in our regular competitions
The Owner Says
Located on a family farm, the Shepherds Hide huts "Wigeon" and "Teal" are luxurious unique and secluded self catering shepherds huts, tucked away on the heart of the Essex coast, just outside Colchester. They are perfect for short breaks, romantic getaways or for longer self-catering holidays in the countryside with excellent bird watching and walking on site and a range of tourist attractions nearby. Mill Farm, is about 55 acres of a mixture of arable, grassland, salt marsh, tidal creeks and inland waters and is the home of the only fully restored tide mill in Essex. Reconnect with nature and yourselves at The Shepherds Hide, away from the hustle and bustle of your busy lives.
In February 2018 we were voted as one of Essex's top 10 most romantic spots by Essex Life Magazine and we are very proud to have been featured as Number 3 in Adventure Travel Magazine's round-up of the 10 most incredible winter glamping sites in the UK in October 2017. We are also proud to have been featured as Number 25 in The Daily Telegraph's Summer 2016 Top 40 Glamping Campsites in the UK and Europe.
Social Distancing Measures
Accommodation
2 luxury shepherds huts in private areas of a 55-acre farm.
Wigeon
A spacious 20ft x 8ft luxury shepherds hut which has a king size bed, fully fitted kitchen and en-suite bathroom, kitted out to the highest of standards with mains power and water. There is no television or internet access ensuring peace, relaxation and tranquility of this beautiful setting.
---
Teal
A wonderfully equipped beautiful shepherds hut for two in a very peaceful and unique location. It has a king sized bed, fully fitted kitchen and en-suite shower room which is kitted out to the highest of standards with mains power and water. Upon arrival you'll be welcomed by a local goods basket!
---
Check Availability
Extras
Food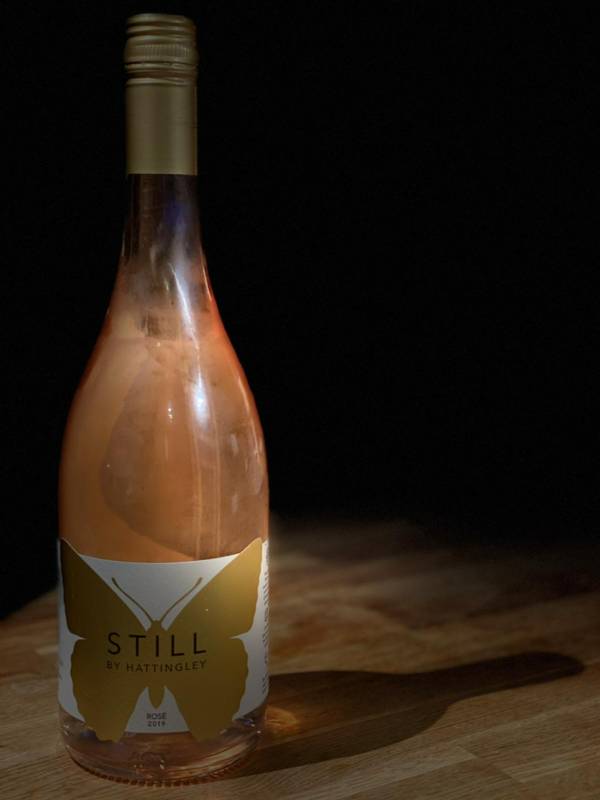 Hattingley Valley Still Rosé 2020
We are proud to be associated with Hattingley Valley Wine. Grapes from our vineyard are used by them to make this delicious still wine. A light and elegant wine, the STILL Rosé has a pink salmon colour, aromas of fresh red fruits and creamy notes following through to the palate. Dry and smooth, with delicate yet vibrant acidity. 
Location
Contact The Shepherds Hide, The Granary, Mill Farm, Brightlingsea Road, Thorrington, Colchester, Essex CO7 8JJ
Getting There
The postcode when put into the sat nav, CO7 8JJ will bring you to the centre of Brightlingsea Road. Keep travelling along the road and on the right hand side you will notice the houses stop and there is a hedge line. You will then see signs for Mill Farm, Thorrington Tide Mill and Hill Farm Landscapes on your right hand side. Turn right into the driveway and follow it all the way down to the bottom. Drive round past the Mill through the metal gate (not over the bridge and through the wooden gates), keeping the mill pond to your left hand side and The Granary (converted farm buildings) to your right. Drive on into the farm yard and park on the left, next to the green container. You will see a small green trailer for you to transport your belongings. The huts are located down a short track that starts just to the right of the chicken run. Mark and Polly can be found in The Granary converted Barns.
The nearest railway station is Alresford, exactly 2½ miles away. From here you'll have to grab a taxi. Try NwC Taxis (01206 302491) or V P Cars (01206 825001).
Reviews
Add Your Review
Rated ★★★★★ over 26 reviews
Just perfect!
Wow what a delight this getaway was! We stayed in Teal for 2 nights & if I hadn't needed to get my car MOT'd the next day, would have stayed longer. The accommodation was kitted out beautifully & to a high standard. We cooked both nights with relative ease & enjoyed the cold evenings with the log burner which more than adequately heated the place. We loved it & can't wait to go back this time in the summer. Highly recommended.
Secluded retreat
I stayed in Wigeon for a few nights. The hut is well equipped with cooker, utensils and wood burner 🪵. I enjoyed waking to the sounds of the greylag and barnacle geese that live nearby who enjoy coming to greet you when you walk past! The resident chickens/hens can also be seen nearby. I enjoyed a walk from the accommodation to Wivenhoe along the river Colne and also walked to Brightlingsea. I ordered a hamper from the host and enjoyed a couple of lovely fried breakfasts 🍳. I would definitely recommend the accommodation and would suggest as per a previous guest that a roller blind over the door would assist - especially if you like the room to be really dark when sleeping. Thank you for a pleasant stay!
Weekend in Wigeon
The huts are in a peaceful spot with just the sound of bird song. We stayed in Wigeon which is cosy and well equipped. We ran along several of the paths by the estuary and visited Beth Chatto garden and RHS Harlow Carr. One small point there needs to be a roller blind or curtain over the glass in the stable door.
Perfect location for a getaway with a lovely host!
Had an amazing stay in the Teal hut where we had all the facilities required with a tranquil landscape of the vineyard and meadow at our doorstep. Perfect getaway from modern life and there is lots of walks/sightseeing closeby. Polly was a wonderful and attentive host, messaging to check how we were doing and also catering to our last minute requests. Highly recommend and cannot wait to come stay again.
Perfect place to switch off
Booked a few nights stay here with my partner and had such a relaxing few days. The hide had everything we needed and more (we brought camping chairs but even they were provided). It was rather wet, but that just added to the cosiness. The lake was really pretty, we sat out and watched the bats in the evening and we had Tits that were nesting right outside the window. Great spot for watching all the local wildlife. We thoroughly enjoyed the walk to Wivenhoe, would highly recommend if you're staying.
Cosy and Comfortable in a great location!
Lovely comfortable cabin in a fantastic location. From dodging free range chickens and ducks when transporting our luggage in a wheelbarrow, to BBQ'ing sausages and keeping cosy with the log burner, we couldn't have asked for more from our stay! We had lovely local walks both coastal and country but our evening stroll right outside the cabin watching the starling murmurations topped it all. Highly recommended, lovely friendly hosts, we will definitely be returning!
Cosy stay in beautiful surroundings
Me and my partner stayed for two nights in Teal - a beautifully kept hideaway with all the basics provided. We loved the peaceful surroundings, looking out onto the fields with a coffee in bed. There are great walks nearby - as with all other reviewers we walked to Wivenhoe - The Greyhound pub do amazing sandwiches! We ended the mini-holiday with a trip to the seaside at Clacton on our way home! Brilliant!
Beautiful location, lovely cosy hut
Secluded location on a beautiful site with a lovely lake, the picturesque old tide mill and ducks, geese and chickens roaming about. The hut is well equipped and finished to a high standard. Nice walk from the hut to Wivenhoe, which in itself is a nice quaint town. The strawberry farm on site no longer exists, though the listing still says that it does and we weren't provided with the home laid eggs and fresh bread mentioned in the listing. Small quibbles though, a really nice place overall.
A delightful weekend with everything you need
The Shepherds hide are brilliantly done. Not only do they look amazing but they are extremely cosy, comfortable and come with everything you need to have the perfect weekend and excuse to not do very much (but there is lots of walking and outdoor activities too). We felt like we had been away for a week! Thank you to Polly who was lovely.
Lovely long weekend
We stayed in Teal for 3 nights, very cozy, clean and perfectly located for walks to Wivenhoe and Brightlingsea.
Awesome Secluded Retreat
We stayed in Teal for 5 nights and it was beautiful! The deck was fantastic; we enjoyed lunches and dinners on the deck overlooking the woods and vineyards. We could easily have been in the South of France! The Shepherds Hut was roomy and cosy, with a comfortable bed and everything that we needed. We walked to Wivenhoe; great lunch at the Black Buoy Inn as was suggested in the useful information pack in Teal; a little bit of shopping in the Co-op, then an easy bus ride back to the Shepherds Hides. The wildlife around the Shepherds Hut was fabulous, as were the views when seated on the log next to the lake. Great for couples hoping for a simple, quiet, restful break. Thank you.
Tranquil weekend break
Such a lovely place, beautiful setting and very private. The hut is to a high standard with everything you need for basic cooking. Enjoyed walking to Wivenhoe. Loved the chickens roaming around and the ducks chilling out. Ideal place to get away from the hustle and bustle.
Hideaway
Terrific place. We're local, but we were miles away here. We stayed in Wigeon and had everything we needed. Over the cool nights and mornings it was cosy, well insulated, warm and comfortable. During the spring days it was nice to just 'live' there, with the stable door open and meals on the patio. On one morning the local mallard pair introduced their 13 ducklings to us while we ate breakfast - they must have been a couple of days' old and were quite happy to wander around our feet at the picnic bench outside the hut. A stroll past the mill along the river and reedbeds is recommended. The welcome breakfast hamper was excellent. Too many highlights to list...marsh harriers passing close by, bats dipping overhead in the still evening, a cacophony of dawn chorus in the surrounding woodland, foxes barking at night and sedge warblers chattering nearby. We were fortunate enough to meet the owners, Mark and Polly, who busy themselves on the adjoining farm. Lovely people.
Pure heaven
Surprise birthday pressie for the mister....he was gobsmacked to say the least! Absolutely perfect experience, from the quirky wheelbarrow on arrival to waking up to the magnificent view and the pheasant strutting along below the decking. Definitely didnt want to leave but went away with batteries well and truly recharged.
Wonderful retreat
Loved It. My husband and I went out for the weekend to celebrate our 28th Valentines together. The place is beautiful. Clean and so relaxing. The host (Polly) was wonderful, friendly and helpful. The linen was so clean and fresh, I wanted to just sleep the whole time. I will be back in the summer
lovely place
Lovely peaceful spot, with an immaculate and very comfortable cabin. After dithering about which one to book, we stayed in Teal, which is the newest one and has a lovely view (but I suspect the other cabin would also be very nice) The double glazing and electric underfloor heating was an unexpected bonus, and so effective we didn't bother to light the little woodstove. We cooked for ourselves each night, and it had everything we needed. During the day we cycled to Colchester to see the impressive castle and museum, via nice and mostly offroad tracks. Recommended.
Response from The Shepherds Hide
Thank you for your very kind review. We are so please you enjoyed all our hut and surrounding area has to offer. WE hope to welcome you back another time.
Wonderful
Everything you need for a quiet relaxing break. Simple life with an elegant edge perfect!
Response from The Shepherds Hide
Thank you for your very kind review. We are so please you enjoyed all our hut and surrounding area has to offer. We hope to welcome you back another time.
Relaxing getaway
Being just outside of Colchester the shepherds hide is easy to get to, if a little tricky to find the first time! Although being tricky to find is no bad thing, being tucked out of the way in very peaceful surroundings the very well equipped Teal shepherds hut is a real treat. It is very modern with underfloor heating and double glazed windows. We had everything we needed to cook basic meals inside but being a break we mainly ate out. The Black bouy in nearby Wivenhoe being a good choice. There's plenty to do in the area even if the weather doesn't play ball. Thinking of downsides the only thing I can come up with is that one of the geese seemed to take a particular disliking to me much to my girlfriends amusement.
Superb
Fantastic little hide away. Great setting. So peaceful. So close to nature. Hut is finish to great standard. And the bed was so comfortable. Need that bed at home :-)
Perfect setting
We have visited before and will visit again. Perfect place to unwind and relax. Everything you need is provided, couldn't ask for anything better.
Little gem!!!
We booked this just to get away from it all and it certainly delivered..The Hut was amazing, it was furnished in such a beautiful way and the finish was of a really high standard and the view was great, was lovely just to sit and watch the sunset. I would recommend this place to all of my friends and feel completely recharged and ready to face the world again!! Would love to visit again one day...
Absolutely amazing!!
Going to this place was the best break ever. The cabin itself was so nice and cosy and just everything you could want. The setting around it was the best! I have never been anywhere so relaxing. It was even the perfect place for me to propse to my girlfriend. Thank you for the lovely experience. We will defo return!
Response from The Shepherds Hide
Firstly, CONGRATULATIONS!!!! We are thrilled to have had a second proposal here at The Shepherds Hide. Thank you also for your very kind feedback. We are so pleased you enjoyed your stay with us and we very much look forward to seeing you again. 
Can I live here forever!
Oh my God, this was place was absolutely amazing! Perfect place to recharge the batteries and chill in a memorable, peaceful, beautiful setting with a glass of bubbles overlooking the lake & wildlife...We massively enjoyed ourselves and would really recommend this place to everyone!!! The patio is perfect for a BBQ followed by a cheeseboard on the picnic bench haha! Just raging we missed the new Labrador puppy!
Response from The Shepherds Hide
Thank you so much for your very kind feedback. We are so pleased you enjoyed your stay with us and were able to fully enjoy all our farm has to offer. Please do come again (and meet the puppy!!) .
Completely idyllic
This was a wonderful retreat, away from everyone and everything except the natural and tranquil surroundings. The hut had everything you needed and was very comfortable. Will definitely be returning. Thank you
Response from The Shepherds Hide
Thank you for your very kind feedback. We look forward to welcoming you here again. 
Perfect weekend away
My boyfriend and I stayed here for his 21st birthday last June and it was beyond perfect. The cabin was furnished beautifully and the owners had put thought into every tiny detail. There is also a fully functioning bathroom and an enormously comfortable king size bed, which made our stay here even more pleasant! The location was also a massive bonus for us, as we could relax in the country side at the cabin if we chose to but could also drive to nearby pubs and restaurants if we fancied it. Would recommend the Shepherds Hide to anyone who is looking for a quiet, relaxing retreat, it's 10/10!
A perfect bubble of relaxation
Having read reviews elsewhere about the Shepherds Hide, my wife and I had high expectations. Well, what can I say? It exceeded them in every way.
Our visit coincided with 'Storm Imogen' and we must admit we did wonder how the first night would be. The underfloor heating, log burner, and VERY comfortable bed meant we were nice and cosy, and actually had the best night's sleep we've had in a really long time!
One of the things that really makes it special, is that the owners have added some truly lovely touches to the Hide. Waiting for us in the kitchen was a basket of local produce which included some homemade jam, bread, juice and eggs. They'd also thoughtfully provided tea, coffee, sugar, milk and butter. The kitchen is very well stocked with pans, crockery cutlery and cooking utensils, so if you feel so inclined, you can cook a proper meal on the stove and oven. The Hide is spotlessly clean, organised and most importantly (at least to us) is set in peaceful and quiet surroundings. It was just what we needed, the perfect retreat.

Why book with Cool Camping?
Best Price Guarantee, with no fees
Instant booking confirmation
Trusted for over 10 years
A chance to win prizes in our regular competitions
Book campsites near The Shepherds Hide