A beautifully located, eco-friendly yurt with every comfort required despite its off-grid, mountainside setting
When Robert King and William Read first moved into the Sierra Nevada mountains they had a fair task ahead of them, with the early days devoted to renovating a farm house into both their home and an accommodation business. It was then, however, that they could turn to their true plans for their hillside haven, establishing a stunning garden in the 8000 square meters that surround the main building. A patchwork of formal gardens, untended wildflowers and climbing wall plants weave around the space. And in a quiet, private corner, a slice of the garden is cordoned off for one very particular use. Poised amid blossoming trees and sun-scorched grasses, The Green Mountain Yurt stands. A secluded off-grid abode with every comfort required for a luxury Spanish getaway.
A backdrop of steep mountain valleys, peppered with quaint Andalucian villages, provides the Green Mountain Yurt with a broader beauty than just the immediate garden surroundings. The structure itself matches the beautiful setting. Following a traditional Mongolian design, the canvas is lined with a thick wool felt interior, providing warmth in the winter whilst also reflecting away the infamous summer heat. The steam bent, Spanish chestnut wood is sourced locally, with the yurt built in the nearby town of Cadiar, and the interior décor continues the natural feel, with white wooden furniture, a log burning stove, Moroccan rugs and a light, full sized double bed.
Outside, on a raised wooden deck, the Green Mountain Yurt Shack provides a shaded outdoor area for cooking, accompanied by a private bathroom with an incredibly well-equipped modern shower, wash basin and cleverly designed composting toilet. The kitchen area has everything you need for a self-catered hideaway, all the utensils, along with twin gas hobs, a fridge and ample preparation and storage space. Guests can use vegetables from the garden and eggs from the hens that scratch around, or, for those fancying a night off, a home-cooked meal can be ordered, freshly prepared by Robert and William back in the main house.
Despite all the comforts you'd expect from hosts who already run a successful self-catering business, the Green Mountain Yurt also boasts top eco-credentials and is an entirely off-grid hideaway. Solar lighting operates throughout, working alongside a separate solar panel that heats the shower and hot water. A gas supply runs the kitchen hobs and the small fridge, while those still desperate to charge a phone or use the Wi-Fi can meander back through the garden and use facilities in the main house. It is from there that you can also jump back in the car to drive to the coast or to historic Granada, just over an hour's drive away. Happily, for most visitors, the setting provides a holiday without the hum drum of driving around. An exploration of the mountains can be done right from the campsite doorstep. Horse riding, canyoning and natural bathing in the mountain streams always prove popular, while such distinctly rural activities shouldn't take away from the fact that a host quaint towns and villages are still well within walking distance.
Best Price Guarantee
Easy and Secure, with instant booking confirmation
Trusted for over 10 years
A chance to win a brand new Coleman tent!
Gallery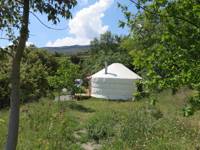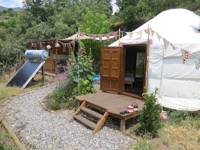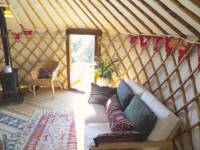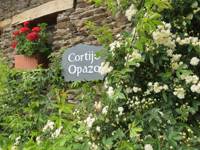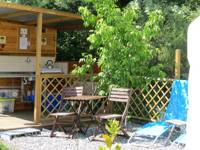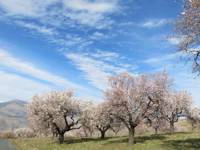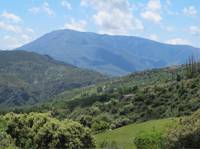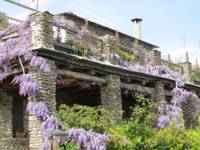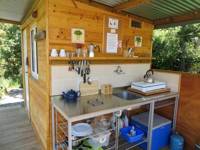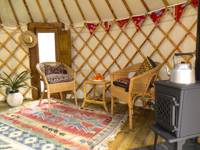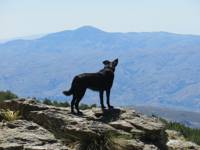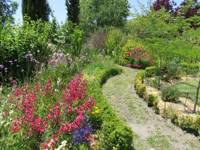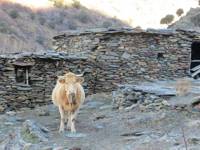 The Owner Says
Green Mountain Yurt is a single yurt, ideal for two people, situated in the grounds of Cortijo Opazo, in the Alpujarras of southern Spain.  It can be ideal for a family since we can erect a small tent next to the yurt for children to sleep in.  The yurt has a great log burning stove for rentals in cooler seasons, it has its own open air kitchen and a private bathroom with solar powered hot water and stylish compost loo!
Reader Reviews
Add Your Review
Awesome and unique
We had the most amazing holiday in the Green Mountain Yurt! The Yurt is fabulous, and Robert and William were great hosts. Everything that we could possibly need was provided and the extra info that they gave us about the local area was spot on. We camp a lot but this is a special experience, giving you the simple lifestyle of camping but also complete comfort - Magic!
We will return for sure.