Le Camp
Le Camp, 82330 Varen, Tarn-et-Garonne, France














The most refreshing campsite pool you'll ever swim in, plus thoughtful touches of luxury throughout
If there's a better feeling than that of gliding smoothly through a crystal-clear natural swimming pool while eye-to-eye with frogs perched nonchalantly on rocks, then we've yet to experience it. The chirp of crickets, the buzz of dragonflies, birdsong, and, of course, the croaking chorus of those ubiquitous frogs provide the soundtrack to a wonderfully wild swim which proves the perfect introduction to Le Camp, a secluded southwest campsite set in leafy surroundings and combining five-star facilities with a truly relaxed atmosphere.
The site is owned and run by Claire and Nigel, a British couple who took over the running of Le Camp in 2017. Nigel previously ran a luxury tented safari camp in Kenya, where he also worked as a professional wildlife guide, and the spirit of the classic African safari, "luxury in the wild" as he aptly describes it, is clearly key to their ethos. It's all subtly reflected in the furnishings and chilled out atmosphere at this soporific French escape.
Don't worry, though, the essential spirit of camping still remains. The central cooking area lets different visitors meet and chat while they prepare dinner, but there's none of that cringeworthy group action. Sure, there's a little court set up for an impromptu game of pétanque and a badminton net hangs between two trees, but there are no chalked-up league tables or happy-camper types urging you to join in the fun. The vibe is as natural as the surroundings and guests can socialise as much or as little as they desire.
Perhaps most impressive is just how different it could have been. Sitting in the stunning Aveyron Valley in the Midi-Pyrénées region, this formerly run-down campsite used to have some 38 camping pitches but for the past 10 years the previous owners have allowed the the surroundings to flourish, shrinking it down to just a handful of safari tents and woodland yurts. The eco-credentials, too, are impressive. 'Grey' water is recycled, solar lighting is used and the pool is cleaned naturally by gravel and plants. Local, organic products are used as much as possible, and most of the furniture has been hand-made.
Gallery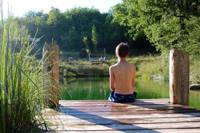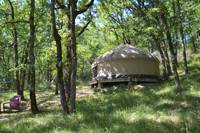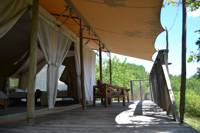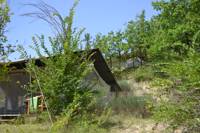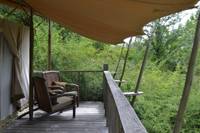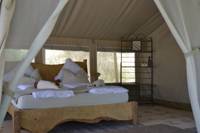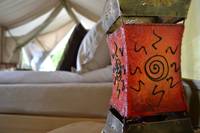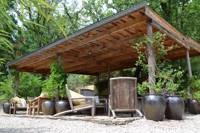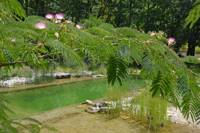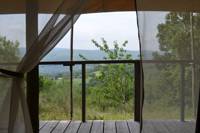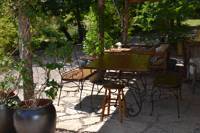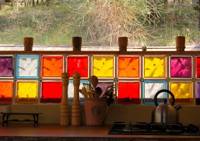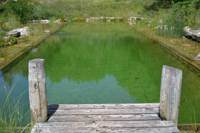 The Owner Says
Le Camp offers luxury camping, or glamping if you prefer!  It is a unique holiday experience. Here you will discover the thrill and adventure of sleeping under canvas without the discomfort of traditional camping. We offer the luxury of a hotel and the self-sufficiency of a private villa. Set deep in the countryside of South West France, a little off the beaten track, at Le Camp you will find peace and tranquility amongst the trees. Encounter nature in style in your own private hideaway.
Win a £100 Blacks Voucher!
If you've stayed at Le Camp campsite, please take a minute to tell us about your experience. Every month, one lucky reviewer will be picked at random to win a £100 voucher, courtesy of our recommended retailer Blacks. Each review counts as one entry, so get writing!

Reviews
Add Your Review
Heaven for children!
We felt our London blood pressure falling as soon as we walked through the gates – there is a genuine stress-zapping atmosphere at Le Camp!
It's a peaceful hideaway in a stunning part of France. Nights under canvas but in a fabulously comfy bed; woken by the birds and then being served up an amazing latte; lots of activities locally and Sally to help organise them for you! We had the best family-day EVER – a trip down the Aveyron in a canoe which was hilarious fun!
The pool area is a mini nature reserve in its own right and the pool itself, dreamy to swim in. The kids especially loved swimming with the frogs!
The kitchen is brilliantly laid out with your own fridge (which we soon stuffed with the amazing local produce!) and the whole campsite was beautifully kept in a natural and totally unpretentious way. 
Our tent was spacious with gorgeous hand-made furniture and set well apart from the other tents/yurts and also had my favourite spot – the chair on the verandah overlooking the kids in the pool!
The only problem was trying to extract the children when we had to leave in our now super-relaxed state – they couldn't bear to leave! We'll be back!

5th stay and still amazing
We have just got back from our fifth week at Le Camp. Our children are now 7 and 10 and we have been coming since my wife found Le Camp on the Internet and said it sounded like a great place to go on holiday. I agreed until I saw the price of the tents and yurts. This is no cheap camping option but that is not the point and it is pretty clear from the moment that you arrive that this is not a campsite. In fact, we have found it's actually great value - our experiences of holidays in France have involved finding gites arriving at them and being disappointed by something or other and then spending a lot of time driving to places to keep the children entertained. As a family we would rather spend a week at Le Camp than two weeks somewhere else.
You could easily spend the entire time swimming in the incredible pool, bouncing on the trampoline, reading, playing badminton, fishing for trout in the stream at the bottom of the hill, contemplating the Milky Way and restrict yourself to a couple of forays to local markets for supplies. There are a heap of excellent things for children to do within 20 minutes drive or so including Kayaking, tree climbing at the French equivalent of Go Ape, caving (both in caves that you pay to have a tour and in ones that you can find in the surrounding hills if you know where to look (ask Stephen).
The accommodation is beautifully looked after, the tents and yurts an adventure in themselves, the showers are open kitchen area are a highlight - especially if you get a few families with children of similar ages.
Sally and Stephen are extraordinary people who have put their lives into creating a wonderful place that is hugely appreciated by everyone who comes to share their dream. The breakfast, as high class a continental breakfast as you could possibly imagine - local sausages, cheese, preserves, croissants and baguettes baked that morning, endless cappuccinos and the limitless patience of the hosts when it comes to booking things and giving advice about what to do, how to get there and the books in the library that they think you will enjoy.
It would be lovely to think that everyone could experience a Le Camp holiday but the reality is that while the location and the campsite are a big part of the package, without the incredible eye for detail and total dedication to making the whole thing work that Sally and Stephen put in, it wouldn't be the same. They remain committed to making Le Camp, small and special.
Best Holiday Ever
Le Camp is one of the most incredible places we have ever visited. My wife and I stayed in late June 2015 and from the moment we arrived, we felt as though we were in Paradise. The tents are just stunning, as are all the facilities on the whole site. The pool is like nothing on this earth, and for us, keen sports people, to start the day with a decent swim in a full length, but yet, natural swimming pool was the most amazing experience. The local area has so much to offer and we did something special every day. The mountain biking (guided) was some of the best we have ever done. Stephen (the owner) knows the local area very well and he sent us off with maps and faultless instructions on 2 amazing hikes. Sally (his wife) organised a superb day of canoeing for us. We visited 2 fantastic castles and 2 amazing markets. Nothing is too much trouble for Sally and Stephen - they have countless ideas, suggestions and ways of making your holiday special. They go out of their way to do as much for you as they can - we even went on a guided adventure run with Stephen which took us up trails, across the river and though caves - a truly special experience which we could not have done on our own. The tents are absolutely beautiful and every little detail has been thought about. Neither of us have ever slept so well. This holiday was 100% perfect and we booked for the following year before we left, which says it all.
Best Price Guarantee, with no fees
Instant booking confirmation
Trusted for 10 years
A chance to win camping goodies in our regular competitions!
Book campsites near Le Camp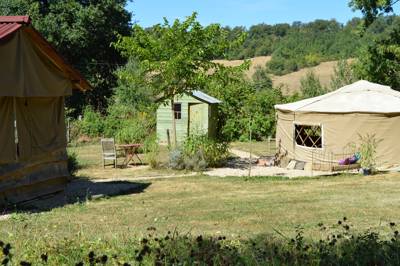 i
Campsites in Tarn-et-Garonne
Campsites in Midi-pyrénées
Campsites in France