Toubies Wild Flower Meadow
Poolside lounging and safari tent living in the forested foothills of the Pyrénées
On the northern edge of the Pyrénées Ariégeoises Natural Park, this wildflower meadow, embraced by green forest on every side, occupies a curious geographical space. Too large to be called hills, but not yet the fully-fledged mountains of the Pyrénées, the crinkled landscape of verdant valleys and picturesque hillside towns is a sort of halfway house. You can turn up to a pre-pitched safari tent here without having to drive along a million switchback roads. But the views, of an unfolding Pyrénéan panorama with peaks rising in the distance, are still just as stunning as ever. It's the perfect foothill retreat.
In total there are just two safari tents on offer, situated 40 metres apart and separated by a copse of tall, silver birch trees. Before them, the meadow slopes away into the forest with views to the wooded valleys and hills beyond. Behind that, meanwhile, are the Pyrenean mountains themselves, which form an ever-changing scene, from misty surreal mornings where snowy peaks float on pink clouds, to black silhouetted mountains against a fiery sunset.
Inside, each tent is well equipped with everything you need. There are double beds and singles, a kitchenette with cooking facilities and an en suite shower and toilet, while a firepit outside the doorway is perfect for an evening barbecue. The luxuries extend further still, to hammocks shaded among the trees (an after-lunch snoozing destination) and a swimming pool a little further down the meadow. There's even a bamboo gazebo for added shade and, at the top of the field, a special, heated spa pool straddled by a cushioned seating area and crowned with a wicker shade.
What's perhaps most magnificent about Toubies Wild Flower Meadow is how untouched the surrounding area is. The manmade luxuriousness of your outdoor abode is offset by the un-manicured, informality of the natural scenery. Aside from a few mown paths and seating areas, the place is strewn with wildflowers and shrubbery. Deer, badgers, squirrels and bird-life reign supreme and, through the woods and running down the eastern edge of the campsite, a tiny stream runs, drying out in the height of summer. It forms the boundary of France's Haute-Garonne and Ariege departments, feeding Le Volp – the river that winds through the bottom of the valley.
Unsurprisingly, the scenery here draws you out. The location is a haven for exploring on foot or by bike and there's plenty to do nearby. But when all else fails, simply traipsing off for a wander in the trees or lying quietly and watching for the wildlife will always do the trick. Hills, mountains, whatever you want to call them, they're a blissful place to be.
Gallery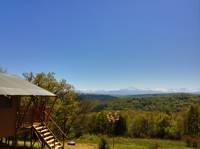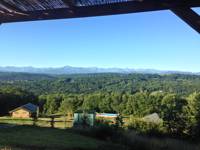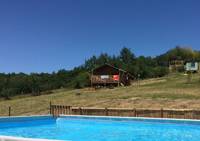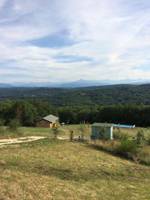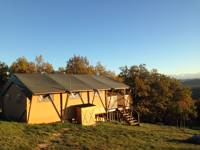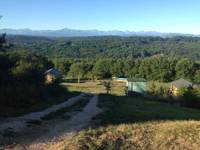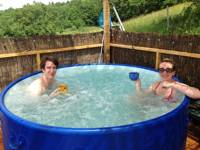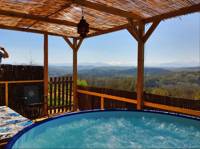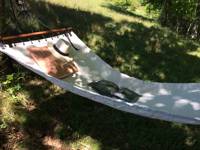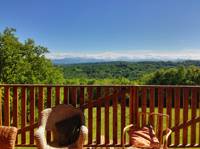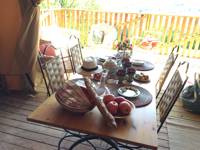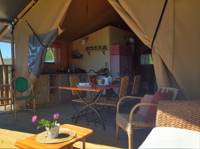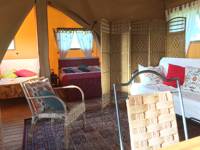 The Owner Says
Toubies Glamping  is in a truly stunning location - just two luxury lodge safari tents ecah sleeping up to 6 people is on a south facing 4 acre meadow surrounded by oak forests with the most spectacular views of the pyrenees.
Our luxury safari tents are set 40 meters apart on raised wooden decks and are tastefully and comfortably furnished with well equipped kitchens, inside wooden shower rooms (with flushing loos) and beds with quality mattresses and cotton bedding. The safari tents also have large raised covered terraces with views of the meadow, the 5x10m swimming pool (only for safari tent guests) oak forests and hills, and the beautiful mountains beyond. There is also a fire pit/bbq area outside each tent where you can sit in the evenings toasting marshmallows under the most amazing starlit skies. At the top of the meadow is a covered gazebo where you can luxuriate day or night in the large hot tub gazing at the mountains, the beautiful sunsets and starlit skies at night. No cars are allowed on the meadow but parking is only a 2 minute walk along a path through the trees lit by solar lanterns at night. (Don't worry about carrying heavy bags, we transport your luggage in our 4x4)
Toubies is in a secluded location but has great access to many activities in the area including hiking, walking, cycling (bike hire is available) canoeing, exploring caves and underground rivers, parapenting, high zip wires through the trees, the list is endless. For the less energetic there are the local traditional villages and medieval towns steeped in history, with bustling markets and restaurants serving delicious local produce. We are also only an hour from the beautiful city of Toulouse where you can wander for hours amongst the pretty cobbled streets or shop in the main boulevards; and for those interested in space exploration and technology don't miss a day visit to the "Cite  Espace"!
Reader Reviews
Add Your Review
Experience life how it should be lived!
Gary and Debbie were wonderful hosts in this idyllic location set in the near foothills of the Pyrennes. Ideal for families, with use of a good sized swimming pool and hot tub, and plenty of woodland for the young ones to explore, and perfect for couples who wish just to relax. Re-engage yourself back with nature in this serene, magical place! A perfect tonic to the stresses of everyday life. Thank you for an exceptional holiday!
Perfectly comfortable tent with excellent views and private forest, pool and hottub.
We are a family of four with two teenage girls and we had a great week at Toubies. The tent is more like a cottage with canvas walls and you can see the mountains from your porch. The pool is a good size and when it was hot it was lovely to read a book in the hammocks in the shady forest. The hottub is brilliant in the evening. There are lots of nice restaurants, walks and places to visit in the neighbourhood. We even went to Toulouse for a day. The hosts are very nice and helpfull. We warmly recommend it!
Fantastic view, luxurious tent and very welcoming hosts
In the summer we stayed a week in one of the safari tents. It was lovely! For us and for the kids. The view from the tent is stunning. It's quite and enough activities to do in the surroundings. Excellent camping to go with friends (two families). Being together when you want to and with your own familie. Hope to visit again some day.
Beautiful scenery, fantastic accomadtion and lovely hosts.
Had a lovely break at Toubies Meadows. Tents are beautifully done with stunning views looking out over the wilderness. Just the right amount of home comforts to keep us happy without taking away from that lovely feeling of camping and being outside. All topped off with some super lovely hosts. We will be visiting again.
Best Price Guarantee, with no fees
Instant booking confirmation
Trusted for over 10 years
A chance to win £50 of Cool Camping vouchers!
Book campsites near Toubies Wild Flower Meadow
i
Campsites in Haute-Garonne
Campsites in Midi-pyrénées
Campsites in France
Available:
1 Pitch
1 Safari tent
1 Bell tent
...