Roam Freely. Breathe Easy. Think Clearly. Luxury geodome glamping and cycling holidays on a smallholding in the Limousin area of France.
It's only in the last few decades that grey wolves have been reintroduced into the thick forests around Creuse, a department in central France. They roam in the fenced safety of Chabrières forest, a vast green rug that once spread across the region, encircling the tiny hamelt of Le Monteil. Today, though the trees are fewer in number than the wolves ancient heydays, the place is still blessed with a magical closeness to nature. Deer, owls and badgers thread their way among the pines. Flora and fungi abound.
Set on the fringe of the woods, a 15-minute drive from the wolves of Chabrières, Le Monteil Revolution is a site that seems to boast as much history as the trees themselves. Built during the midst of the French Revolution in 1792 (hence the campsite name), the farm cottage that owners Charley Tysler and Calum O'Connor are currently restoring wears the date, imprinted on a section of chunky stonewall, like a badge of pride. It has withstood the test of time, even through its more worn and crumbling years.
Just as wolves have been returned to Chabrières, Charley and Calum are re-introducing life to this old dwelling, too, and, since early 2016, have been restoring not just the cottage but the land around it as well. The eight-acre small holding today plays host to a luxurious glamping dome, kitted inside with a king-sized bed, wood-burning stove and enough bedding to keep you snug and warm whatever the weather. A huge, semi-circular bay window in the dome-side allows you to look out into the trees and keep watch for wildlife of the non-wolf kind, while within, battery and solar powered lighting adds some extra function to the off-grid setup.
Explore the campsite and you quickly find extra treats. In particular, the Japanese-style bath among the trees surrounded by rocks and with a superb view out across the valley. The hot, clean, chemical-free water is heated by a log stove and you can sit and wallow in the warmth to your hearts content (or at least until your fingers turn to wrinkled prunes). It's not the sole bathing spot though, as the dome also has its own private bathroom facility with a hot shower, but it is the spot with the best view. It's difficult to leave.
Elsewhere around the smallholding, pigs nuzzle among roots and geese waddle around the driveway. There are also chickens that supply the daily eggs and the owner's have a small honesty shop allowing you to buy their fresh fruit and vegetables when in season. On hand to give any advice on the area or lend you maps if needed, Charley and Calum are also keen cyclists and plans are already afoot to offer two-wheeled holiday packages to guests in the coming seasons. For now they make do with recommending the local footpaths, with routes starting right from the campsite entrance. Take some sturdy shoes and binoculars for the wildlife. Oh, and keep your eyes peeled for those wolves!
Best Price Guarantee
Easy and Secure, with instant booking confirmation
Trusted for over 10 years
A chance to win a brand new Coleman tent!
Gallery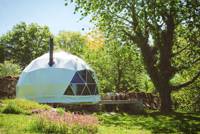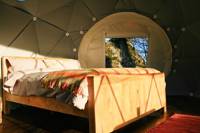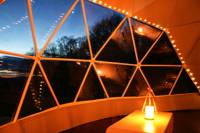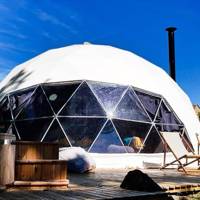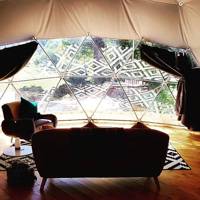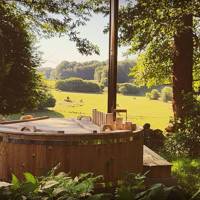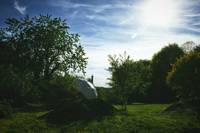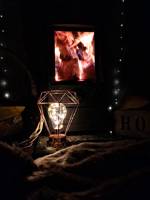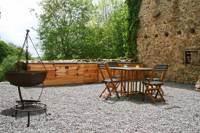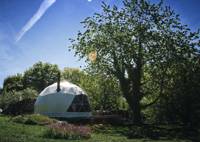 Video Tour
The Owner Says
Roam Freely. Breathe Easy. Think Clearly. Luxury geodome glamping and cycling holidays on a smallholding in the Limousin region of France.
Do you want to stay in the great outdoors but don't want to give up life's little luxuries? Well at Le Monteil Revolution you don't have to! Our Geodesic Domes Rocher and Châtaigne enable you to sleep under the stars in total comfort all year round. Each dome also comes with its own private decking and its very own wood fired hot tub which has completely chemical free water for the ultimate outdoor bathing experience.
Not only do we know how important a good night's sleep is, but we also know how annoying queuing for the shower in the morning can be. That is why everyone at Le Monteil Revolution gets their own stylish private bathroom complete with towels, toiletries and hairdryer. The choice between the fully equipped communal kitchen and the outdoor summer kitchen mean that you won't have to pack the kitchen sink either!
Our dream is to create a space where people can truly relax. Where they can discover things about themselves and the world around them that modern day life may prohibit. This is why we encourage everyone who visits to explore the natural wonder and beauty that Le Monteil and the surrounding area has to offer, be it on foot or by bike. It is also why we try to minimise our impact on the environment working with and harnessing our natural surroundings wherever possible.
The creation of Le Monteil Revolution was the start of a journey for us and we hope it is for you too