Sociable, rural, bell tent glamping on the Limousin-Auvergne border where campfires are permitted, stargazing is a must and space is always guaranteed
'Canvas under the stars'. That's the direct translation of La Toile Sous Les Étoiles and an appropriate one given the dark skies that this rural part of East Limousin affords. When the sun sets and only the campfires flicker at this brand new glamping retreat, the Milky Way dazzles with its full display. Even the furtherest stars seem to wink at you.
Created by British ex-pats Nigel and Olivia Stanton, who first fell in love with the region on holidays of their own, this comfortable take on camping offers an enchanting mix of luxury and ol' fashioned outdoor fun. In a wildflower meadow, flanked by mature trees, mown pathways weave their way between the six different bell tents, each pitched on a flat wooden deck where garden chairs call out for you to sit down in the sun with a good book. Inside, the bell tents are bunting-clad beauties – think vintage chests, oak-framed beds and marble-topped cabinets – where the tiniest touches show real attention to detail. An up-cycled pastis bottle has been turned into a bedside lamp, freshly picked flowers fill a vase and complimentary tea and coffee await. There's no denying this is camping done right.
The same thoughtfulness has been given to the rest of the space. Walk past the swimming pool to old farm buildings, where you'll find bathroom facilities and a kitchen, which, though plush, still have a wonderful sense of place. The charmingly rustic washing-up sinks, for example, are made out of deep wooden buckets, while the stone ablutions barn feature exposed corrugated iron along the walls. The kitchen, well equipped for the maximum of 20 guests the site allows, has a range oven, wood-fired bread (or pizza) oven and a private fridge for every bell tent.
While such facilities make for easy living, it's the all-round setting of La Toile Sous Les Étoiles that makes it so special. It's easy to see how Olivia and Nigel so quickly fell in love with the place. The young orchard overlooked by ivy-dotted barns, the old farm tracks to stroll along and the reliably brilliant weather. Why wouldn't you want to live here? Throw in the convenient amenities of Auzances, the local town a 5-minute drive away, and the vast regional park – Parc Naturel Régional de Millevaches – a half hour drive beyond that and there's everything you could want for. Not that it's all needed. Some days are better spent doing absolutely nothing but lazing beside the pool.
Details
Facilities
Each tent is individually designed, all are furnished with Vintage French furniture; beds and mattresses, with all bedding, linen, tea-towels, bathroom & pool towels provided. The tents are set on solid bases and are 'carpeted' with coir matting, chests for clothing and personal items and a dresser well stocked with glassware, crockery, cookware. Low energy, solar powered LED lights alongside candles and, of course, campfires. Outdoor furniture includes a dining table and comfortable director's chairs, under the shade of an additional canopy during high summer and deck chairs. Options of a gas ring for morning cuppas or a Kadai fire bowl, which can be used for BBQs, heating food in the suspended tripod pot. There are individual mains-powered fridges in 'the old pig sty'.
Our vintage Caravan 'Luna', sleeps upto 5 and is similarly equipped with bedding, linen, towels, kitchen equipment etc.  Outside, a covered deck to the front will provide a comfortable dining area and an outdoor 'kitchen' with a double gas ring and a cool store (an adaptation of the original fridge from the caravan).  Luna will be positioned in a secluded corner of our site with a private garden area, again equipped with a Kadai Firebowl/Firepit, deckchairs, parasol etc. The caravan itself is 'off grid', with low energy LED lighting powered by a solar panel for convenience and candles for ambience.

A 'Guest barn' houses a fully equipped dining and cooking area, complete with a range cooker and an ancient bread/pizza oven where we cook fresh pizzas on 'Pizza nights'. Private, luxury shower rooms in another barn, exclusively yours for the duration of your stay. Outdoor Swimming pool, surrounded by decking and furniture. Communal firepit and BBQ area, a lovely spot for star-gazing nights - the light pollution here is some of the lowest experienced in Europe Complimentary tea & coffee, basic cooking essentials such as salt, pepper, oil plus washing up liquid and lavatory paper are provided. A 'Medieval' style marquee in the orchard provides another place to relax and socialise in the shade, also ideal for group dining.  Solar shower hut - your chance to shower with a view with water heated by the sun. 'Annexe' tents - we have smaller, 3m diameter, bell tents that can be erected on the same pitch, furnished with one or two single beds giving parents and older children alike more privacy ( 2 available).
Suitable For
Glamping only. Max 20 guests on site at any one time. No campervans, caravans or own tents. Dogs and big groups welcome by prior arrangement.
Nearby
It's 20 miles to
Aubusson
, world famous for its tapestries, with beautiful works of art on offer, galleries and plenty of restaurants and shops, as well as the main museum. There are nearby markets and chateaux for the archetypal French experience and a plethora of activities for families who fancy a spot of adventure. Drive around an hour to;
Lac de Vassivière
, the biggest lake in Limousin in the
Regional Nature Park of Millevaches
.  Cycle around the perimeter, sail, kayak or swim in the lake itself enjoying one of the many beaches along its' shore. Similarly,
Sioule-Loisirs
(27 miles) is a great multi-activity base in the Sioule Gorges, with canoes, kayaks and electric mountain bikes for hire.  The UNESCO World Heritage site 'Parc Naturel Régional des Volcans d'Auvergne' (www.parcdesvolcans.fr)
, provides many opportunities for outdoor activities, two theme parks and even paragliding!  The mountains of the 'Massif du Sancy', a ski resort in winter are, in summer, a natural theme park for walkers & cyclists, there's a summer luge and the cable car will take you to the summit (www.sancy.com).
Food & Drink
It's a 5 minute drive into Auzances, where there's a handful of small restaurants and cafés and a market on Tuesday mornings. Plus, all the basic essentials – three bakeries, a butcher's, a pharmacy, a bank, a post office, vets, a furniture shop... a lawn mower store! For groceries, head to the big Intermarché supermarket just on the other side of the village.  The summer months see the addition of a 'pop-up' bar and bistro by the small lake in Auzances, which is very popular with local people - what better recommendation can there be?  There are a number of other, charming 'Auberge' type restaurants within a 15 minute drive.  Each summer, local villages and towns hold antiques/bric-a-brac markets and their own annual fetes.  

Open
May–late September.
Why book with Cool Camping?
Best Price Guarantee, with no fees
Instant booking confirmation
Trusted for over 10 years
A chance to win prizes in our regular competitions
The Owner Says
Originally from the UK, in 2017 we moved to France with a big vision of a new future!  Over the last 30 years we have spent many happy holidays camping, caravanning, boating, motorhoming and self-catering, learning to live in bijou spaces without compromising on creature comforts.  A long held dream to open a campsite led us to go down the Glamping route.  Our first year in France was spent creating a special holiday destination and in 2018 we opened La Toile sous Les Etoiles - a place where you, your family and friends are invited to enjoy the natural surroundings, a chance to rediscover a simpler way of life, but with a touch of luxury and glamour! ​We welcome bookings from couples, families & groups (special events) Dogs are welcome.
WE OFFER YOU … Bespoke cream canvas bell tents (and one vintage caravan!)– on solid bases and fully furnished,  well spaced, only 6 units/maximum of 20 guests on site at any one time. Vintage French beds made up with carefully chosen crisp linens ready for your arrival.  Fully equipped; ample crockery, cutlery, utensils, pots and pans - just what you might have at home. Lighting powered by the sun and candles. Low energy LED lighting is installed and candles for ambiance. Cooking on gas or an open fire ; gas ring for convenience or a Kadai Fire bowl for barbeques, heating food in the tripod suspended cooking pot, or on a specially designed pan. Your own mains powered fridge and a cool box. Luxuriously appointed private shower rooms – housed within an old converted barn. Beautiful Outdoor Swimming Pool with furnished decked surround.  (The pool is fenced for safety reasons). A 'Guest Barn' fully equipped to cater for up to 20 people, a range cooker and a huge dining table, an our original bread oven in which we will cook you handmade pizzas on pizza nights. A communal fire pit/barbeque area with a 'monster' of a Kadai Fire Bowl.
- NEW FOR 2020!  Vintage Caravan ' Luna' - an early 1970's caravan with the interior being re-designed to create quirky, stylish, fully equipped accommodation for upto 5 people. Current images, artist drawings etc will be updated with photography as the transformation progresses!
Social Distancing Measures
- Each of our units is self catering and are at least 30 metres apart.
- Each accommodation unit has its own private shower/WC (this is standard for us, we have 6 units and 6 separate shower rooms). 
- There will be hand sanitising stations nearby to all communal areas.
- All communal areas will be signed to indicate that guests should keep a 2m distance away from others who are not in their family group.
- There will be enhanced cleaning of the accommodation units and the bathrooms, particularly between guests.
- Our washing up area has three sinks, but we will take out the middle one to ensure a safe distance between guests.
- Linens will be washed at 60 degrees (min), with guests invited to bring their own bedding if they wish.
- We have added additional cooking facilities to each unit to minimise use of communal cooking area.
- Communal seating areas will be well spaced to encourage good social distancing practice.

Offers & Deals
The best offer will automatically be applied to bookings on Cool Camping
Accommodation
4 bell tents sleeping up to 4 people, 1 bell tent exclusively for couples, 1 vintage caravan for up to 5 people.

All accommodation capacity can be increased by booking the 'Baby Bell' Annexe Tent in the Extras option when booking.

Check Availability
Extras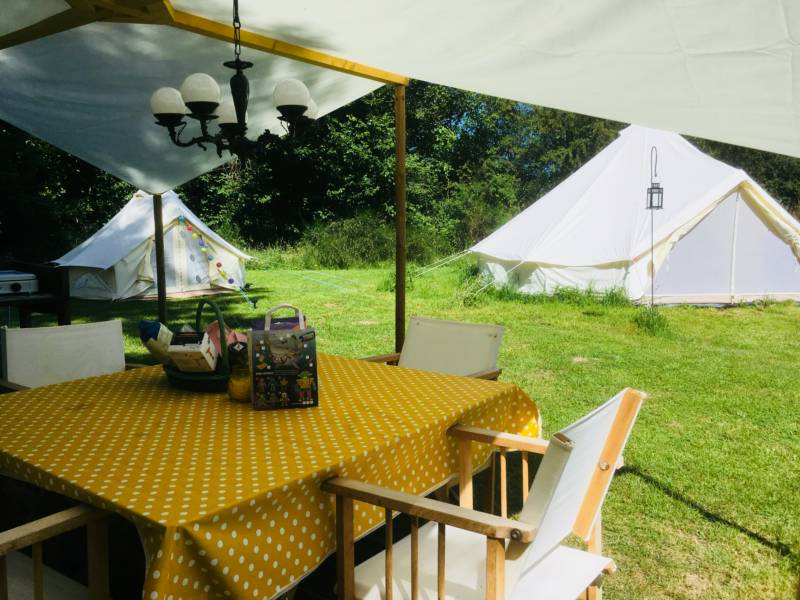 'Baby Bell' Annexe tent - 3m Bell tent
It is possible for us to erect an additional (very cute) smaller 3m diameter, 'Baby Bell' tent on any of our 6m or 7m 4 berth tent pitches - Aurora, Lyra, Cassini & Galileo.    We can furnish this with either one or two single beds if more privacy is required, perhaps for teenage children or sharers?     The annexe tent will be equipped with battery operated lighting, a rug and bunting, but no other facilities.  If you wish to use this annexe to increase the stated occupancy of your tent, please discuss this with us before booking.
Location
Contact La Toile Sous Les Etoiles, La Chaux, 23700 Charron, Creuse, Limousin, France
Getting There
Be warned, La Toile Sous Les Etoiles' address is misleading... especially if using a SatNav! It's best to head for the nearest town: Auzances ('postcode' 23700). The campsite is around 4km from the town centre. From Auzances follow the D988 towards Dontreix/Pontamur/Clermont Ferrand. After the downhill sweeping bends coming out of the town, you'll cross 2 bridges. After the second, take the second left (the D4A1 towards Vergheas). Follow this road for 2km, passing through the hamlet of Les Vernades, and continue up the hill and around a sharp right hand, then a left hand, bend. Just beyond these bends, you'll see a crossroads sign. Straight ahead you will see 2 entrances in front of you. Take the right hand of these, into a Toile Sous Les Etoiles' car parking area. It's 50 minutes to Montlucon, where you'll find the main railway hub. It's an hour to Clermont Ferrand Airport and 2 to Limoges Airport. By car, Caen is the nearest ferry port (5hrs 25 mins), while it takes 5hrs 50mins to Dieppe or Le Havre. Calais is around 7hrs by car.
Reviews
Add Your Review
Rated ★★★★★ over 20 reviews
Perfect place to relax, enjoy the surroundings and your company!
We had a wonderful stay at La Toile Sous Les Etoiles with our almost 2-year-old daughter. She loved looking for small insects and animals around our private garden (slugs, snails, spiders, grasshoppers...) and walking around freely everywhere on the campsite. The attention to detail of Olivia and Nigel is really remarkable. Everything looks great, works perfectly and is beautiful. Some examples: a handcart to get your luggage from the car parking to your tent, a welcome bottle of wine, a coolbox to get your stuff from and to the fridge, the quality of the private bathroom, the bread delivery service in the morning, the small shop at the reception, the warm welcome, the optional social events, tips and info for trips around the area, kindling wood for your personal fireplace... We'd really love to come back and have the experience for a 2nd time! We also definitely recommend La Toile Sous Les Etoiles for families with young children: they will love it! Thank you Olivia and Nigel, and see you next time!
Response from La Toile Sous Les Etoiles
Thank you Peter for your kind words.  It was a pleasure to have you and your family here to stay and we are delighted that you found everything so pleasing!  It was our vision to create a space where families can relax and have a fabulous holiday together and you have realised that dream for us.  We would love to welcome you back at any time!  Best wishes
Glamping at its best!
We had a fantastic week at La Toile with our two girls aged 3 and 6. It was everything we hoped for and more! The bell tents, spaciously set in a wild flower meadow with plenty of privacy, are well appointed, comfortable and beautifully decorated with antique French furniture and handmade touches. The outdoor kitchen with gas rings is a great addition and provided some much needed shade on hot days. We also loved cooking on our Kadai Fire bowl and toasting marshmallows in the evenings. The private bathroom, own fridge with cool box and swimming pool are a massive plus when camping, and set this site apart from others we were considering. The communal spaces have been sympathetically restored, and there are plenty of seating areas around the old barn if you want to eat a meal away from your tent. We particularly enjoyed the pizza night where you get to make your own pizza and watch it cook in the old bread oven. Olivia and Nigel are the perfect hosts, friendly and genuine, nothing seemed too much trouble. They gave us daily advice on places to go which were suitable for children. We went to several lovely lakes with beaches and a market, all within an hour's drive. There's also helpful information and leaflets in the reception area, and an honesty shop for any essentials, the ice creams were a winner with our girls. This is by far the best glamping experience we've had and we wouldn't hesitate to book again!
Response from La Toile Sous Les Etoiles
Thank you Katy, both for taking the time to leave us a review, and also for the fabulous comments.  We thoroughly enjoyed having you and your family with us and we will remember it fondly.  Your girls were a delight and the drawings they left for us have inspired a new 'gallery' idea for our website.  I hope you had a good journey home, and thank you for having the confidence to visit us in these uncertain times.  We hope we will have the pleasure of welcoming you here again.  Best wishes.
Such a great place!
La Toile was everything we had hoped for and we highly recommend it to anyone who is considering it. Firstly, the site was amazing. The field and tents were laid out in a very clever was to ensure privacy for the tents whilst the swimming pool / play area were a good place for the children to play and have fun. The tents was great. It had everything that we needed, the beds were comfortable and the Kadai fire bowl was great for cooking. Nigel and Olivia were amazing hosts. They always ensured we had everything that we needed and that we had plans for the day. The pizza evenings were great (you made your own and Nigel cooked them in the old bread oven) and enabled everyone to get to know each other. Within about an hour fro the campsite there were lots of places to visit and things to do. Closer by there were local markets and several walks form the campsite itself. Overall, we cannot recommend La Toile enough. We had such a fun, relaxing and enjoyable week, I'm sure we'll be back soon.
Response from La Toile Sous Les Etoiles
Thank you David, it's so rewarding to receive such a lovely review.  We are delighted that you and the family enjoyed your stay with us and appreciate all your kind comments. We very much hope we will have the pleasure of welcoming you back sometime - we have lots of plans for next season, and beyond!  Best wishes...
The best Hosts
We were warmly welcomed by Nigel and Olivia on our arrival and they were the perfect hosts throughout our stay. A lovely bottle of fizz, home cooked cookies and a welcome bag for the kids were lovely touches and greatly appreciated when we first arrived. Every day Nigel and Olivia provided us with great tips on what to do and how to really make the most our stay. We all loved the pizza evening and the night we sat around the campfire chatting to the other guests whilst the kids toasted marshmallows and explored the starry sky with the help of Nigel telescope. The campsite itself is very peaceful and its easy to relax in the many spaces on offer throughout the campsite. The tents are beautifully decorated (as are all areas) and Inside the tent you will find absolutely everything you would need. There was a fire pit to cook on as well as an additional range in the barn so it made cooking very easy and convenient. Its a wonderful place to relax, take in nature, let children run wild and to make new friends.
Response from La Toile Sous Les Etoiles
Thank you for taking the time to leave your review, and for your kind words.  We are so pleased that you enjoyed your time with us, it was a pleasure having you here.  Hope that we may see you and the family again sometime...……….  With best wishes.
Stress free camping under the stars
This holiday was everything we hoped for and more. After a long drive down from Tours, we were relieved to find we had found the right place as we turned into the parking area only to be greeted with a personalised welcome sign designating our parking space. We then met our hosts Nigel and Olivia who went on to show us round the site and our amazing bell tent for the week. The welcome we received was above and beyond our expectations, with nice touches such as a bottle of fizz on arrival and goody bags for the kids. The homemade biscuits went down a treat! Olivia and Nigel have thought of everything..from your own dedicated bathroom and fridge to a bottle opener on the fridge room wall. The pizza nights are incredible, and as it was on the night we arrived it gave us a chance to meet everyone else. Our children enjoyed meeting the other children and loved the outdoor cinema and ice cream. We had a star gazing /marsh mellow toasting night which was thoroughly enjoyed by all, the children played with the other children to dusk and the adults enjoyed star gazing and looking through Nigel's telescope and chatting over a wine. We had a threat of storms one night and Nigel set up a movie for the children and the adults sampled local cheese and wine. The next morning the weather was a little grim and Nigel treated everyone to fresh croissants/choc au pains. Our boys loved the swimming pool, games area and catching bugs in the bug jar Nigel had made. Our little boys made some lovely friendships and got the most out of every minute of the day playing with their new friends in the meadow but we knew they were in sight. Memories they have made on this holiday i am sure will last them a life time. We definitely hope to be back. ps we are missing noodle the dog!
Response from La Toile Sous Les Etoiles
Thank you for your review Jonathan, much appreciated.  We very much enjoyed welcoming you and your family to our little piece of France and we are delighted that you enjoyed your holiday, our dream is being realised as we witnessed you and your boys enjoying themselves, their confidence with the creepy crawlies growing daily and Noodle is missing all the attention!  WE would love to see you again, Best wishes.
One of the very best places we've stayed on holiday
Our stay with Nigel and Olivia was a real treat, the tents were comfortable and well furnished and the location was beautiful and very relaxing. Nigel and Olivia, seem to be constantly working on ideas to make their guests stay as enjoyable as possible - home made pizza night (great for socialising), star-gazing etc. The site is very safe allowing children to explore and make friends. 20 guests in total which means that the campsite is friendly and not too busy. Deserves the 5 star reviews - we'd love to return to this camp site.
Response from La Toile Sous Les Etoiles
Thank you Paul, both for taking the time to leave your review and for the lovely compliments.  We are so glad you enjoyed your time with us and would love to welcome you back sometime ------ more developments in the pipeline for 2020!  We very much hope that you enjoyed the rest of your holiday in France.  Best wishes.
Amazing attention to detail
If you are looking for bespoke and exclusive (only x6 pitches) glamping in the heart of France then La Toile Sous Les Etoiles is the place for you. Nigel and Olivia have thought of everything! From personalised washrooms to fridges to outdoor cinemas to communal pizza nights to fire pits to BBQs to French chic furniture to comprehensive utensils to swimming pools to outdoor games to even a solar shower - it is all here! They are very welcoming hosts and if you get lucky with your fellow campmates the children will all run free playing together well into dusk and beyond giving you time to kick back and relax together under the stars. We were just passing through for three nights but could easily have done more. Thanks again!
Response from La Toile Sous Les Etoiles
Thank you Sam!  It was lovely to meet you and your family and we are delighted that you enjoyed your stay with us.  It was a joy to witness all the children getting along so well, relishing their freedom and looking out for each other. Our dog is missing the attentions of your youngest and we will treasure our photos of them together!  I hope the rest of your trip went smoothly and that the special birthday went well...…… Best wishes.  
Magical campsite
We had a lovely stay in the Cassini tent. Actually it was amazing. We loved our spot in the far corner of the wildflower meadow, the way the lights changed throughout the day, the smell of the grass, the coolness at night. The tents are beautifully decorated with lots of attention to detail. What a wonderful place created by very welcoming hosts. I wholeheartedly recommend staying here!
Response from La Toile Sous Les Etoiles
Thank you Inez, for both your review and for coming here!  We are so glad you and the family had a good time and hope that we will welcome you back again sometime (or maybe we'll be neighbours!?).  Best wishes.
A rural idyll!
This is a truly fantastic hidden spot and I couldn't recommend it highly enough! 100% worth the effort of a little extra driving to get away from the touristy strongholds. From our arrival our hosts made sure we had everything we needed, recommended places to explore and even helped us out of a tight spot when we realised every single super market in France is closed on a Sunday afternoon. The tents are luxurious and every teeny detail has been thought out. You can choose total privacy in the spacious areas around your tent, or choose to hang out by the pool or in the shade of the barn.. The showers are hot and powerful - though we would recommend an eco friendly solar shower in the evening light of the meadow! One night we made pizza in the traditional French bread oven (400c!!) with our fellow guests - a fantastic evening sitting at the long table under the apple trees, chatting, drinking vin rouge and enjoying the delicious food carefully prepared by our hosts. On another we lit a fire in the fire bowl under a magnificent old oak, drank our complimentary fizz, listened to owls and stared up at the magnificent Milky Way, before retreating into the absolute luxury of our linen sheets - the tent lit by gentle solar powered lamps and fairy lights. Tranquil, magical, peaceful and somewhere I immediately wanted to bring people to experience. Thank you Olivia and Nigel!
Response from La Toile Sous Les Etoiles
Thank you Amy, and Sam, for your lovely comments.  We loved meeting you both and are so pleased you had a good time, it was great to witness your enjoyment of our little corner of France and we very much hope that we can welcome you back sometime.  
Magical, fairytale Glamping
A field of wild flowers, six bell tents, the most incredible star filled sky at night. We've had the most wonderful week. Outdoor cinema night for the children, make your own pizza nights, star gazing nights. Olivia and NIgel have made this Glamping site truly special. If you choose to venture out and explore, there are some very pretty towns, the countryside is magnificent and the river offers canoeing and gorgeous walks. However, you could quite easily stay at La Toile Sous Les Etoiles all day and play badminton or lounge by the pool and soak up the sun and scenery!! Can't wait to return.
Response from La Toile Sous Les Etoiles
Thank you Rebecca, we are so pleased that you enjoyed your time with us and it was a pleasure to have you and your family here for the week.  We hope we have the pleasure of welcoming you here again in the not too distant future.  Best wishes.
Best camping experience ever!
If you're thinking of glamping I can't recommend this place highly enough. The hosts Olivia & Nigel really have thought of everything & go to great lengths to make you feel welcome & to provide lots of things to make your stay easy. A bottle of fizz on ice upon arrival, a designated fridge with milk & cool blocks, our own cool box to use whilst here, our own designated bathroom (one for each family here)! Bath & pool towels. Condiments, oil, seasoning, communal kitchen & eating area (group pizza night Veri sociable & loads of fun) plus your own fantastic Kadai fire bowl to cook on when you want to, plus gas ring, kettle, pans, cutlery, crockery. There's even a little honestly shop with basic provisions if you don't want to go to the supermarket! All you need to do is turn up with your suitcase! We will definitely return, a truly outstanding experience.
Response from La Toile Sous Les Etoiles
Thank you Amanda, your comments are truly appreciated.  I'm only sorry you and your family weren't able to stay longer, but we very much look forward to welcoming you here again.  Best wishes.  
The perfect partner for Land Rover
I recently ran a drive activity in central France for Land Rover and the perfect accommodation was critical to our programme. La Toile Sous Les Etoiles surpassed all expectations and our guests loved the luxury camping concept. The accommodation and facilities are exceptional. Olivia and Nigel were the perfect hosts and we were all sad to leave. I am heading back soon, it's the perfect get-away.
Absolute heaven
We spent four lovely days at La Toile sous les Etoiles just after school break up. We were seeking out the full camping experience but lack our own full kit, so finding this place really was a treat. We wanted for nothing at all, it was like being in a hotel but under the stars - comfy beds, beautiful crockery, practically an entire kitchen's worth of kit for us to cook with, and the list could go on forever. There is so much thought that has gone into every detail here, to make the experience comfortable and pleasurable. My girls ran around like wild things all week, practicing their independence by finding their own way to the loo, or playing with the resident pooch Noodle. They made up their own adventures, and of course with the pool they could swim all day and we could relax with them, and I didn't have to fall back on the electronic babysitter once in the whole trip! They felt so comfortable that by the end they were referring to our fellow guests as family! This is a testament to the amazing hospitality shown to us by Nigel and Olivia, their passion and love for what they do is so evident in everything here, we really felt completely at home. You will be wowed and touched by the attention to detail everywhere you look. The icing on the cake (actually it was all pretty special, it's hard to single anything out) was a lovely last night pizza party, making our own and having them cooked in the bread oven. Four days was not enough! We will be back for sure, hopefully regularly, this is the ideal place to wind down, get some clean air and peace, and also be in and around one of the most beautiful parts of the world. If you love camping, but are put off by needing to cart your own gear, this is your place. It has everything you want and more for a magical and relaxing holiday that everyone will love.
A little bit of paradise (although the hospitality's better)
If I didn't know better, I'd say there's something in the water at La Toile Sous Les Etoiles. This place is pretty close to an instant relaxation and de-stress cure. We arrived in the usual post-work, fragged state (having been fielding office emails and calls for most of the way down through France) to be met by Nigel whose opening words were "Looks to me like you need a beer". Never a bad start to a holiday. In a couple of minutes he'd got the La Toile Trailer loaded up with our luggage and we were heading for our tent - although 'tent' really doesn't do it justice. I've never stayed in a tent with a double bed and linen, proper lights (solar-powered no less), a stove, kettle, somewhere to charge your phone, a chest of drawers and coffee & tea laid on. Talk about putting the 'glam' in glamping! Each of the tents has its own area, with paths mown through the high wild meadow grasses separating them. So plenty of privacy, space and your very own view. And what a view... by day, you get fields, flowers, hills and not a building in sight (apart from the La Toile farmhouse and barns). By night, it's a blanket of stars like you've never seen. There's no light pollution at all, so you can just lie in the grass, look up and lose track of time as you constellation-spot. There may be better hosts somewhere than Nigel and Olivia, but I think it's pretty unlikely. Because they live in the area, we got tips about every antiques/fleamarket for miles around, advice on gorgeous villages to visit and even inside-track suggestions on the best wine from the local supermarket (about a ten minute bimble through the lanes). Eating one of Nigel's pizzas (hand made and cooked in one of the barns' original stone ovens), glass of wine on hand, looking up at the stars and chatting round the firepit is pretty damn close to heaven. I'd say the time it took to go from 'stressed enough to bite' to 'laid back enough to fall over' was a couple of hours, max. That's the magic of the place. La Toile really is the antidote to modern life. With pizza. When can we come back?!
Wish we could have stayed for months
We had the most wonderful long weekend glamping for the first time under the stars. Our hosts Nigel and Olivia (and Noodle the dog) made us feel so welcome. Such thought and care has gone into making this place so special and your time there idyllic. Each tent is like a beautiful hotel room with a wonderful, full-size comfortable bed, gorgeous furniture and a vase of wild flowers picked by Olivia. If you want privacy you can have it. Each tent is set far enough apart with it's own table, chairs and fire pit so you can sit outside and relax. Or if you're with a larger group you can get together in the party barn with the most enormous table (handmade by Nigel) or sit outside around a huge fire pit and toast marshmallows. There's also a pizza oven for pizza nights and if you ask Nigel he will get the ancient gramophone out and play wonderful old records. The setting is beautiful and so peaceful. It's such a lovely feeling waking from a good night's sleep to the sound of the birds and the ponies in the field next door with the morning sun gently warming you. There's also the wonderful swimming pool to cool down in, your own private shower room and toilet, and your own fridge. So much thought has gone into it all. Nigel and Oliva are the perfect kind of hosts, so welcoming and friendly but ready to leave you alone if you'd prefer. We wish we could have stayed longer and will definitely be returning as soon as we can. Highly, highly recommended.
AMAZING place!!
We have just come back from a fabulous weekend away, glamping at La Toile Sous Les Etoiles, and what a wonderful place it is. So much thought has gone into making this a truly superb place to stay. On the beautiful, spacious campsite, you have your own shower room for the duration of your stay, (meaning that you don't have to move your wash stuff out each time, and knowing that it is only you who uses that toilet!). You have your own full size fridge and a cool box to take to the tent. The tents themselves are set well away from each other and are all furnished beautifully, mostly with traditional French furniture. There are solar lights inside and outside the tents, you have your own table and chairs, and your own fire bowl. There is a gorgeous, proper swimming pool with sunbeds, and a barn which has been converted for guests' use for those days when it's just too hot to sit outside; it has a massive table that seats 20 and is fully equipped with a range cooker for guests' use, cutlery, crockery and a working pizza oven for when Nigel and Olivia run their pizza nights. Oh! And the stars! The stars are incredible!! I could go on and on and on about how wonderful this place is but trust me, this certainly gets 5 Stars Plus from us! Don't hesitate to book!
Lovely relaxing stay in rural tranquility
My wife, child and I had our first Glamping experience and loved every minute; surpassed all our expectations, a lovely well equipped tent - with tea and coffee making facilities - something you never get in a European hotel. A proper bed and loads of room to spread out. You also get an allocated shower room, so privacy and cleanliness guaranteed, and your own fridge, so you can keep your tonic cool and your fromage fresh. The local town Auzances has all the essentials and of course a lovely bakery for fresh croissants and gorgeous bread. The area is genuinely rural - the sort or rural that only France can offer, however Vichy for example is a lovely day trip away for sophistication and history. Our 11 month old loved exploring the grass, a cot and bath were provided, to make things easy for us - and him. All in all, a lovely relaxing time, Olivia and Nigel made us most welcome.
Space to discover
Our first time ever glamping experience in rural France turned out to be the most pleasant surprise! Tents tall enough to stand up straight in, with a super comfortable bed, cooking facilities, storage - in short, everything you need, including our own bath room (or rather, shower room), and our own fridge in the fridge shed. Altogether only 6 tents in a beautiful large green field ensures privacy. I particularly enjoyed the swimming pool, having been blessed with beautiful warm sunshine during our stay for a long weekend. We felt lucky enough to have a chance to try the delicious stone baked pizza, which was on offer for one evening during our stay. Enjoyed being woken up by bird song in an otherwise fantastically quiet environment, too. On Sunday, we visited a typical French antiques market in a nearby small town - rather romantic. A word about this part of France. Open Google Maps so that you can see the whole country on screen and the word 'France' lies right over the area where La toile sous les étoiles is situated—bang in the middle of the country. If you are looking for beautiful countryside with numerous lakes and rivers, small and interesting towns, wonderful walks and great driving country, this is where you will find them. It is pure French France, genuine and unclichéd. And there is always the comfort of your tent to come back to after a day of finding unexpected pleasures.
Welcome and friendly
We stayed over a bank holiday in this new and exciting site. The owners Nigel and Olivia have thought of everything for the comfort of their guests. Very good tents set far enough apart and excellently furnished. Each tent has it's own allocated shower and toilet in the shower block, also each tent has it's own fridge in the fridge room. A magnificent swimming pool to chill out by, with other areas with a fire pit and a communal eating area with cooking facilities and a pizza oven in one of the converted barns. This site is ideal for a group of friends or family to get together. We had excellent weather and a great time. Come on in!!
Beautiful
Stayed here for a long bank holiday weekend. Would highly recommend, great location in rural France. Loved having our own private shower room for the duration of our stay. Very comfortable tents. Owners have thought of everything you need to luxury glamping. We even had our own fridge in the 'fridge shed' which made catering very easy. There is a cooker in the guest barn too to use. Swimming pool was a great place to chil, which we did, as the weather was fabulous for our stay. Very Private tents, with fire pits, solar lighting and phone charging point. As I said, very comfortable. Go, you will have a lovely time.
Why book with Cool Camping?
Best Price Guarantee, with no fees
Instant booking confirmation
Trusted for over 10 years
A chance to win prizes in our regular competitions