Book campsites near Glisten Camping - Col d'Ibardin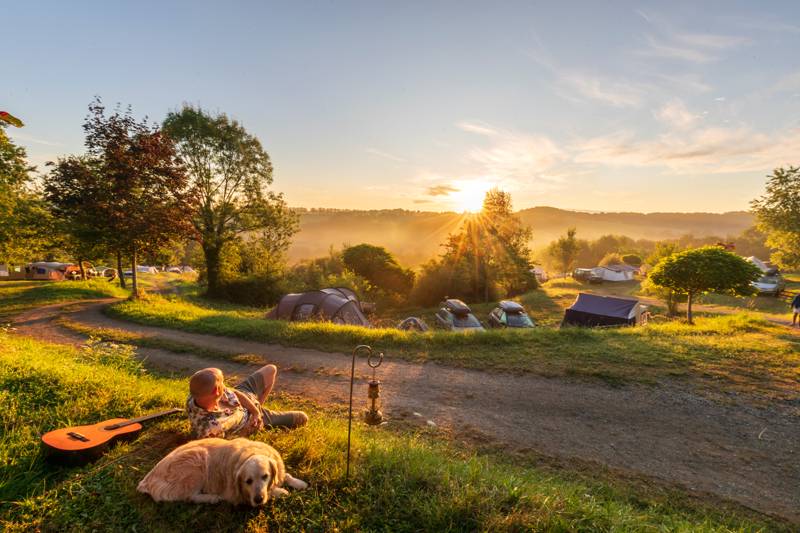 Campsites in Pyrénées-Atlantiques
Campsites in Aquitaine
Available:
10 Pitches
2 Safari tents
1 Cabin
Available:
5 Pitches
3 Cabins
1 Gypsy caravan
...
Glisten Camping - Col d'Ibardin
Space-age domes in the French south-west – modern glamping at its best
Some otherwordly structures have landed in the Labourd countryside. With their geodesic shape and strikingly white outer shell, visitors to these parts could be forgiven for thinking they've stumbled upon south-west France's very own Roswell. Well, the little green men could do a lot worse than the dome village at Glisten Camping...
An innovative new holiday experience, Glisten Camping brings some truly unique glamping accommodation to sunny south-west France. Like the domes themselves, the concept is simple. The brainchild of Cornish-based camping nut Simon Thomason, Glisten selects the best locations in south-west France then sets up the distinctively stylish geodesic domes, which sleep a family of up to six. As Simon succinctly puts it, "the great outdoors deserve a beautiful indoors". And then some. Inside, the domes are a triumph of ergonomic design that would have even Kevin McCloud struggling for superlatives. These stylish pods come complete with partitioned bedrooms, king-size beds and proper mattresses, hanging beds for the kids, and ultra-comfy Fatboy bean-bags. There's also a cool yet functional 'plancha' gas cooker and a spacious covered al fresco dining area for those long, lazy, holiday meals. So chic are these dextrous dome-iciles, it wouldn't surprise us if the St Tropez set migrated westward along the coast for a spot of glamping.
As all cool campers know, location is everything and Glisten certainly scores top marks for that. Col d'Ibardin, the first campsite on which the Glisten domes have been located, is a relaxed, family-friendly retreat that boasts all the bells and whistles we've come to expect of campsites in this part of the world (clean, modern facilities; swimming pools; decent bar & restaurant). This bucolic Basque bolthole lies at the foothills of La Rhune and is ideally located to explore the other natural delights the region has to offer. With its sweeping golden sands, enchanting pine forests and traditional mountain villages, Le Pays Basques – where France's Atlantic Coast meets the Spanish border – it isn't hard to see what makes this such a magnet for camping fans. And while it also boasts some of Europe's warmest temperatures, the cooling sea breeze of this breathtaking Atlantic coastline means the only thing you need sweat over is what enchanting corner of this region to explore next.
Details
Facilities
Swimming pools (2 for kids and one for adults), children's play area, onsite bar restaurant, kid's club, small farm, plus plenty of games including petanque, table tennis and basketball.
Suitable For
Glampers, familes, couples, kids – yes. Caravans, dogs – no.

Nearby
Explore the surrounding hills and forests or take to two wheels – Glisten can organise bike hire for the whole family, as well as surf hire and lessons. For something less labour intensive, take the vintage Train de la Rhune (0033 559 542 026) to the first summit of the Pyrenees – the views from over 900 metres high are spectacular. There's plenty of beaches to choose from too, with St Jean de Luz, Socoa and Hendaye among the nicest and nearest. The Basque region straddles some of the most spectacular sites in both south-west France and northern Spain. Take in the glamour of Biarritz or chic San Sebastián (Donostia to the Basque).
Food & Drink
With a wealth of delicious local produce and treats to be sampled (including Bayonne ham and Basque cake), most dome-dwellers opt to cook their own on the plancha grill provided. 'La Kantina' – the onsite bar & restaurant – serves up decent, good value meals and regional specialties such as axoa. Eat al fresco on the terrace or enjoy some private fuss-free dining with the takeaway service. Basic provisions can also be purchased from the onsite shop, open 7 days a week. For something extra special, make the short pilgrimage to San Sebastián, the city with the most Michelin stars per square foot in the world. If your budget won't stretch to the haute cuisine heights of Arzak (0034 943 278 465), saddle up at a harbourside tavern for some traditional pintxos and some good Rioja.
Open
April – September.
Location
Contact Glisten Camping - Col d'Ibardin, Col d'Ibardin Campsite, 220 Route d'Olhette, 64122 Urrugne, France
Getting There
From the north, take the RN10 and the A63. Take exit 2 – "St Jean de Luz south - Urrugne - Col Ibardin." At the roundabout, leave by the exit for Urrugne. Turn left and continue along the D4 to Ibardin D4 for 4km. At the intersection, continue straight towards Ascain. The site is located 200 meters down the road on the right.

Reviews
Add Your Review
Rated ★★★★★ over 8 reviews
Spacious tents on a delightful site
We have just left after a wonderful 7 days at Col d'Ibardin. The week had something for everyone. Our tent was close to the playground, swimming pool and reception which was veey convenient with young children. The park was great - catering for ages from 1-12 and had recently been updated. The restaurant was busy, so it really is necessary to book - especially if you want to eat outside but the service was great and when we did secure a table the food was perfect for our family. The facilities were immaculate - toilet blocks cleaned thoroughly at several points in the day. The tents themselves were huge compared to the popular European-wide brands we had previously used. Plenty of space for the whole family and very comfortable. Simon and Sue, the onsite reps, couldn't have been more helpful - suggesting things for us to do - Eureka Science museum in San Sebastian being a particular hit but also a walk at the Col where we met the local Pottok horses and an afternoon at Biarittz aquarium which everyone loved. The animators at the site put on a great timetable of entertainment for such a small (and very quiet) site - this was in French but open to all and my daughters particularly loved the mini disco. The enthusiasm of the staff was contagious, even though they were nearing the end of the season. Overall a perfect holiday - we hope that Glisten launch in other sites soon!
Brilliant
The dome was wonderful. The Glisten team of Matt and Lucy were really welcoming and helpful. The campsite and the area had loads to do. For us the highlights were learning to Surf on Hendaye beach (Lehena Surf school) and being whisked in to the heart of San Sebastian from Hendaye station by the fast Euskotren. Driving in and parking have previously both been challenging! Strongly recommended. 
Excellent family holiday
The domes are really spacious and you don't feel like you are camping at all because of the high ceiling height, the king sized bed and the fully stocked kitchen! I was a bit concerned my 23 month old would fall out of the hanging beds so we asked Simon to provide a cot, which he did, but she loved her brothers so much that we put the other hanging bed back up- she slept brilliantly all week! My four year old loved going to bed and slept  soundly! 
Having the little lamps was really handy too so you didn't have to have torches to hand all the time. We had a huge thunderstorm on our first night and the dome didn't move a cm, even though the rain was pretty load! But the beds must have been comfy as my son slept through the whole thing! 
The kitchen tent was good, although things got a bit wet around the edges after the storm, it was mainly water tight, and I think that storm was an exception! It was fully stocked with everything you'll need, a great hot plate you can cook anything from sausages to chicken legs, scrambled eggs or put a pan on and cook pasta! There was two fridges, which was handy for a weeks supplies. There was also a microwave and a microwaveable bowl provided.   The table was a good size with two benches and two chairs. 
The huge hammock on the decking was brilliant, liars if fun for the kids and relaxing (if they gave us a chance!)
We stayed in pitch 3, underneath a huge oak tree, you could see the play park and right next to the pool. The shower block was about 100m past the park and over the stream. Not a bad walk at night. We didn't get much sun on our pitch which was a shame, as the weather wasn't great. In the height of summer this would have probably been nice to have a shady spot! 
Simon(who runs Glisten camping) was excellent, really great at answering any questions before we got there via email and gave us lots if information about the area once we were there. 
The campsite was good, lots of acorns for my son to collect and store under his bed! A little stream running through it too. The swimming pools were good, but not heated and very cold after September rain! The baby pool was even colder which was a shame, I'm sure it would be warmer in mid summer!  As it was the very end of the summer, the campsite was very quiet which suited us! 
There was a good supermarket about 10 minutes drive where you could get everything you needed, even soya milk and yogurt which we were glad of. 
To be honest we didn't spend too much time at the campsite as the weather let us down a bit, but it didn't matter at all. We loved the area, especially hopping over to Spain and going to San Sebastien! A fantastic city in the rain or sun shine! Great beaches, modern kids parks mixed with old traditional building and lots of Spanish basque culture!  The food was fantastic too, sea food and tapas! The aquarium was worth a visit if it rains too. 
Loads of other activities to do locally too, we took the train up to the top of the nearest mountain, La Rhune, but there was caves to explore and Basque villages if we'd had more time.  Plenty of coastal town to explore too,. 
We are definitely going back!  Fantastic family holiday, the accommodation was great value in the first week of September. Definitely 5 stars! 
Fantastic Holiday
The domes are extremely spacious and comfortable. Our toddler LOVED the hanging bed and the "grass" floor. Our baby slept brilliantly in the cot provided. The hammocks and bean bags are super-comfy and fun. The campsite is great. Staff are really lovely, helpful and everything is clean and well-maintained. Simon goes out of his way to ensure your holiday is really special. Would definitely do it all again. A fabulous two weeks! Thank you!
Dome Good
After camping in France several times in our own tent we decided to go glamping  
Glisten is the way forward. we will be going again
Thanks for a great holiday
Upgrade to Business Class
We are experienced campers and have always used our own tents and equipment. We decided to try glamping this year and were attracted by the Glisten domes and plancha. It turned out to be a true upgrade to Business Class camping. The Dome and the campsite were just as described and Simon a very helpful host. Just be aware that it's a long drive from the UK and we recommend a stopover. If you can, avoid Bordeaux! 

Even better than we imagined
We feel very lucky to have discovered Glisten camping, having had an amazing six nights in a dome. 
The campsite is incredibly well looked after and well set-out, with beautiful big oak trees and private-feeling pitches. We enjoyed the bar and the food in the restaurant was surprisingly good and we felt very well looked after by all the friendly helpful staff. The shower facilities are better than we have at home, and even washing up isn't too bad as you can stand amongst the trees listening to a stream rush past.
Then there's the domes themselves, which are even more amazing than they look on the website. We were so happy to have the best bits of camping - with cycling down to the beach (and back up again with the aid of electric bikes!), long lazy meals by the dome, swimming and tennis and card games - and also have a comfortable bed, a well equipped kitchen and lots of different places to sit and read and admire the way the sun-light comes through the domes port-hole windows. We even enjoyed a massive thunder-storm as it was an excuse to stay in the dry secure dome and just enjoy the space. Everything in the dome - from the bedside lights to the hammock, the quality of the bedding and the layout of the space has obviously been chosen with great thought and appreciation for the effect they'll have on the feel and ease of the holiday.
When we weren't planning how we were going to incorporate a plancha grill and outdoor kitchen into our life back at home, we were planning how many of our friends we can get to come with us next time. Simon was a great host - making sure we got the most out of the area and out of our holiday. We can't recommend Glisten camping enough (except that we don't want too many people to book it all up - so we can come again sometime!)
Fantastic family holiday
This was a really fantastic family holiday. For me, Glisten recreated all the best elements of my childhood camping holidays, whilst taking the comfort and convenience factor up several notches!  Simon, the owner was so helpful and friendly, even going so far as sourcing a cake and balloons for my husband's birthday! The tent was immaculate, stylish and comfortable and our kids especially loved the hanging beds. Our pitch was next to a stream, very private and peaceful. The location of the campsite was perfect because there is just so much to see and do in the area. From quaint villages to seaside towns, surf beaches to sheltered coves, brilliant markets, great restaurants and many other things to keep us busy no matter what the weather. The facilities on the campsite are good too, such as the bar & restaurant, the shop, the pool and the children's playground. The bouncy castle was a big hit with our kids! If you want an authentic camping experience with that bit of extra luxury and style, then this is it.