Stay in a luxurious safari tent and feel the sense of zen-like calm which filters th­rough every inch of Simply Canvas
Sandra and Santi, the owners of Simply Canvas, couldn't be accused of being orthodox – they met in a Vietnamese monastery – she was a nun, he was a monk. After leaving for the world outside, destiny brought them to the Dordogne, whereupon they were married. The end? Not quite. They then set up a campsite that sought to encapsulate peace and equilibrium. As such, a zen-like calm filters th­rough every inch of Simply Canvas. Chickens wander past fat Buddha statues in the allotment, kittens bounce across the lawn as hammocks swing gently in the breeze – tune in, turn on, doze off. Wander through the lavender grove to the graphite-black, kidney-shaped swimming pool – it's like that because it soaks up and retains the heat of the sun. Why run a man-made heater when you can harness nature's own?
The accommodation is equally relaxing, with six safari tents furnished in traveller's paraphernalia – ornate globes, wicker furniture, peacock feathers... Each tent faces its own direction to maximise privacy. The site operates an honesty tab, so it's up to you to declare how many glasses of chilled rosé you've been tucking into while watching the extraordinary pink sunsets they fire up nightly. There's a high-beamed, candy-lit barn that is a playroom for kids on stormy days, venue for yoga classes, and also the kitchen and dining room. Because there are only six tents the atmosphere is intimate; you'll soon get to know your fellow guests, be it sitting al fresco or meeting on the way to the personalised shower each of you enjoys (your name is chalked on the door).
Weaved among the tents, the pool, the barn and the hammocks is the garden itself, Sandra and Santi's pride and joy. Their permaculture ethos ensures that everything is grown organically and sustainably, with each plant strategically placed in order to help the growth of those around it. The idea is to simulate the patterns of natural eco-systems and create a fruitful garden that simply maintains itself. It's just another way that the site continues its cycle of natural harmony. Simply canvas? It's simply wonderful.
Gallery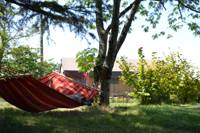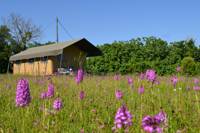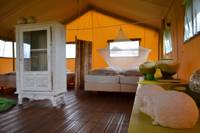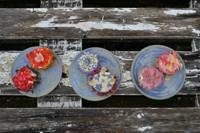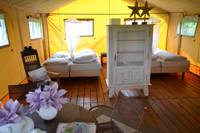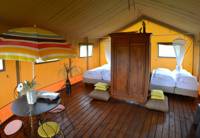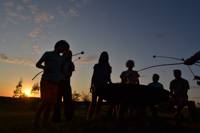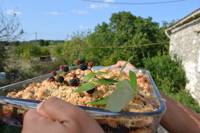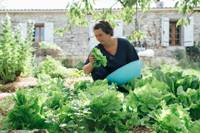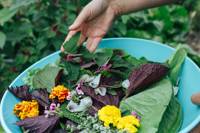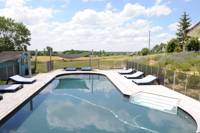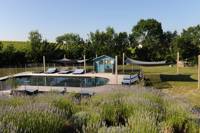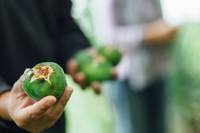 The Owner Says
Dive into nature at Simply Canvas and stay in one of the six  luxurious safari tents or three b&b cottages. Feel the sense of zen-like calm which filters th­rough every inch of Simply Canvas.
Reader Reviews
Add Your Review
Perfect place to unwind
Last summer me and my family stayed in one of the tents at Simply Canvas. As not being a big fan of camping I must say; this was a great experience and I would definitely go back. The tents are very comfy with the same beds you would find in a hotel. It is a big plus you have your own bathroom and the food was absolutely amazing! Every day you can choose to sign up for dinner and I could only recommend this. Fresh & organic veggies from the garden and delicious meals for both adults and kids. There are some cute villages close by to visit and the permaculture tour Santi gave was really interesting! After one week we were truly sad to leave this place which felt like a home away from home.
Lovely B&B stay
Traveling through the South of France we stayed only a couple of nights at Simply Canvas, but it is definitely on our shortlist to come back for a longer stay. Their permaculture garden is really cool and we got an excellent tour. Our children's favorite was feeding the pigs and the ducks together every evening and diving in the swimming pool of course. We had a great and relaxed stay. Sandra & Santi are warm hosts always ready to give you advice on the best places to go or a good organic vineyard to try out. Oh yes and did I mention there is even tent wifi? Don't forget to challenge Santi for a good ping pong match if you like table tennis by the way.

A real treat
Simply Canvas is one of those places I keep returning to. Rural setting, sweet villages, easy to get to. The owners are very special people. They inspire with their permaculture garden, they cook amazing meals with home-grown veggies and farmers products. And before you start thinking it's all a bit too responsible, let me assure you that the food is very tasty and the whole place is made for comfort. I like to travel out of season and the South of France is nice then. Not too warm, and very relaxed. Simply Canvas is a small scale place, which keeps it personal and gives you a true sense of space. The tents are good fun, I love to sit on my private veranda gazing out. Oh and did I mention you have a private bathroom? Small thing but it makes a big difference. The communal barn and terras are places to have breakfast, share a pot of herbal tea (ok, or a strong coffee) and don't forget to take a dip in the pool (salt water, feels good on the skin). In the evening I like to grab a moment on a yogamat on the mezzanine in the barn. A week at Simply Canvas always feels like a treat.

Heaven on earth
We had the most lovely stay at Simply Canvas. Hosts Sandra & Santi gave us a warm welcome. Do not forget to enjoy one of their fabulous meals full of Mediterranean goodness, veg from the garden or from local farmers. Plus it is just lovely to have a stroll to the big barn in the morning where breakfast is ready for you at the time you wake up. And there is more, campfires in the evenings, the pool, the children have all the space they want to run around. Go and enjoy.

Best Price Guarantee, with no fees
Instant booking confirmation
Trusted for over 10 years
A chance to win £50 of Cool Camping vouchers!
Book campsites near Simply Canvas