Book campsites near La Blanquette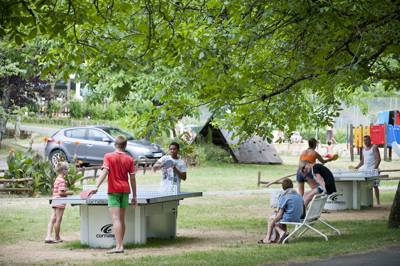 Campsites in Dordogne
Campsites in Aquitaine
Available:
4 Pitches
3 Safari tents
3 Cabins
Luxury camping in the idyllic Dordogne Valley
Oh to live on a French country estate.To throw open one's windows and breathe in dawn's mist before it fades away in time for morning birdsong. To see herds of deer frolicking among ancient woodland... (sigh). Luckily for all Gallic-bound glampers, such rural delights are not the exclusive preserve of the landed gentry.
Enviably situated in the quintessential Dordogne hamlet of Le Cambord (just 6km from Sarlat-La-Canéda), La Blanquette Glamping is nestled within a sprawling country pile. These ultra-luxurious, ultra-spacious twin bell tents, fittingly christened Chêne Vert and Truffe Noire (that's Green Oak and Black Truffle for us rosbifs), sleep four a piece and are found within their own tranquil woodland. The tents are decked out with proper double beds (Truffe Noire's is a king and the one in Chêne Vert is a double), jute matting, hand painted bedside tables and dreamy fairy lights (as if the air of enchantment needed adding to). Bedding is also provided.
While most of the accommodation is a dog-free zone, Truffe Noire is suitable for your four-legged friend. Set in it's own large pitch, it is completely fenced in with a grassy area for dogs to play and relax in. A large fenced in off-lead grassed exercise area in the heart of our woods is also in the works, so that dogs can run around to their heart's content!
A new addition to La Blanquette is the lovingly restored 1974 Castleton caravan, Chestnut. Complete with comfy double bed and fridge/freezer, plus an adjoining timber cabin housing a shower, cooking area and sofa, this cool vintage lodging is ideal for couples looking to go glamping in France in suave, retro style.
Outside, the thoughtful attention to detail continues. Each tent has its own private shower room located a handy (but respectful) 60 metres away. Each private shower hut has a loo, shower and wash hand basin and there are electric sockets for hair dryers or electric razors. Next to the shower rooms is a water fill-up point, a washing-up point and a shared use washing machine. Each tent is also treated to their own kitchen hut with a fridge, hob, grill and an outside dining area with barbecue. A waterproof shelter is provided for outside dining for the occasional summer rain shower.
Details
Facilities
2 x spacious (5 metre diameter) Bell Tents and 1 x beautifully refurbished vintage caravan. All have WiFi access; a private well-equipped kitchen with hob, grill and fridge; personal large shower room with electricity points; private outside dining area with barbecue; jute matting inside; super comfy beds; bed linen provided; solar powered lighting in tents and outside areas; shared swimming pool and sunbathing area. Welcome pack on arrival including: local wine, milk, bread, butter, tea, coffee and biscuits. Kayak, bike and canoe hire available on site. New for 2015, campers can also hire electric bikes.
Nearby
The beautifully preserved 14th century town of Sarlat is a pleasure to walk around, especially during the spring and autumn, or early in the morning. The centre of the old town consists of impeccably restored stone buildings and is largely car-free. Sarlat has many many restaurants, bars and cafes and one of the many joys of staying near Sarlat is discovering them! As well as Sarlat, the Dordogne region of France offers many attractions for visitors including the Cathédrale St-Sacerdos and the Château de Marqueyssac.  
Food & Drink
La Blanquette is well equipped for cooking all your own food and there's no greater smell than than a BBQ mingling with the chestnuts and pines. Should you venture out, Sarlat has many restaurants, bars and cafes. You can't do the Dordogne without sampling some of the famous French cuisine. There is a restaurant, a farm shop (with freshly baked bread) and a health food store within walking distance (approximately 30 minutes walk).
Open
May – September
Location
Contact La Blanquette, Route du Cambord, Le Cambord, 24200 Sarlat-la-Canéda, Dordogne, France
Getting There
Nearby airports include:
Brive (45 minutes)
Bergerac (1h 15m)
Limoges (2h)
Bordeaux (2h 30m)
Toulouse (2h 30m)
La Blanquette is easily accessible by car - detailed directions are provided on booking
It takes about 8 hours to drive from us the channel tunnel
You can also get to us via train - Sarlat train station is only 5km away.

Reviews
Add Your Review
Rated ★★★★★ over 5 reviews
Completely Brilliant!
We just returned from a brilliant week at La Blanquette. We stayed in one of the Bell Tents and it was utter bliss. There were four of us in the group and it was perfect for what we were looking for - a relaxed holiday away from everything and eating and drinking too much! Nik and Jason could not be more helpful or accommodating and their recommendations really helped make our stay. My top tips would be: - make sure you get into Sarlat - it is beautiful and the market is excellent - you'll feel like you're in Beauty and the Beast! - our best day was canoeing down the Dordogne - the flow of the river means it is very relaxed paddling and absolutely beautiful. - in July and August the Marqueyssac Gardens hold a candlelit late night opening every Thursday. It is amazingly beautiful and the bands dotted around the garden are brilliant. Could not recommend this place highly enough!
A lovely stay!
We stayed in the Chestnut caravan at the end of August 2015. Everything felt very organised and Nik had been in touch prior to our stay with some excellent directions from Bergerac Airport. On arrival, our welcome was friendly and warm. The caravan itself was in a lovely spot next to the woods with shade and sun. Inside was extremely clean and cosy. Everything had been thought of from cooking utensils to the extensive and extremely detailed handbook - there was nothing we needed that wasn't already there. The pool area was excellently maintained and the whole place felt very relaxing. La Blanquette is well located to get out and explore the surrounding areas around Sarlat and the Dordogne by car or just to relax around the pool. Would definitely return and recommend to others. Thanks! 
Amazing stay!
We stayed here in June 2013 with a group of friends and had a great time! The tents were well equipped, which meant we could travel light, and had everything we needed (and more!). The site itself is absolutely beautiful, lots to see/do, the owners are very friendly too. Bike hire, canoe hire, trail maps, restaurant recommendations, you name it, they provide it. The beds were very comfy, tents very spacious, the kitchen has all the facilities you need. Even though the weather wasn't great, we had a fantastic time and cannot wait to return. Would highly recommend :)

Amazing
Myself and my husband spent a lovely week at La Blanquette during June . The tent was spacious and comfortable, the kitchen hut was extremely well kitted out, everything you could possibly need for cooking on the BBQ or on the gas hob in the hut.
The grounds of La Blanquette are well kept and private, plenty of seating area's in the sun or under a shady tree.
The owners were very helpful and pleasant from hiring canoes, bikes ( from themselves) they had a good knowledge of their surrounding area.
We would definitely return.
Bean
What a great place to go to the hosts were great the Glamping was the best that I have ever been to , I will be going back this year their is so much to see around the Sarlat area and around the site .