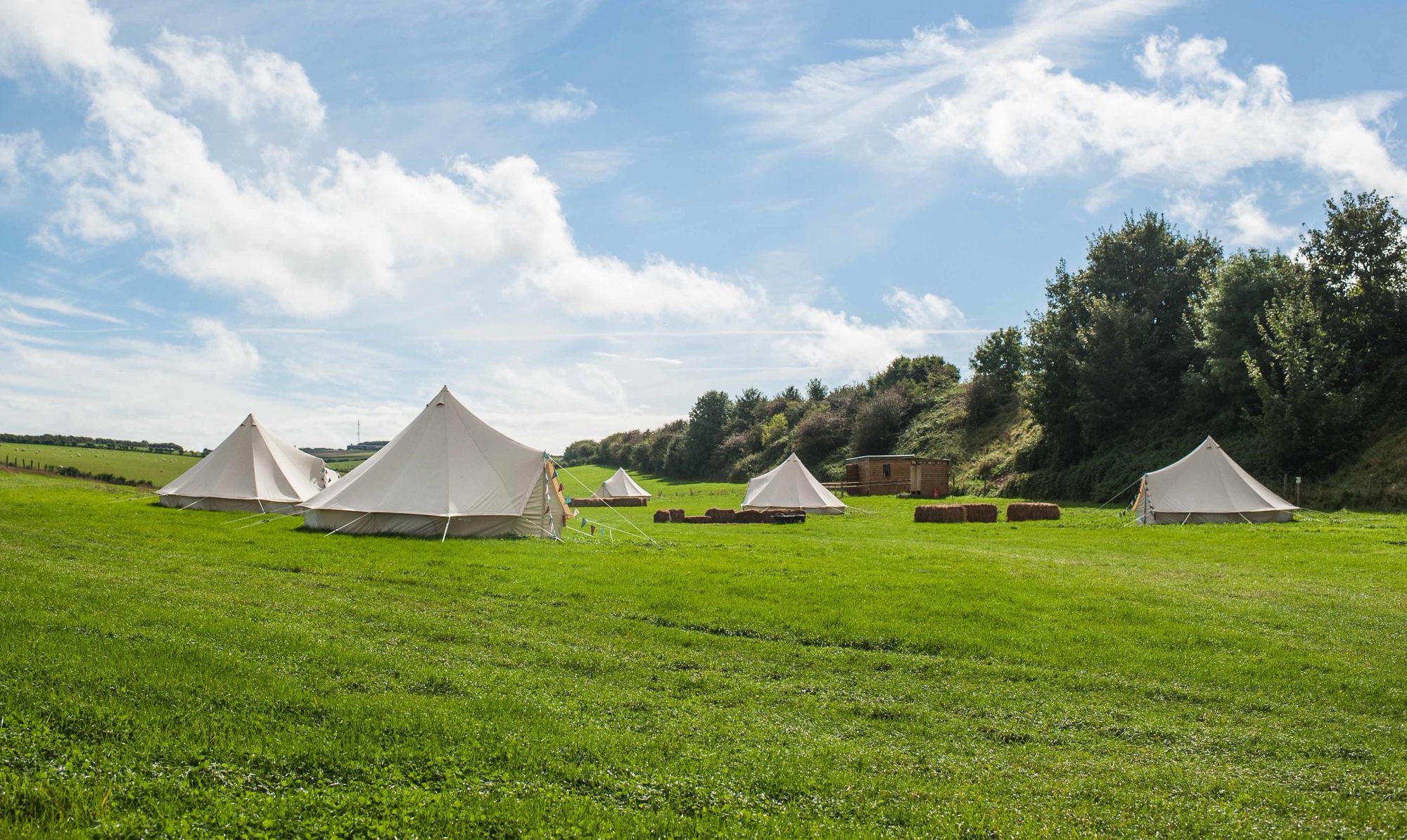 Bell Tent Glamping – The Best Bell Tent Glamping Locations i
Bell Tent Glamping Sites
Nothing beats the creamy canvas of a bell tent – arguably the icon of the glamping world. Closest in form to traditional camping yet able to be transformed into the utmost luxury, bell tents are a real glamping favourite and it's easy to see why. Often strung with bunting and sometimes heated with a toasty wood-burner, they are both cosy yet summery, with the light colours of the canvas helping to increase the sense of space inside. Here at Cool Camping we've been out visiting camping and glamping sites across the UK and beyond, checking out everything on offer. Discover our collection of the best bell tent glamping sites here and book your next adventure under canvas today.
What is a Bell Tent?
A bell tent is a simple, traditional tent-like structure with a round base and a sloping roof with a central peak. They are usually made of a light, cotton canvas and are supported by a single centre-pole that holds up the roof's peak, while pegs and guy-ropes create tension in the canvas all around. Some newer designs use clever architecture to keep the bell tent's trade mark shape but offer support from the sides, allowing them to lose the centre-pole and avoid the inconvenience of having a disruption to your living space. There are other variations, both in design and in name. Some glamping sites will call them canvas cottages and others will give each of their bell tents specific names such as Badger, Oak or Willow. There's also a range of different sizes, from three-metre bell tents to giant six or seven-metre wide structures. What remains true to all, however, is the same simplicity that made bell tents the early pioneers of the glamping world. They are simple, comfortable and have an obvious connection with traditional camping tents for which they were first created. Even early pictures of travellers from the 18th and 19th century show bell tent-like tents in use!
The Benefits of Glamping in a Bell Tent
Bell tents are generally seen as one of the cheaper glamping options. So if you want luxury but put importance of the price tag, then finding a bell tent glamping site might just be the best option for you. The prices vary with the level of luxury on offer. Some glamping sites will expect you to bring your own sleeping bags and bedding along, for example, while others might offer a fully-blown, five-star experience with hot tubs, wood burners and a bathroom within spitting distance of your tent. Be sure to check the facilities on site before you book and look out for whether the bell tent your interested in offer simple, blow-up mattresses or a full-scale king-sized bed. So, for a cheaper glamping break, bell tents are often a top choice. They're also particularly good in summer – light, airy and cool – while in winter months they don't fair as well as other structures such as insulated pods and traditional shepherd's huts.
Six Reasons We Love Bell Tents
– For a classic design straight out of sepia photographs, they just can't be beat.
– They offer luxury but you still get a proper camping experience.
– Light and airy, bell tents scream SUMMER!
– The best glamping prices are usually for bell tents.
– Simple and versatile they offer room for variation at every different glamping site.
– Bunting, bunting and more bunting.
Bell Tent Glamping Abroad
Glamping isn't just confined to the UK. It's really taken off abroad too, particularly in recent years and glamping in France is now more popular than ever. If your planning to hop across the channel this year to discover glamping sites in France, Spain, Portugal and the rest of Europe then you've come to the right place and when it comes to bell tents, their light, cool design is perfect for the hotter temperatures on the continent. We've found plenty of bell tents in France and elsewhere. Simply click on the links or use our refine your search function to filter our chosen glamping sites down to the ones that are right for you.
Bell Tent Glamping – The Best Bell Tent Glamping Locations