Skrinkle Bay
Manorbier, Tenby, Pembrokeshire








'Wild' camping with fires and sea views.
Skrinkle Bay makes a most refreshing campsite find, situated as it is amid the gigantic holiday parks and static caravan cities that litter this part of the Pembrokeshire coastline. In keeping with its humble make-up, just a few subtle green signs point the way to this quiet cliff-top field near Manorbier village; roughly a 10- minute drive from bustling Tenby (Dinbych Y Pysgod).
Skrinkle's utterly basic, back-to-Nature feel sets it apart from its gaudy neighbours (thankfully, none of which are in sight) and breathes renewed vigour into any world-weary camper. Well, 'breathes' isn't quite the right word; 'blows' or 'propels' would probably be more apt, as this place is windyyy! Gusts bowl in from the sea, blustering and billowing canvas walls and obliterating any cobwebs that might have crept in to stifle your wilderness instincts.
The exposed upper section of the field is worth a bit of a wind-battering in exchange for the magical coastal and sea views. Pitch up in certain spots, and towards the back of the site, and it looks as though the field drops straight off into the sea. At one side the site dips to form a sheltered alternative area for those not so into the sea view or who don't want to risk the campfire blowing out. From this corner you can step out of a gate leading straight onto the coastal path, and down further to a set of slanted steps winding their way onto a stony beach.
Sheltered by the raw cliff edges on either side, this beach, known as Church Doors because of the huge door-shaped holes in the rock face, feels neatly hidden away. And when the sea is calm, it's a rather peachy setting for a morning dip, which more than makes up for the lack of hot showers at the campsite.
If you've indulged your wild side enough and fancy edging back into civilisation, start with Tenby. You can take the magnificent coastal path there from Skrinkle Haven Hostel (the campsite's nearest neighbour), which is approximately five miles.
Returning to your cosy tent after a hard day's play is all the more satisfying given Skrinkle's limited facilities. Sitting next to a campfire on a cliff-top perch while the sun sets over the sea, before retiring (sans hot shower) to your temporary night-time shelter quietens those deep-seated desires to live as we once did, without a modern-day creature-comfort in sight. OK, so there's the car, your box of matches and all the nice bits of camping equipment, but let's not be pernickety. Skrinkle has a restorative effect on the soul.
Gallery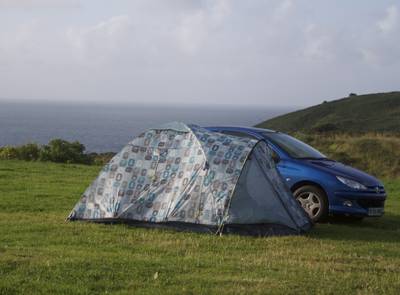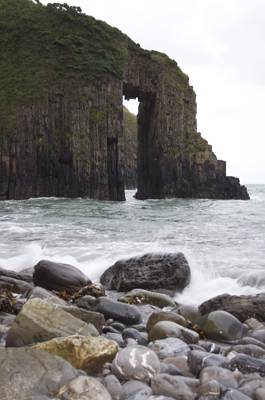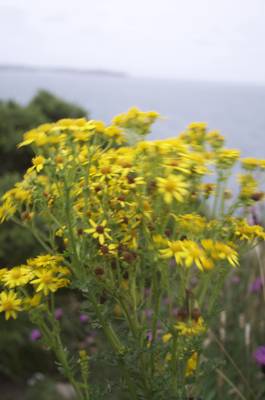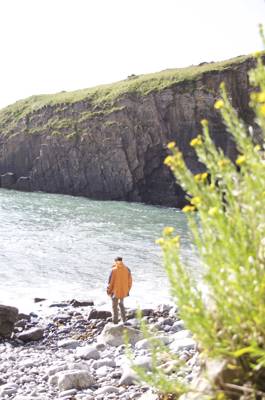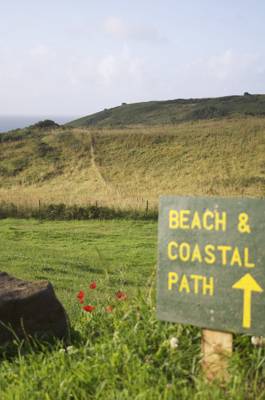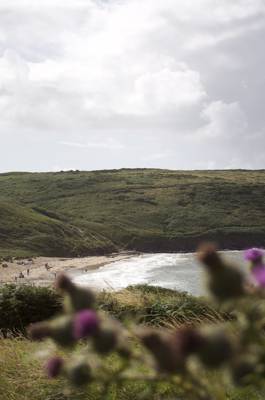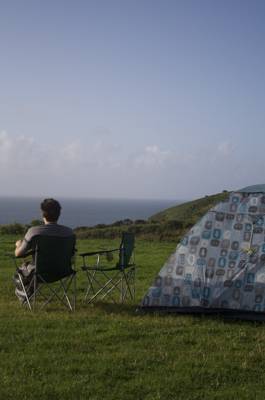 Reviews
Sign up or sign in to leave your review of Skrinkle Bay
Shrinkle bay
Lovely campsite right on the coast path and great for morning dips at church doors . When te tides out you can walk to the stunning beach next door which is something out of Jurassic park minus the dinosaurs ,,but don't get stranded !!!... Only down side was the amount of people . Families run riot here and be prepared for happy kids tobvimeo charging through your pitch . Also its10.00 plus2.00 for each adult bit steep for a site with no hot shower . Great place off season I bet but if you want peace and quiet don't go in August 
price hike
stayed here last summer and was charged £8 for small tent with 2 adults, this year it is £14   for same tent, even same wife. the site is lovely and were quite happy with few facilities but where are the costs?

Lovely
Stayed here for two nights and had a great time, no nagging for wifi/internet from the children!  The campsite is on the coastal path so walking the dog was easy. Although it's a mile or so outside Manorbier there's an easy walk in the centre which took us about 20 minutes. The walk down to the beach was fine but coming back up was 'a bit hard' (so my 10 year old said). My daughters loved the fact we could roast marshmallows on a campfire. The owners were friendly. The toilets were clean and the shower was cool, as the sign said. Peaceful site which was just what we wanted. We will be going back soon.

Really good
Stayed one night in VW van, fantastic site, simple, well designed, very tidy and just what we like. 2 adults 2 kids and lovely sunny day in July. Went to the beach/cove enjoyed the sun and when we got back for a cold shower it was actually hot (assume water tank is black and gets the sun) best shower we have had all holiday! Plenty space, site was quiet and easy to find, straight forward charges and really nice to be somewhere that had no need for electricity.

Peace perfect peace
We stayed last night and it was lovely.  Just want I want from a campsite.  Running water, a toilet and shower (cold)  great views,  access to the coastal path,  steps to the beach---what more is there.  For the first time in ages no WIFI code was asked for as there wasn't one.  We spent the evening together playing games and having fun.  In the morning we had breakfast and headed off to Colby Woodland Garden for a Parkrun!  Happy Happy!  Spent the afternoon in Tenby for some well deserved chips.  We will be back very soon :-)
Best Price Guarantee, with no fees
Instant booking confirmation
Trusted for 10 years
Chance to win camping goodies in our regular competitions!
Field with a view and a loo!
Glorious view and friendly owner...£8.00 for tents not £5.00. Loos very clean. Shame about lack of shower but otherwise small and perfectly formed. About a mile and a half from the village so bikes useful. "Beach" disappointing as nondescript pebbles but the access to the coast path and the views make up for everything.

Nice seaviews!
Simple place in a beautiful location. First night was a bit too busy but then the second field opened. 1 Cold shower. Clean toilets and shower.
Skrinkle Bay
If you are looking for a relaxed, quiet campsite this is it. Gorgeous views over Skrinkle Bay (keep your eyes open for porpoise - we were lucky enough to watch a small pod for over an hour) and only a stones throw from the fabulous Pembrokeshire Costal path. Three very clean "proper loos" housed in a little chalet and a cool (well let's be honest, cold) shower for the brave.
Skrinkle Bay
Our family of 6 have just arrived home after a tour of Wales in a campervan. We spent 3 nights at Skrinkle Bay and out of the 6 sites we stayed on this was our favourite. The review was spot on apart from it now has 3 very clean and bright proper toilets and a 'cool' shower!! The shower was refreshing after a day on the most lovely hidden coved beach we have ever been too. We would defenitly recomment this campsite if you want lovely basic camping at it's best.
Skrinkle Bay
Lovely site, quite new apparently. The site is on two levels so be sure to walk around the whole field on arrival, we saw a few people look from the gate and turn away (little did they know). The picture looks as though its a cliff edge, well it is but much further away than it appears and is well fenced so very safe for kids, our 4 year old loved it. The 3 toilets are a porta cabin but very clean and spacious, there is a shower with a sign - 'this is a cool shower' - no danger of being done under the trade discriptions act then! No hot water or electric. It is a bit windy, but then you're outside. The beach is a beautiful small sandy bay with interesting rocks which you can climb over and walk around and through to neighbouring beaches, its a steep climb down but the steps are still we defined. You can see only sea from the campsite and watch the lighthouse on Caldey island cast its light during the evening. Any downsides? well the youth hostel is in the next field so we could here the faint thump of music during the evening, but nothing major and it stopped at 10 on the dot. Current tariff is £10 a night for just about anything and £7.50 for small tents. An excellent weekender, longer stays would be good if you can brave the shower or just smell.