Cwrt Hen Farm, Beulah, Newcastle Emlyn, Cardiganshire SA38 9QS










Dog – and animal – heaven.

Cwrt Hen is no-frills camping at its best; a relaxed, friendly site with a great atmosphere engendered by the affable hosts Gill Baldwin and Chris Cordy, who will be delighted to book you in, show you to your pitch and then talk the pants off you (in the nicest of ways) every time you bump into them. The pride they have in their simple site is obvious – they describe it quite accurately as a 'rustic dog-friendly hideaway' – yet despite Cwrt Hen being tucked away in the heart of the Ceredigion countryside, you're within easy reach of plenty of the county's gems, especially Cardigan Bay.
Nature is allowed to run riot at Cwrt Hen, except in the onsite market garden, whose produce you can buy for campfire meals. The various ponds that fringe the site are left to their own devices, and are home to frogs, toads and newts, and you can also fish for trout. The meadows and woodlands that surround the site are home to badgers, otters, bats and owls, and there's a resident population of ducks and two farm dogs. Indeed, animals are so much a part of the scene here that while well-behaved dogs are allowed to roam around off the lead, children must be booked in in advance.
Gallery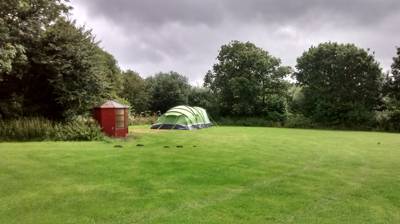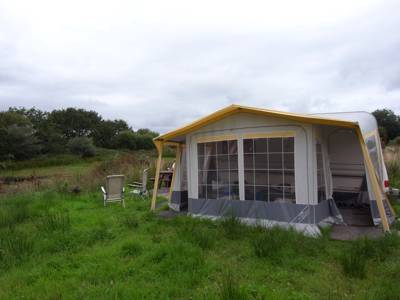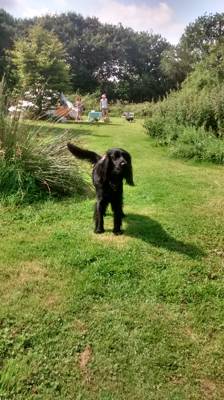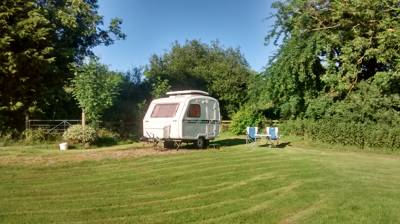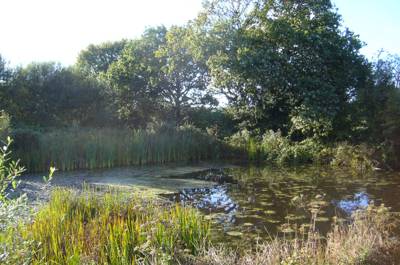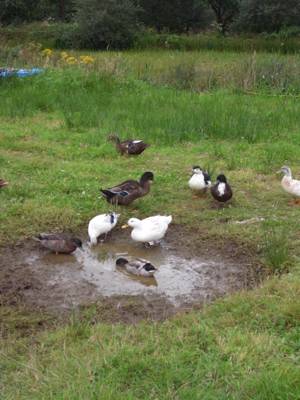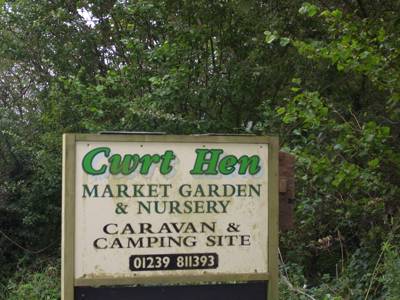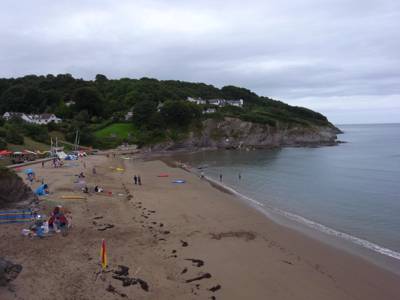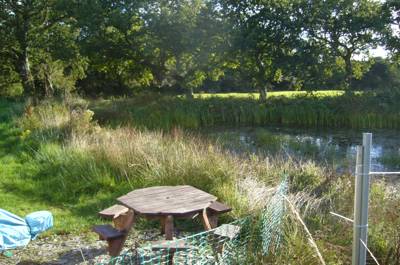 The Owner Says
Cwrt Hen is the site for all those who enjoy the peace,quiet and freedom that the countryside offers. All pets are welcome as long as they are friendly and respect the other resident pets here, as well as those passing through such as visiting birds etc. Campfires are allowed as long as not directly on the grass, so we supply fire baskets if needed.
Reviews
Sign up or sign in to leave your review of Cwrt Hen Farm
Wow wow wow!
If you want bells and whistles with cherries on top don't bother coming here because you won't find it. But if you want peace, tranquillity and simplicity in a superbly beautiful setting then this is the only place you should come if you are holidaying in West Wales. Even before we arrived Gill was more than helpful finding me a place where I could buy raw dog food for my 4 dogs who would be holidaying with us. On arrival we were immediately greeted with a warm and friendly welcome by Chris and then Gill. Nothing is too much trouble and they are always around should you need anything. The pitches are the biggest and most spacious I have ever seen and we were lucky enough to pitch up next to the lake where a pair of canada geese had just hatched 2 goslings. My daughter loved paddling in the lake catching tadpoles and other pond life. She also enjoyed being shown the resident animals, the chickens, ducks, geese, horses, dogs and cats. It was so refreshing that our dogs were accepted with open arms and not just tolerated and they loved being able to trot around the camp site with us. The showers are basic but hot and there is a place to wash your pots. The surrounding area is some of the most breathtaking I have seen and there is no shortage of things to do. We stayed for a week and could have stayed for at least another without running out of places to go. A truly wonderful holiday made special by Gill and Chris's lovely site.
Loved it
Really laid-back, welcoming hosts. Always helpful and chatty. It's so peaceful there! The dogs were allowed completely off their leads which they loved. At one point we found our Labradoodle in their kitchen :) and they have a fire pit thingy for the evenings and we had fresh Goose, Duck and Hen eggs in the mornings for breakfast. 
Peace & quiet... at last!
We had the perfect stay at Cwrt Hen.  It is small, quiet, remote, clean and friendly.  It offers just enough facilities to be comfortable.  The owners Chris and Gill live next to the site, so are keen to ensure that it stays this way!  It is never overbooked, it is rarely noisy (other than the dawn chorus of birds, kids & dogs), and is likely to stay that way for the foreseeable.  Despite being so rural there are plenty of beaches, walks, pubs and fun to be had within 10, 20, 30 minutes drive.  My only concern is that this campsite gets too popular and difficult to book up in the future!
Lovely spot
We stayed in June. It's a small site but very pretty. Chris limits the number of campers so it doesn't get crowded. The best pitch by far is alongside the lake if you can get it. The toilets/showers are fine and the owners friendly and keen to chat. I'll be back.
A haven of tranquility
The 'We Say' review pretty much sums it all up. The site is a little tricky to find but once there the peace and tranquility just settle over you. Chris and Gill make you very welcome and just love to chat and regale you with amusing stories! This must be the most relaxing site I have ever been on with the friendliest of hosts. I was offered a cup of tea when I had no access to my milk (in parents camper) and came away with some goodies from the market garden. The dogs were pretty much allowed to roam free provided I kept a relatively close eye on them and not only allowed to swim in the pond but positively encouraged to! One of the huge positives for me as a single camper was not having to rush off by a certain time the day I left. I sometimes struggle to meet the stipulated time and it was really nice being able to take my time and leave when it suited me. Everything is included in the price quoted with no extras for dogs, showers etc so you know exactly what you're paying too. Sadly I only had a few days there this visit but I will be back for certain. 
Best Price Guarantee, with no fees
Instant booking confirmation
Trusted for 10 years
Chance to win camping goodies in our regular competitions!