Mongolian-style yurts in a meadow, a nine-seater glamping aeroplane – plus a saucer-shaped UFO that's just come down to earth for 2018
Apple Camping is a glamping site with a difference. The three Mongolian-style yurts – two for families, one just for couples – have recently been drawing customers to this four-acre meadow in rural Pembrokeshire but owner Toby's newest additions have caused more of a stir. After all, it's not everyday local residents get to see a 20m-long Jet Star aeroplane being driven down their country lanes. And as for the space craft... who knows how that arrived?

First opened in 2015 and attracting early glampers for its pleasing location near the old harbour towns of Tenby and Saundersfoot, Apple Camping is a well equipped glamping site with modern shower, laundry and washing facilities and covered BBQ areas and kitchens outside each yurt. In one corner, the Jet Star noses from the trees, a grey fuselage with its wings missing, like a crash-landed aircraft from the opening scene of Lost or the pages of Lord of the Flies. This is no accident, though. Inside the ex-first class aircraft still has the original bar, ambient lighting and a exquisitely converted captain's cabin with a double bed and another single bed behind the cockpit, while, up front, you can play pilot using the Xbox provided, which comes readied with flight-simulator games.
The yurts, meanwhile, have everything needed for those looking for a more restrained glamping style – comfortable and cosy without any over the top quirkiness – while, for those who really want something different, Toby has also just finished building a space craft! The saucer-shaped UFO is, needless to say, suitably out of this world in the experience it offers. There's a double bed and two singles, cooking facilities and comfortable seating, but also a monitor for playing classic 80s games like Space Invaders and Defender. The main entrance hatch, meanwhile, works by remote control, while eight different windows provide all-round views of the surroundings.
Once you've landed and have you're feet back on solid ground, you can slip out into the surrounding countryside or down to the coast. It's a ten minute drive to the nearest beach and, located just a few hundred metres from the nearest A-road, the campsite is conveniently placed for really exploring the Pembrokeshire area. Kayak in the Daugleddau estuary, catch crabs of Tenby harbour wall or kick back on Saundersfoot's blue flag beach.
Best Price Guarantee
Easy and Secure, with instant booking confirmation
Trusted for over 10 years
A chance to win a brand new Coleman tent!
Gallery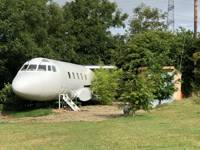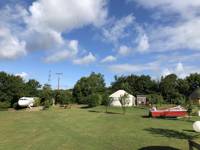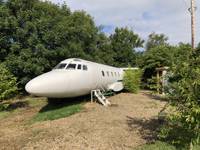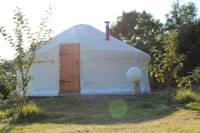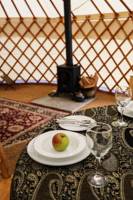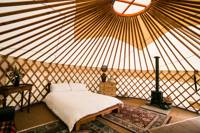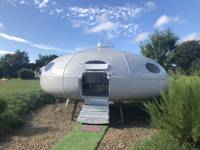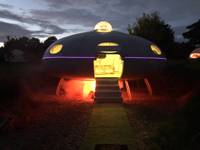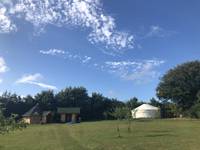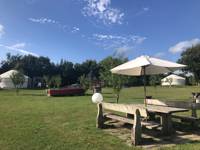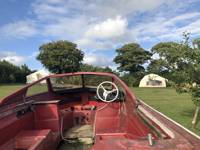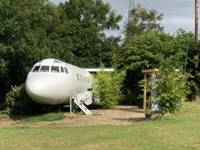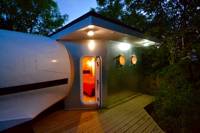 The Owner Says
Apple Camping is a new eco-camping site nestled in the heart of Pembrokeshire, offering peace, serenity and total comfort on a small, exclusive site.
Reader Reviews
Add Your Review
Fantastic!
Superb site in an even better location, withing 5 mins drive is Heatherton world of activities, Manor Wildlife park and dinosaur world. Ten mins drive to Tenby beach or Saundersfoot and Folly Farm. Such quirky acommodation, the only reason I give 4 stars instead of 5 is for the lack of childrens play facilities, a playground with climbing frame, swings etc would make it perfect. The toilet/shower blocks were immaculate, and the honesty box area had loads of supplies if you forget something... even toothbrushes! Will 100% be returning!
Wonderful, quality site
Just back from 4 nights in Rosebud yurt. Tucked away from the road, we got a great welcome and tour around the site from Wolf. Our yurt was spotlessly clean and plenty big enough for me and my son. The rest of the site was pristine too - from the toilets and showers to the lawns and public areas. The location is great too being within a few minutes of Tenby, Narberth and Pembroke. All in all a great site, relaxing few days and I may well return.
Out of this world!
We've just returned from an all-too-brief one night stay in this UFO in Pembrokeshire (a sentence I never thought I would write!). Where do I start – this place is amazing! This surely has to be one of the most visually striking places to glamp on planet earth. Surrounded by carefully cultivated grass banks, it really looks like this craft has just landed from a galaxy far, far away. The attention to detail is staggering – from silver space-age bedding, to dinky vintage robot toys, laser gun mugs, Space Invaders arcade game, and an amazing cosmos projector for night time. There's even button-operated steps that slowly lower (or an 'escape hatch' directly underneath if you can't wait). It's also incredibly comfortable and there's a comfy outdoor space with oversized bazaar bags to chill out in and enjoy the sun.
With such wonderfully unique accommodation, you might assume the rest of the site is afterthought. Not so. The beautifully landscaped grounds are a joy to behold. Apple trees dot the field and there are several quirky features like the strawberry bed (strawberries planted in an old antique bed frame), oversized orb lights that glow in the evening and a landlocked speedboat that the kids couldn't get enough of clambering over and playing pirates. The facilities here are impeccable, with proper hot power showers, flush loos, and an immaculately clean kitchen area which includes a well-stocked honesty shop.
The host Toby (and his right-hand man Wolf) couldn't have been more accommodating – even treating us to an smoke machine display underneath the UFO which when combined with the multicoloured LED lights on its outer shell made for an amazing show! Besides the UFO, there's a whole range of visually stunning accommodation (including a retro gypsy caravan, yurts and domes) each carefully plotted in its own pocket of the spacious field. For our next stay (which we're already planning!), we'd love to try the Witch's Hat cabin or the Jetstar plane (although it might be a step down altitude-wise after our cosmic spaceship stay!).
A safe space for children to play and grown ups to relax
The team at Apple camping can't do enough to make your visit a great stay. Toby and Wolf have just the right balance of visibility. There is plenty of room and everything is clean and well maintained. Our son woke one morning singing "everyone should have a bit of apple camping in their lives" over and over. We're not that worried about him! All I can say is, I had built in a days wiggle room before returning to work..... Instead we stayed an extra night. Thank you apple camping we will be back.
Ready for take off!
We stayed on the jet plane, had a great time. Facilities are good, you have your own kettle, fridge, job and microwave. There is a shared kitchen with more facilities. Shared toilets and showers we're very clean and well maintained. We hope to come back sometime.
Book campsites near Apple Camping