A tiny, family-friendly campsite boasting bell tents and shepherds huts on the southern Pembrokeshire coast
Plotted within the Pembrokeshire Coast National Park, Becks Bay Camping sits just 100m from the famous coastal path, overlooking the eponymous cove known locally as Becks Bay. In almost every direction the land folds away in a mass of summer green, while the nearest roads are all shielded by the bushiest of hedgerows. It's no surprise that, though small, this sheltered meadow space was destined to become a campsite. It almost seems purpose built for it.
In total, Becks Bay has just 13 camping pitches, along with five bell tents pitched on flat ground in a tiny wooded glade. There is no electricity, no playground and certainly no WiFi, while the toilets and showers have been newly built into a wooden shed, bodged together with charmingly mismatched wooden doors. The whole place feels thoroughly rustic and, despite proper flushing loos, still offers the wilder camping experience. This is the sort of spot where children play in rolling fields rather than a playground and campfires crackle through the night. Expect a week or two getting grass stains out of trousers when you get home.
For those with who prefer their camping with a generous dose of luxury, the Frankshore Shepherd's Hut come complete with electricity, a proper bed and en suite bathroom. Mod cons – like gas hobs in the kitchenette and a heated towel-rail – up the comfort levels, while traditional touches like the wood-burning stove makes this a cosy cocoon for couples.

When the sun's out, there are plenty of beaches within reach with Lydstep Bay the nearest and most well known. The National Trust car park is free and the sands offer excellent views out to Caldey Island, though the giant holiday park that backs it slightly spoils the feel. Instead, head a little east to Penally Beach (free parking at the station) in the west end of Tenby's mile-long south beach. Spanning the shoreline from St. Catherine's Island to Giltar Point, the views across to Caldey Island are spectacular. It's slightly quieter than the sandy sections immediately around the town – Castle Beach, Harbour Beach and the north beach – though all are fantastic, especially if you want to explore Tenby itself at some point during your stay. You can spend the morning on a beach, the afternoon tasting ice creams and the evening back around the campfire. We think that's all the essentials covered.
Best Price Guarantee
Easy and Secure, with instant booking confirmation
Trusted for over 10 years
A chance to win a brand new Coleman tent!
Gallery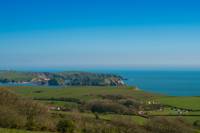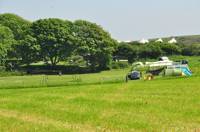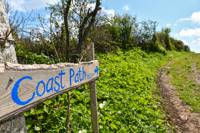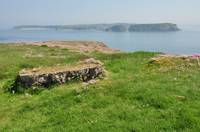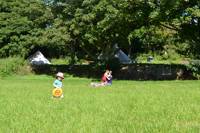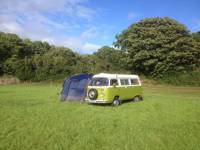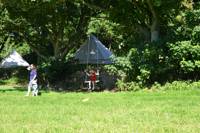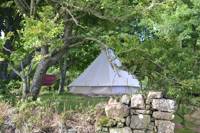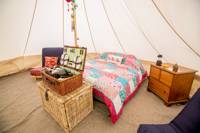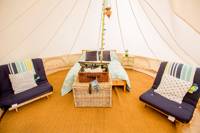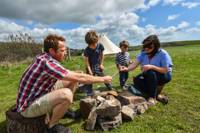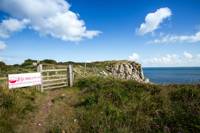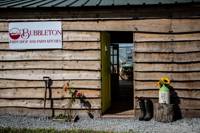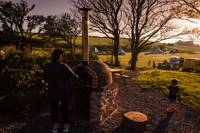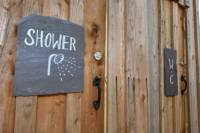 Video Tour
The Owner Says
Welcome! Becks Bay Camping is set next to an isolated cove just 1 mile West of Tenby's South Beach and a ten minute walk to the stunning Lydstep Bay. The field is set in an amazing location in the grounds of the ancient ruin called Trussleton. We are passionate about providing a perfect place to camp for a real welsh adventure holiday.
The camping fields are adjacent to the Pembrokeshire Coast Path on a working farm – we have produce for sale in our Farm shop (Bubbleton Farm Shop) and also sell fresh eggs, potatoes etc from an honesty table near the camping field.
Our site is a short distance from Penally village (with train station and shop), and a 2 minute walk to the coolest new music café bar in Tenby – West Coast Café and Arts.
On our doorstep we have a catalogue of Wales's best beaches – we encourage you to explore the coast path especially the Manorbier peninsular and ancient village.
Reader Reviews
Add Your Review
Great site, welcoming and helpful staff, good location.... what's not to like?
Becks Bay is a relaxed and welcoming campsite. Child and dog friendly, it's spot on for the whole family. Ablutions and utilities as you'd expect; rustic, charming and functional. The nearby (5min walk) shop has all the essentials and plenty more; great for coffee and cake on any day it also provides details of local events and activities via flyers/pamphlets and the local knowledge of the helpful and friendly staff. Cliff top walks are a real highlight, the wonderful views meander gently to some lovely beaches. The camping is near the road, although it isn't busy and a solid hedge separates you, it's nothing to worry about but good to know. Glampers get the best view and when busy the pitches are close-ish, but far enough apart not to worry if it gets a little windy.... Overall Becks Bay is a great campsite, I will be returning.
Fabulous peaceful stay at a lovely campsite
Minimal pitches so plenty of space for everyone. Able to leave the car and walk from the site. Facilities rustic and qwerky but clean. Tom the owner very friendly. Firepits lovely. Bought meat from farmshop and all fabulous. Also ate at cafe on last morning before travelling home, really good. Wouldn't hesitate to return to this site.
Wonderful
Lovely campsite, very laid back, dog and child friendly. Don't go if you can't live without electricity or wi-fi, or cobwebby upcycled toilets. If you can, however, you will have a fabulous time here.
wonderful relaxing site with comfortable Bell Tents
We stayed for a week the last week of September 2018 for our honeymoon. We had a Bell tent with all the facilities and comfortable large bed. We took our dog as he loves camping and had an amazing time. The owners made sure we had everything we needed .. fresh eggs, bread, milk butter and jam for a breakfast starter. The site is located so close to all amenities with coastal walks within metres of the camp. Great location. Can't wait to book again next year.
Family-friendly, Wild and Wonderful
We spent a week at Beck's Bay and, despite the inclement weather, we survived and thoroughly enjoyed our time in this beautiful part of the country. We loved the simplicity of this small, relaxed, clean, family-friendly site, taking us comfortably back to basics. There is so much to see and do nearby that the children were never bored and were catered for even on rainy days. We would be very happy to return and recommend this site.
Beautiful
Beautiful location, lovely relaxed vibe, GREAT cafe, lovely hosts 
Brilliant holiday, recommending this site to friends
My granddaughters loved the freedom and the eldest did not use her phone once during the week we were there. Tom was very welcoming to all campers as they arrived. Evenings were made even more special with the campfires . Very special place.
Friendly family atmosphere
Fantastic camp site, Tom and his family set a lovely vibe, of respect for each other and the environment. would recommend to anyone and our 2 kids love the play house and swing. I would recommend going to the farm shop and cafe we only went on our last day wish we had more as the food is fantastic.
Great space and facilities for an intimate truly cool site
Tom is a very welcoming host
Quiet retreat
Lovely campsite, we took our own tent, toilets and showering facilities were clean. Lovely little den for kids, and plenty to do nearby. Overall a great stay, we will be back and bring our friends with us.
A blissful retreat - perfect little campsite in every way - clean, peaceful, beautiful surroundings and perfect location right next to the UK's most stunning coastpath
A perfect stay in our campervan over a late May bank holiday weekend which would have been far less enjoyable anywhere else! Beautifully clean, tidy, quiet campsite with plenty of space between pitches and lots of quirky extras like hammocks in the trees! - friendly helpful owners, dog friendly and adjacent to the amazing Pembrokeshire coastal path - no need to drive anywhere - just pitch and walk in either direction - Tenby or Lydstep. We will return.
Just a perfect little place in Pembrokeshire
Our first time glamping - couldn't have asked for more. Gorgeous weather and a great site and location- easy to access all the super beaches in the area. Really peaceful and good facilities without being over developed- the shower is great! Beds are comfy. Lovely host Tom- friendly and helpful- the farm shop across the road is good too- full of local produce. We'll be back for sure.
Relaxing bank holiday weekend.
We stayed at Becks Bay over a sunny bank holiday and it was just lovely to come back, to a peaceful campsite, after the chaos in Tenby and Sandersfoot. The environment was very friendly and welcoming and my brother was filled with regret as he was at a noisy campsite down the road. On the last day we went for lunch in the farm shop - was just beautiful and I didn't want to leave. Solar power electric point to charge phones - brilliant!!! Hope to visit again soon.
Perfect location and great facilities
We stayed for 2 nights. The site is right on the coastal path and owner Tom helpfully told us about some quiet nearby bays to explore. An hours walk along the coastal path to Tenby. Great rainforest shower and facilities. Hammocks and a pizza oven. Will definitely go back.
Lovely location - Ideal for coastal walks.
This was the best campsite we went to on our tour of Pembrokeshire by far. Good facilities,short walk to the cliffs and a reasonable walk to tenby.there is a lovely farm shop and cafe just over the road.staff were helpful and fantastic. I recommend it and yes,we will defiantly be coming back in 2018 😀 thanks.
Wonderful winter break Jan 2018
"A fabulous romantic hut-escape! Excellent location for coastal walks and adventures. Down the road from Tenby and a short drive from other great coastal villages! The hut itself is delightful with everything you could need for a couple of days! A very warm and cosy feel. Absolutely loved the log burner and the fire pit outside too! All in all, a perfect getaway!" .
Response from Becks Bay
Thanks Laura, hope you'll be back soon. Kind regards Tom
Absolutely amazing time.
Could not fault our stay in the Frankshore Shepherds Hut. A beautiful setting and truly amazing hosts whose hospitality and friendliness was so welcoming. The Shepherds Hut is well equipped, so great to have ensuite and a fab shower. We were greeted every morning by the dairy cattle and the chickens and pigs very comical. Bubbleton Cafe and Farm shop again were staffed with welcoming employees. The scenery and local attractions added to our experience. Tom advised on local beaches to visit and the information in the Shepherds Hut made us explore every day. We can really recommend Stackpole, part of the National Trust, the beaches are out if this world. I've already recommended friends to visit and we are hoping to return very soon and in the colder months. Thanks Tom and Sally, it was a pleasure meeting you. X
Wonderful stay
We absolutely loved it here and can't wait to go back. A few days before arrival I received a fantastic email from Tom with a map of the site, directions and pages of recommendations for meals, things to do etc. The site was easy to find - though it is a very sharp left turn immediately as you go under the bridge - and is well kept. Great toilet block and a wonderful shower. Each pitch is a good size and has a fire pit which is great in the evenings. The farm shop is just down the road and has a nice selection of supplies as well as an excellent cooked breakfast in a lovely cafe. Tom is incredibly welcoming and friendly and was on the site every evening. The location is perfect - peaceful but close to everything and we found it incredibly relaxing. Overall it's a very friendly, well kept site and the nicest I've been to - I can't recommended it highly enough and will be going back!
A great first time
We had our first camping holiday as a family. We had a weekend at Becks bay and were not disappointed. We had sunshine and heavy rain over the weekend and made the best of both. We enjoyed the campfires and bbq's on the grass and the kids loved the swing and walking to the coast. It was great to have a technology ban and enjoy some good old fashioned ball games. The site was very basic with no electric hookup or wifi thankfully but the toilet and shower facilities were great and charming at the same time. I love the "knocked up with anything will do" theme. We were contacted by Tom on the day we were arriving apologising for not being able to meet us due to personal reasons. He informed us that his mother in law would be looking after the site but we didn't see anyone. The farms shop was non-existent but understandably after reading newsletter on site citing reasons which I will not publicise on here. Our first nights sleep was awful due to wind flapping corners of tent and we were sleeping with our heads down the wrong edge of the tent and very noisy neighbours getting very drunk and shouting and swearing until 3:30am. (Unfortunately I had left my baseball bat at home lol). But despite that we loved camping and the site and would definitely go back. The location is great too, between Tenby and Manorbier. It was very quiet except for a little road traffic and the odd trai. Now and again.
Absolutely superb campsite
Despite the rain and gale force winds, an absolutely fantastic few days. Excellent location, excellent facilities and very friendly and helpful owner, Tom who made sure call campers were OK after the windy night. Agree completely with two comments below. Absolutely superb campsite.
Camping Unplugged!
A fantastic weekend with no electric hook up, no wifi, no phone signal........ Bliss! A lovely rustic, simple site to escape from reality and reconnect with nature, family and friends. A chilled vibe where campfires are welcome, with space and safety for children to run free with little worry for site traffic. We will be returning!
Didn't want to leave!
We just had the most amazing weekend at Becks Bay! If what you're looking for is good ol' fashioned wild rustic camping, but with just the right amount of luxury thrown in then I can highly recommend the bell tent option at this site. The site itself, is in an incredible location, it's really accessible yet feels remote and secluded, it borders the stunning stretch of coast path between Tenby and Lydstep, with views over a picture perfect cove and the monastic island of Caldey. All within a stones throw of Tenby and wet weather activities in the shape of Anna's Zoo, The Dinosaur Park and Heatherton. As a young family slightly nervous about our first camping trip with a baby, we were delighted to be welcomed by a comfortable bell tent, with everything we needed provided from a BBQ to a fantastic hot shower. Tom the owner came to say hello and welcome us to the site with his two young boys on his tractor. The land has been in his family for generations and he was able to give us some top tips as to where to visit in the area and the best walks. We took his advice and took a wonderful day trip to Caldey island from Tenby. The beaches there are exquisite, and it's such a great place for kids. We'll definitely be back, but next time for a week, and although I feel compelled to write this review as a thank you for a wonderful weekend, there's a little part of me that feels like keeping it a secret!
Best Price Guarantee
Easy and Secure, with instant booking confirmation
Trusted for over 10 years
A chance to win a brand new Coleman tent!
Book campsites near Becks Bay