Deluxe Grass Camping Pitch
(7 at Spring Meadow Farm Campsite)
Just turn up with your tent and bedding - a large grass camping pitch 20m x 25m with its own under cover, fully equipped kitchen and picnic table, with adjacent gas-powered shower. Your own fridge freezer is sited in the campsite shower block.
The Owner Says
This pitch provides everything including the kitchen sink! All you need is your tent and bedding - everything else is here: a short walk from your parking space, the spacious polytunnel kitchen contains a 3 burner gas hob, sink and running cold water, a picnic table, pots and pans, cutlery and crockery. Outside there's another picnic table next to the firepit and grill, while alongside the kitchen is your own gas powered shower in its wooden cabin. With no mains electricity on the field, we've located your personal fridge freezer in the campsite shower block, an 80m walk away. Here you'll also find toilets, an electric shower, washing facilities and a washing machine.
Video Tour
Gallery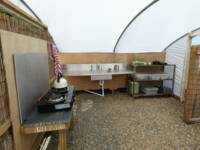 About Spring Meadow Farm Campsite
Suitable For
Tents, trailer tents, small campers (VW type), families, couples – yes. Groups – no. 
Nearby
The spectacular Pembrokeshire Coast is within three to five miles to north, south and west of the campsite. There's surfing at Newgale and Whitesands Bay, coasteering with Celtic Quest (01348 837337) at the blue pool Abereiddy and Island boat trips to see the puffins, razorbills, guillemots and many other sea birds – there are gannets to be seen on Grassholm and seals around Ramsey. Walk the coast path or try crabbing or sailing at Solva and Porthclais harbours. Horse riding is available at Nolton Stables (01437 710360). Castell Henllys, a reconstructed Iron Age Fort near Newport puts on activities for families throughout the summer – kids adore it.
Food & Drink
Local delicatessen in St Davids – St David's Food and Wine (01437 721948) – selling a variety of local produce. Gwaun Valley Meats (01348 840838) in Letterston sells quality local meat products and freshly cooked crab and lobster can be bought off the quay in Solva (and also from Porthgain and Roch). Fishguard Farmers Market (01437 776168) runs on Saturday mornings (9am–1pm) in the town hall but get there early as stalls sell out. For a meal elsewhere, most campers recommend The Sloop Inn (01348 831449) and The Shed Bistro (01348 831518) in Porthgain and The Cwtch (01437 720491) in St Davids. Also fish and chips at No.35 (01437 729236) in Solva but only on specified days.
Site Reviews
Add Your Review
Rated ★★★★★ over 30 reviews
Lovely campsite and lovely owners
We had such a nice time at Spring Meadow Farm Campsite in the summer of 2020, we decided to return in 2021. This is a very peaceful campsite with only a few pitches filled at any one time. Where else could you find a campsite in Pembrokeshire in mid-August, with only five tents at any one time? The camping field is bordered by mature willows, creating a tranquil space in which to camp. Each pitch measures 10m x 10m, meaning that there is plently of space to make yourself at home. Tim and Lynne, the owners, are lovely and have created a very welcoming atmosphere. What is especially nice about the site is that no cars are allowed in the camping field, except to unload and load at the start and end of the holiday. This means that the camping experience is reminiscent of days gone by. Never fear though if you need quick access to your vehicle - the car park is only a few steps away from the field. Each plot also has its own picnic bench and fire pit. Wood and kindling can be purchased. There is also access to a washing machine, which is especially useful if you are accompanied by a messy toddler. There is a small fee for each wash. The site is well located and only a few miles from St Davids and Solva. The busy Whitesands bay is also a close drive away. Areas of Pembrokeshire can sometimes feel quite crowded during the summer months, so it was alway nice to return to our little camping oasis at the end of a busy day's exploring. Thanks for everything Tim and Lynne.
Comfortable camping on a lovely small campsite
We've just returned from a week in the special Swallows Yurt - (our first experience last year was so good we went back this year). This is a great glamping experience which retains a simplicity on this quiet and well thought out campsite. Comfortable beds, a woodstove for the cooler evenings and a kitchen under canvas all help make this an idyllic base- particulary when the weather is wet! The addition of a fridge freezer meant we hardly had to worry about food shopping for the week. The hosts are very friendly and helpful, the facilities extremely well kept. We had our own outdoor shower and plenty of space. There are plenty of beaches and places to visit nearby.
Friendly, relaxed vibe
Just spent a glorious week here, sorry to leave, couldn't fault it! Tim's a laid back host, on arrival he presented us with our personal bath mat, a lovely touch! Pitches are beautifully laid out, with grasses between each one....and soooo spacious! Definitely not a 'pack 'em in' type of place! Each pitch has a fire pit, with locally sourced logs for sale. Spotless shower, toilet, washing up area, and use of a fridge/freezer. Loved that all recycling and food waste bins were provided, too! Wouldn't hesitate to recommend, and hope to return!
Tranquil campsite within easy reach of beautiful walks and beaches
This site was just what we hoped it would be, offering tranquility, space and lovely clean facilities maintained by the friendly hosts Tim and Lyn. The site is beautifully laid out, with spacious, level, sheltered pitches and mown paths lined with wild flowers and grasses - ideal for tai chi and yoga! Each pitch has a picnic table and fire pit (wood available to buy), making for a perfect camping experience. There's also a polytunnel that's been converted into a beautiful sheltered garden/space to sit or play table tennis (bring your own bats and ball due to current Covid restrictions). We only explored a small part of this beautiful area, but found some lovely beaches (Whitesands) and coastal walks, and enjoyed a boat trip around Ramsay where we saw puffins and Manx Shearwaters. The rugged coastline and 'naturalness' of this part of Pembrokeshire, combined with the beautiful, laid back campsite, were just what we needed to unwind. We'll definitely be back!
Perfect basic camping
If you are after a quiet, beautiful campsite without frills, this is the place for you. If you like entertainment, groups and music, it would not be a good choice.This campsite has a small number of generously sized pitches and a spotlessly clean toilet and shower block with a free fridge freezer. Each pitch has a fire place and picnic bench. It is close to St Davids and several beaches and the surrounding Pembrokeshire is beautiful The owner are lovely and very helpful, and despite having very poor weather we loved our stay.
See all reviews at Spring Meadow Farm Campsite
Location
Spring Meadow Farm Campsite is located at Nr. Caerfarchell, Solva, Haverfordwest, Pembrokeshire SA62 6XG
Getting There
The campsite is on the main A487 St Davids – Fishguard Rd. It's about 3 miles from St Davids, on the right, just after the Caerfarchell turn off. Or from Fishguard, it's just before the Caerfarchell turn off, on the left.