A big but intimate site with 180 degree views of a cracking coastline
On arrival at Porthclais Farm, you're greeted by a five day weather forecast. This is indicative of the outdoors life that you can lead here – as well as a helpful and informative approach by the owners. They know that people come here to enjoy everything that the Pembrokeshire coastline has to offer – from walking the coast path, surfing, sailing, fishing, rockpooling – and generally pottering around the coastline. The lower fields have only a gorse hedge between you and the coast path and the pretty harbour of Porthclais just at the bottom of the cliffs. Depending on your outdoor pursuits you could easily ditch the car for the duration of your stay, as the cathedral city of St David's is only about a 15 minute walk away – either back up the lane, or for a slightly longer route with a view, along the coast path.
This site has a lovely relaxed attitude, from where you pitch, to what you pitch. In high season the site is a lively mix of family frame tents, one person pop-ups, tipis, bell tents and volley ball/tennis nets. The only real "rule" is to set up camp 20ft away from strangers and 10ft between friends, but that's just a bit of good old common sense. The ablutions facilities are very good, but if you're camping in one of the lower fields and don't want to get caught short, you may prefer to bring your own toilet tent, which is free of charge. And there are no electric hook-ups but you're also welcome to bring your own generator or solar panels. So, all in all, a pretty perfect place to pitch.
Gallery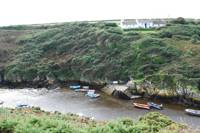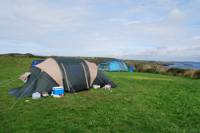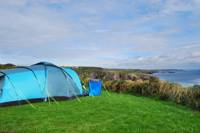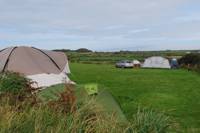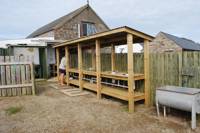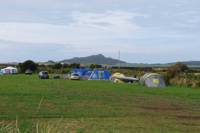 Video Tour
Reader Reviews
Add Your Review
Perfected perfection
I adore this place and echo the words in Neds review. My first visit in July and I want to go back again and again. It's so good that I went for 4nights and ended up staying for 9! If wasn't for work I would still be there now! So why is it so perfect, well it's in a truly beautiful setting which in itself would be perfect with it's pretty harbour, heather filled cliffs with breath taking scenery around every corner, lots of wild flowers and the odd unique beach and all along the very well kept costal path right in front of your tent. What tops it off is very welcoming and helpful owners, great basic facilities, and the general relaxed sense of freedom owing to non specified pitches. And the excellent rule that u must be at least 20ft away from your neighbours is the type of rule that proves the owners care about your stay and not just trying to pack as many into a field for the most profit! (And you will be forced to move if you ignor this rule.) I did a lot of walkin and came across lots of campsite and many tents were so tightly squeezed together they must have been able to hear each other swallow their morning cupa! St davids itself is very quaint and i was surprised to find that it's broad spectrum of small shops meant that I never needed to find a larger town, even when I shopped for a wind up radio! Solva from the coastal is simply stunning too so a must visit. I can't rate this place enough but I think it's heaven itself.
Wonderful Porthclais
I've been visiting this campsite since I was a small child and the best thing about it, is that it's hardly changed in over 40 years. The amenities have improved, but the simplicity and beauty haven't changed at all. The views and sea air will do you the world of good, with arguably the most beautiful coastal paths in the UK only moments from your tent. St Davids is a 15 minute walk, with shops, cafes and a couple of pubs. The harbour at Porthclais is a hidden gem, for fishing and exploring at low tide, there are other beautiful beaches nearby, such ac Carfai, Porthlisky and White Sands. You'll never run out of things to do in this part of the world and I would highly recommend this site whatever your age or circumstances.

Best Price Guarantee, with no fees
Instant booking confirmation
Trusted for over 10 years
A chance to win £50 of Cool Camping vouchers!
Book campsites near Porthclais Farm Campsite