Rhosson Ganol
Rhosson Ganol, St Davids, Pembrokeshire SA62 6PY







Wales' westernmost campsite, boasting stunning views overlooking Ramsey Sound on the Pembrokeshire Coast
All manner of weird and wonderful campsites are brought to your attention via Cool Camping, but we all need a little bit of normality in our lives and this includes campsites where us average bods, whether couples or families, can enjoy a standard camping holiday – after all not all of us are searching out the weird or eccentric.
This is where Rhosson Ganol rides to the rescue, and where there isn't a yurt or a tipi to be seen. Neither are the owners on a campaign to save the planet, and there is absolutely nothing strange or uniquely different trying to sell the site to the camping punters. They (the Griffiths family – Henry, David and Kate) just want their guests to enjoy their holidays.
The wide and unspoilt view may very well be the strongest reason for falling in love with Rhosson Ganol, but there is something else here gnawing at the senses, and it could be that feeling of being in a place where there is nothing beyond. In effect this is the Welsh version of Land's End, or John o' Groats, with Rhosson Ganol being the westernmost campsite in Wales. All this can be felt in your bones, too, sitting outside the tent staring happily and vacantly out at the sea on a warm summer evening.
Right, enough notional nonsense, for this is a fantastically practical place to come for that normal camping holiday we promised. Before venturing too far from the site in search of things to see and do it is worth kicking off the explorations by strolling down to that rocky little cove at Porthstinian, where a few leisurely facts become clear. The first being that a walk along the coast path from here is eminently possible, with a bus service bringing walkers back to base at the end of the day.
There are also quite a number of boat trips running out of Porthstinian, offering a bewildering variety of aquatic adventures including contrasts such as a visit to the RSPB reserve on Ramsey Island, to an outrageously mad jet-boat session in the whirlpools and big, big waves that batter this coastline. Added to all this is the existence of a nice beach just half a mile away, the city (well, it's a village really) of St Davids just over a mile, and the whole of west Pembrokeshire readily accessible from this small campsite, which teeters on the very edge and makes a normal kind of holiday something rather extraordinary.
Gallery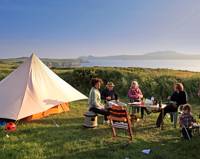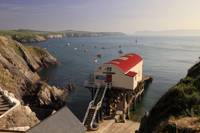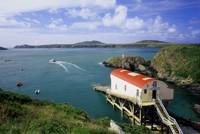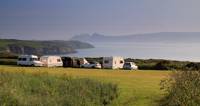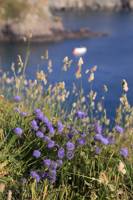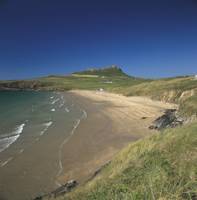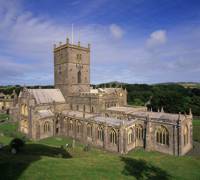 Video Tour
The Owner Says
Rhosson Ganol has 35 pitches all in a scenic location overlooking Ramsey Sounds. The large camping field gives you plenty of choice on where you wish to pitch your tent for your holiday. There are plenty of walks nearby along the coastal path with a handy bus service bringing walkers back to base at the end of each day. There are also a number of boat trips running out of Porthstinian, offering a bewildering variety of aquatic adventures including a visit to the RSPB reserve on Ramsey Island.
Reviews
Add Your Review
The view is WOW, the friendliness is lovely!
Best not to use GoogleMaps to guide you to the site, but once there the view felt special. The facilities were very clean and the showers were fab, you just have to plan your visit to them from the top end of the field! The only reason I haven't given a 5* was although we had a very friendly welcome and allowed to stay longer than planned, more information about how to get to places and places to get to would have been useful. But apart from that, a very memorable lovely time had and would definitely recommend it!
Awesome
This site is awesome! We stayed for 3 nights and loved every second. The weather was fairly changeable including sun, rain and strong winds. The tent took a bit is a battering but nothing that double pegging couldn't solve! There was plenty of space between pitches and a real sense of privacy. The facilities were basic but beautifully clean at all times. Despite only having 3 showers, there were never queues. The view from the site was truly breathtaking and a great indicator of incoming weather! All in all this site is camping perfection for those who like a relaxed experience and can make the best of the variety of weather on offer. A boat trip around Ramsey Island was fabulous and a never to be forgotten experience. My 9 year old described it as the best experience of his entire life! St David's is beautiful and full of things to discover. The butcher on Goat Street was brilliant - well priced, quality produce which was perfect for a camping bbq. Fish and chips with a cold glass of beer, whilst sitting on the patio at the back of the Dyfed Cafe was delicious. The Grove hotel provided an excellent evening meal. We walked to Whitesands bay on the coastal path, which took about 50 minutes. The bay is huge with enough space for everyone. Quite honestly this was the holiday of a lifetime. We will be back.
A beautiful place for the soul to unwind and the pace of life to slow to what it should be
This is an exceptionally beautiful site overlooking the sea. The owner is friendly and the whole site kept very clean. There aren't separate washing up facilities but you choose a site like this for it's near-to-nature appeal. I'm glad of its clean loos and hot showers! We chose a pitch tucked into a hedge as strong gusts were forecast on our first night, and though we did feel the force of the wind (after all we had chosen a site by the sea under canvas) it was so worth bearing with that first night. The following days showed it was the perfect spot for coastal walks or days at the beach. Rhosson Ganol Camping is the sort of place for your soul to unwind and your pace of life to slow to what it should be. Add to this a very friendly owner who was more than fair in part reimbursing members of the family couldn't stay the whole length of time we had booked.
Really great few days at Rhosson Ganol
We have just returned from four nights at Rhosson Ganol and had a brilliant time. The campsite is beautifully located with great sea views - although it is worth bearing in mind that this can leave you quite exposed during south to south-westerly storms. As noted elsewhere, the facilities were basic but kept very clean and the showers were always hot! Our reserved pitch with electric hook-up was clearly flagged ready for our arrival. Wifi was also a welcome surprise and the connection was very good indeed. The seasonal bus service into St Davids was truly excellent with a bus every half hour - on one wet evening our bus driver even dropped us directly to our tent! My only very minor criticism would be that we never saw any of the site staff to have a friendly chat and pick up some information about the general area and places of interest. With no site office or point of contact this can make planning a stay a little more difficult. That being said, it was a great holiday - thank you Rhosson Ganol.
Wonderful view but facilities limited
As others have said.... the location is beautiful with outstanding views and a good space for children to play. The main problem for us was the impossibility of allowing the children to go to the toilet alone. I didn't read the reviews before hand so hadn't realised the facilities were remote from the actual field. It was also a little disappointing to have no reception or indication of where to pitch. Although on the one hand it can be nice to chose exactly where to go, it was full enough that we struggled to find a pitch large enough for our very large group. It is a lovely site for the views alone but personally I would go elsewhere in future for a more reasonable price with more accessible facilities.
Lovely 'basic' site
I've got to admit I was a little disappointed with our experience of staying here... there were some great points going for the site such as: Well maintained areas to camp Beautiful views and plenty of space (grass pitch without hookup area) But I thought it was a bit let down by... No advice beforehand on what to expect on arrival... no reception, no check in process, some pitches labelled as booked but not uniformly so after driving around for 20 mins without seeing our booked pitch we just had to pick a random emply place. The facilities are described as excellent...I wouldn't go that far. They did tend to be clean but still had spiders etc crawling around in them which freaked some of our party out. I know its farm camping etc. There weren't THAT many facilities considering they also seemed to be shared with the Rhosson camp site up the road too? For males there are two urinals, two toilets and 1 shower. I think the ladies had 2 showers. There was only 1 sink in each toilet block which mean that when people had used the loo and wanted to wash their hands, they couldnt get to the sink because of others brushing teeth etc. The toilet block as has been mentioned is across a road from the site! This is pretty poor really as it means that any younger kids just can't go to the loo on their own. As as has also been mentioned, nowhere at all to wash any plates or pots etc. This site would be amazing if they added another toilet block, ON SITE, with dish washing facilities. I think next time we'll research a little better as those things are, INHO and when travelling with kids, pretty essential.
Beautiful location, friendly owners but....
A stunning setting and extremely friendly and helpful hosts makes this a good site. However if you're a tent wanting hook up, the space is pretty squashed in amongst the camper vans and so not the best space for kids to play. The facilities are basic as already mentioned but also very limited with only 3 showers in total and nowhere to wash your dishes. They are also across the road from the campsite, again not ideal for kids if you like to give them a bit more freedom when camping.
5 star location with severe weather warning
Rhosson Ganol is a truly wonderful camp site, in one of the most stunning locations imaginable. But campers must be advised of risk of exposure to severe winds. Our stay was cut short by severe - and unforecast - wind. Nearly all the many tent campers left the next morning, with many tents just dropped in the skips. Our tent survived, but we had to bail for the car in the middle of the night. We're experienced campers, and I thought I had found a relatively protected spot. In one sense, the location itself calls out "be warned," but I did not storm brace as severe winds were not forecast until the following night. But the site location is truly special, the shower and toilet are cleaned very regularly, and there is plenty of hot water. The owners do a good job too. If you enjoy old school camping, it doesn't get better than this - but be prepared for severe winds and prepare accordingly!
Amazing views, peaceful site
This is a lovely no frills spot to camp and even over a sunny weekend in June it was quiet and peaceful with lots of space. The pitches are generous and mostly flat with hedges for shelter if the weather was poor, views are great out across the Ramsey Sound and the sunsets are fab, it's also an easy walk along the coastal path to Whitesands Bay for the beach. The toilet and shower block, which is a short walk across a country lane, is simple, clean and has loads of hot water. Loved it here and look forward to a return trip sometime.
Fantastic views, great facilities
We booked this campsite as a last minute getaway and we're so glad we did! Stayed at the site for three nights and loved it. The views from the lower field where we were staying are spectacular, particularly at sunset and sunrise. The facilities are great – hot showers, clean toilets, everything you need. You can also park next to your tent, which is really useful. A short walk along the cliffs and you're at the beach – highly recommend and will definitely stay again.
Magical stay
Everything you could want from a campsite- stupendous all round sea views right on the best coastal path in the uk - can walk to beaches town and around coast. Friendly quiet unfussy and well serviced site. Just returned as seasoned travellers from a four day stay at one of the best sites we have ever stayed on in a vw camper with dog! Perfect break thank you-we will be back!
Wow...... what a first experience!
We have just returned home from our first EVER camping trip. We stayed at Rhosson Ganol site and I was blown away by the views. Everyone was really friendly and we took our 5 month old pup who also enjoyed his first holiday. We will definitely be back.
Ace campsite
I stayed here in mid summer 2017. Annoyingly, after several sunny weeks, it rained as soon as we arrived which was a real shame because I could see the campsite had everything for an amazing holiday but for us it was a bit of a washout weather wise. We still managed to do some swimming e.t.c. though and the campsite itself was perfect. Well priced, amazing views, amazing location, nothing too flashy or fancy but that's not the kind of camping we were after. Really friendly owners. Highly recommend. Next time we go we want sunnnn though!
Rhosson Ganol
Wonderful and truly amazing. View to die for, great, clean if basic facilities, friendly, peaceful and cheap. We were there for two nights at the start of our holiday and one at the end in a campervan. I wish I could live there, thank you for a much needed slice of peace and tranquility.
Rhosson Ganol
We've been going to Rhosson Ganol four or five times a year for nearly 30 years. Due to 'knees' we no longer tent but have a small caravan. We have such a lot of happy memories and now we take our grandchildren. Believe me, you have never seen stars until you have been to this corner of Wales. Breathe the fresh air, hear nothing but the sounds of nature and chill.

Rhosson Ganol
We spent one night here at the end of May. The site has a wonderful location with amazing views over the sea and Ramsey island. It was very quiet when we visited, the owner told us that it is busy at bank holiday weekends. short walk down the hill to St Justinian and the boats to Ramsey and around. Right on the coastal path too. We walked into St Davids and back for the evening, about 30 minutes, all along quiet lanes. Highly recommended, but if busy, the toilets and showers would, as the cool camping review suggests, be under pressure. They were well kept and effective for our stay.
Best Price Guarantee, with no fees
Instant booking confirmation
Trusted for over 10 years
A chance to win £50 of Cool Camping vouchers!
Book campsites near Rhosson Ganol