A handful of pitches in a nine-acre wood, all within easy reach of the beautiful Daugleddau Estuary in Pembrokeshire
"Same, same but different." It's a phrase that anyone who's been travelling in South East Asia will be familiar with; Dragonfly Woodland Camping's owner, Jacob, among them. Fresh back from travels in Asia and Australia, he decided to follow (almost) in his mum's footsteps to launch a campsite on the idyllic Pembrokeshire farm they live on. Mum Nicola, you see, is behind the similarly-named Dragonfly Camping. Highly-rated by Cool Camping customers, her site is glamping-only while Jacob's new venture is very much back-to-basics camping or "wild camping with perks", as he puts it. One family, one farm, two different approaches to staying in the great outdoors. Like we said: same, same but not quite the same.
Book a pitch at Dragonfly Woodland Camping and, as well as a place to pitch your tent among the trees, you'll get a hand-crafted shelter, a picnic bench and a fire pit with log seating. You'll get use of the eco-friendly facilities with biodegradable washing-up liquid and shower gel thrown in. And you'll have access to the hand-crafted timber and stretched canvas communal under-cover area where wet weather is more likely to bring on a table tennis tournament than put a dampener on things.
The influence of Jacob's time spent travelling can be seen in the sociable spaces and laid-back feel of the site but his background as a renewable energy and engineering graduate is also evident. Structures are well-designed and the only power on site is solar. The provided wood for campfires is sustainably sourced from the farm though you'll be expected to split it yourself and may want to send the kids out to collect tinder and kindling. And, if you need to brush up on your bushcraft, don't fear as lessons are available on site.
While you could easily spend a few days just relaxing on site, you'll want to get out and explore the area too. If you've got a kayak, strap it to the roof and drive two minutes downhill to Cresswell Quay where you can launch in to the peaceful waters of the Daugleddau Estuary. If you like to walk, stroll half hour to Lawrenny Village fuel up at the quayside tearooms and then wander in to the National Trust-owned Cleddau Woodlands. And don't forget this is Pembrokeshire so some of Wales' best beaches and the Wales Coast Path are also within reach.
Details
Facilities
2 hot water showers with biodegradable shower gel provided, 2 eco-friendly flushing loos and 2 washing-up sinks with biodegradable washing-up liquid provided. The site also has a woodland walk, swing, and an inside communal area with a ping-pong table. Each pitch has a shelter, picnic table, fire pit and grill. Firewood is included in the price.
Suitable For
Tents and campervans (up to 6 metres), groups – yes. Caravans, motorhomes and dogs – no.
Nearby
Bushcraft/ foraging courses can be arranged onsite with Dan from Blackrock outdoor company (https://www.blackrockoutdoorcompany.co.uk). It's less than five minutes' drive to the Cleddau Estuary where you can kayak, canoe or sail the peaceful waterways from a launching point at Lawrenny Quay. The banks of the river also offer great walking through the National Trust-owned Cleddau Woodlands. The Pembrokeshire Coast National Park is less than 20 miles away where there's plenty of great walks including, of course, some of the most stunning stretches of the Wales Coast Path. Barafundle Bay, often cited as one of the world's best beaches, is a 20-minute (13-mile) drive from the campsite. For surfing, stand-up paddleboarding or coasteering try the Outer Reef Surf School (01646 680070) who offer lessons and courses along the Pembrokeshire Coast. The beach at Tenby, on the south coast, is probably the closest to site (10 miles away). There are castles at Pembroke (01646 681510), Manorbier (01834 870071) and Carew (01646 651782) all within 10 miles of site. There's child-friendly fun at Oakwood Theme Park (01834 815170) and Blue Lagoon Waterpark – both around a 10-minute drive away. And Folly Farm Adventure Park is just a little further.
Food & Drink
You can walk less than a mile to the nearest pub, the Cresselly Arms (01646 651210), or take a 5-minute drive to the Lawrenny Arms (01646 651367) or Lawrenny's Quayside Tearooms (01646 651574). Further afield, the award-winning Café Môr (07422 535345), a seafood shack based at Freshwater West beach, comes recommended and Tenby (10 miles away) has a wide variety of good restaurants and pubs. To stock up on food for the campsite, head to Bubbleton Farm Shop and Kitchen (01834 501871) or head to the Co-op, a 15-minute drive away, in Kilgetty. There are a variety of shops and supermarkets at Pembroke Dock.
Open
May–September.
Why book with Cool Camping?
Best Price Guarantee, with no fees
Instant booking confirmation
Trusted for over 10 years
A chance to win prizes in our regular competitions
The Owner Says
Dragonfly Campsite is nestled in a 9 acre woodland on our 300 acre organic dairy farm on the edge of the Cleddau estuary. It is a quiet rural location within easy reach of Pembrokeshire's finest beaches and National Park or a 5 minute drive to Lawrenny estuary where you can launch your own small boats and canoes.
Each pitch is in a clearing within the wood and comes with its own shelter, fire pit and picnic table.  There is plenty of room to pitch a couple of tents, park your car or campervan and space for the children to play.  As there are only 10 pitches it is never crowded or packed and a bit more like a wild campsite with perks.  Peace and quiet and enjoying nature with a few creature comforts is what we aim to provide.  Whether it is toasting marshmallows around your own campfire or gazing at the stars on a balmy summer's night, it is a family or couple experience we hope will be memorable.
Please note that Dragonfly Camping is off grid with renewable energy technology and sustainability at the core of our ethos. All of our electricity is supplied via solar panels so there are no 3 pin plug sockets, electric hook-up charging points or Wi-Fi.  However there is 4G coverage across some of the site and a few USB charging points in the communal area for phones.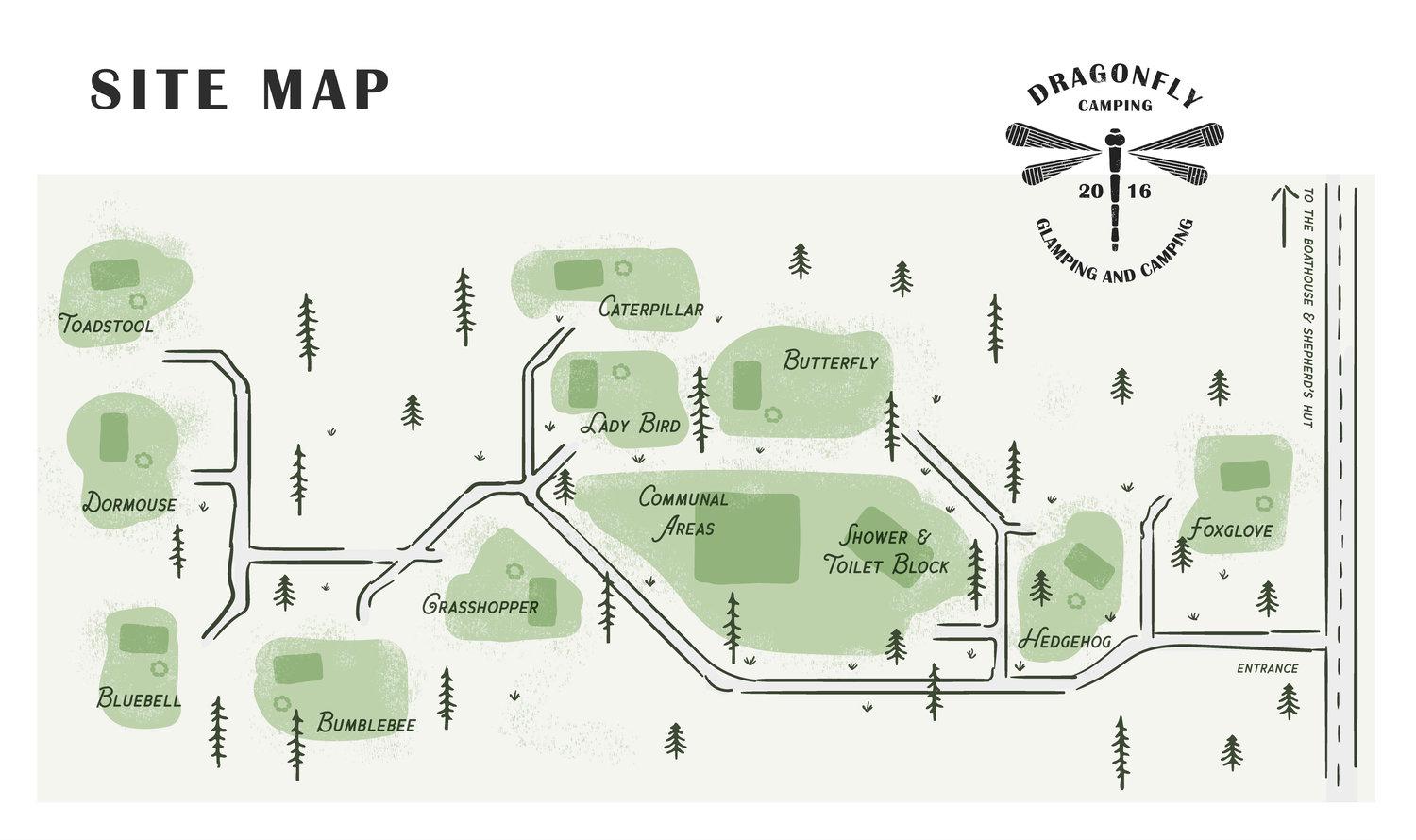 Location
Contact Dragonfly Woodland Camping, Dragonfly Camping, Lawrenny, Kilgetty, Pembrokeshire SA68 0QD.
Getting There
From the A40 take the A4075 towards Cresselly. At the top of the hill turn, right onto Millway lane. At the bottom of this lane, turn right and go over a little stone bridge, carrying straight on at the next bend and up the hill. Keep going until you see a Woodland Champion sign on the left-hand side. If you're coming from the other direction on the A477, you turn right at the Carew roundoabout onto the A4075 and then left towards Whitehill – this will bring you passed the Cresswell Quay pub and then over the little stone bridge mentioned in the directions above.
The nearest train station is at Kilgetty, 7 miles away. From here you can take a bus to the stop nearest the site at Cresswell Quay (1½ miles away). The same service connects with Tenby and Pembroke Dock.
Reviews
Add Your Review
Rated ★★★★★ over 24 reviews
Perfect!
We absolutely loved our stay at Dragonfly. Great location with plenty to do nearby. The facilities are exceptional, the staff is easy going and friendly and you can see the love, care and attention that has been taken in every corner of the campsite...from the shelter on every pitch to the communal areas and the bathrooms. We will definitely be back as soon as we can!
Amazing, just amazing
Definitely one of the best campsites we've ever been to! Small but perfectly organised. In my opinion owners have created the perfect campsite. We'll be back!
Excellent Campsite - highly recommend
The individual pitches with the shelters are great, we didn't have the best weather so this made it much better being able to sit & cook under the shelter! We spent every night around the fire pit. Facilities were clean and of a high standard. Kids really enjoyed the freedom of the site, the swing and the table tennis! Perfect location for exploring the local area.
Small but perfectly formed
This is a great campsite and gave our children so much freedom to just roam and meet new little friends. The shelters (ans shelf!) were so useful and the campfires set ups so useful. Hot showers were fab and there was everything we could have needed -only two small recommendations to make it even better - planting a few clumps of uk perennial herbs near the communal building for both insects and useful bbq additions, and giving some of the pitches a bit of a periodic strim/hay cut just so useable space is maximized.
Stop the clocks and back to nature for a few marvellous days
A most perfect fusion of wild and the necessary creature comforts. Each pitch had plenty of space and was surrounded by trees, wildflowers and plenty of wildlife. The covered benches were particularly well thought out and provided us with shelter during the one day of rain and shade from the hot sun on the remaining 6 days. The shelter was big enough for the five of us to both cook and eat under on the wet day as well as to be able to sit under, paint and read and still enjoy the nature all around ( rather than be confined to the tent if it does rain). The shower and toilet block were beautifully designed and the communal area with the table tennis table and washing up area was also a great layout. A nice touch was the chest full of frozen ice packs provided daily to keep your cool boxes cool and the 4 phone charging points ( I'd recommend taking a power bank to recharge when required as these can get busy). I think the fact that the site only has ten pitches makes the whole experience very special- you can enjoy seclusion but at the same time not feel too isolated and all the people we met at Dragonfly were very respectful of one another and friendly. Highlights for me were being able to cook over an open fire and sit under the stars, surrounded by nature and with very little light pollution. Wouldn't hesitate to recommend to anyone who enjoys camping and the great outdoors. There are a whole host of beaches within a short drive, plus beautiful walks and cycle rides on the doorstep. We shopped at the Coop in Kilgetty which had everything we needed. Thanks for a great stay Jacob!
Fantastic spot!
The place was very tidy and clean. Great facilities - really everything you need in one spot. Other campers were also super respectful and quiet.
Fabulous place
Campsite was amazing simple quiet relaxing just fabulous we will be back for more big thumbs up
Absolutely magical spot!
This little campsite is a true hidden gem. All of the pitches are separated by trees so you really feel like you are alone but still have the convenience of having toilets, showers and somewhere to wash your pots and pans. I would absolutely stay here again and would recommend to anyone! I truly didn't want to leave and wish I had move time to stay another night!
Beautiful quiet spot, incredibly well maintained
This is such a great site. Each pitch has a table and shelter. The showers and dish washing facilities are spotless. It's in a gorgeous out of the way spot and there is so much to see in the area. The woodland and flora around it are great. There is a swing and a ping pong table and our kids loved it there. Jacob is great, really easy to communicate with. It's all really well thought out and we'd definitely look forward to going again.
Stunning secluded glade
This campsite is superb. Our grasshopper pitch on first inspection was nothing like a woodland site. However, Waking up on our first morning and stepping outside the tent- surrounded by trees and birds tweeting was just like staying in a woodland glade, it's a really special place that is lovely to be in. We had the benefit of the sun most of the day but also rarely disturbed by other campers even though the main facilities were just behind our plot as this is such an exclusive site. Our plot was so big we had enough room For two more pup tents so we could have invited our family. There was complimentary wood on site for the fire pit which is very generous. The showers and loo was clean enough and did not smell. Water was warm and plenty of hand sanitiser at each facility to remove the thought of COVID. We received clear instructions a few days before arrival and had quick responses to our questions during the stay. The usb charging point in the main communal area was enough for our electronic needs. The folder in there listed two walks which although didn't have a map we did try and they were both the best walks I've been on for a long time, allowing us to see such special places of woodland that we had never seen before. Overall an excellent place to stay and I cant recommend it highly enough.
Pitch perfect - Beautifully crafted site in an idyllic woodland spot.
A lot of effort has gone in to creating private, secluded sites with minimal intervention in the environment. This, and the setting itself, contributes to an ideal retreat for total escape. Personal touches are everywhere too. If you like wood, and the odd A frame. You'll love it here
Peaceful and idyllic. we stayed with 2 friends for 4 nights and had a wonderful time. We will be coming back next year!
This small site has intimate camping pitches set amongst the trees, with owls hooting at night. The supply of logs was very welcome for cold late September nights. Everything kept beautifully clean. The facilities and the site is very well thought out. It was our last camping trip for the year and what a fantastic memory it will be
Perfect little campsite.
Dragon fly woodland campsite is possibly the best campsite I've stayed in so far. Spacious plots with lots of room for tents and car/campervan plus your own campfire (with unlimited wood supplied) and a sheltered picnic bench. Most plots feel privet with woodland separating each area. Nice communal area, clean toilets and showers with hot water. Lovley and quiet at night. Would suit families and couples as a great base to explore Pembrokeshire. Half hour walk to a pub for a pint and a 10 min drive to the nice village of Lawrenny which has a fantastic place for lunch over looking the estuary and the boats, the Lawrenny tearooms. All in all highly recommend this place. Bit more pricer than other campsites but worth it. Cant wait to return again next year!
One of our best camping trips
We booked a 3 night stay and absolutely loved it at dragonfly camping. Camp fire really made it for us, we cooked our evening meals and breakfast over the fire. Site supplied firewood, mesh grids, some pans, condiments, washing up liquid, USB ports for phone charging amongst other things too which was a bonus And all free of charge.
Absolutely beautiful campsite
Absolutely beautiful campsite! So quiet and peaceful and only 9 pitches. All nicely spread out so you have plenty of privacy🌿 The facilities are probably the best I have ever seen at any campsite! (Toilets/showers) The attention to detail is fantastic. Being able to make your own campfire is a amazing! Located in a beautiful area with plenty of walks! Came here with our 2 kids under 3 and they loved it! Thank you for a lovely time!
Perfect woodland retreat
We visited dragonfly camping for a long weekend away for our anniversary and it was perfect. You truly feel like you are camping in nature. The private pitches provide so much space and they have thought of everything. All the facilities are great, and incredibly clean whilst also giving you the sensation of wild camping. We had a campfire every night using the unlimited supply of firewood! We cooked over the fire and watched the stars at night. We even spotted a woodpecker one morning which was really special. Just down the road is a friendly pub with an outside space overlooking the water, and in the other direction is a sweet local vineyard with tasters and a small restaurant. Not far away is Narberth, Tenby and loads of great beaches! Although it was a little more expensive than other campsites, you definitely get more for your money!
Lovely stay
Enjoyed the gentle pace of life here - only sorry that we could only stay one night - we will be back. The shelters at each pitch were delightful, allowing us to sit and enjoy our campfire depsite a bit of rain. The washblock and communal area was great.
Great campsite!
A great campsite with plenty of space between pitches. Other campers were great and respectful with mostly families when we were there. Our kids spent a lot of time playing with the other kids on site. Come 10pm the campsite was quiet and peaceful. Communal areas (toilets, showers and sinks for washing up) were really clean and well maintained. A favourite part was the good sized tin roofed tables, so much better than what they looked in the pictures (one at each pitch). Meant we could sit outside and eat and play cards even when it was rainy. We will definitely come back!
Charming
I had a couple of reservations about this place beforehand. It all sounded a bit "Fat Face Does Camping" and I thought, with its woodland setting, it would be plagued by midges. Neither worry was valid - it's a friendly little campsite with a nice vibe and it is well looked after. I didn't spot any midges and we had a great time. You do need to be aware that it's a bit of a hike to get anywhere you might want to visit as there isn't much right on the doorstep.
Bloody great
We absolutely loved our stay here. Couldn't have really asked for anything better. The things that really make this site stick out are the prebuilt shelter, benches and fire pit for each plot, the free firewood and the general relaxed nature of the site. These really added a huge amount of comfort that we've never really experienced before whilst camping. And to add to that Jacob was very friendly, responsive to texts and extremely helpful when our van got stuck in some mud. As there are only 10 plots on site the roads are really quiet which meant the kids (8 and 11) could run off for hours and play around the woods with the other kids or go and play table tennis. The communal area was nicely maintained with lots of hand sanitiser/soap for covid 19 and the toilet/shower block were of good quality and had good water pressure. A nice little touch was that Jacob would drop off a few fresh ice packs for each plot every day to keep your cool box cold. The sites location meant it was only a short drive to Pembroke, Tenby, St govan's and Freshwater East which was great. Overall, we had a lovely few days there, will happily go back in the future and would highly recommend it.
we loved it! & want to come again
Our family of 6 absolutely loved staying at the Dragonfly Campsite in August 2019. We really appreciated individual tent plots in the woods, immaculately clean facilities and friendly helpful hosts. The area was large enough for kids to free range and make friends with other children. The unlimited supply of firewood (included in the booking price) and possibility of fires on the ground made our evenings extra special. The camp is short drive away from beautiful beaches and supermarkets. We can't wait to go again and this time we will make sure we stay at this camp site for longer
Rustic and spacious
Beautiful rustic campsite, well spaced pitches. Friendly welcome from Jacob when we got there. We hope to return soon.
Perfect stay in a beautiful setting
Just got home after camping here for the last few days. A lot of effort has gone into making this place a special and unique site, from the layout of the pitches through to the onsite facilities and nature trail walk. The fact that each pitch has it's own fire pit and covered dining area was amazing - the kids loved collecting firewood and swinging on the tree swing nearby. I think the highlight was sitting around a fire watching the stunning sunsets filtered through the trees whilst bats slowly emerged from the woodland. It was wonderfully quiet and peaceful. Other things we really liked were the hot showers, shared kitchen facilities, table tennis, ice packs and the communal usb points for phone charging. A lot of thought and attention has gone into this place and it really shows. With a few years of maturity it will probably be one of the finest campsites available on here. We can't wait to go back.
Lovely campsite, the best we've stayed at so far!
We loved the quiet location and the excellent pitches. You could tell the structures on the site were beautifully built and designed, so they blended in well with the woodland landscape. We stayed at Grasshopper which was really large, and could easily have fitted another tent in addition to our large 6 person one. The shelter and table was perfect for extra space outside of our tent. The campfire, log bench seating and firewood provided were also thoughtful additions that contributed to the overall excellent stay. The facilities were great, flushing loos, hot showers, large washing up area, gas bbq. Table tennis, hammock and woodland swing kept kids entertained. Because there are only 7 pitches, there was never a queue for the toilets or showers which is a nice change from other campsites! Wish we could have stayed here longer that the brief weekend break we had. Very close to lots of places but realistically we would have been just as happy staying on the campsite relaxing. Planning to return for a longer stay in the near future.
Why book with Cool Camping?
Best Price Guarantee, with no fees
Instant booking confirmation
Trusted for over 10 years
A chance to win prizes in our regular competitions
Book campsites near Dragonfly Woodland Camping