A handful of pitches in a nine-acre wood, all within easy reach of the beautiful Daugleddau Estuary in Pembrokeshire
"Same, same but different." It's a phrase that anyone who's been travelling in South East Asia will be familiar with; Dragonfly Woodland Camping's owner, Jacob, among them. Fresh back from travels in Asia and Australia, he decided to follow (almost) in his mum's footsteps to launch a campsite on the idyllic Pembrokeshire farm they live on. Mum Nicola, you see, is behind the similarly-named Dragonfly Camping. Highly-rated by Cool Camping customers, her site is glamping-only while Jacob's new venture is very much back-to-basics camping or "wild camping with perks", as he puts it. One family, one farm, two different approaches to staying in the great outdoors. Like we said: same, same but not quite the same.
Book a pitch at Dragonfly Woodland Camping and, as well as a place to pitch your tent among the trees, you'll get a hand-crafted shelter, a picnic bench and a fire pit with log seating. You'll get use of the eco-friendly facilities with biodegradable washing-up liquid and shower gel thrown in. And you'll have access to the hand-crafted timber and stretched canvas communal under-cover area where wet weather is more likely to bring on a table tennis tournament than put a dampener on things.
The influence of Jacob's time spent travelling can be seen in the sociable spaces and laid-back feel of the site but his background as a renewable energy and engineering graduate is also evident. Structures are well-designed and the only power on site is solar. The provided wood for campfires is sustainably sourced from the farm though you'll be expected to split it yourself and may want to send the kids out to collect tinder and kindling. And, if you need to brush up on your bushcraft, don't fear as lessons are available on site.
While you could easily spend a few days just relaxing on site, you'll want to get out and explore the area too. If you've got a kayak, strap it to the roof and drive two minutes downhill to Cresswell Quay where you can launch in to the peaceful waters of the Daugleddau Estuary. If you like to walk, stroll half hour to Lawrenny Village fuel up at the quayside tearooms and then wander in to the National Trust-owned Cleddau Woodlands. And don't forget this is Pembrokeshire so some of Wales' best beaches and the Wales Coast Path are also within reach.
Our Best Price Guarantee
We guarantee our prices at Cool Camping are the same, or lower, than booking elsewhere. If not, tell us, and we'll match it or beat it. Click here to read the full terms
Details
Facilities
2 hot water showers with biodegradable shower gel provided, 2 eco-friendly flushing loos and 2 washing-up sinks with biodegradable washing-up liquid provided. The site also has a woodland walk, swing, and an inside communal area with a ping-pong table. Each pitch has a shelter, picnic table, fire pit and grill. Logs are included in the price of stays. On-site bushcraft courses can be arranged with resident woodsman Chris Buzzard (01834 871931).
Suitable For
Tents and campervans (up to 6 metres), groups – yes. Caravans, motorhomes and dogs – no.
Nearby
On-site bushcraft courses can be arranged with resident woodsman Chris Buzzard (01834 871931). It's less than five minutes' drive to the Cleddau Estuary where you can kayak, canoe or sail the peaceful waterways from a launching point at Lawrenny Quay. The banks of the river also offer great walking through the National Trust-owned Cleddau Woodlands. The Pembrokeshire Coast National Park is less than 20 miles away where there's plenty of great walks including, of course, some of the most stunning stretches of the Wales Coast Path. Barafundle Bay, often cited as one of the world's best beaches, is a 20-minute (13-mile) drive from the campsite. For surfing, stand-up paddleboarding or coasteering try the Outer Reef Surf School (01646 680070) who offer lessons and courses along the Pembrokeshire Coast. The beach at Tenby, on the south coast, is probably the closest to site (10 miles away). There are castles at Pembroke (01646 681510), Manorbier (01834 870071) and Carew (01646 651782) all within 10 miles of site. There's child-friendly fun at Oakwood Theme Park (01834 815170) and Blue Lagoon Waterpark – both around a 10-minute drive away. And Folly Farm Adventure Park is just a little further.
Food & Drink
You can walk less than a mile to the nearest pub, the Cresselly Arms (01646 651210), or take a 5-minute drive to the Lawrenny Arms (01646 651367) or Lawrenny's Quayside Tearooms (01646 651574). Further afield, the award-winning Café Môr (07422 535345), a seafood shack based at Freshwater West beach, comes recommended and Tenby (10 miles away) has a wide variety of good restaurants and pubs. To stock up on food for the campsite, head to Bubbleton Farm Shop and Kitchen (01834 501871) or head to the Co-op, a 15-minute drive away, in Kilgetty. There are a variety of shops and supermarkets at Pembroke Dock.
Opening Times
May–September.
Why book with Cool Camping?
Best Price Guarantee, with no fees
Instant booking confirmation
Trusted for over 10 years
A chance to win prizes in our regular competitions
The Owner Says
Dragonfly Campsite is nestled in a 9 acre woodland on our 300 acre organic dairy farm on the edge of the Cleddau estuary. It is a quiet rural location within easy reach of Pembrokeshire's finest beaches and National Park or a 5 minute drive to Lawrenny estuary where you can launch your own small boats and canoes.
Each pitch is in a clearing within the wood and comes with its own shelter, fire pit and picnic table.  There is plenty of room to pitch a couple of tents, park your car or campervan and space for the children to play.  As there are only 7 pitches it is never crowded or packed and a bit more like a wild campsite with perks.  Peace and quiet and enjoying nature with a few creature comforts is what we aim to provide.  Whether it is toasting marshmallows around your own campfire or gazing at the stars on a balmy summer's night, it is a family or couple experience we hope will be memorable.
Please note that Dragonfly Camping is off grid with renewable energy technology and sustainability at the core of our ethos. All of our electricity is supplied via solar panels so there are no 3 pin plug sockets, electric hook-up charging points or Wi-Fi.  However there is 4G coverage across some of the site and a couple of USB charging points in the communal area for phones.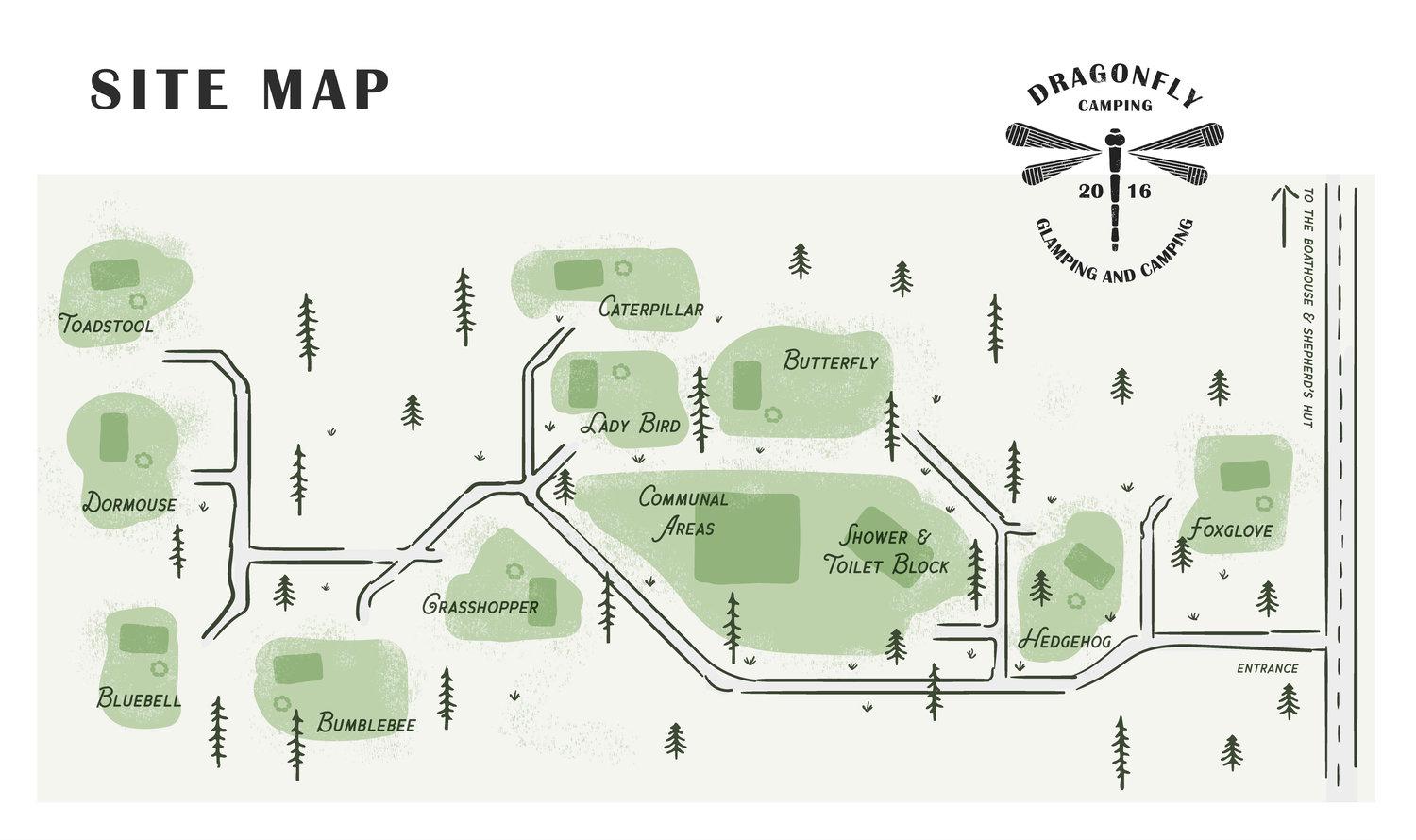 Location
Contact Dragonfly Woodland Camping, Dragonfly Camping, Lawrenny, Kilgetty, Pembrokeshire SA68 0QD.
Getting There
From the A40 take the A4075 towards Cresselly. At the top of the hill turn, right onto Millway lane. At the bottom of this lane, turn right and go over a little stone bridge, carrying straight on at the next bend and following the sign for 'Chris Buzzard Bushcraft'. Pass the Bushcraft site on the left and keep going until you see a Greener Camping Club sign on the left-hand side. Go down the farm track, through a gate and turn right, passing a small quarry on your left. You'll see the shepherd's hut in the meadow on the right before you come to the end of the track. If you're coming from the other direction on the A477, you turn right at the Carew roundabout onto the A4075 and then left towards Whitehill – this will bring you passed the Cresswell Quay pub and then over the little stone bridge mentioned in the directions above.
The nearest train station is at Kilgetty, 7 miles away. From here you can take a bus to the stop nearest the site at Cresswell Quay (1½ miles away). The same service connects with Tenby and Pembroke Dock.
Reviews
Add Your Review
Rated ★★★★★ over 4 reviews
we loved it! & want to come again
Our family of 6 absolutely loved staying at the Dragonfly Campsite in August 2019. We really appreciated individual tent plots in the woods, immaculately clean facilities and friendly helpful hosts. The area was large enough for kids to free range and make friends with other children. The unlimited supply of firewood (included in the booking price) and possibility of fires on the ground made our evenings extra special. The camp is short drive away from beautiful beaches and supermarkets. We can't wait to go again and this time we will make sure we stay at this camp site for longer
Rustic and spacious
Beautiful rustic campsite, well spaced pitches. Friendly welcome from Jacob when we got there. We hope to return soon.
Perfect stay in a beautiful setting
Just got home after camping here for the last few days. A lot of effort has gone into making this place a special and unique site, from the layout of the pitches through to the onsite facilities and nature trail walk. The fact that each pitch has it's own fire pit and covered dining area was amazing - the kids loved collecting firewood and swinging on the tree swing nearby. I think the highlight was sitting around a fire watching the stunning sunsets filtered through the trees whilst bats slowly emerged from the woodland. It was wonderfully quiet and peaceful. Other things we really liked were the hot showers, shared kitchen facilities, table tennis, ice packs and the communal usb points for phone charging. A lot of thought and attention has gone into this place and it really shows. With a few years of maturity it will probably be one of the finest campsites available on here. We can't wait to go back.
Lovely campsite, the best we've stayed at so far!
We loved the quiet location and the excellent pitches. You could tell the structures on the site were beautifully built and designed, so they blended in well with the woodland landscape. We stayed at Grasshopper which was really large, and could easily have fitted another tent in addition to our large 6 person one. The shelter and table was perfect for extra space outside of our tent. The campfire, log bench seating and firewood provided were also thoughtful additions that contributed to the overall excellent stay. The facilities were great, flushing loos, hot showers, large washing up area, gas bbq. Table tennis, hammock and woodland swing kept kids entertained. Because there are only 7 pitches, there was never a queue for the toilets or showers which is a nice change from other campsites! Wish we could have stayed here longer that the brief weekend break we had. Very close to lots of places but realistically we would have been just as happy staying on the campsite relaxing. Planning to return for a longer stay in the near future.
Why book with Cool Camping?
Best Price Guarantee, with no fees
Instant booking confirmation
Trusted for over 10 years
A chance to win prizes in our regular competitions
Book campsites near Dragonfly Woodland Camping