Embrace your inner Hiawatha and take your tribe to Pembrokeshire's very own western plains
Dust off your headdress and polish your moccasins, for if you go down to Simpson Cross today, you're sure of a wig(wam) surprise… A pasture reserved for grazing horses in the winter months is transformed into a vision from the prairies of the Wild West come summer, with the addition of three rather magnificent tipis.
Drive through a field speckled with tents, campervans, and the occasional small caravan to emerge into a second field. This expanse of lush meadow is further from the road and shielded from view by a hotchpotch hedge of gorse, brambles and bracken. A carefully mown track leads you to your tipi, as the flowery field tumbles gently down into a valley. In the early morning it's so full of swirling mists it looks like an ocean is stretching out before you.
The tipis march majestically down the hill, keeping a civilised distance from one another, their doorways facing shyly into the well-established hedgerow, sheltered from the wind and from view. Ready and waiting for your arrival, each tipi is labelled with a tag on the door of its lovingly hand-crafted kitchen structure, giving the proceedings a magical treasure-hunt feel. Inside, you'll find everything you could possibly need for knocking up some serious culinary camping creations, all topped off with a tufty green roof. Des, the site owner, has also provided an enchantingly eclectic reading shelf in here – itself a structural marvel, with a complex kind of rope suspension system. It's a reflection of how this place works – everything is here, everything has been considered, but guests aren't mollycoddled. This may not be the glossy, Sunday-supplement idea of 'glamping' some people expect – it's much better. Here, it's just basic enough to give you that heady sense of camping adventure, just with much less kit…and fuss.
Outside, you'll find a stone-encircled fire pit and a rustic but effective cast iron BBQ, replete with everything man might need in order to make fire – perfect for the armchair-Ray Mears' among us. So wrap yourself in the cosy woven blankets, lie back, and watch the smoke from your campfire carry all your thoughts and dreams up to the powerful spirits in the starlit Pembrokeshire sky.
Now, Des doesn't really like the idea of signs; he's a big believer in the common sense of the camper, and who wants to be told what to do on holiday? In Des' own words, if he were to put up a sign, it would probably say something along the lines of 'Don't throw stones at this sign'. Having said that, don't be surprised to find him in the lane's hedge on your arrival, surreptitiously adding a feathered headdress to the rider on the horse sign – it's a thankless task, he's yet to find a sufficiently weatherproof pen.
Gallery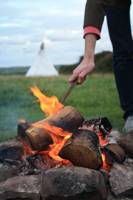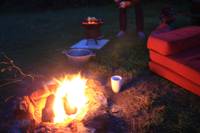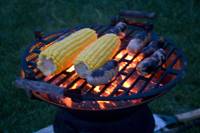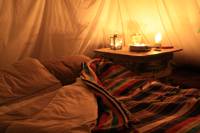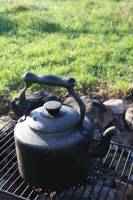 Reader Reviews
Add Your Review
Relax and chill out, August 2013
  With 8 nights to camp in Pembrokeshire and many campsites to choose from we used the Cool camping web site to narrow down the search and decided on 3 sites (2x3 nights and 2 nights). Our third stay was at Pembrokeshire Tipis ...
We arrived as requested at 4pm and Claire with son Tom were there to greet us. Smiling Claire made sure we knew what was what and settled us in, very helpful. Delight from members of our party at the luxury comfort the tipi was offering after our small tent. This was our first stay in a tipi and like everyone we were keen to see what was inside. Some people from a caravan in the next field also came down to have a look too.
The tipi inside has plenty of seats/beds for lounging on with cushions and wraps. We slept in our sleeping bags - you could bring duvets instead. When night comes the tipi is lit by as many tea light lamps as you wish to bring into action and solar powered fairy lights. In fact all areas around the site were lit by solar power, no mains electricity.
Next to the tipi is an indoor kitchen - a sort of mini shed. Very well equipped with gas cooking, pots, pans, plates, cups, cutlery etc. There is an outside water tap. A small barbeque and charcoal is provided and a fire container and wood. We made use of both on one evening. Be prepared to smell of smoke after your stay in a tipi! We could sit outside and relax looking over the rolling fields.
The toilet block has a couple of toilets with basins and a shower with a bigger basin. There is a washing up sink with hot water too.

There are 3 tipis and an additional communal tipi with a fire in it. All this in their own field. In the next field are caravans and tents - but not many, only around 10 [August].

As we were so close it was easy to nip down to Newgale beach late afternoon - a much better time for parking - and there are still lifeguards around.

A great short break. Nigel, Katherine and Helen
Best Price Guarantee, with no fees
Instant booking confirmation
Trusted for over 10 years
A chance to win £50 of Cool Camping vouchers!
Book campsites near Pembrokeshire Tipis