Have a close encounter of the glamping kind at this singular Pembrokeshire experience which also features a stunning treehouse and antique gypsy caravan.
Can it really be that an intergalactic visitor has crash-landed in the heart of the West Wales countryside? Struck by this gleaming white landing module pod with its three spider-like legs, visitors to these parts could be forgiven for thinking they've stumbled upon Pembrokeshire's very own Roswell. Well, the little green men could do a lot worse than Spodnic – the extraterrestrial-themed glamping pod at Melin Mabes.
The brainchild of master craftsman Martian… sorry, Martin Johnson, space-age Spodnic is truly out of this world. This ingenious creation has illustrious origins – not only did it start life as prop from the London 2012 Olympics opening ceremony, its staggering transformation into a cosmic glamping pod was documented on the small screen by Channel 4's George Clarke's Amazing Spaces. And it's easy to see why. Spodnic is brimming with amazing astro-themed features, like a Star Trek-style automatic sliding door, 'gravity-defying' rotating double bed, space-blanket-lined walls and steps up to a Perspex 'cockpit' in the roof, purpose-built for stargazing. Interplanetary paraphernalia abounds, with colour-changing alien lights, ray guns and the obligatory lightsaber. There are even astronaut's helmets for your budding Buzz Aldrins and nipper Neil Armstrongs. Needless to say, kids will love it.
While the UFO understandably steals the headlines, the site itself is an incredible spot in its own right. Melin Mabes lies within four stunning acres on the site of a 16th century mill that Martin and wife Carol-Anne acquired from nearby Picton Castle. This tranquil stream-side setting is open to a handful of tent campers, with a trio of hard-standings for caravans. And if you're more period romance than science-fiction, there's a gorgeous antique (150 years old!) gypsy caravan (named Mabel) for couples, complete with ornate décor and an authentic Queenie wood burning stove.
The newest addition to Martin's glamping wonderland is the Templar Treehouse. This incredible sylvan shack rivals Spodnic in the ingenuity stakes. Set in a private pocket of the mill garden overlooking the river, the treehouse strikes a pleasing balance of rustic luxury with underfloor heating, hot tub, fully equipped antique kitchen and a modern bathroom to boot. There's even a slide to get back down to ground level (or a handcrafted staircase for the less adventurous). When not admiring the sunrise from the spacious veranda, spend your evenings swinging in the suspended loungers while stargazing beside the stone circle firepit. 
Glampers are each given their own kitchens for exclusive use (Mabel's boasts a fabulous newly-built pizza oven), while for campers, the rustic kitchen shack (complete with attendant Dalek, of course) serves as a well-equipped central hub. Thoroughly outdoorsy perks, like picking veg from the patch and feeding the chickens, offer a pleasingly surreal start to the day after emerging from your very own spaceship. And when the eminently reachable footpaths beckon, the idyllic harbour village of Saundersfoot is just five miles away – or you could always warp speed it there in Spodnic.
Gallery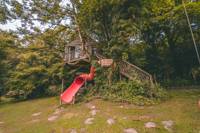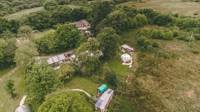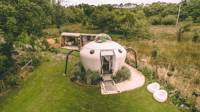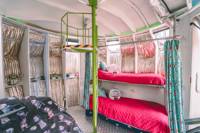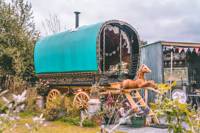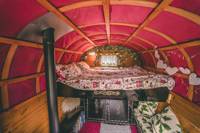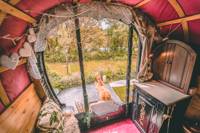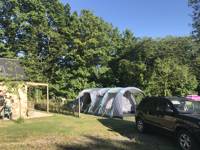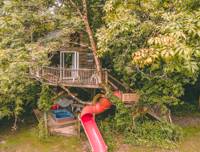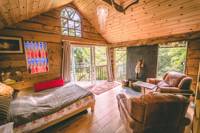 Video Tour
The Owner Says
Relax this is a fantastic area for nature walks. We have super sized pitches available for tents, caravans and motor homes. We also have a gypsy caravan with private hot tub and our quirky Spodnic UFO (As seen on channel four's amazing spaces) 
Reader Reviews
Add Your Review
The best Nature holiday
We booked Spodnic and Treehouse with friends for the Easter holidays. Highly impressed with the novelty of the Spodnic one. Treehouse is brilliant with its elements of originality and comfort. Very welcoming hosts. The hot tubs were a great luxury for our kids and for the adults. BBQ, boating, nature walk....the list of things to do is endless, regardless of the Welsh weather. Excellent holiday !! Would highly recommend and would love to come again.  Thank you Martin and CarolAnne. We can't fault your service.
What a wonderful time
The tree house is beautifully built and has some great finishing touches. The fine details really matter when making you feel comfortable. You will not be disappointed if you choose to visit.
Amazing! Totally relaxing stay!
Stayed in the wonderful tree house for a night last weekend. It was truly amazing. Such a magical relaxing place to stay. The weather was awful but it didn't affect our stay in the slightest! In fact it made it even more cozy! The tree house itself is perfect for bit of luxury, done out so well, so cozy, with a log burner, comfy bed, underfloor heating, big windows, fairy lights and loads of little secret touches that made it feel so special and fun. Under the tree house is a lovely outdoor space with BBQ, swing with cusions and rugs and a fab hot tub. Spent a good few hours chilling and de-stressing. Candles and fairy lights make it feel so special. There's a lovely fire pit and seating area that we didn't get to use but we will definitely be booking again to take full advantage of that. Carol Ann and Martin were fantastic and we totally recommend this wonderful place and will definitely be booking again. Found a gem!!
Friendly, welcoming, relaxed place with great facilities.
We had a great relaxing stay at Melin Mabes in our trailer tent for the week. We even extended our stay when we were there The facilities were just what was needed and always spotlessly clean. The kettle, fridge and microwave that we could use made camping that little bit easier!! The accessible shower room also made a great family shower room, with parent and child being able to have their own shower in the same large space. CarolAnne and Martin were always happy to go the extra mile to make campers happy. We all enjoyed our tour of the Mabel, Spodnic and the amazing Tree House. They even looked after our dog for the afternoon while we went to Folly Farm and also set up an agility course for her! The campsite was peaceful but within easy reach of lots of beaches and activities. We saw a beautiful Owl just by the campite and enjoyed stargazing due to th clear night skys. Overall it was a welcoming, friendly and relaxed place to stay with great facilities,that allowed us to play and explore beautiful Pembrookshire.
Lovely, quiet campsite for families
Everything was great - nice, clean shower blocks and washing facilities. The site had a lovely family feel and was very well situated for loads of great Pembrokeshire sightseeing. We will likely be back!
Response from Melin Mabes
Many thanks Andrew for your kind review, we look forward very much to welcoming you back soon!
Brilliant place for camping
Lovely and peacfull. The shower and toilets are lovely and clean. Host are lovely and welcoming. Will defenately be back.
Response from Melin Mabes
Many thanks Llinos for your kind review. We look forward very much to welcoming back soon!
THE place to take a partner who won't camp!
Just had a lovely stay on the camp site...we'd sort of forgotten how to camp and had left behind the usual essentials, gas camping stove, ice box, loo roll etc. No problemo, there was a HEATED shower and toilet block with not only a gorgeous warm shower, but a kettle, small fridge, and a hairdryer too! Very quiet. Peaceful, easy going and comfortable, in sheltered beautiful surrounds. I want to come back and stay in the treehouse. Thank you Carol Anne and Martin, for thinking of all the little things to make camping a piece of cake. It really would be possible to turn up with the minimum (bed + tent).
Response from Melin Mabes
Many thanks Ellie and Plum for your kind review, you are more than very welcome back anytime!!
Quiet and Peaceful site - fantastic hosts
We booked a electric pitch for our tent in the fully fenced and gated paddock. We only had to share the paddock with 2 other campers one in a motor home and another in a caravan. There was plenty of space for the children to play our pitch was called under the oaks, we put a rope around the oak tree behind our pitch for a swing for the children and the owners came around with a swing seat and a kit of bats and balls for the children to play. There were lots of attention to detail from the owners- freshly baked home made cakes on arrival and a tour around the impressive tree house!! The family room shower was also stocked with complementary shower gel, shampoo and conditioner. The showers were just at the end of the paddock and were kept spotlessly clean with a shoe rack for outdoor shoes to be left outside the building. We have been to many sites over the years but this one is now our favourite no noise in the evenings and early morning just bird song. We also had directions from the owners for a walk through the lanes to the boars head pub which is well worth a visit. Narberth town is only a short drive away and there are lots of quaint shops and a good butchers, fish and chip shop etc..
Idyllic bank holiday with kids
We phoned from the car 40 minutes before arrival to see if there was space and were assured a warm welcome. And we were! Two tired kids (2 and 4) played in the field while we put up our tent in this beautiful spot. After a delicious meal in the Boar's Head, we all slept soundly waking revived for a day at Folly Farm. A spotless, warm bathroom, hot showers, gorgeous shampoos, shower gels and hairdryer all within a minute from the tent were an added bonus. Our kids loved everything about this campsite- from the wildflowers, butterflies and birds to the proximity to Folly Farm (1 mile). It's quiet and feels secluded yet only minutes in the car to activities and my morning coffee (lots of choice in Narbeth. Numerous sunny spots to read a book, and lots of woodland walks. I relished both the peace and the little luxuries. We are seasoned campers and found Melin Mabes perfect for a bank holiday with kids. Highly recommend.
Best Price Guarantee, with no fees
Instant booking confirmation
Trusted for over 10 years
A chance to win £50 of Cool Camping vouchers!
Book campsites near Melin Mabes