A secluded, small-scale campsite on a working farm, with fresh eggs for breakfast and campfires to cook on
Hidden down country lanes, half a mile from a tiny vineyard and surrounded by tiny settlements with hard-to-pronounce names. Sound familiar? No, you're not camping in France. This is a secluded slice of Pembrokeshire, rural enough to feel like you're escaping the rest of the world but still only half an hour's drive from Tenby and the beach. The weather isn't always the same as in France, either, but when the sun shines and you're kicking back at Martletwy Campsite, it's hard to understand why you'd ever travel further than West Wales.
Set on a working farm that's home to horses, cows and pigs, Martletwy Campsite is named after the hamlet it's attached to via a narrow gravel track. Opened for the first time in 2020, there are fewer than 30 pitches in total, with one half at the higher end of the field set-aside for touring caravans and campervans (fully serviced with electricity and water) and, at the other end of the gently sloping meadow, a grassy space for traditional tent campers. Simple and spacious, the campsite has all the facilities you need, including washing up areas, a fridge/freezer and hot, powerful showers. And, though the campsite bills itself as a 'touring site', campfires are very much allowed, with firepits for hire and logs and kindling sold on site.
The most rewarding thing about Martletwy is the general, laid-back ambience of the place. Owners, Neil and Jess, are friendly and on hand to help in whatever way they can, from recommending local pubs to providing you with fresh eggs to brighten up your breakfasts, and the secluded setting of the campsite lends itself to lazy mornings spent enjoying the peace and quiet of not doing much at all.
When you do head out for the day, past the chickens in the farmyard and off down narrow Weston Lane, your well placed for exploring Pembrokeshire. Popular Oakwood theme park is a five-minute drive away if you are holidaying with kids, while Cwm Deri Vineyard is a 10-minute stroll from your tent (definitely best to visit them in that order). The nearest beach, meanwhile, is probably the vast bay at Saundersfoot, a 20-minute drive away, but that's only if you exclude the tidal waters around the nearby River Cleaddau and the Daugleddau Estuary, which are just a short hop in the car and offer the chance for good walking opportunities as well as, potentially, sea kayaking tours if you book in advance.
Details
Facilities
Washblock with toilets and showers and washing up areas, as well as a communal fridge/freezer for campers to use. Campfires are allowed and you can hire out fire pits onsite, with logs, kindling and firelighters available to purchase. Rubbish and recycling area. The gravel caravan pitches have a picnic bench each, in addition to electricity, a drainage and water hook-up and a chemical disposal point.
Suitable For
Tents, campervans, caravans, kids, groups, dogs – yes.
Nearby
There are some great walks to be had along the banks of the Cleddau River. Follow the Landsker Borderlands Trail from nearby Landshipping to Lawrenny, which takes you through a long stretch of National Trust woodland at the end. You can also hire canoes and take to the waters with Paddle West (07342 741268). Closer still is a stroll over to Cwm Deri Vineyard (01834 891274), less than a mile from the campsite, where they do tours and wine tasting events and also have a good restaurant. It's a 20-minute drive to Pembroke, Haverfordwest and artsy Narberth and takes around the same time to drive to beaches like Saundersfoot and Amroth, while it's 25 minutes to Tenby.
Food & Drink
The Snooty Fox (01834891300) is a five-minute drive away. Overlooking the Preseli Hills, it's the perfect spot for alfresco dining in the pub garden or opting for their traditional afternoon tea. The 250-year-old Cresselly Arms (016466512210), is a lovely local spot for a pint or two, a 10-minute drive from the site, and The Boars Head (01834860286) is also 10 minutes away, a top local gastro pub that also has a takeaway menu if you'd prefer to take your meal back to camp.
Open
April–September.
Why book with Cool Camping?
Best Price Guarantee, with no fees
Instant booking confirmation
Trusted for over 10 years
A chance to win prizes in our regular competitions
Pitches
10 regular grass pitches for tents, 10 with electricity and a further nine fully serviced hard-standing pitches.
Check Availability
Extras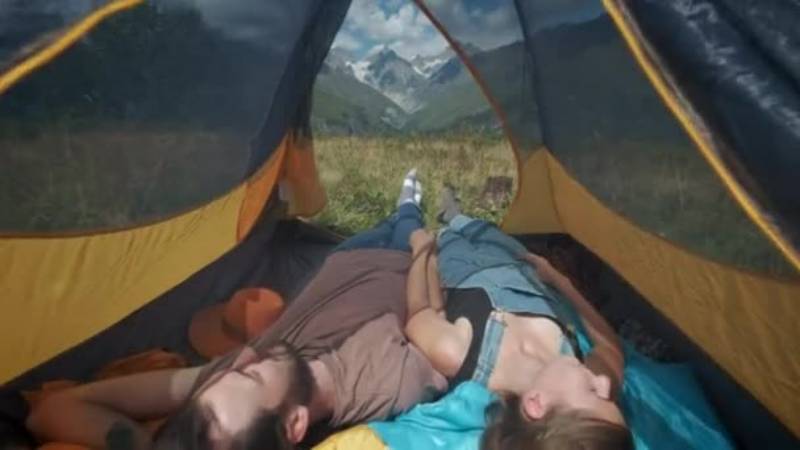 Firepit, logs, kindling and firelighters
Location
Contact Martletwy Campsite, Jericho Farm, Martletwy, Pembrokeshire SA67 8AS
Getting There
If you're travelling from the north along the A40, after you reach Arnold's Hill you will come to a roundabout, take the third exit off the A40 onto the A4075. After a mile take the first exit off the roundabout onto the A4075, carry on for a mile and then turn right. Continue for two miles and then bear right, after half a mile turn right onto Weston Lane, follow the road up the hill until the road flattens out and then you will see Martletwy Campsite signposted on your right where the road flattens out.
The nearest train station is Narberth or Kilgetty.
Reviews
Add Your Review
Rated ★★★★★ over 23 reviews
Brilliant Hosts, Excellent Experience
5 stars rating......We were looking for a quiet location, dog friendly with lovely views, quiet and remote, we were not disappointed....Neil and Jess are excellent hosts who are great couple and go above and beyond, helping with everything from helping us get vet supplies for our aging woofers and find 5 star doggie day care so we could get out on the water kayaking. The site is very spacious and has fab views over the estuary and is easy access to all key Pembrokeshire attractions (inland and beaches). The facilities (toilets and showers) consist of about 5-6 combined toilet / shower units, which are kept spotless and are regularly inspected by Jess, and the site is currently undergoing work to expand these facilities and services. Fridge freezer is available and a place for washing up. The water taps on site are many and accessible and the electrical supply has been well installed and is excellent. There are farm animals a plenty (pigs, horses, chickens, ducks and even Emus), and lovely accessible forest and estuary walks nearby, all of which meant we and our tribe of dogs were very happy and enjoyed the stay immensely. thank you for a lovely holiday Neil and Jess, we definitely recommend this stay to others.
Perfect chilled getaway
Lovely views, really friendly owners that were there when needed but left you be otherwise. Good facilities and authentic farm feel.
Fantastic secluded site
What a lovely site. Peak season but didn't seem busy. Pitches spacious, views were superb and overall very peaceful. The owners were brilliant and Jess was there to welcome us personally and always on hand to make sure things were good. We will definitely go again as it was perfectly situated to visit all parts of the coast. Cannot say enough about how lovely this place was! Thank you for having us and making our stay do enjoyable! 😎👍
Lovely campsite
Stayed here for a week on the lower field with EHU. Perfect view towards the estuary. Would highly recommend pitching on the lower field as it's a bit quieter than the top one and has the best views. Jess was really lovely and helpful. We saw the newly born piglets, very cute. Perfect position to get to most attractions. Highly recommend Wild Lakes which is only 5 minutes away, great fun for all the family. Only recommendations I would make for the campsite is more toilets and showers and washing up facilities. And to gravel the drive through to the lower field, as when wet can get very muddy and be tricky for cars. This is a new site though so I'm sure these updates will be considered.
Outstanding Stay!
Spent 3 nights here as a last minute trip away and loved this site. We've ventured to West Wales many times but not this particular spot or area. It was easy to find using the directions on the website, beautiful views across the estuary and amazing staff. The toilets and wash facilities were kept really clean despite it being busy season. Kids loved seeing the animals and the log burner was the best addition to our booking that we could have made. If we venture this way again it will definitely be on our list to book.
Peaceful
When we arrived the owner was very helpful, we had to phone when we got there as didn't know what we had to do she came to us straight away. It was our first ever camping trip and so glad we went here. Loads of room for tent and gazebo with lots of grass around us for children to play. All facilities were great and clean. We will be booking again
Lovely spot... Lovely people...
Really enjoyed our stay here. The family running the farm are super friendly and helpful, and our daughter loved the space to run around and the chance to see all the animals. She's still talking about "Greedy Chops" the pig... Close enough to the beaches at Tenby and Broad Haven, and some nice pubs and other things to do nearby. Would definitely recommend.
Peaceful remote hilltop campsite - lovely
Spent 3 nights at Martletwy Campsite and if I venture back to Pembrokeshire it will be on the shortlist of places to stay again. A really peaceful campsite sat well away in the country side...perfect! Not too far from Narbeth or Tenby and easily accessible to the gorgeous south-west Wales beaches. Although we didn't visit - its 5 mins to Oakwood Theme park and a little longer to some other really good looking attractions. I didn't catch her name but the lady who look after us was really friendly and welcoming and always pottering about the site with logs, kindling and fire baskets for the guests. The facilities (showers/toilets) are more basic than most places but non-the-less adequate whilst the washing up area in the newer building was spot on. If I was being picky I'd make two recommendations - a shelf in the showers to put your wash bag/toiletries on would be a great addition and in the older toilets up the top of the site really could do with a hand dryer or hand towels - that tea towel on a hook is just not hygienic! All in all a really lovely stay and I'd definitely return to Martletwy campsite again.
Excellent..
Friendly owners who made us feel right at home without being overbearing... Clean facilities with toilet and shower combos in one block and separate in the other (more outdoor) block. Plenty of hot water for showers and washing up. Good recycling facilities. Pitches were really generous with plenty of room for gazeebos, car parking etc. Separate field for some grass pitches which was only mown where the pitches were, leaving glorious natural long grass areas between pitches which was very pretty. As we missed our first night and they had hard standing available we were offered an upgrade from grass to hardstanding which was very kind of them. Each pitch was again very generous with plenty of grass in front and segregated from each other by a small bank, giving a little privacy. Water, waste and ehu on each pitch. Plus an excellent view across to the Cleddau to watch the sun set each evening. Animals a bonus and our dog was most curious as he'd never met a pig before!!! Plenty of walks available but a vehicle required if you want to get to the coast of eat out. A great site that we would visit again and recommend to friends...
Fantastic quiet 3 night stay.
We had the pleasure of staying at this quiet lovely site in Pembrokeshire. Perfect location for exploring Saundersfoot, Wisemans Bridge, Folly Farm and further afield. Made use of the fire pit offer and we were lucky enough to see the 2 day old piglets! Shower and toilet block were clean and spacious. I would highly recommend staying here and would love to return in the future.
Quiet, friendly
Lovely little campsite; friendly and helpful owners. Shower temperature a little temperamental but clean and well maintained. Some queues for toilet/shower/washing up at peak times, but they are adding new facilities for next season. Fridge/freezer available in the shower block for guests' use. There was a picnic table available for use by each (I think) pitch. The firepit bundle was more than sufficient for 4 days, although we only used it for cooking not socialising around. Nice to see the farm animals and feed your scraps to the pigs. Very little to do within easy walking distance, but loads within 20-40 mins drive. Nearest food shops ~10 mins drive away. Can highly recommend Coppit Hill / Saunderton Beaches (~20 mins drive) for a good mix of fine sand and rock pools, with some caves to explore too. If doing Oakwood theme park, make sure you take swimming costumes and/or a change of clothes cos you will be limited in ride choice if you don't want to get wet!
Perfect Campsite
We had the most perfect three nights stay, the campsite it's self is lovely and clean with the newly built shower and toilet blocks regularly being cleaning. The showers were lovely and powerful and perfectly hot, the use of the shared fridge was also very handy. The owners make this camp, they are so accommodating and can't do enough for you, from freshly laid eggs to showing us the farm animals and newly born piglets, the children loved this! We didn't have the best weather but still plenty to do with the campsite being a short drive from loads of attractions, Pembrokeshire beaches and Llyn Fran was also a lovely day out with kayaks and paddle boards for hire. The use of the selection of picnic benches and hire of a log burner for your stay is a great touch. We will 100% be returning and would highly recommend.
Beautiful peaceful spot!
Absolutely lovely campsite, great vibes, good facilities, very well maintained and just a pleasure to sit and relax in! Only thing I would say and it's not an issue it's just so you are aware it is a bit out the way and will take at least 20 mins to get anywhere (shops etc). (Haverfordwest being the closest)
A fantastic campsite
This is the best campsite we have stayed at yet! The owners are so accommodating and helpful. The site has great facilities and we particularly liked the lights in the evening- It truly was magical. The campsite is well maintained and clean. The children loved the farm animals especially the pigs! I cannot rate this campsite highly enough. Will definitely return.
Idyllic campsite
This truly is a superb campsite. Open areas for small groups and individual plots for single tents. Clean shower and wash up block, fire pits to hire and very helpful owners. So much to do in the surrounding area and beautiful countryside.
Excellent campsite
We enjoyed an excellent week camping at this beautiful site, located a short drive from all the wonderful locations Pembrokeshire has to offer. Very spacious site with clean and well maintained facilities. Owners are very helpful and welcoming and our children loved being able to visit the farm animals. Use of picnic benches and hire of fire pit are lovely bonuses.
Perfect
wonderful spacious campsite with great views and fresh eggs for brekkie. Owners lovely and nothing is too much trouble. Clean large shower blocks , great added bonus to be able to hire out a firepit. Thumbs up all round .
Beautiful campsite
We had the best camping experience here at martletwy campsite, we were greater by Jess the owner on arrival and given a choice of several pitches to choose from which was nice I thought. The toilets and shower facilities at the far end were very good and cleaned daily, there's even a fridge freezer in there for the campers to use and free range eggs to purchase. Were were on the second field and the views were fantastic. There's a lovely vineyard 20 minute walk away down country roads, you can book in for wine tasting and lunch, the food was yummy and the wine/spirits were good! We actually broke down the day before we were supposed to leave (diesel leak) and wasn't going to get fixed in time, but jess was very accommodating and lovely and let us stay another night on the same pitch no issues! Overall, fantastic campsite, clean and good facilities and lovely owner!
Great Welcome.
Jess and her family are the perfect hosts, you are made very welcome as soon as you arrive, I said that I had forgot the electrical lead, no problem Jess was there within 10 mins with one, use as long as you wish she said, the toilet and shower facilities are good, there are fantastic views from all over the site, my wife and our dog loved feeding the pigs and horses, we had to make special trips to buy fruit for them, really enjoyed our stay, and we will be returning, cannot recommend highly enough
Amazing, clean site. Super friendly helpful owners. Nothing to much trouble.
Feeding the pigs and petting the horses. Great stay will definitely return.
Lovely weekend away
Stayed at Martletwy Campsite for a long weekend away. The weather was beautiful and the views from the Campsite made it X10 better. Jess was very helpful from start to finish of our trip. There's a choice of 2 fields, both with very clean facilities e.g. toilets and showers on either side. These were clearly cleaned multiple times a day as always looked spotless. Overall, lovely quiet break away. Firepit is a must for the colder evenings :)
Wow 🤩
This is exactly the type of campsite I love about "cool camping". If you want peace and quiet, fabulous views, lovely walks and all with all the creature comforts of ehu, clean modern toilets and showers, then this is the place to come. We were greeted on arrival with a very warm welcome and given a choice of pitches. We chose the lower field to get the best of the views across the valley which was fine for our campervan. The toilet and shower block was kept permanently spotlessly clean. Highly recommended. Lovely walks from the campsite gate or only a short drive to beautiful places, Saundersfoot, Tenby and Manorbier. So much more to see so we will be back 😎
Very much enjoyed!
Arrival was through country lanes, but easy to follow sat nav, very excluded and quiet which suited us. Greeted by Jess who was lovely and very pleasant, was very helpful and easy going. Toilets and showers were clean and tidy, was a queue on one day for showers but not a problem. Hope to return again soon!
Why book with Cool Camping?
Best Price Guarantee, with no fees
Instant booking confirmation
Trusted for over 10 years
A chance to win prizes in our regular competitions
Book campsites near Martletwy Campsite